A visit to Nordhausen in former East Germany convinces the Editor that Europe's lithium power is growing.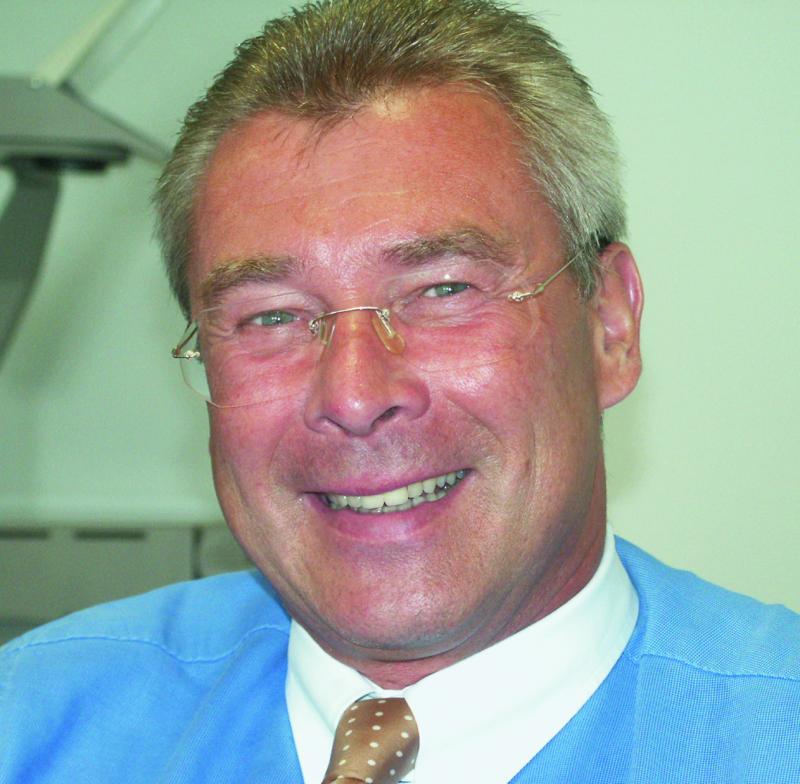 If nothing else Franz Kruger, the current CEO of Gaia Akkumulatorenwerke must be an extremely patient man. He's been in the lithium battery business since 1976 but it's only in the last couple of years that he's seen anything like the start of a lithium success story in Europe and indeed for himself.
It should have happened years ago, of course. Kruger worked for Varta, learned the volume button cell business with Sanyo in Singapore, and came back to Varta as head of R & D in the mid-1980s—"the good years"—as he puts it, but by the late 1990s and 'bank ownership' of the company, it was all over in the conventional sense of a continuing career
Kruger joined the growing ranks of consultants. But then he got lucky. The first variant of Gaia Akkumulatorenwerke—a company planning to produce lithium polymer, was going nowhere. The investors needed someone to rescue the operation and give them a product. And Kruger was that someone.
And it wasn't the only new lithium battery company having a tough time. US-based Lithium Technology Corporation already held a stake in Gaia. When its own restructuring plans changed, it merged its activities with Gaia and the venture got a powerful injection of capital from Arch Hill Capital N.V.
All of this took place nearly two years ago. The mission statement is everything you would expect: "to be a world leader in the development of advanced and unique rechargeable lithium batteries— for automotive distributed power and national security applications.
To the cynics, this means that the company has recognised (just like SAFT and AEA) that there's absolutely no money to be made in consumer batteries.
And probably for the moment, there isn't a huge amount to come from automotive. Gaia has a large factory in Nordhausen in the former GDR but there's not a lot to show at present— it's all pilot line stuff because that's all that's needed. But last summer and autumn, Gaia received a string of orders from automotive and military customers for evaluation which shows the company's results so far are more than interesting.
Gaia's batteries are based on a polymer electrolyte because it reduces potential risks and offers unlimited design possibilities—spiral, flat prismatic— they have them all.
The cathode is prepared from lithium manganese spinel, lithium cobalt oxide or mixed oxides. The choice of material depends on the required application. The advantages of Gaia's polymer system are as follows: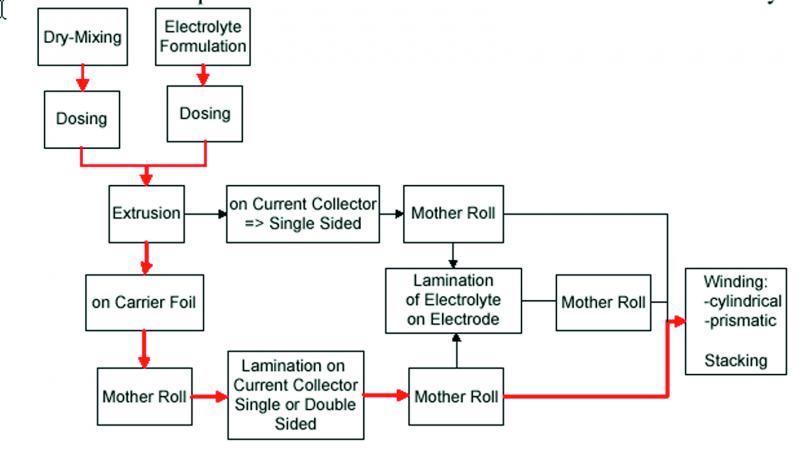 Because the conducting salt solution is immobilised in the polymer, the battery is leakproof. The lithium intercalated graphite is a reactive component in the charged state. In the event of damage to the casing, the polymer electrolyte layer protects the graphite from direct oxygen or water contact and the oxidation will take place slowly—so the batteries are unlikely to become a new kind of ordnance!
Gaia's manufacturing process is quite radical—it doesn't use so-called casting solvents, which have to be evaporated off.
All the components are produced as foils. They are fabricated in a compounding and extrusion process onto a chill roll system at high temperature and are finally stored on supply reels. The evaporation process is obsolete. Process solvents are not required. Cells are currently manufactured on a winding machine, are 'contacted' and put into a housing immediately. A separate injection of electrolyte is not necessary.
The extrusion process has the advantage over solvent-based production through fewer processing steps: Dispersion, mixing and plasticising of the materials are performed in one machine. The complicated evaporation process of the solvents, as well as their regeneration, is eliminated. The Gaia procedure enables simple and safe production of lithium-ion polymer batteries in the capacity range of up to 50A h . The simpler process uses a direct coating of the electrodes on the current collectors. This works only for single-sided coating.
For higher energy density, a double-sided coating is needed which can only be carried out as an additional transfer-lamination step. In this case, the electrodes are coated on a separate carrier foil and are transferred to the current collector by a lamination step. This works on both sides. Three reels, with the battery foils, are the output of the coating process: anode, cathode and separator electrolyte. All three foils are laminated and wound to a cylindrical cell on a winding machine. The cylindrical cell is entirely edge-contacted using a special bonding technique.
This results in very low contact resistance, which is necessary for high-power applications. Collectors and terminals are produced from one part. For the stainless steel housing, the terminals are screwed to the lid with insulators. Finally, the lids are sealed by using a WIG welding process.
With 42 volt and hybrid electric vehicles so much in prominence, coming up with batteries for this market has been very much at the heart of the company's product development.
The company has shown a 42 volt 27Ah battery which is capable of delivering 1 kWh of energy and 8 kW of peak power— more than suitable for mild hybrid designs made up of 10 of its flat cells each just 12 mm thick. And thinness is crucial with these designs. The lithium polymer systems have poor heat conductivity and a thin design is essential for effective heat dissipation.
But in the last few months orders have been coming from a variety of sources. Take a purchase order to produce an initial battery pack for an all-electric Unmanned Aerial Vehicle [UAV] manufactured by Views-on-High Inc.
The custom 16-Volt, 20 Amp-hour battery pack, complete with a battery management system, will provide propulsion for the UAV, which has a 64-inch wingspan and features a tail-less, carbon fibre composite body. The battery pack will also power the UAV's onboard surveillance equipment. Views-on-High has received orders for the UAV from military customers interested in "force protection" operations and from commercial customers interested in security operations. The company anticipates rapid growth from follow-on orders and is preparing to produce up to 1,000 units of this UAV model in the coming year.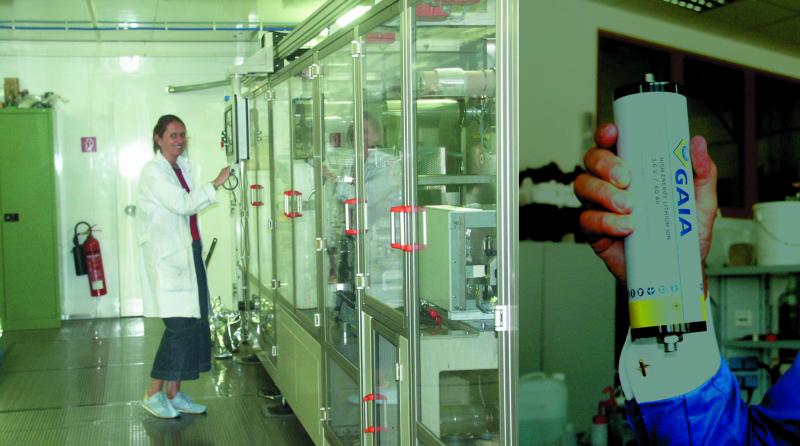 And from high in the sky to beneath the waves—the company has announced that one of the world's leading submarine builders has awarded a follow-on Phase II contract for studying the feasibility of its advanced lithium-ion batteries on the latest generation of diesel-electric submarines for a US NATO ally.
This contract, which represents an extension of Gaia Europe's Phase I feasibility study, runs for 6 months and has a value of US$100,000. The actual battery required for this application carries a price tag of approximately US$13 million, and up to two submarines per year would be equipped with such a battery by the builder, who is the world's market leader for diesel-electric submarines. The big advantage is that the Gaia lithium-ion batteries can store more than twice as much energy in the same volume as the conventional lead acid batteries used in submarines to date. Designers of new submarines can either increase the range of the vessel with battery power using batteries of the same size or save critical space for other applications.
Advanced lithium-ion batteries offer similar advantages for submarines powered by fuel cells, which also need high-capacity batteries. The Gaia advanced lithium-ion batteries can be charged faster than lead acid batteries during diesel engine or fuel cell operations, their heat production during charging and discharging is easier to control and they have a longer service life.
But these are just prototypes. You really know you're winning business when you oust your competition.
Towards the end of 2003, Gaia received a purchase order from a leading UK defence systems integrator for its advanced large-format lithium-ion batteries for a classified military application. The value of the contract could be in excess of US$2.2 million over the next two years, with the initial phase of the order valued at (US$100,000). The order—for ten 46-volt batteries, complete with battery management systems, utilises eleven of Gaia's large 60 Ah cylindrical cells, which were chosen over a competitor's product based upon superior performance. The 60 Ah cells, measuring 8 inches (203 mm) by 2.4 inches (60 mm) in diameter, are an extension of Gaia's already successful 27 Ah cylindrical cells. The unusually large cell size offers simplified integration and higher energy density while maintaining high pulse power capability. This is a beta stage rather than a prototype application, with immediate continuing orders. It may not be quite the direction Gaia would have chosen for itself but when the world's automotive industry is ready for hybrids 'big time', the company will have earned its spurs with the most demanding customers. That's got to look good on the corporate CV and gives Europe's car makers a reason not only to look East when it comes to sourcing advanced batteries