The evidence is plain: Today's lithium‑ion isn't quite good enough for all the applications that other industries, such as automotive, require. Rick Howard takes a look at what's coming down the pipe.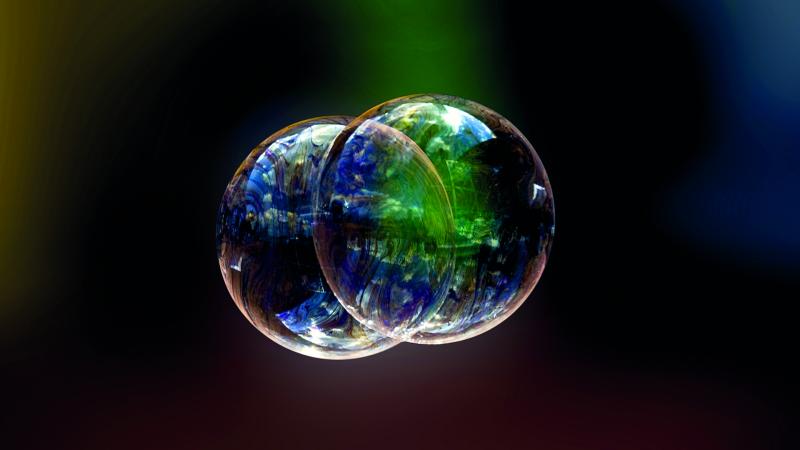 The enthusiastic creative thinking of a child diminishes with age, but technology advances prove that this gift is not lost on scientists stretching the boundaries of (electro)-chemistry and other disciplines. My granddaughter's excitement is paralleled by the deep satisfaction found in laboratories with the development of new, more robust materials and systems for Li-ion batteries. While industry expertise has expanded enormously in 20 years, the coming decade will see even greater advances in the field from the combination of high-energy cathode materials, anode nanotechnology, and tailored electrolytes. This paper speculates on what we might find inside Li‑ion cells in 2020, as a function of application.
Before peeking into the future, let's examine how we got to the present, and in so doing, pour the foundation for the next generation. The root of commercial Li-ion cathode materials, which have a very diverse family tree, is LiCoO2 (LCO), discovered by John Goodenough, which has undergone several iterations and improvements. Today it is rare to find unmodified LCO in commercial cells: doped with Al or equimolar with Mg and Ti, or coated (typically Al2O3), LCO provides enhanced stability with somewhat improved capacity and energy (160mAh/g ‑ 640mWh/g). An LCO derivative, isostructural LiNi0.8Co0.15Al0.05O2 (NCA), offers circa 20% greater energy and, properly prepared, is less likely to deoxygenate when charged (safer).
Another Goodenough breakthrough, with able assistance from Mike Thackeray and others, is LiMn2O4 (LMO or spinel), producing lower energy than LCO but with a greater safety margin. Unfortunately plagued by rapid capacity fade, spinel longevity is promoted by 10% 'excess' Li and various M+3 dopants. Although energy output is disappointing (450mWh/g), LMO is blessed with rapid intercalation kinetics, and power capability is excellent. A recent advancement just entering commercialisation is high voltage (4.6V charge) LiMn1.5Ni0.5O4, also with a spinel structure, but capable of >130mAh/g (>570mWh/g) and a lengthened working life, without sacrificing power attributes.
The last major category of Li‑ion cathode materials, invented by A. K. Padhi and Goodenough, contains olivines: LiMPO4, where (for now) M = Fe, Mn, and combinations. The phosphate moiety offers great stability and safety, and nanocrystalline LiFePO4 (LFP) with a conductive coating has lightning-fast kinetics for power applications, despite low discharge voltage (3.4V) providing only 540mWh/g energy. The Mn olivine has structural issues during delithiation (charging), but Mn-rich Fe combinations offer an energy boost (to circa 600mWh/g) while maintaining power levels.
There are other cathode materials that meet niche market requirements but are unlikely to ever develop into wide-spread commercial success. Vanadium compounds (oxides and phosphates) enjoy 3-4 metal oxidation states up to circa 4V and thus provide high energy, but working life is limited to not more than 200 cycles due to particle-crumbling phase changes during Li+ diffusion. Lithiated chromium species (including Cr doping) are very stable but not marketable: perceived toxicity is the fatal flaw. Molybdates and tungstates are not viable due to low intercalation voltage, therefore exhibit poor energy production. Precious metal analogs of Fe and Co species are far too pricey for consumer batteries. In fact, even the cost of cobalt is a weakness, driving Li intercalant development away from this strategic metal, as will be examined later.
The field of Li-ion anode materials has very little vegetation, dominated by graphite, albeit with several morphology variations. The best graphites exhibit about 350mAh/g Li storage with only 2-3% irreversible capacity loss due to structural irregularities, and suffer little long-term capacity fade (5% Li loss due to anodic passivation layer formation is assumed). enerG2, a Seattle company, is developing a polymer-derived hard carbon that exhibits enhanced Li storage (above 500mAh/g); commercial testing is pending. After 20+ years in Li-ion batteries, however, the crop of carbon-based anodes for Li-ion is limited, and an enhanced harvest is increasingly demanded. Li4Ti5O12 (LTO) is a highly touted material developed several years ago, the first major change in anode technology. Nano-crystalline (20-30nm) LTO agglomerates are unusually stable and function well even at 100C, retaining 70mAh/g capacity (theoretical is 174mAh/g). Because its operating potential is 1.4V, cell energy is reduced as much as 40% (relative to graphite), but power capability is excellent.
A recent advance, with tepid acceptance so far, is the use of SnO2 as a displacement anode material. The critical reaction is
4Li + SnO2 ⇔ Sn + 2Li2O
Unfortunately, phase changes fragment the tin oxide particles, causing loss of conductive pathways and relatively rapid capacity fade. It should be no surprise that after more than two decades of incremental change, and two major but market-limited advances, anode development has become a high-priority subject in the Li-ion industry.

Last, consider Li-ion electrolytes, almost exclusively LiPF6 solutions. These started as simple ternary or quaternary mixtures of salt and organic carbonates, but increasing demands on cell performance quickly dictated changes. Table 1 highlights electrolyte additives and the rationales for incorporating them. Today's multi-purpose electrolytes may contain 15 or more ingredients to optimize cell performance, varying with application and manufacturers' objectives, and there is constant tinkering with the formulations.
Numerous next-generation Li-ion materials are under development, primarily to meet the objectives of higher power and greater energy. This thrust started more than a decade ago with cathode intercalants, with a majority effort on two subsets of NCM compounds (lithiated nickel, cobalt, manganese oxides): stoichiometric and non-stoichiometric with respect to lithium. The first group is characterized by the formula LiNixCo1-2xMnxO2, and the best‑known member has x = 1/3 (so-called L333). This compound has relatively high Co content (expensive) and roughly the same capacity as LCO, so despite improved safety, L333 has found little acceptance in Li-ion cells. Much better is LiNi0.45Co0.1Mn0.45O2, with additional Mn (for safety) and sufficient Co (for adequate conductivity): greater Ni content pushes capacity to 190-200mAh/g, 30% above LCO with the same charge voltage. Note that if the Ni and Mn contents do not match, cycle life is compromised.
Non-stoichiometric NCMs (discovered at Argonne National Labs) are much more complex, containing an 'excess' of Li+ that forces all the Mn and Ni into +4 and +2 oxidation states, respectively. Depending on the crystalline substructure, these compounds are designated 'layered-layered' or 'layered-spinel', that is, they contain LCO-like planes interleaved with either Li2MnO3 or LiMn2O4 analogs. Such NCMs are characterised by discharge capacities that can exceed 250mAh/g after charging to 4.6V or above, with energy output >1Wh/g, and surprisingly lengthy cycle life. Unfortunately, cycling causes a structural regression to spinel, shifting the voltage profile down (and likewise the energy output); there are also negative implications for programming equipment circuitry.
To protect against electrolyte oxidation, these NCMs must be coated with, for example, amorphous Al2O3 or other inert inorganic species that allow rapid Li+ transport to the NCM particle. Further, process methods to prepare mesoporous NCMs comprised of nanocrystallites are under development to enhance the rapid discharge capability of the compounds, adding power applications to their value. While nanomaterials in general are a common goal, coatings will still be necessary to reduce reactivity, and these processes are not cheap. Lastly, ongoing research seeks to phase out expensive Co obtained from a market increasingly dominated by Chinese suppliers and replace it with a satisfactorily conductive substitute.
LiCoPO4 (LCP) is the newest olivine under development for Li-ion cathodes. It is no more difficult to prepare than its Fe/Mn analogs, but because charging requires nearly 5V, finding a stable electrolyte is the challenge. As with NCM materials, coating LCP with a protective yet conductive inorganic species shows promise. Because LCP has the potential to provide 40% greater energy than LFP without sacrificing power performance or safety, there is sufficient commercial pressure to introduce this intercalant into the mainstream, despite its greater cost.
Next-generation anode materials must be compatible with high-energy and/or high-power cathodes, and dozens of possibilities are under consideration. Foremost are Si, Sn, and possibly Ge, elements that alloy with Li, followed by multi-valent metal oxides and cermets (carbides, nitrides, etc) that can either reversibly accommodate Li in the crystal structure or undergo displacement, as with SnO2, above. Two major technical issues must be resolved, however: unacceptable irreversible capacity loss during the formation cycle and rapid capacity fade while cycling. Both problems are caused by structural weaknesses – the formation of electrochemically inactive crystal phases that trap Li after insertion and particle cracking during phase changes resulting in isolated fragments excluded from the conductive network.
Even a lithium alloying material with relatively high columbic efficiency – for example, Ni3Si2/Si nanorod arrays with >2000mAh/g storage capability – loses over 250mAh/g during the formation cycle. Somewhat better, Si nanoparticles dispersed in a Si-Ti-Ni ternary alloy exhibit roughly 1100mAh/g cycle1 capacity with less than 10% irreversible loss during the formation cycle; unfortunately, fade is a very linear at 2% per cycle through cycle 50. These alloy matrices are highly conductive, restrict Si expansion with Li uptake, thus preventing fragmentation and conductivity loss, and shield Si from reactions with the electrolyte that would result in a lithium-opaque coating. While inventors are pushing both examples toward commercial development, production costs of such nanomaterials are still prohibitive and only slowly diminishing.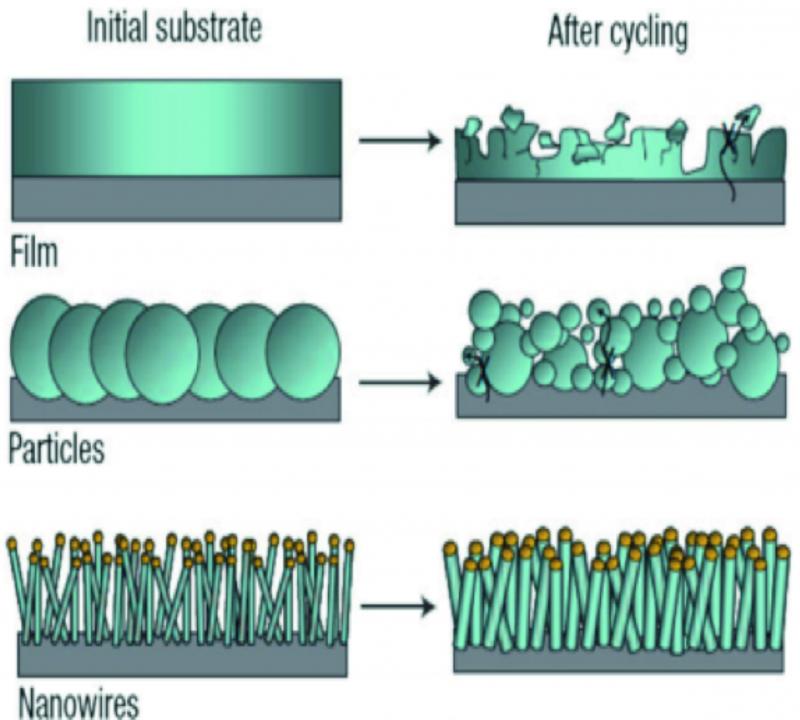 Despite financial barriers, nanosizing shows great promise for anode materials: the small particle dimensions mitigate structural degradation during Li insertion and extraction, the fatal flaw for microparticles and films. The diagram below (figure 1) highlights the advantage of Si nanopillars, which are exceptionally stable during electrochemical cycling, even at high rates. The challenge is to reduce the cost of nano-deposition or template removal techniques down to consumers' levels, and to prevent nanoparticle migration and subsequent agglomeration during cycling.
An emerging technology is MOx, cermet, or metal nanoparticles decorated on graphene: the carbon sheet facilitates conductivity (as much as 100X), enhancing both energy and power capabilities. Technology from Argonne National Lab, under development by CalBattery, is a promising example: their silicon-graphene composite anode in Li-ion cells tested at 1250mAh/g storage capacity and 525mWh/g energy density (graphite has <180mWh/g). Another company, Vorbeck Materials, using a Princeton University process, manufactures graphene functionalised with high-capacity electrode species arranged in lattices, utilising "simple solution methods" that hopefully translate to lower bulk production costs.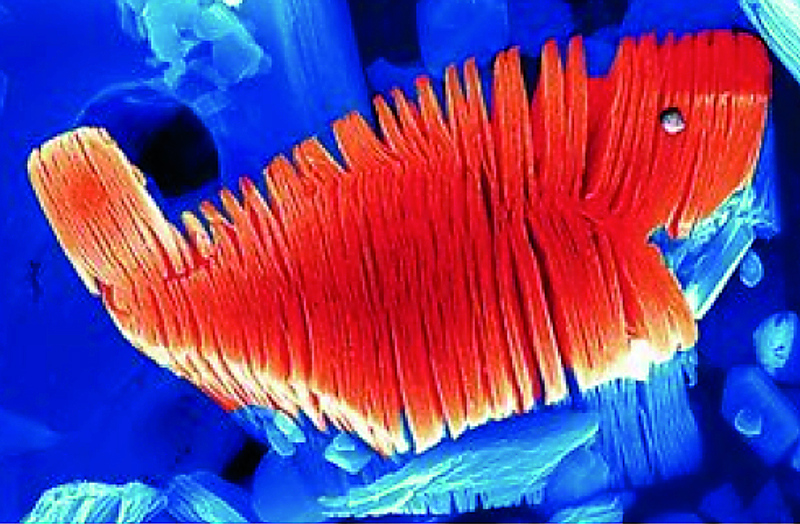 Recently graphene composite chemistry was extended to other compounds that exhibit stable two-dimensional crystallinity, such as BN, MoS2, and various metal carbides (see figure 2). BN is unusually appealing: it is isoelectric to, and forms a hybrid structure with, graphene, and can be shaped into leaves or ribbons. These various 2-D formations are surprisingly easy to prepare in the lab, offering the hope of reasonable manufacturing costs, and the composites resist reassembly and agglomeration. Other benefits include extended working life, less irreversible capacity loss during the formation cycle, faster charge-discharge, and the possibility of up to 70% cost reduction over the battery life.
Graphene technology might be extended to carbon nanotubes if their price undergoes substantial reduction: materials sold by the gram will never compete with commodity chemicals. Still, nanotube conductivity is so high that intercalating decorations get an enormous performance boost, which may partially overcome economic objections. A related but more complicated advance (Hao et al, Fudan Univ.) is metal oxides (such as NiO nanoflakes) grown directly on the metal current collector: processing costs and particle agglomeration during cycling will challenge development.
Yet another fresh approach (Liu et al, Berkeley National Lab) is a composite of silicon and a conducting polymer. Rather than the usual PVDF binder augmented with carbon conductive aids, researchers designed and synthesised carbonyl-containing polyfluorenes that bond to Si particles, yet are flexible enough to 'breathe' as the Si-Li alloy expands and contracts due to changing Li content. This anode maintains electrical conductivity and minimises capacity fade during operation.
The concept of electrochemically inert, conductive shells applies to both cathode and anode particles. Dillon et al (National Renewable Energy Lab) demonstrated that <10Å of atomic layer-deposited Al2O3 on MoO3, graphite, or even LiCoO2, greatly enhanced performance and stability. Coated MoO3 resisted high-rate fragmentation and stored up to 500mAh/g of Li at 5C, treated graphite had only 2% capacity loss after 200 cycles at 500C, and protected LCO maintained 89% of initial capacity after 120 cycles with 4.5V charge. These performances are substantial improvements over those exhibited by unprotected materials.
Today's complicated electrolytes too often address the symptoms rather than the causes of sub-standard cell performance and truncated life. For example, a partially fluorinated triethyl phosphate solvent with LiPF6 from NEC nearly eliminates gassing at 45ºC and >4.5V, but cathode material coatings as described above are equally effective at lower cost. Further, an additive may be necessary to counteract the side effects of another ingredient. Electrolyte development has focused primarily on three attributes: thermal stability, low temperature conductivity, and resistance to high-voltage decomposition. Unfortunately, success under one condition may mean weakness in another. Case in point: low molecular weight esters allow operating temperatures down to -40ºC, but they cannot withstand high-voltage environments. Ionic liquid systems (ILs) are the closest to meeting the indicated goals: present limitations are cost (always the bugaboo) and high viscosity (slows Li+ transport and curtails rate capability). Positives for ILs include their ability to pair with robust, less expensive Li salts (LiBF4, LiTFSI, or LiFSI replacing LiPF6) by utilising the same anion in both compounds, without restricting the voltage window yet mitigating the anion's corrosive effect.
This conjecture into the battery future would be incomplete without mention of Li-air systems, a technology still in the laboratory but with enormous upside potential. The driving force of oxygen reacting with lithium produces great energy (circa 1.1Wh/g) but with poor efficiency; that is, a large overpotential requires substantially more energy to charge the cell than is released during use. This effect is mitigated (with less than optimum success) by employing a catalyst to facilitate oxygen removal from Li2O2 after discharge (that is, recharge the cell): such catalysts are mostly precious metals, far too expensive for commercial cells. Further, degradation products from both electrolyte and binder on the Li surface increase cell resistance, slowing rate capability and accelerating fade, and slow Li+ diffusion is an issue. Lithium-air and a related (but lower energy) system, lithium-sulfur, utilise highly-reactive Li metal, another challenge to design and safety engineers. Acceptance from regulatory boards, US-Congress, and the public will be an uphill battle, since these groups habitually espouse the-sky-is-falling responses to potentially dangerous chemistries.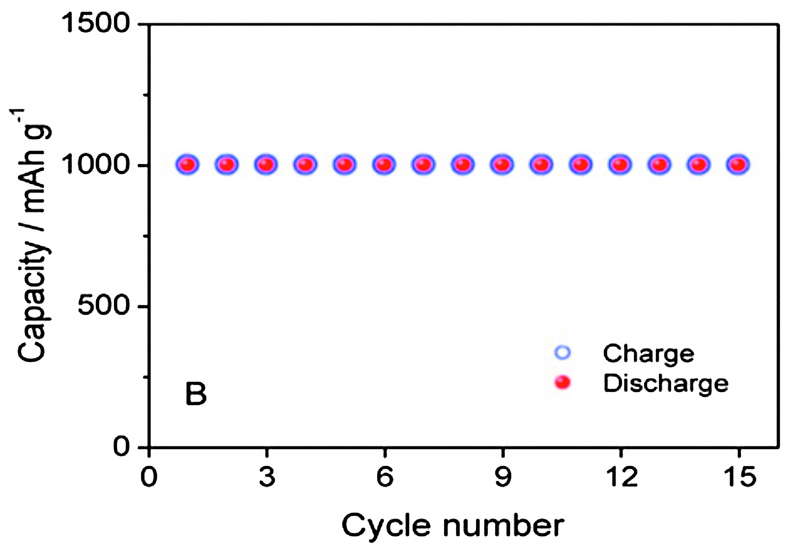 A multi-national (US, Korea, and Italy) team collaborated in the very recent discovery of a Li-Si alloy imbedded in a carbon matrix that may overcome the obstacles listed above to Li-air development. This anode is less reactive, and therefore much safer, than Li metal, and when coupled with a tailored glyme-based electrolyte, provides a very stable output (figure 3). Note also the negligible overpotential: coulombic efficiency is nearly 100%, as good as it gets for rechargeable batteries. Although the capacity and voltage are both lower than Li-air, energy density is substantially higher than Li-ion. Rate capability is as yet undefined, but 1Ah/g capacity points to a healthy run time for this system.
Peering into my murky crystal ball, I see the next generation of Li-ion batteries addressing even greater applications, with more emphasis on process engineering (to reduce materials' production costs) than pure chemistry. Nanotechnology in battery materials, already with heavy press coverage, will come into its own: for cathode intercalants to enhance rate capability (power cells) and for anode species with additional lithium storage (longer run time for high energy applications, and rapid recharge). Electrolytes containing ionic liquids will facilitate cell performance at temperature extremes (think aerospace) and voltages possibly exceeding 5V (energy for stationary batteries, ie, grid backup). Inorganic coatings on cathode particles will shelter electrolytes from high charge voltages and thus extend cell working life by preventing degradation-induced capacity fade (communication devices).
What emerging or projected advances in Li-ion chemistries will provide the greatest benefit, and in which application(s)? The most obvious addresses the demand for longer run time, whether it is cell phones, iPads, laptops, or any of a plethora of mobile gadgets. High-voltage nickel-cobalt-manganese cathode materials (NCM) with average discharges ≥4.25V and capacities approaching 250mAh/g will generate energy exceeding 1Wh/g, although this assumes that their propensity for voltage decay will be overcome, likely by a structure-stabilising metal cation. NCM species will have an amorphous veneer of Al2O3 or perhaps a fluoride/phosphate salt, facilitating Li+ diffusion and protecting the electrolyte from damaging exposure to the high-voltage surface. In general, hand-held communication devices now utilise LCO-based cells with an average run time of 3-4 hours; users in 2020 can expect a 50% increase in usage between recharges, possibly even more if Li-air technology reaches commercialisation. To accommodate the additional cathodic lithium from NCM, less expensive hardware will incorporate the least costly next-gen anode material, possibly hard carbon or (less likely) nano-oxides/cermets grown directly onto the current collector.
A similar argument can be forwarded for electric vehicles: the American public's 'range anxiety' will not be alleviated until EV passenger cars travel at least 200 miles (325 km) between charges. Because automobile manufacturers are extremely weight-sensitive, suitable EV batteries will likely include high-capacity but lighter anodes, such as Si nanopillars or decorated graphenes: CalBattery projects their Si-C composite will be fast-tracked to EV companies within two years. Automakers are also extremely cost-averse, and NCM intercalants contain as little as 10% cobalt, compared to 60% in LCO: at (currently low) $16/lb (27.5€/kg) for Co versus $8/lb (14€/kg) for Ni, it does not require Nostradamus to predict the decline of Co usage in Li-ion cells. While I do not share the optimism of US politicians who predict millions of EVs on the road within 3-5 years, there is an enormous EV growth niche in local delivery vehicles, from golf carts and forklifts to taxis and small vans. This is a largely unexploited market, despite some encouraging exceptions, and could be the proving ground for consumer applications. Areas with higher population density (and thus shorter average trips), such as Europe and south-east Asia, are leading the charge into all facets of EV usage.
Hybrid EVs, portable tools, and other hardware requiring acceleration and power bursts are obvious candidates for nano-sized electrode materials capable of rapid charge and discharge. Since nanoparticles also offer enhanced capacity, these applications would see longer runtimes: HEVs, for example, could have 50 mile/80km battery ranges, while construction workers might use their portable saws and drills for an entire workday without interruption. Flash-charging capability for EVs will be a weak selling point, as typical American use patterns allow for 30-60 minutes (or overnight) to refill the electron reservoir. Further, the potential partnership of Li-ion and supercapacitor in EVs may circumvent the need for power batteries, although the complexity (cost) of required circuitry is slowing adoption of this technology.
Next-generation electrolytes will be formulated for cell operation in more demanding environments, especially for extended temperature ranges. Solutions with an ionic liquid as a major component can maintain fluidity to at least -40ºC, allowing (for example) starter batteries to function in the coldest climes. At the other end of the scale, IL's thermal stability may permit cell operation up to 60-70ºC without sharp attenuation of cycle life. Because ILs are marginally competitive with ordinary Li-ion electrolytes' ionic conductivity, due to higher viscosity and cost, usage will focus on high energy/slow discharge applications. These attributes are commonly needed in aircraft and satellites, where batteries are often subjected to wide temperature swings. The use of protective coatings on high-voltage cathode materials will reduce the need for complex formulations: we may even see simplified electrolytes in a few years.
The point of the previous few paragraphs, often overlooked by fledgling, and even established, battery manufacturers, is that one size does not fit all: trying to meet the demands of every battery application is frequently a design for financial disaster, as indicated by recent Li-ion industry history. My predictions are not intended to be complete, because that would belittle the creativity and innovation of scientists and engineers in the battery industry. Extrapolation of today's laboratory results into next-generation commercial products reveals many possibilities for more rigorous use of Li-ion technology. These advances will be especially beneficial for electric vehicles and public utilities, promising cleaner air and better environmental husbandry for Lily's generation.