Your Editor goes to Washington DC to see how PHEVism is capturing the hearts and minds of democrats, republicans, automakers and batterymen.
If it's true that you shouldn't judge a book by its cover, then don't judge the strength of the electric drive and transportation industry by the size of its ride & drive – or the size of its accompanying exhibition.
The ride & drive at this year's EDTA (Electric Drive and Transportation Association) conference in Washington was very small by US standards, even though it was a stone's throw from the seat of power in the world's biggest economy – a handful of vehicles, most of which you won't be able to buy, let alone fuel, 'anytime soon'. The exhibition consisted of no more than 30 stands.
But behind the scenes there's been a lot of activity going on, and there is likely to be more – at the highest level. It began, in part, with President Bush announcing the Advanced Energy Initiative in his State of the Union Address in January last year.
"We must also change how we power our automobiles," he said. "We will increase our research into better batteries for hybrid and electric cars, and in pollution-free cars that run on hydrogen. We'll also fund additional research in cutting-edge methods of producing ethanol, not just from corn, but from wood chips and stalks, or switch grass."
Like many others, Bush has been captivated by the plug-in hybrid – a technical possibility which has gone down well with the public power utilities and, of course, battery makers. The EDTA just had to follow through.
Turning rhetoric into action is in part the task of the US Department of Energy, which as early as May 2006 began to sound out the experts as to what would be needed. Two of the national laboratories – Argonne and Idaho – have already outlined their work programmes, and you could catch a whiff of the excitement at last year's AABC meeting in Baltimore, but there has been an astonishing amount of activity in the short space of time since then.
The battery goals, though, have not yet moved on from the existing hybrid vehicle battery goals: by 2010, develop an integrated electric propulsion system that costs no more than US$12/kW peak (US$660 per system compared to the cost of $1,900 in 1998) and can deliver at least 55kW of power for 18 seconds and 30kW of continuous power. Additionally, the propulsion system will have an operational lifetime of 15 years.
And the goal of the Hybrid and Electric Propulsion sub-programme is: hybrid and electric propulsion R & D activities to reduce the production cost of a high-power 25kW battery for use in passenger vehicles from US$3,000 in 1998 to US$500 by 2010 (with an intermediate goal of US$750 in 2006), enabling cost-competitive market entry of hybrid vehicles.
From where I'm sitting (which is the same place as a lot of battery developers) it all looks a touch impossible.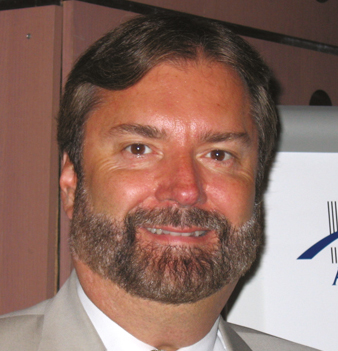 Interestingly enough, batteries got a US$31 million boost in new research funding to support advanced battery research, a 27% increase over 2006 levels. But the new Congress will call for much more, and the small battery developers represented at the EDTA meeting by a handful of relative tiddlers want to see the spending balance redressed. Mil Ovan, representing Firefly Energy, put it very simply – fuel cell research is getting more than a billion dollars worth of research support from the Government while batteries are getting just over US$55 million.
The only large-scale player, the JCI/SAFT joint venture, was not represented on any of the over-stuffed panel sessions squeezed into this meeting.
The smaller battery companies like A123, Electrovaya, Electro Energy and Altair Nanotechnologies will be hard pushed to persuade the key players on the various House committees on Capitol Hill who control the purse strings on environment, energy and science – not forgetting those who control the revenue raising (ways and means) committees – to give more money to batterymen.
The fuel cell activity has momentum all of its own, and while there is growing realisation that it is not going to deliver cars and infrastructure quickly, it will be politically difficult to turn down the spending – it's a 'technological Iraq', so to speak. But the battery boys do have an old and powerful ally in the form of the power utility companies.
In many respects the situation is reminiscent of the mid-1990s, when it seemed like the pure electric car had a real chance of coming to fruition.
Southern California Edison, for one, is throwing its considerable weight behind the plug-in hybrid. It still has the biggest fleet of pure electric vehicles (300+) anywhere in the world, and began testing the first DaimlerChrysler Sprinter hybrid electric van early in 2005. It is also working with heavy and medium truck users to develop such vehicles.
It makes both commercial and environmental sense according to Ed Kjaer, the director of the company's electric transportation division. Of course it would – the company has 20,000MW of base load it can't sell in the 'wee small hours of the morning' and, with smart metering and a smart grid (technologies that weren't around in the 1990s), it should be possible to significantly reduce CO2 emissions and petroleum consumption by as much as 20%.
That is unless plug-in users want to start charging their cars during the daytime. And some in the utility community see all that distributed stored energy in the batteries of plug-in hybrid electric vehicles (PHEVs) as a potential fix to get power companies through demand peaks. While SCE has been committed to the concept of PHEV usage for years, it was a relative newcomer – Austin Energy, the Texas-based municipal utility – which managed to capture the attention of Government and the auto industry with its Plug-In Partners campaign.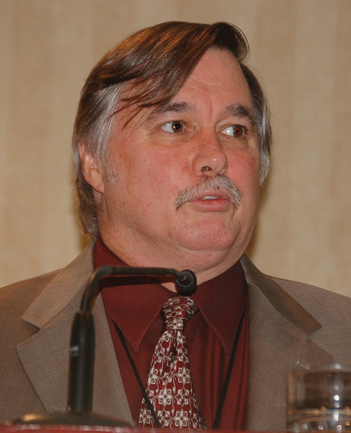 The campaign is garnering support in the form of online petitions and endorsements from cities right across the country. It is also procuring 'soft' fleet orders and developing rebates and incentives for PHEVs. But there were, of course, none to buy, except for a few conversions. Campaign co-ordinator Roger Duncan was given something of a hero's welcome when he finally spoke. And what better PR gift to EDTA and the whole plug-in lobby than the announcement from GM that it would be the first automaker to put forward plans to build a plug-in hybrid vehicle, reducing gasoline consumption and pollution. The announcement was made by GM Chairman and CEO G. Richard Wagoner at the Los Angeles Auto Show, but he did not say when the new vehicle would go on sale. Wagoner said it will take several years for GM to create a plug-in hybrid that meets performance standards.
When the news was delivered to attendees at EDTA by GM Hybrid Powertrains Engineering Director Pete Savagian, some of the audience clapped and cheered. But for whom, one wondered? GM for committing itself to a project where there are so many unknowns, or for the Plug-In Partners campaign, which showed that it was possible to change the mind of big business?
And had they? At a media breakfast a bemused intern reporter from a respected US newspaper asked how the public could tell whether the auto industry was turning its words into deeds. A good point. The expert panel – all battery specialists – were able to agree on one thing: if there are demonstration programmes, then it's serious. And are battery makers ready to deliver? Well not at the prices being suggested by the DoE.
Just what kind of plug-ins will emerge? PHEV 20s with 20 miles of pure electric range, or PHEV 40s or PHEV 5s? And how do you educate the buying public about purchasing them? Everyone knows that a car with a V8 engine will be something of a muscle machine, but what kind of vehicles are these? What will be the cost benefits – to the individual or to society? Will there be subsidies and tax credits? PHEVs won't be for everyone – if you don't have a garage for your car, where will you do the charging? Not good for city dwellers!
Sankhar Das Gupta of Electrovaya told me that many buyers of the ordinary Toyota Prius who he had spoken to had believed that they had already bought such a vehicle, and they were disappointed to find out they had not.
One always leaves these meetings with both a sense of despair and a sense of optimism – that we're going to hell in a handcart, and that we have the means to rescue ourselves. Don Hillebrand of the Argonne national laboratory, which is centre stage in the technical evaluation, said he hoped that he's not giving a talk entitled 'Who Killed The Plug-in HEV?' in 2010.
But there is always a chance it could happen through bad standards, bad legislation and too much hype. And what's the other thing that can really mess things up? The plug! A very droll fellow from EDF – Çyriacus Bleijis – has given his career to writing standards on plugs, and that's why we all carry so many adaptors: no standard is adopted widely. Fancy charging stations won't be the way forward – it will have to be the domestic outlet in the main, and that will require ground fault detection on just three pins. There's a huge minefield of technical problems to overcome before volume PHEVs can become a reality.
As EDTA delegates drifted away the next 'convention' began to check into the Hyatt – the Black Rose BDSM (Bondage Domination and Sado Masochism) meeting. One gentleman I saw checking in wore a T-shirt with the provocative slogan 'No gain without pain'. Judging by the amount of effort collaborating partners will have to go to in order to make PHEVs a reality, it might be a slogan they could borrow.
Argonne to the rescue in plug-in power source push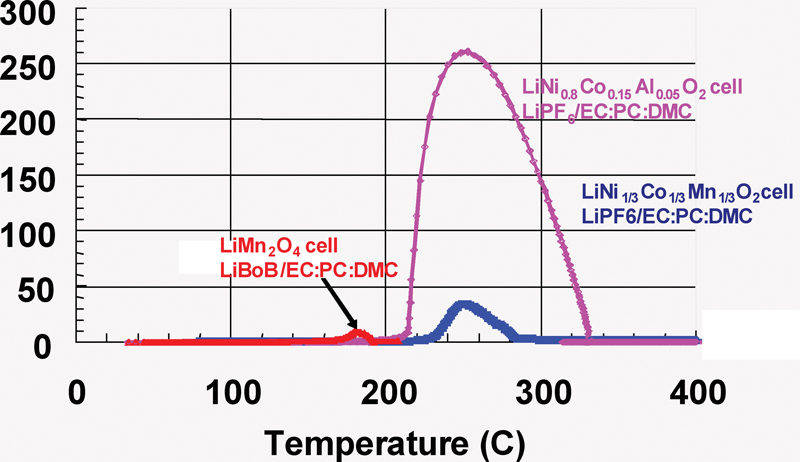 Argonne National Laboratory has been designated by the U.S. Department of Energy's Office of FreedomCAR and Vehicle Technologies (FCVT) as the 'lead national laboratory' for the simulation, validation and laboratory evaluation of plug-in hybrid electric vehicles and the advanced technologies required for these vehicles. If you've never been there, it is situated about 30 minutes' drive from Chicago O'Hare International Airport.
It's here that some of America's best-kept ideas have been nurtured on how automotive wheels will continue to roll into the future, and batteries are very much at the core of it. It's the only place I've ever been where an application for a press pass required me to give the details of my BSc! The U.S. may not have any large-scale lithium-ion battery makers today, but if it ever does this is where the science that will underpin them will have been proven.
The battery technology department here has two major functions. One is the independent testing and evaluation of existing batteries, both those in commercial use and those which are being developed through U.S. Department of Energy and U.S. Advanced Battery Consortium programmes; but more importantly, it carries out basic materials research. It is actively working on new anodes and cathodes for lithium-ion systems. To put something of a chauvinistic spin on things, it ensures that 'Uncle Sam' is not totally reliant on innovation coming out of Asia.
Gary Henrickson – the manager of the battery technology department and my guide around the laboratory's facilities – revealed the weaponry of lithium-ion R & D. This department can do just about everything from modelling theoretical material structures to synthesising them, then building new cells based on the new material structures, and establishing their electrochemical performances.
Hybrid electric vehicle simulation, based on real world designs, looks like routine compared to all this. And when in-house designs show promise, there are plenty of potential cell builders ready to start fabricating cells for large-scale testing.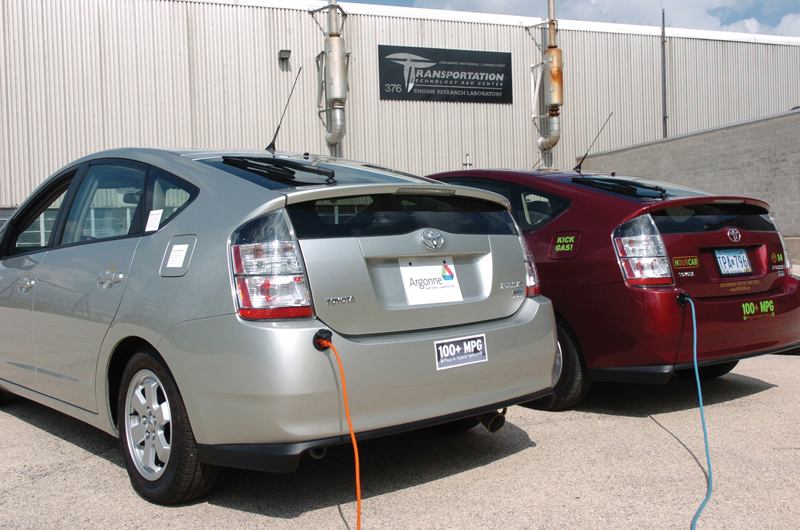 Argonne isn't run like the R & D department of a commercial battery firm; it's a part of the University of Chicago, so there are other more esoteric specialties to link up with – high-energy physics, nanotechnology and quite a lot more besides.
Endless industry presentations have taught the battery world that price, performance and safety are all that really matter in this arena, so the focus is on low-cost materials that are more stable structurally, chemically and thermally than those in use today.
The problems associated with today's lithium battery cathodes, based on metallic oxides, are well understood. As the cells get hot, the metal oxides release oxygen which reacts with the electrolyte – generating even more heat, and eventually resulting in those infamous images of smoke and flame.
In recent years work at Argonne has resulted in the development of a new family of composite cathodes based around lithium manganese/nickel. These materials are layered and do not change form or become unstable during the charge/discharge cycle. These materials have good power performance, and less oxygen is released on heating which makes them safer.
Argonne has also developed a lithium titanate/lithium manganese spinel type chemistry which not only offers very high rate capability but also little electrolyte reaction, making it safer still. This material is currently undergoing commercial development with EnerDel. These are just two examples from a small stack of patents assigned to workers at Argonne.
It's not difficult to see how the multidisciplinary approach affects battery development. The ability to make smaller, finer particles of candidate materials using nano processes results in cells with high capacity and higher rate capability.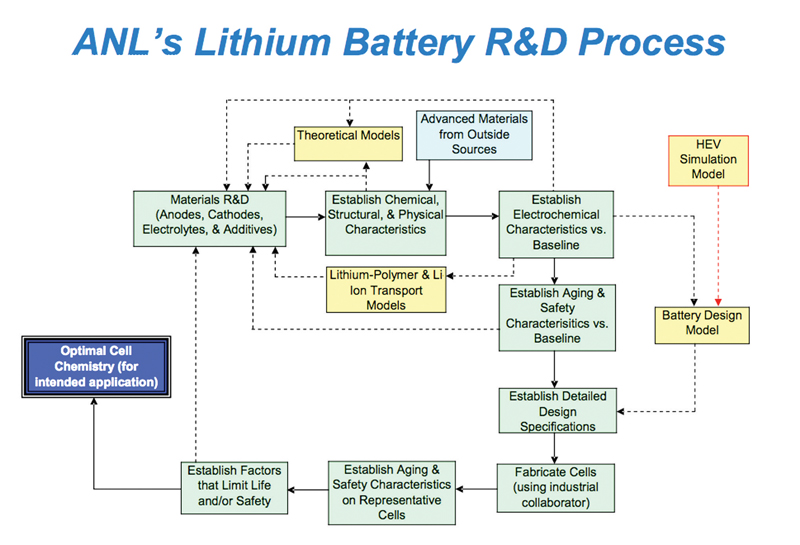 Apart from materials, Argonne is also assessing prototype batteries in development for plug-in hybrids. Through its Electrochemical Analysis and Diagnostics Laboratory (EADL) it is carrying out an evaluation of the Johnson Controls/SAFT battery pack developed for DaimlerChrysler's Sprinter plug-in hybrid, which caught the public's attention last year.
The EADL, part of Argonne's Chemical Engineering Division, is now the only known facility with the capability to conduct 120 concurrent advanced battery studies under operating conditions that simulate electric vehicle, hybrid electric vehicle, utility load-levelling and standby/uninterruptible power source applications. Each battery is independently defined, controlled and monitored to impose charging regimes and discharge load profiles that simulate the types of dynamic operating conditions found in actual use. Since it was established more than two decades ago, the laboratory has tested more than 4,000 cells and batteries, ranging from individual 4 Wh cells to 50 kWh batteries.