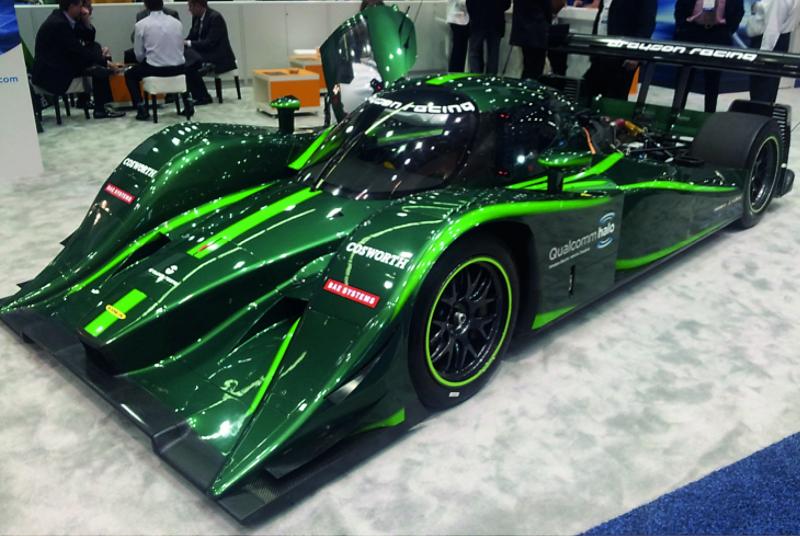 Supercapacitors have transitioned into an "enabling technology" says Dr Peter Harrop. Quite simply they've become so useful they will soon be deployed in markets much bigger than electric cars and hybrid vehicles.
Much industrial equipment needs to last twenty years and consumer equipment ten years, yet battery guarantees often extend to only one or two years. On the other hand, batteries for the new e-labels, e-packaging, e-posters, medical testers and drug delivery and so on need to be very low cost, thin, environmental and preferably capable of being laminated or printed onto other components to increase reliability and save space and cost. But they are usually only used indoors and requirements for life in use are modest, varying from a few seconds to a few years. Nonetheless, the way these products are made today is increasingly unacceptable. To take one example, there is a serious problem from over 30 billion coin (button) batteries polluting water and choking children and other animals every year.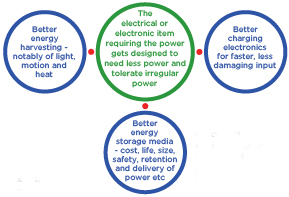 Coming to the rescue are many improvements in circuit and component design in the following associated areas and supercapacitors ie Electrochemical Double Layer Capacitors EDLCs and their sister components supercabatteries, Asymmetric Electrochemical Double Layer Capacitors AEDLCs, are a part of this.
What is a key enabling technology?
There are a number of tests that can be applied to establish if a technology is becoming key in a given industry. Is it a large part of the cost and added value of the equipment that incorporates it? Is it widely deployed? Is it considered to be so important that the equipment manufacturers make their own, sometimes even selling them on the open market in competition with suppliers?
Criteria for key enabling technology
On these criteria, the internal combustion engine is a key enabling technology in the automotive industry and pushing water up hills is a key enabling technology of the electricity supply industry. (A key enabling technology does not have to be sophisticated.)
Organic Light Emitting Diode OLED displays have recently become a key enabling technology in consumer electronics. Electric vehicles traditionally have had three enabling technologies – traction batteries (particularly lithium‑ion), traction motors and circuitry (vehicle management system, battery management system, on-board charging inverters, motor controllers etc).
Vertical integration
These examples are interesting because supercapacitors have just become a key enabling technology for electric vehicles, hybrid and pure electric, and they are likely to become key enabling technology for the conventional vehicle, (land, water and air), the electricity supply industry and consumer electronics. Vehicle makers making supercapacitor cells or at least assembling them into packs and systems, because they provide competitive advantage, include Bombardier, (which makes aircraft, trains, buses, trams, snowmobiles), Bolloré (electric cars), Toyota (buses, forklifts, cars), Honda (cars, motorbikes, material handling), Fuji Heavy Industries (industrial) and Mitsubishi (forklifts, cars) all have supercapacitor cell patents. The applications are very broad in type of vehicle and in function. Companies making many types of vehicle tend to introduce supercapacitors in one type and then transfer success to others.
For example, Bombardier in Canada has been using Maxwell Technologies supercapacitors in its Mitrac system to capture the energy of its trains when they slow down and stop, without having extra weight on the train itself. Even back in 2006, Dr Michael Steiner of Bombardier described its Mitrac supercapacitor energy recovery system for its trains, noting that supercapacitor weight had reduced by a factor of five in the previous five years – far faster improvement than with batteries.
The first quarter results of Maxwell Technologies in 2012, specifically refer to the ongoing success of Bombardier Mitrac, saying, "A network of these units can enable rail system operators to reduce grid power consumption by 20-30%. They also serve as a backup energy source to provide enough power to get trains to the next station in the event of a power outage. Bombardier and other rail vehicle OEMs also produce on-vehicle systems that use ultracapacitors for energy storage, so we're hoping to have some more good news on electric rail design-ins."
Emphasis on lithium capacitors
The IDTechEx report "Advanced Energy Storage Technologies; Patent Trends and Company Positioning" takes 100,000 patents and computer analyses the 40,000 remaining after de-duplication. The results for supercapacitors and the sister product the supercabattery give technological and industrial insights.
For example, players in Japan and particularly Fuji Heavy Industries have placed great emphasis on lithium capacitor development. This is the type of Asymmetric Electrochemical Double Layer Capacitor (AEDLC), otherwise known as supercabattery, that has a lithium-ion battery type of electrode at one end. This indicates an emphasis on electrical engineering rather than electronics applications and specifically improving or replacing lithium-ion traction batteries with something that has better charge-discharge capability, longer life (calendar and cycle life) and hopefully lower cost-over-life for the system.
Indeed, In November 2011, FDK and Asahi Kasei concluded a basic agreement to establish a joint-venture company for the combined operation of a lithium‑ion capacitor (LIC) business. The announcement proclaimed that the LIC is a next-generation energy storage device which allows rapid charging and discharging at high current. It noted that the LIC features higher cell capacity than conventional EDLCs and longer life than lithium-ion batteries (LIBs). A large market for LICs is forecast to develop beginning in 2015, as they contribute to energy conservation through more efficient use of electric power.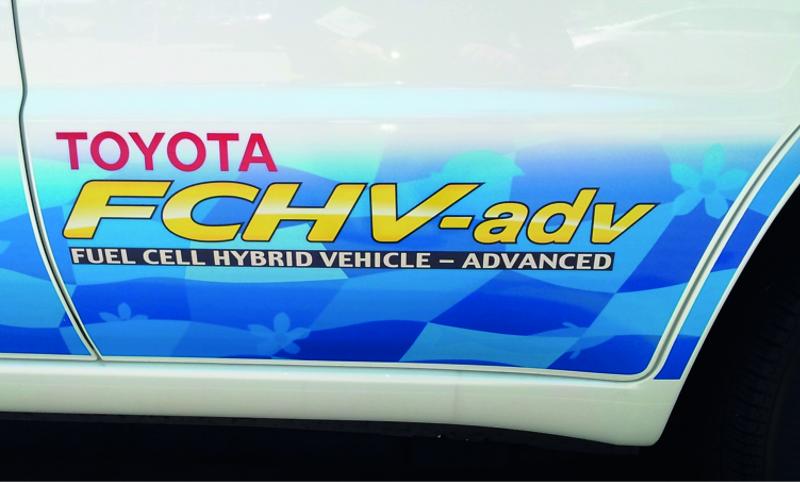 Interestingly, this is the magic year for fuel cells too, when many major truck, bus, car, motor bike and scooter manufacturers intend to launch fuel cell vehicles, including Toyota, Honda, Daimler, Tata Motors and Suzuki. Many of these have noted that the fuel cell can only be a range extender, the rapid start up and load changes being managed by a lithium-ion battery and/or a supercapacitor. One benefit of the supercapacitor is that it usually needs no interfacing electronics.
Identifying the LIC as a growth product, FDK has been a pioneer in its development and established a mass production system which enables integrated manufacture from LIC cells through complete modules. Asahi Kasei advanced work on the LIC based on its established technology for LIB materials, and successfully developed a high-performance LIC with low internal resistance which is ready for commercialisation.
In recognition of the advantage of combining FDK's cell and module technology and production technology with Asahi Kasei's unique basic cell technology, the two parties concluded the basic agreement for the establishment of a joint LIC business which will further strengthen R&D and supply capabilities.
Plenty of room for the independents
On the other hand, we discover that the most prolific supercapacitor patentors have not been those who will use the supercapacitors but independent suppliers such as Maxwell Technologies, NEC and Panasonic. These clearly have a major part to play in the industry in future, underpinned by excellent intellectual property.
Other technological trends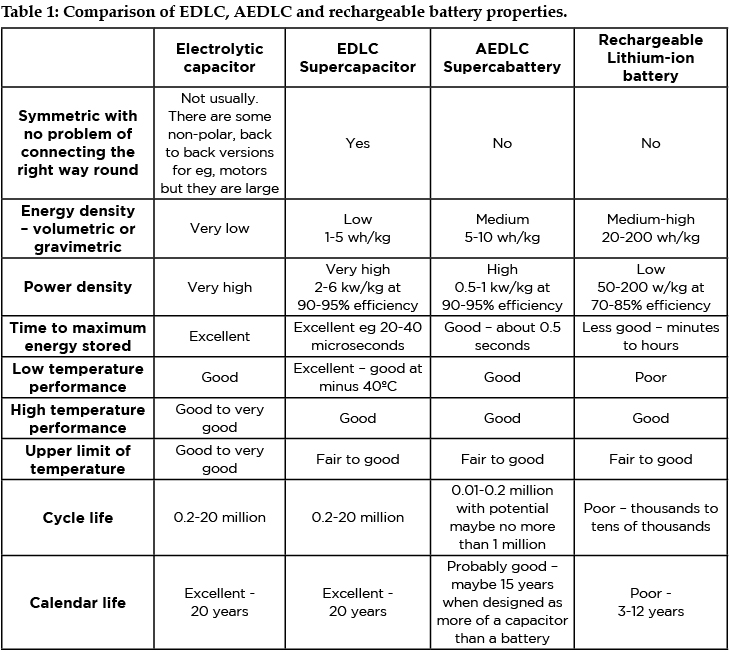 Our report, "Electrochemical Double Layer Capacitors: Supercapacitors 2013-2023" deeply examines the technological trends in supercapacitors and supercabatteries, including their significance and credibility. Here are a few of the findings.
Any comparison of EDLC and AEDLC technology and the electrolytic capacitors and batteries they enhance or replace in some applications can only be approximate, not least because EDLC/AEDLC technology is improving so fast. Table 1 gives a rough idea of the state of play.
Replacement of automotive batteries by supercapacitors is happening on many levels, including the drop-in replacement for one of the three lead-acid starter batteries in a truck, so as to ensure cold starting. The First Quarter 2012 presentation by Maxwell Technologies added, "Engine starting is also an issue for delivery vans, military vehicles, boats, backup power generators, construction, and mining equipment. So we're in the process of developing variants of this initial product to address what we think can become a very significant global market."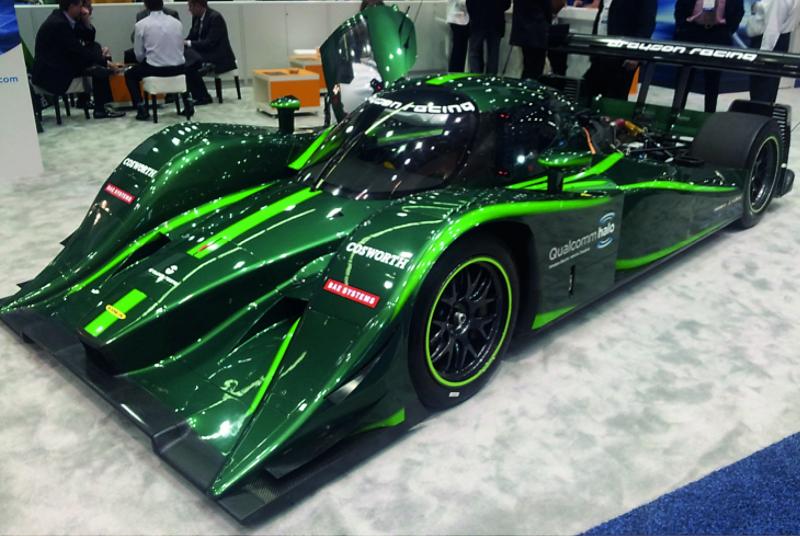 One later prospect is for the lithium-ion or NiMH battery in a plug-in or mild hybrid vehicle to be replaced by a more reliable, longer lived, faster charged and discharged supercabattery where less energy storage is acceptable. Over 5 000 hybrid buses across the world already have huge banks of supercapacitors in the roof to provide fast charge from the roadside and from regenerative braking and that essential surge of power when starting with a full load on a hill. The first component to fail in these vehicles will be the lithium‑ion battery that remains, so it is now likely to be replaced entirely where feasible or updated to one with faster charge‑discharge tolerance as with those offered by Altairnano, Toshiba and others that incorporate lithium titanate anodes. Of course, applications of supercapacitors and supercabatteries are not limited to enhancing or replacing electrolytic capacitors and batteries but they will be the bulk of the market for the coming decade.
Cell design
Most supercapacitors sold today have the original symmetrical design of two large area active carbon electrodes (typically activated carbon from companies such as Daying Juneng Technology And Development Co., Ltd. in China and, more recently and experimentally, carbon nanotubes or graphene with more pores of useful size). There is electrolyte in between, creating two Electrochemical Double Layers EDLs at the two interfaces.
The electrolyte may be organic giving higher voltage but troublesome assembly or aqueous – more on that later. A porous membrane separator keeps the electrodes apart. Some versions have reached the energy density of lead-acid batteries – something with huge commercial implications. For example, it opens up the prospect of a greener, safer drop-in alternative to lead-acid batteries that has better deep discharge tolerance, six times the life, ten times the cold performance and 100 times the fast charge-discharge performance. That is highly likely to lead to lower cost-over-life despite even before the higher up-front cost is tackled.
Prospect of radically different battery and capacitor shapes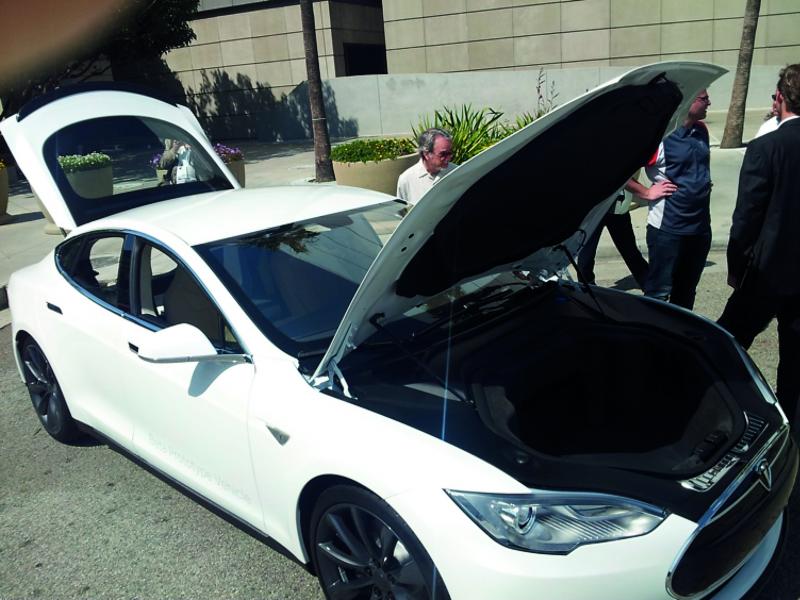 As the traditional parameters of batteries and supercapacitors are steadily improved, some completely different improvements are proving exciting because they can open up completely new markets. These include transparent, stretchable, tightly rollable, woven, stitchable, implantable, biodegradable and wide area versions more suited to the world of ubiquitous electronics that is arriving. As wall decoration, windows, apparel, books, posters, consumer goods, pharmaceutical packaging, the skin of an aircraft and the inside of a car and much more become electronic and electric and local harvesting of power becomes commonplace, these are the products we need.
For example, several organisations are working on supercapacitor "smart skin" that may cover the inside of the shell of a car or be wallpaper at home: indeed some even employ paper. Drayson Racing and others have incorporated lead‑acid and lithium-ion batteries into the structure of their vehicles such as the aerofoil or the side panel – so‑called structural batteries.
The gloriously empty Tesla S family car for seven people looks like a car with the engine and every other component removed because almost everything is in the floor. In the same way, supercapacitors are becoming structural components before they are viable as smart skin.
The laminar supercapacitors of Cap-XX, licensee Murata, Maxwell Technologies, AVX and others also show the way. These are intended to fit snugly into mobile phones and the like to improve sound quality and flash distance and maybe later enhance or partly replace the battery. The postage stamp-sized Maxwell Technologies PC-10 cells already go into data storage devices called solid state disk drives, or SSDs, for enterprise computing installations such as data centers. They are mounted on the circuit board, where they stand ready to provide a few seconds of instantly available backup power to allow work in process to be stored in the event of a power interruption. PC-10s also provide power for wireless transmitters that allow smart utility meters to transmit data and to be read remotely.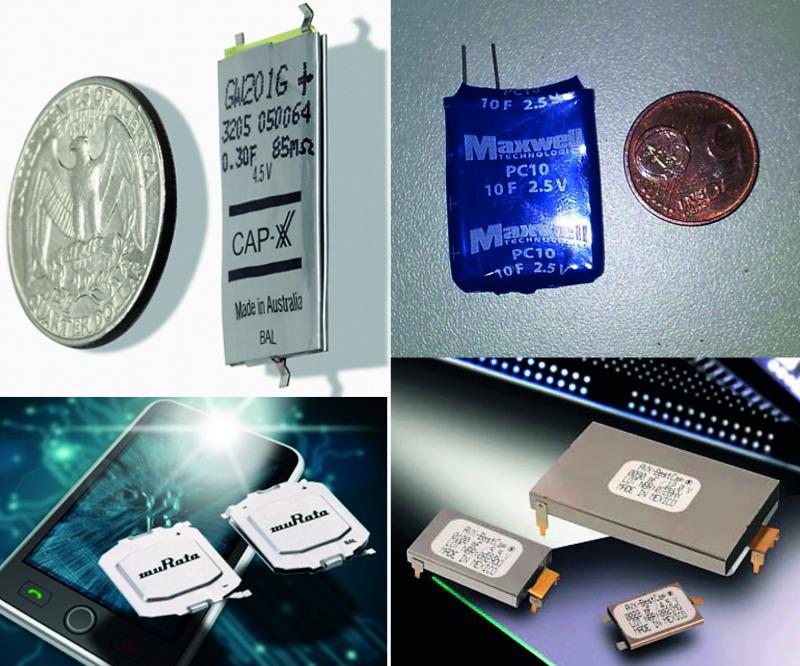 Improving the operating parameters
The usual objective of symmetric and asymmetric supercapacitor development is to provide improved electrical and physical properties that can extend market reach, such as improved energy density, power density, flexibility and transparency and reduced self-leakage and cost. Of these, the most effective in increasing sales will be improved power density and cost. On the other hand, the addressable market without any improvements is already billions of dollars yearly.
Cost reduction
We are doing very well already. Jeff Colton, VP North American Sales of Ioxus notes, "Pricing of ultracapacitors has declined by more than 90%. By comparison, battery pricing has declined by less than 40%, and ultracapacitor prices will likely continue to decline at a faster rate than batteries."
Cost reduction is coming from using less material and by selling in larger numbers to gain economy of scale. The most expensive parts of a supercapacitor are the carbon electrodes. For now, these are actually being made more expensive in the quest for improved performance – such as energy density – but aqueous electrolytes favoured by an increasing percentage of manufacturers and developers are certainly lower cost than organic ones.
With supercabatteries, there has been a trend away from nickel‑based versions partly because of the cost trend of nickel. Lead versions are a minority sport because of relatively poor performance and pollution concerns if the intended ubiquitous use was achieved. Lithium supercabatteries discussed earlier are the order of the day – relatively green and cost-effective with no materials held hostage for massive price hikes one day.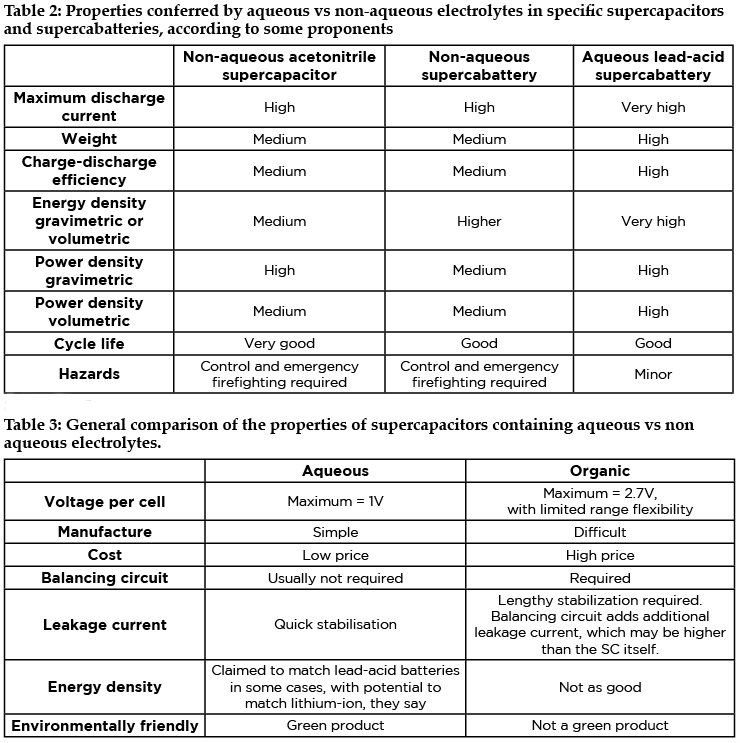 Aqueous or non-aqueous electrolytes
In achieving the market potential, there is a battle between those using aqueous and those using non-aqueous electrolytes. It is likely that both will achieve major sales in complementary applications in our opinion but in table 2 are some comparisons disseminated by (biased) suppliers. Negative appraisals tend to come from the enemy!
Aqueous electrolytes are RoHS and REACH compliant (mostly sulfuric acid or KOH based), offer low internal resistance, but limit the voltage to roughly one volt per cell. Whereas organic electrolytes generally allow higher voltage per cell at a cost of higher internal resistance. Salts, for example ammonium salts, are added to the electrolyte to provide the ions.
In addition, the organic supercapacitors, which dominate the electrical engineering applications today, usually have higher specific resistance (higher ESR per capacitance) compared to aqueous ones, are water sensitive and require dry conditions during production (trace quantities of water in the electrolyte can degrade the performance). The aqueous supercapacitors have higher ion mobility with higher conductance, which leads to faster charge/discharge.
The increasing number of suppliers favouring aqueous electrolytes cite:
Product is friendlier to the environment
Aqueous electrolyte enables the building of products for 0.7, 1.4, 2.1, 2.8, 3.5 Volts and up, with greater voltage flexibility (compared to increments of 2.3 or 2.7 Volts of organic‑based supercapacitors)
Final leakage current stability value is obtained in less than 12 hours (for small capacitors in less than one hour) instead of the 72 hours needed for organic electrolytes
No balancing resistor requirement, which decreases leakage current
Improved safety due to non-toxic materials used (acetonitrile is used in organic supercapacitors, which is harmful and flammable)
All the same, the enthusiasts for aqueous technology may also be escaping the patents of companies such as Maxwell Technologies.
Table 3 shows a more general comparison.
Faced with this, Japanese suppliers have agreed to offer only green supercapacitors, despite organic ones being imported into the country and being legally used in various applications.
Most promising routes
The most promising and most pursued routes to improving sales of symmetric and asymmetric supercapacitors currently include improved aqueous electrolytes and graphene or carbon nanotube electrodes, sometimes with oxides of manganese and/or cobalt for electrochemical strengthening.
We shall explore this in future articles.