Anthony Price explains how compressed air energy storage may challenge traditional battery systems in some important developing markets.
A long time ago, I remember seeing a diesel generator running lights and small electrical equipment in use on a construction site. It was cold, and the diesel was proving obstinate to start. On the side of the machine was a small cylinder containing compressed air. To start the genset, the operator bled the air through a small turbine and this spun the machine, with the intention of firing the engine. When this failed, the operator resorted to using a lever operated hand pump to recharge the cylinder and he simply repeated the process. Although slow, it was a virtually failsafe way of starting the engine and avoided the need to include the traditional lead acid battery on the machine.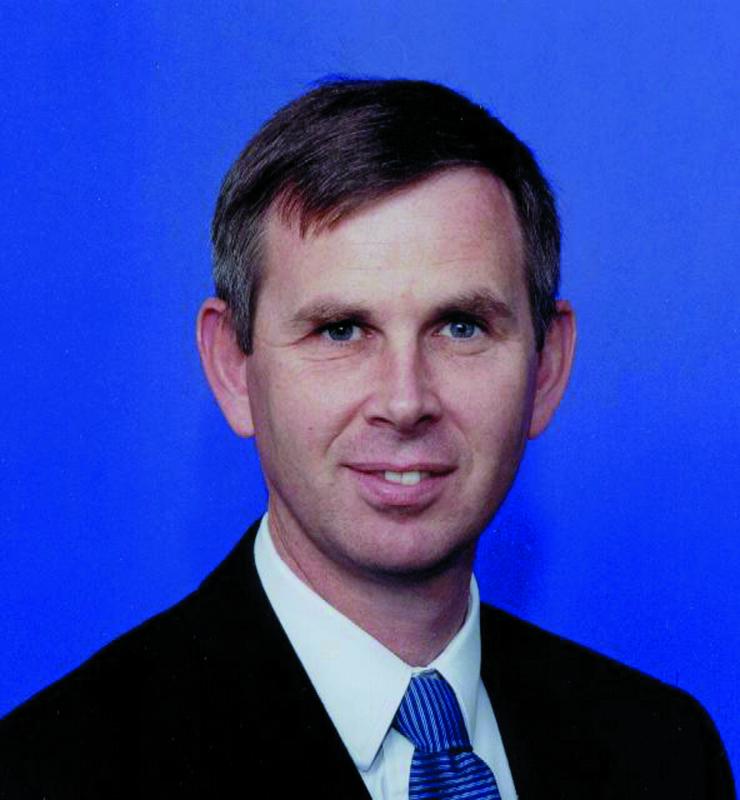 Compressed air can still be a competitor to other electrical systems. Compressed air lines are common place on building sites, in garages and factories and they demonstrate how effective it is to use air pressure as an energy vector. Large scale power networks based on compressed air were in operation in Paris at the turn of the 19th and 20th centuries, but although superseded by the now ubiquitous electrical networks, compressed air is having a revival, although it now seems that the systems will be operating in conjunction with electricity rather than in competition. But the sting in the tail might be that compressed air could replace some applications that have previously used batteries.
Power companies have considered various mechanisms for energy storage, from the lead acid cells used on DC power systems in the early 1900's to pumped hydro projects with power ratings of 1000's of megawatts. Power system engineers looked at compressed air energy storage (CAES) in the 1970's with small demonstration plants built in Italy. The present state of the art is embodied in two projects, one at Huntorf in northern Germany, and the other at Macintosh in Alabama in the USA. The Huntorf project was the pioneer for CAES development and few promoters of CAES can talk about the subject without referring to the plant at least once. It is impressive. It has a peak output of 270 MW. In comparison, the more recent plant in Alabama can only manage 110 MW. But these power ratings only tell a small part of the story. To get the full picture we will need to look at the design philosophy of these plants and then move into more recent developments. A range of these was given at the recent EESAT conference in San Francisco in October 2003.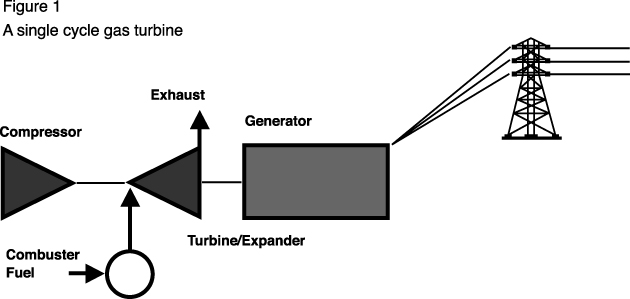 To understand these two CAES plants we should look first at the construction and operation of a gas turbine generating set. This is illustrated in Figure 1. Air enters the machine and is compressed to a high pressure before entering the turbine. On entry to the turbine, fuel (such as kerosene or diesel) is injected and ignited. The hot gases expand through the turbine releasing energy, which is used to turn the turbine and spin the generator.
A simple open cycle GT has a very low overall efficiency because almost two thirds of the output energy is required to turn the compressor to keep the process going. So for example, if the turbine produces 100 MW, 70 MW is required to keep the compressor stage turning and only 30 MW is available to produce useful work to turn the generator.

Large clutches are installed between the components of the GT as shown in figure 2. The generator is replaced by a motor generator and additional piping is added. It would be possible for the GT to run conventionally, but it is usual for the process to be split between peak and off peak periods. During the off peak period, when electricity prices are low (approaching the marginal cost of base load power), the motor is driven by electricity drawn from the grid. Air is compressed and pumped into a cavern, usually a disused salt dome, but other geological features can also be used. During the peak period, the air is released from the cavern and routed to the turbine.
The clutches are changed such that the compressor is disconnected from the motor / generator and the turbine is connected instead. Fuel and compressed air are injected into the turbine and the hot gases used to generate power. This complicated arrangement shows a neat trick in thermodynamics. Remember that the turbine can generate 100 MW but usually has to give 70 MW to the compressor. Now, the turbine's full output can be used to generate 100 MW. This is from a turbine that otherwise would have produced one third of that. So the CAES plant becomes a highly valued, and cheap peaking (low capital cost) plant. EPRI estimate that the initial capital cost of a CAES plant would be approximately US$300 – US$500/kW, or about the same as a similar open cycle GT. If there is a cavern available it becomes a very attractive option. It is probably easier to think of a CAES plant as a peaking plant, rather than an energy store, because we need primary fuel to complete the cycle.
But bring any group of CAES enthusiasts together and the subject invariably turns to thermodynamics and specifications of different compressors and turbines. The ink had hardly dried on the plans for the Alabama plant before the specialists had produced the first set of improvements to the thermodynamic cycle. Humidified air could be used to increase mass flow rates, thermal energy storage and recuperators could be used to heat the air as it was expanded before it entered the turbine.
With power outputs in the region of 100 – 300 MW, the target market sector was different from that considered by most battery manufacturers. The battery developers had little to fear from the further development of CAES. But instead of using underground air storage, some developers proposed using steel pipelines, as used for transporting natural gas, as a means of holding the compressed air. Much smaller plants, of say 5 – 20 MW and perhaps 20 – 50 MWh, could be built at critical points in the network. These would compete directly with battery systems such as built at Chino, Puerto Rico and Berlin or under construction at Little Barford. CAES plants are excellent for peaking duties, and can provide spinning and standby reserves. Their energy storage is measured in MWh, not MJ, but they will have some limits, such as speed of response and ramp rate (the ability to change load rapidly). Septimus van der Linden, an independent consultant with previous experience in CAES with ABB and Alstom has calculated that 1.3 miles of pipeline (nominal 60 inch diameter) would be needed to store enough air to provide 60 MWh.
On this basis, batteries might continue to have the edge in smaller applications of energy storage. Also, as true energy storage, batteries have virtually no emissions and so there are few environmental issues with their location, especially in inner city areas.
If you have made it so far—hang on—because more and more folk are climbing abroad the CAES train. Large projects have been proposed at Norton in Ohio, and in Texas, where wind power will be used to pump compressed air into the reservoirs during off peak periods. Delegates at EESAT heard from several CAES developers about the latest improvements to the simple theory of a CAES plant. Developing CAES projects in the face of strong competition from alternative forms of primary generation has meant even more attention to the thermodynamics of the system. The Norton project will use a different high efficiency air compressor on the inlet and a special air motor as its first expansion stage of expansion. The turbines will be modified to suit the special circumstances of CAES.
But other ideas have also been floated. After a batch of papers at EESAT on large scale versions of CAES, researchers from the Ecole Polytechnique of Lausanne, Switzerland proposed using a small CAES system in conjunction with a capacitor. Sylvain Lemofouet wanted to describe a simpler technical solution to storing energy produced from small scale renewable sources. Conventional CAES requires high pressure air storage and some means of dealing with the heat flows as the air is compressed and expanded. Furthermore the efficiency of the air storage part of the cycle is low. So they set themselves the goals of aiming for maximum efficiency and power flexibility. The combustion part of the cycle was removed, thereby eliminating emissions and the need for a gas or liquid fuel source.
Sylvain's proposal goes back to basics. He uses an electrical motor to drive an air compressor, taking as his model the types of equipment used in the air liquefaction industry. Such devices are low cost and have good reliability. As with other CAES systems, off peak electricity (or in his proposal, electricity generated from renewable sources such as PV) is used to drive the motor/compressor. Air is stored in above ground vessels, which are low cost and widely available. When energy is required, the air can be released through a simple air motor.
These items are used to liquefy air to separate gases and have high reliability and a good operating record. It becomes more like a boy blowing up a balloon and releasing it to create motion rather than the complex air cycles proposed recently.
There is no pressure regulation as the air is bled across the motor, so avoiding efficiency losses. The clever idea is to include a speed control such that the pneumatic machine operates at its best efficiency.
There is a DC/DC semiconductor converter which accommodates the changing voltage. A large bank of supercapacitors is included, to smooth the power output from the DC/DC converter before it passes through the DC/AC power conversion system and the transformer to the load or local grid.
Sylvain Lemofouet and his colleague Dr Arnold Rufer have come up with a novel twist to the ongoing CAES saga. For them, the aim is to provide a credible energy storage system that could be coupled to small and mid size renewable generators, would work well with moderately "low tech" equipment, but yet would be a marked improvement on other storage devices such as advanced batteries and flywheels. They have worked out the theory, and now they are looking at their first demonstration. They acknowledge that they will need to improve the air motor, but they deserve some good luck. There are many opportunities to develop off grid or micro grid renewable / storage hybrids and this is an interesting way of doing it. If they can make it work, it might be a useful alternative to large stationary batteries.