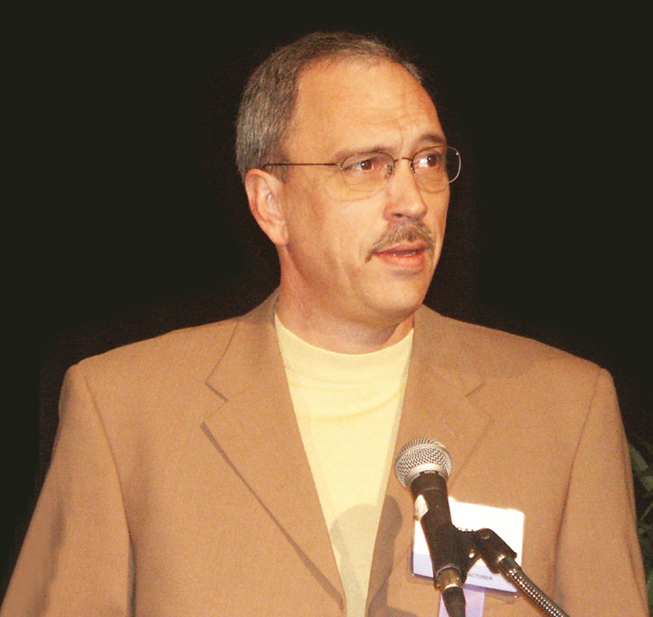 Not so much a conference report – more a sketch from Palm Springs.
I made a solemn promise to you that I wouldn't poke the finger of fun at BCI's annual convention this year. After all, they chose a pretty reasonable sized hotel, where it was impossible not to find the convention rooms. It was unfortunate that most of us underwent severe thermal cycling tests every time we went from Powermart to the main building; but listen, guys, if you won't sign up to the Kyoto protocols it's gonna get worse!
And before I knew it, Ann Noll was handing out the early bird awards. I didn't win anything, but in all other aspects we'd already won all the prizes. BCI is over faster than the Christmas holidays (sorry, seasonal holidays – I bow to political correctness).
When you consider our position last year, it was another matter. BEST's first issue, not unlike 42 volts, had been delayed. Our weapon of mass revenue collection, the medium range missile system known as the Al-Cullimore, had been restricted to watering the garden. No exhibition booth either.
Some of last's year's faces had gone. My friend 'Spiv', part of the English couple who appeared to stalk me, was sorely missed. Only the heir to the throne and his wife 'blanked' me for want of something better to do.
But this year was different – we had a great booth, a year's worth of production and a bottom line which enables us to recoup our initial investment. And in the US, where the market is everything and most people appreciate enterprise, people said: "Good for you".
So what did we find out? Well, we got the main story in our last issue – the lead hike, which was as big as an elephant and much more dangerous to battery suppliers and manufacturers alike. What we're really into now is reporting the forecasting (which in itself is a risky business) and everyone's interpretation of what will happen next. The other key points were a return to modest growth in the industrial battery market for telecoms, reported by Bob Cullen of H&V, in his usual style, and the not unexpected flat line or 1% growth in SLI battery sales from Dick Amistadi, who retires from Doe Run this October. He will probably breathe a sigh of relief at never again having to spin out the "nothing much is happening" message into a 20 minute presentation. And oh yes, Allan Cooper's people have finally got the ALABC's Honda Insight hybrid to run on lead-acid batteries. But I'd been sitting on that news at Allan's request.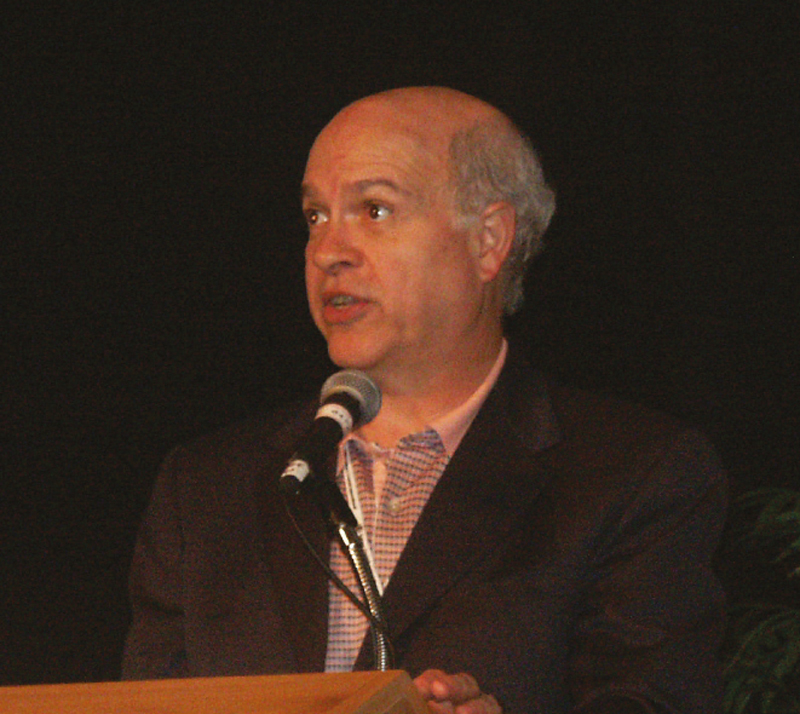 None of these things were really a surprise to me, and probably not to you either, which may explain why you weren't there, or if you were, why you're nodding in agreement.
For entertainment there were economists and lobbyists who were, let it be said, good value – for alternative comedy. For months now, I've been catching glimpses of Lou Dobbs on CNN bleating about the de-industrialisation of North America. But don't worry. There are lots of growth opportunities in hairdressing and the movies. So tell that to your machine minders and engineers – factories are a thing of the past in the West. In the UK of course, it's been that way for quite a while, but we de-industrialised for quite different reasons. See me afterwards for a special lecture on why I still hate Margaret Thatcher. Book me for next year's BCI.
I thought making things had almost disappeared in the UK until there was a factory explosion here some weeks back. I couldn't work out whether the news angle was the fact that people were killed or the fact that there was still somewhere in the UK where fabrication of products still took place. But we digress.
The anti-lead, anti-chemical, anti-vivisection and anti-science lobbies are always going to be with us – don't expect rational arguments to work with them. But should you really be employing lobbying agencies and lawyers to counter their activities? Isn't there somebody out there who knows a hit man or two?
But that wasn't all the froth. There were no less than three presentations explaining why the lead price had got to where it is. "It's a conspiracy, that's what it is, Ethel, all those damn speculators."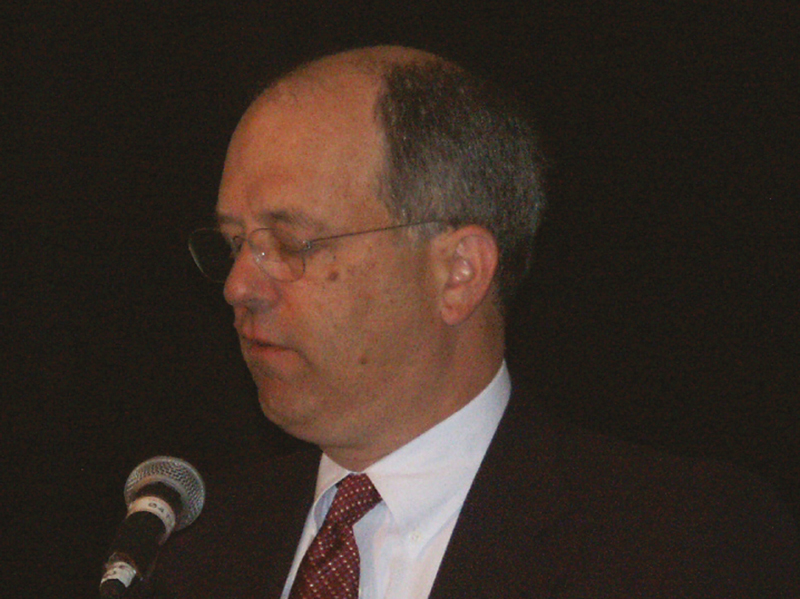 And why not! If you want your retirement plan to deliver, you've got to expect those fund managers to find some tangible good that's in short supply. The stock market won't help, property's fit to bust any time, so metals are just one way to go. And that's what they've done. It's not just lead that been affected, it's tin (there are stories in the UK press about tin mines reopening after nearly 20 years!), nickel, copper, steel and even cobalt for lithium ion batteries. Part of the problem of course is the Chinese, always busy making things. Too bad that things they make end up in our countries, and the cost of recycling them is high and primary metal production has been in decline for some while.
So even they are feeling the pain of commodity prices on the rise. Neither Maqsood Ahmeed of Calyon Financial nor Peter Hochschild of Hochschild Partners told me (or you) anything we didn't know already, wrapped up with a few statistics. And as for where prices are going to go…
Of course it's going to be volatile! It makes the whole 'lead out' campaign seem like a good idea in a perverse way. Maybe it's a 'doublethink' conspiracy to get the price down.
So where's the meat on these bones? These so-called forecasters are great at explaining the past, but it will come as no surprise to tell you that there really wasn't any. Except at the dinner. David Prengaman was big enough to admit that he'd got the whole issue of the effect of the increased concentration of silver in the lead supply wrong. Yes, it's a beneficial ingredient for lead-acid batteries operating at higher temperatures. But there was concern that, as those batteries got recycled, the metal would impair the production of lead oxide and reduce the rate of lead oxidation in pasted plates.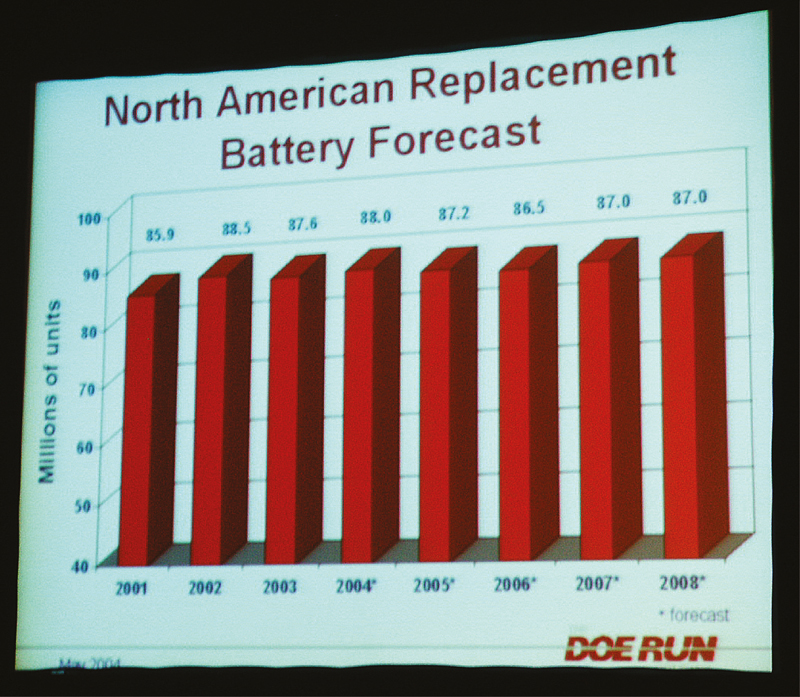 Well, that was the conjecture. But of course there's been a lot of work done on the presence of beneficial additives – bismuth, magnesium, etc. – and RSR (the only commercial plug in his paper) has developed a process by which magnesium is added to high silver containing lead which counters the effect of poor oxide production. So the problem's solved.
There weren't really any new technical papers. Pakanj Dhingra of Delphi made a stab at what he thinks is happening in power source development for hybrid vehicles, but this was a heavily watered-down attempt at making sense of the last year's Advanced Automotive Battery Meeting, which you could have read about in BEST a year ago, if you didn't go in person.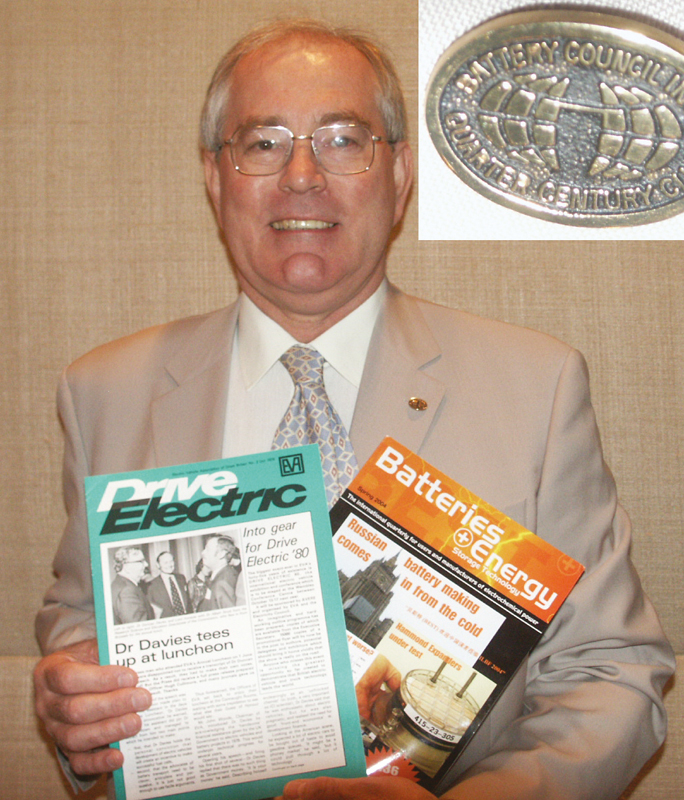 The plain fact is that BCI's technical content is now totally outclassed and outgunned by a number of other battery events, but the punters come for the golf, the market forecasts and the early bird awards. It seems dangerous to rely on these factors to sustain a meeting in a competitive climate.
"They don't want to know how to make better batteries," a 'known to you all European' told me. The fact is that some batteries are now so well made, it's killing business!
In a big room, the Powermart (don't blink or you'll miss it) looks perilously poorly attended. In a small room, it's worse. Was it me, or was there a distinct lack of cosy corners in the hotel where you could actually sit down with a battery maker and sell him something? With no more than 12 battery makers and several times that number of suppliers, trying to arrange a meeting was as tough as a single girl in England finding a man after the Battle of the Somme. On the second Powermart day I went to lunch with two of them, so that must have made matters even worse.
One of the finest moments of any of the presentations was a slide in Geoffrey May's European perspective explaining how law is made in Europe. It looked like an explanation of a reversible chemical reaction at equilibrium – or do I mean political stalemate? At least Geoffrey did a good job of explaining how the EU works for the British people before we have our referendum in 2005. Geoffrey could also name all the new accession states as the EU swells to 25 members.
Do they have battery industries? Well Poland does, but it's exported from the UK in the form of Enersys. The other new members are pretty damn poor, so not too many automotive battery sales there either! However, they will be exporting huge numbers of house cleaners and hookers to the wealthier parts of the EU and there has never been a better time to buy a second home in Estonia.
These three facts were completely absent from the view from Europe. But have battery market conditions changed much in Europe since last year? Not so you'd notice.
It's enough to make a man weep. My universal questions to suppliers were: Did you meet anyone new? No. Did you sell anything? No. Will you come next year? Probably.
Next year Bob Cullen could achieve as much with a webcast of his presentation, and whoever takes over from Dick Amistadi could do much the same. This year BEST, or at least BEST's Hugh Cullimore, was in the news having clocked up 25 years in the industry and brought his first issue of Drive Electric to prove it.
North American vehicle manufacture is declining, and so are battery shipments; so in line with vehicle production, that 1% figure is the best you can hope for. Like it or not the North American lead-acid battery industry is slowly dying. And on replacement batteries? It's the same story Dick has been giving since the first BCI I attended in 1996. Batteries are lasting longer and imports are increasing. Despite all this gloom, Exide quietly slipped out of Chapter 11 bankruptcy to live another day. Next year BCI's convention is in New Orleans and if the programme is as substantive as this year's, I'm going on the wives' tours. Maybe John Devitt will be bring his trumpet and I can sing in a few of the bars. A couple of Hurricanes and I'm anybodys… so watch out! Given the current state of affairs, is it any wonder that Randy Hart has a second career in country music?