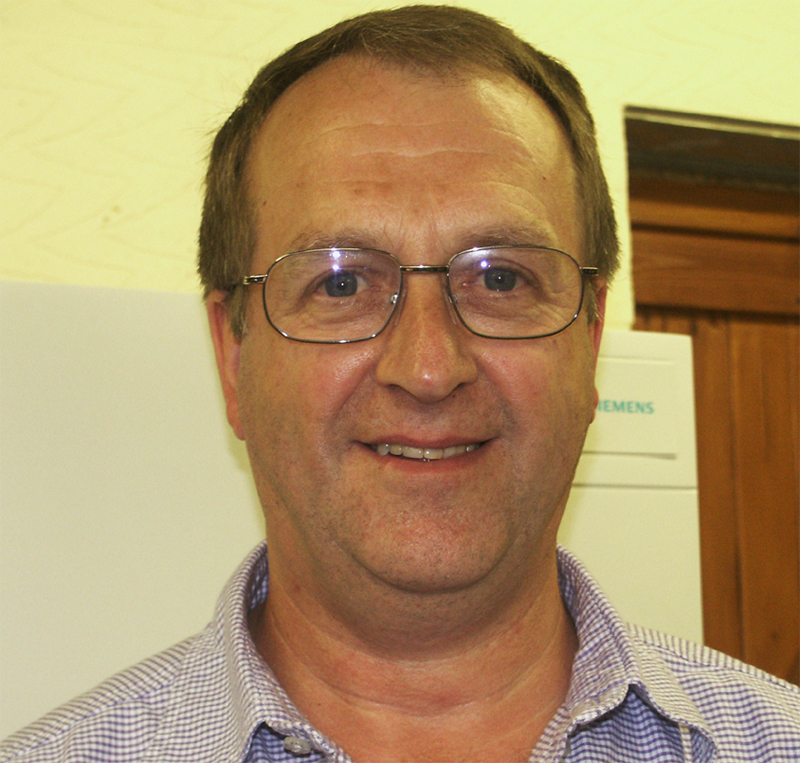 The Editor talks to David Fremlin of Advanced Battery Care.
While there's a plethora of battery test equipment in the market place, the fact remains that just like carpenters and plumbers, you can't find a good battery expert out there willing and able to test and check those dull grey (and similar hues) boxes that lurk in the bottom of the telecom switching units, in basements all of over the world when you want one.
That's the conclusion David Fremlin has come to after half a lifetime in the business. Which is why he started Advanced Battery Care nearly a decade ago.
Today, operating from a small light industrial unit in the deepest Wiltshire (UK) countryside, he's providing a battery maintenance and monitoring service that covers the whole of the UK, with more than 1500 sites being visited (and growing) —from prestige banks and financial institutions to the homes and castles of the super rich. And this could soon expand into continental Europe.
The critical issue of course, is getting out to customer sites and doing the job. In a crowded island like the UK, it's hard for a technician to make perhaps more than two visits a day. And Advanced Battery Care technicians do more than a simple inspection.
"I'm a firm believer that you have to do more than just an impedance test", says Fremlin.
Load testing really is the only way to check capacity. And that means you have to take the battery off line. Or do you?
Not necessarily. It really depends on how your back-up battery is constructed. Fremlin is a firm believer in fitting isolating transition boxes—very large fuses—to each string of the battery. That way, it's possible to check the autonomy of individual strings while the greater part of the battery is still available, should there be a power failure while testing is going on. For impedance testing, Fremlin swears by a device he designed more than ten years ago–the BitBox model five. It uses 50HZ mains as its source of AC and is rugged and reliable. As BEST said in its review of the recent Battcon meeting, the important thing is you measure the impedance in the same way on every occasion, using the same kind of terminations. The important issue is being able to record results and determine a trend and record and analyse that data.
ABC's approach is to measure the impedance of up to 40 individual cells in a string at a time—a more involved approach but probably a better way of spotting battery decline. Impedance rises as a cell ages due to the natural processes that take place within the cell.
Impedance testing, when combined with a regular six month or annual inspection of a back-up battery where a trained technician is on the look out for leaks, swelling or other obvious physical degradation of the system, should be sufficient for many applications.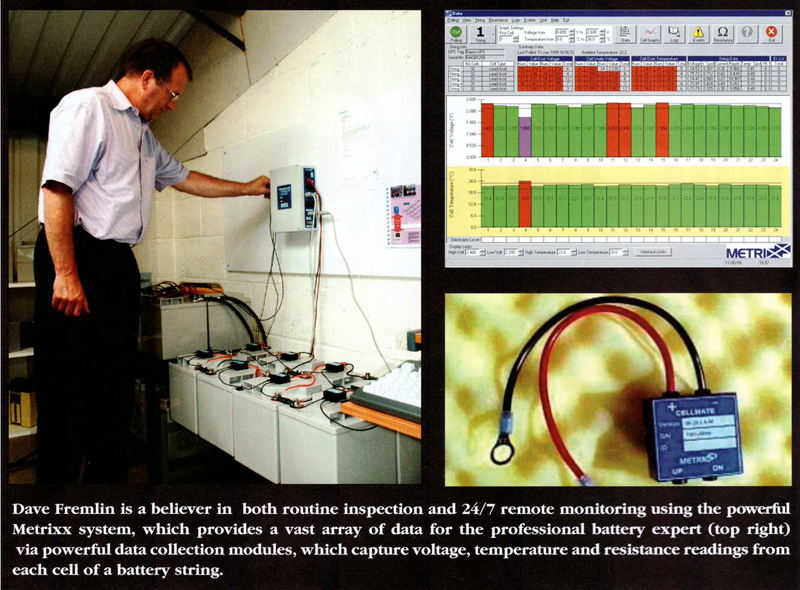 But when 24/7 care is needed, Fremlin advises the use of a remote monitoring system—only he doesn't believe the customer should drown in data, or be bothered by alarms that trip for no obvious good reason.
After all, you might monitor your own blood pressure but what kind of patient buys a CT scanner?
Quite. The Metrixx system really is a tool for the expert. At its heart are a series of modules which are fitted to the side of each battery cell. These are hard wired to the cells themselves. Each measures voltage, temperature and individual cell resistance. The system also has clamp-on current meters as one of its means of collecting data. They all communicate with a control box, which in itself is linked with a local PC. The internet does the rest.
Cell and string voltage can be logged at a frequency determined by ABC, as are alarm trip levels which are also set by the company. The system will even carry out a partial battery discharge, as long as there's a remote load bank in place.
"The Metrixx system enables us to keep a close eye on individual battery strings and cells between service visits. A rise in temperature may mean very little-just a few days hot weather, but a change in string voltage and increases in current draw could be the early signs of a cell going down—in that case we can order a new cell or series of cells, arrange the service visit and the customer isn't inconvenienced."
As well as replacing the battery, Advanced Battery Care is licensed by the UK Department of Environment to provide a disposal service and sells everything from battery spill kits to connectors and rubber gloves, even providinga credit brokering service to spread the costs—a complete cradle to grave service for your battery.