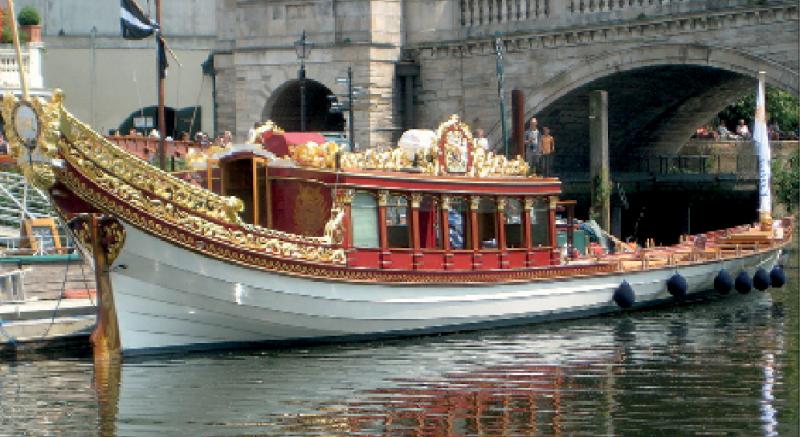 Goodwolfe Energy's CEO Ian Goodman last spoke to BEST magazine in a previous incarnation of LifeBatt. There have been many changes, so Ruth Williams caught up with Goodman to hear the next chapter in the story.
Ian Goodman has built a successful business assembling battery packs in Southend, UK, based on his love for electric vehicles. The business has grown from a hobby to supplying the British Armed Forces and Her Majesty Queen Elizabeth II. How did the business develop and what else is in store for the company?
Last year a Dutch venture capitalist firm invested in Goodman's business on the assurance of large contracts. This enabled Goodman to re-name and re-brand as Goodwolfe Energy. Even with the VC's input, it remains a family firm with the family as major shareholders. The new name comes from his name, Goodman, and his wife Nanci's family name of Wolfe. Her father, Ray, was the first chief engineer, Nanci co-founded the business with Ian and is now the Operations Director and their daughter works in the HR department.
Although this is a family business, it is by no means a small fry operation. Goodman's dedication is evident and as a self-confessed workaholic he seems the type to work hard in any endeavour but this is his passion, and it shines through.
Of the five areas of Goodwolfe Energy – military, industrial automotive, marine and smart grid technology – it is the automotive solutions side that sparks his imagination. "As a kid I built an electric skateboard, then electric bikes, motorcycles, cars and stuff – it was just a fun thing I did" he said. Taking this life long EV interest and sound knowledge of batteries, Goodman transformed his hobby into a business.
While recovering from major surgery Goodman found himself off work for nine months and in need of a distraction, so immersed himself in his hobby. During this time the idea struck him he could do something he found fun for work. Having been an insurance executive who made an entrepreneurial move into software supplying, it would be a gamble to change direction once more.
Blagging his way into a few trade shows as an EV consultant he realised his experience 'tinkering about in his shed' surpassed many of the professionals. He recalls: "At that time big companies weren't spending lots of money on projects, but theorising on them so suddenly my experience had value and was attractive to people in the industry."
But he wasn't interested in being a consultant; he wanted to run his own business. This was the beginning of LifeBatt, but that's another lifetime so how did he move forward to Goodwolfe?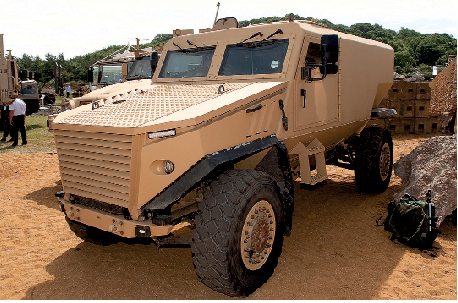 Goodwolfe, which has been ISO9000 certified for three years, has grown from a small family firm into something more corporate with a diverse product line and doubled turnover for the past three years. It is now a rapid prototype business that can provide a quick turnaround for companies with battery problems. The size of Goodwolfe means it is able to be flexible and work quickly. Goodman said his team could put the specifications together for any requirements from 12V up to 1000V within hours based on combined experience and its product range.
The potential for growth in the business has always been present and growing from just being suppliers was always the idea. The catalyst for this expansion was securing large enough contracts in the industrial and military markets to attract the venture capitalists. The ambition for growth is not based on what Goodwolfe wants to do; it is based on large contracts that are in the pipeline so growth is necessary for what the company has to be able to do. "Once you've got the orders in, being able to get the money is never a problem." Goodman said.
So what was the key to getting big enough orders? A solid reputation as LifeBatt for providing expert battery solutions and technical flexibility based on a sound business model meant they have been able to make the transition to volume manufacturing.
Take the Goodwolfe approach to developing a battery management system (BMS) for example. The design criterion was based on a wish list of what the best BMS in the world would do and contain. OEM's and cell manufacturers were approached and Goodman's team spent two years developing the system from both sides. It has been on the market for 18 months and received excellent feedback from customers who save money because the BMS does so much they spend less on integration. The BMS balances the cells, monitors their voltage and temperature while ensuring the system is operating within its safe limits. They feed back reports on the health of all areas of the battery and if any problems are detected the BMS will stop it discharging. All vehicle applications and those requiring higher currents use CANBIS (Controller Area Network Battery Integration System) to monitor and manage the cell health. All the information about the battery is fed back on a screen to the user, as Goodman said it's sometimes more information than they require. Customers save money on integration to their vehicles because the BMS does so much; this means there are fewer onuses on engine control units in terms of development work.
Although Goodman doesn't think Goodwolfe's approach is unique, he does think they have the edge over similar size companies and even big battery OEM's which have less application experience to understand what the problems are.
"What the customer wants isn't always what they need. We've worked with 60-70 companies and our engineers have over 20 years experience in the EV industry and other applications pertinent to what we're doing. So I like to think we know what they need and want."
For now the customer's of Goodwolfe want military and industrial BMS solutions. The military side is presently the biggest of the company in terms of contracts; industrial is growing, as is the marine.
The growth in marine is due, in part, to Goodwolfe's involvement with the Royal Barge 'Gloriana' for the Queen's Jubilee this June. The barge formed part of the flotilla on the River Thames and had a Goodwolfe powertrain system, despite the team of rowers on the deck. "When I saw the barge on TV I laughed. The rowers weren't working hard, one had his camera out, and I thought – I know why you can do that." Despite looking centuries old, the barge is ultra-modern; it has a 48V lithium-ion system with 800 A/h and a dual redundancy system. The vessel, with its historic-looking design, was never intended to be electric drive so presented technical complexities but Goodman said it looked more complicated than it was, it was the sort of thing his team did every day.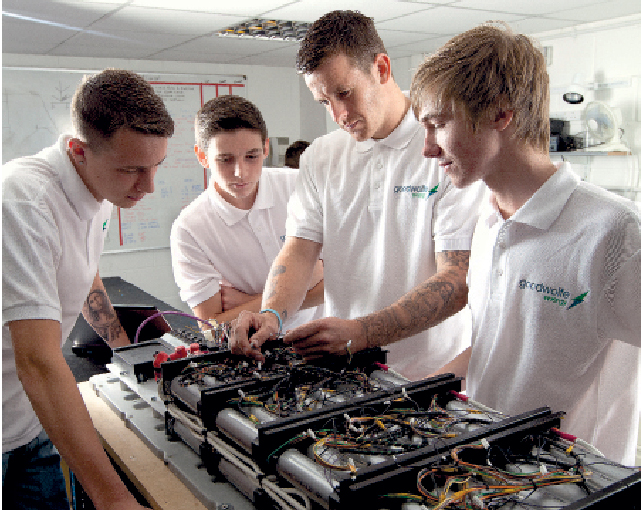 It was this can-do attitude that won them a contract to supply mission batteries to the British Army for its Foxhound armoured vehicle. The curious shape of the chassis protects against improvised explosive devices and meant the battery pack had to be custom made. Goodwolfe was able to modify their assembled packs to fit and is now near to completing the order of 300 units of the 70kilo battery. "We are about custom off the shelf solutions. Our intellectual property and capabilities are modular systems on the shelf, we just take them off the shelf and construct them in the right way – number of cells in series, number in parallel on the modules, put the interface in and programme it up."
Another growing area is Goodwolfe's work with smart grid technology, with the grid storage in megawatt/hour battery systems. Working with three major European electricity generation companies means privacy is needed within the company to respect the clients' confidentiality and prevent 'cross-pollination' of engineering ideas. Walls have even been erected in the engineering department to maintain this privacy. Goodman said: "Although there is an integration of ideas in terms of engineering ideas, we are committed to making sure the individual requirements of each company are kept very separate."
These projects have been running for about two years but in terms of taking an idea from a blank sheet of paper to being a production-ready piece of equipment can be done within four weeks. Larger pieces take 12 – 16 weeks but generally, as a rapid prototype development company, the team can move from prototype to production-ready equipment in the same short timescale. "The systems are very modular; we are using pretty much the same product, just used in a different way." said Goodman.
While Goodman is clearly pleased with the growth of his company, he is still waiting for the major contract to come in for the automotive side. His interest in this got him into the business in the first place and is what excites him still. His knowledge is profound and enables him to educate customers and cell suppliers about how their cells will perform within a system.
"The guys who make cells only know about the cells, not the application or battery management systems very well. They know what they want it to do and how they want it to look after it but don't know how that BMS is going to talk to the project and vice-versa."
This is a bonus to Goodwolfe, and other customers of the cell makers, because the quality of the product is improved from feeding back information to the suppliers. Understanding how the battery packs went together lowered the failure rate, an obvious advantage to any pack assembler. Taking the time to get the cells working exactly how they should within the packs means the BMS will work as intended and pay dividends. "You have to have the best BMS in the world to make things work but without good cells, it'll never make the BMS work."
It's clear the team at Goodwolfe know what they are doing with a battery, a knowledge grown through experience and training. Goodman lamented the lack of battery technicians and field application engineers in the UK and said Goodwolfe has chosen to 'grow their own' battery engineers. In his experience electronics technicians at universities only deal in milliamps and DC under 12volts and rarely comprehend the power levels needed for the industry. Goodwolfe take automotive and marine engineers who have the core knowledge and train them up to a specialist level to work with batteries.
Goodwolfe is also working as part of the British government's apprenticeship scheme, apprentice engineers have one day a week on day release to study mechanical design and electrical infrastructure design. Goodman believes the technicians have greater confidence following an apprenticeship scheme, having had no previous training, than those with prior knowledge of electronic engineering.
The level of technical ability is high throughout the Goodwolfe team: the engineering manager is studying for his PhD in automotive engineering; the team below him are all degree or masters-qualified, the technician team below are NQV qualified experienced engineers. "Everyone from the guy building the battery to the person designing and developing new technology to solve the problems has an enormous amount of theoretical understanding of what's required. The vast majority of the team are experienced battery or system engineers to put theories to the practical test before products go to the customer."
Through involvement with projects like the Ion‑Horse, an electric motorcycle alongside Kingston University, the engineers gain valuable experience to use for other projects. The bike raced in the Isle of Man TTZero and set the record for average lap speed at Rockingham for an EV of 106mph.
As Goodman's hobby he relished the involvement with the Ion-Horse, but had he got to ride it himself? He looked a little sheepish and said his position in the company, with people relying on him, meant he couldn't put himself in harm's way. "I have to be responsible. I hate it, all I want to do is ride a bike."
And what of the future of EV's, from a fan's view point? Well, they have to be fun to drive, like the Renault Twizy he test-drove last year. This was a more powerful version than what is on the market. Goodman described it as 'a skateboard with a V8 in the back' and if EV's continue to be toned down for the commercial market he will build the powerful ones himself. "I'd love to tear a Twizy apart and supe it up."
So for now Goodwolfe is happily expanding and as soon as the first major automotive contract comes in, Ian Goodman will be like a big kid in a playground, 'tinkering around in his shed'.