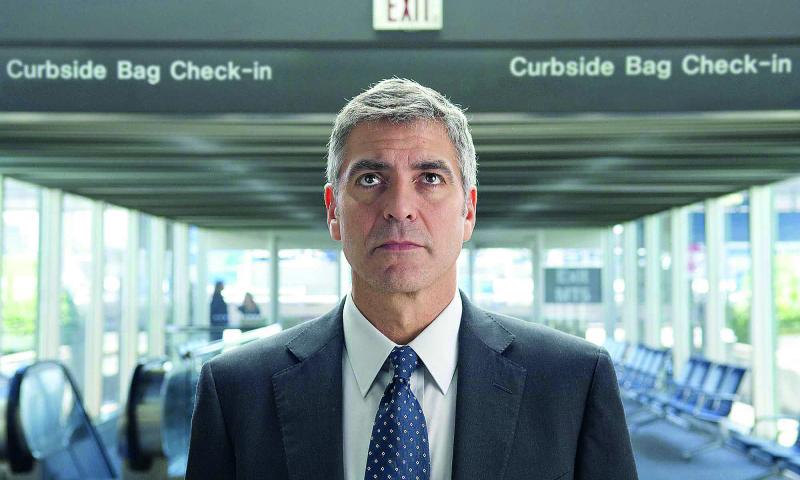 The lithium field is simply exploding with new developments in chemistry and some fundamental challenges in business— is there room for all the players in an increasingly cut-throat and super-innovative market? Editor Gerry Woolf reports
The venue is simple, the format plain and no frills. But what I've found over the few years that I've attended Shep Wolsky's Powersources Meeting in Florida is that the content can be simply profound.
And the stimulus for this can come from some unusual presentations and their juxtaposition in the conference schedule. This meeting was no different. For example, you can sit through Jim Barnes' run-down of the US Department of Energy's overview of all the USA is doing to support lithium-ion battery research now and it feels like you are being run down by a column of Abrahams tanks. Because it's so big and the US Government is trying to do so much. But as big as a couple of billion dollars is, it palls into insignificance when you see all the private money that's being spent too.
You can ask your little 'Molotov cocktail of a question': "Well is the US Taxpayer going to see any return on this because the US share of the consumer electronics market for batteries is so small."
You can marvel at the phenomenal progress of a private company like LG Chem. Let's be honest, most of us don't give a damn when presenters feel obliged to go into their company's history, but for this writer, it was different.
When you learn that little more than 15 years ago, LG Chem's claim to fame was cosmetics— cosmetics dammit! Then it saw the potential of lithium‑ion batteries and today holds some 1700 patents in the battery field — its shares were worth US$30 five years ago and now trade at more than ten times that figure— you know you've missed something.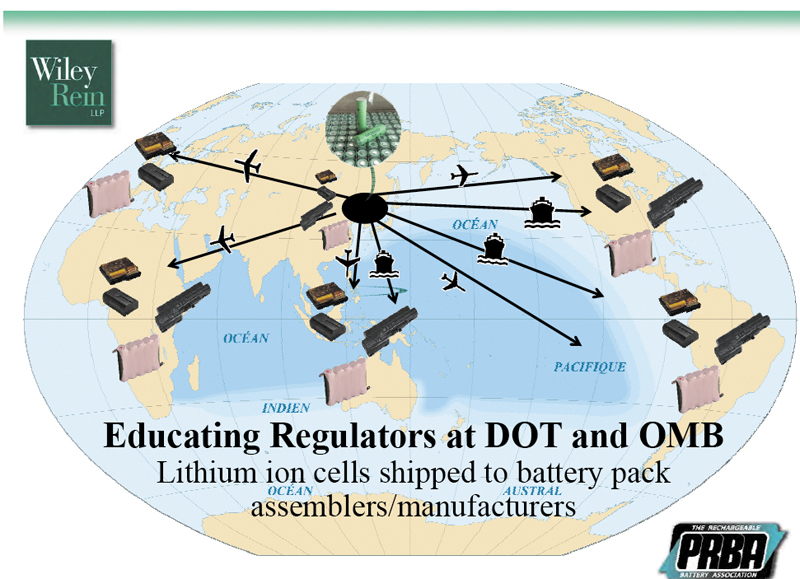 And you look at what you or your company has achieved in the same time and you don't feel envious— you almost feel ashamed… its almost like end of term at high school in a year when you know you didn't put the work in and somebody else is taking the prizes. I'm sure that's what "they" think inside the US DOE. And if they don't, I feel sorry for them.
Then of all people, George Kerchner of the Portable Rechargeable Battery Association is talking. Its all good simple stuff to begin with: the 5th Revised Edition of UN Manual of Tests and Criteria became effective January 1, 2011 It means a reduced number of cells and batteries have to be tested and the testing of discharged lithium-ion cells and batteries has been eliminated and overcharge testing is eliminated for certain cells used in large battery assemblies.
Good stuff less work for battery makers trying to do a difficult job. But then the real concern came out of the closet. What is the US Department of Transport up to? Cue my excuse to print another picture of the UPS plane almost burned out on a runway and our news story on page 12 in the winter issue of BEST.
The Korean Government (and others too) are pretty p****d about the US Department of Transport view that shipping consumer electronics batteries by air was potentially dangerous and the the DOT wanted them treated as hazardous material. A little metaphorical light went on in your Scribe's brain… "if you can't beat them, make life difficult" conspiracy theory. After all didn't the US Department of Energy pick up the fact the the USA produces just one percent of US consumer electronics lithium-ion cells?
But "No" says George Kerchner— this isn't part of a trade war. Oh really?
The whole issue was now in the hands of the Whitehouse Office of Management and Budget… (or was at the end of February 2011). They wouldn't let a thing like that happen would they?
Some members of the audience were as cynical as the Scribe. It's not in the interests of the 'Foreign members' for the PRBA to see this happen.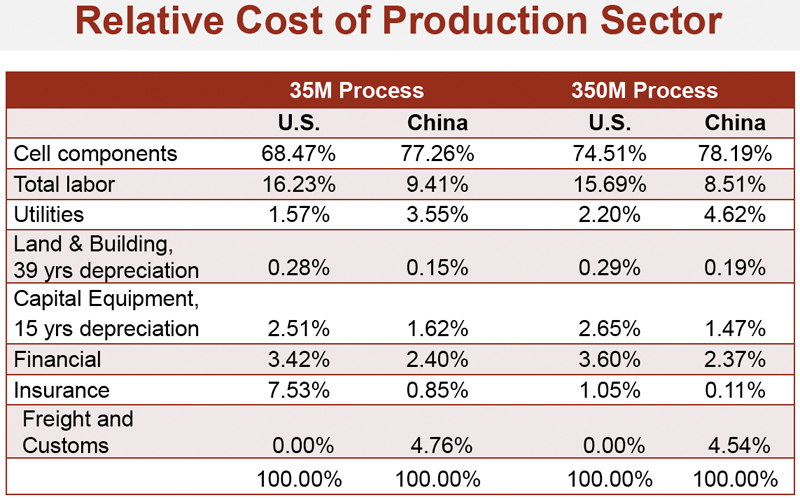 Kerchner said his organisation had gone a long way in educating the US DOT on how the battery business for consumer electronics worked. It struck your Scribe that there was another study to be done… what's the true carbon footprint of any device powered by lithium-ion batteries, because if Kerchner's diagram is to be believed, lithium-ion cells could be earning more air miles than George Clooney's sad road warrior character in the movie "Up in the air".
Work it through. You're a lithium-ion cell— out from Korea to the USA… then off to the pack maker Europe or Asia… then back to the consumer electronics manufacturer (probably Asia again) and then into distribution. Yes, your average cell could be earning "rewards", so anyone that tells you their rechargeable products are green has to be joking.
There's a much deeper meaning to all this however. If the US taxpayer really want to see a good return on investment in battery and electrochemical research, then it is going to have to bring home more of its consumer electronics industry and from where your Scribe is sitting, that looks pretty unlikely. Or is it?
The very next day, that old stager of US lithium-ion, Dr Ralph Brodd, presented some very interesting numbers about whether China still has the edge on labour cost when it comes to large scale lithium-ion cell production.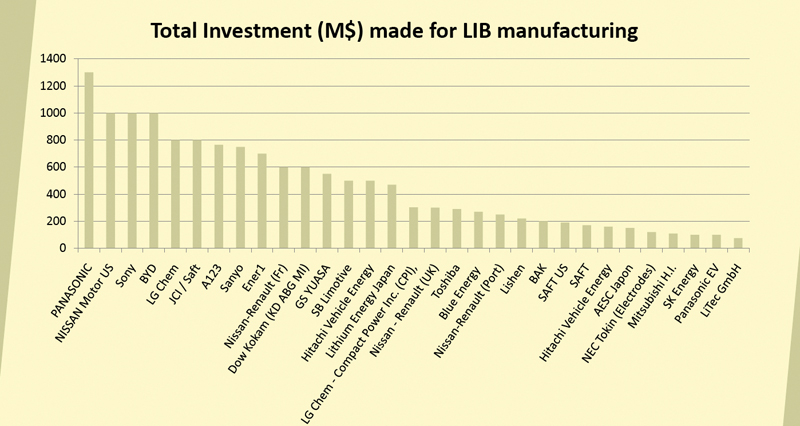 Brodd is one of the leading lights behind the Kentucky Argonne Advanced Battery Manufacturing centre in Lexington, Kentucky— still very much a work in progress.
The fact is, it's materials rather than labour that make up the vast majority of a typical 18650 cells costs. Brodd visited plants in China, Japan and the U.S. to obtain information on plant design, personnel, materials costs and salary structure. Brodd said staffing levels in all plants was as the same operational levels required for a given level of cell production and salaries taken were typical of the country for each job title.
However, you can't normalise for everything— managers in China often have hidden perks, such as a company car and driver, and housing and these were not included. Salaries of a company president may be higher in China but were taken as the same for the study. And here's another unexpected—the government in China has recently doubled the salaries of the non-technical workers but this was not included either. The encouraging fact is (for American job seekers) that it's getting more expensive to pay workers in China and that's likely to continue as that country runs out of cheap young workers from the countryside and its one child family policy begins to have effects the one party state didn't account for.
If an economist had done the study, the findings might be a little different. China might soon lose its edge on cheap labour because, as far as running a battery factory is concerned, you need top people. But on a large scale plants, making 350m 18650 cells a year, labour costs were just 8.51% of the total cost of a cell as opposed to 15.69% of a US made cell. Whether there were efficiency savings to made elsewhere was beyond the scope of the study.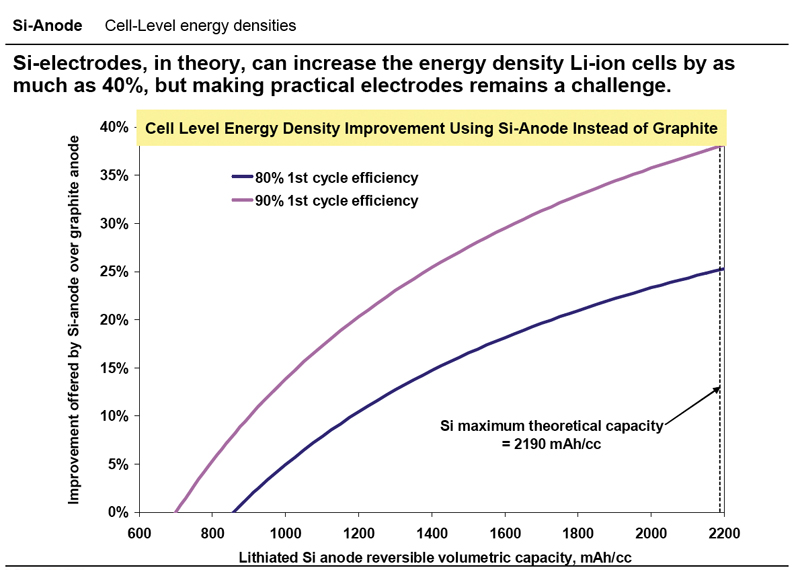 It makes sense to locate a battery making plant in China. Especially when its customers (consumer electronics) are also located in China. I was left with the feeling that Brodd saw little scope for indigenous US—based battery production with the ground rules as they are. OK this was only 18650 cells and the economics may be different for larger format cells.
So given that batteries are going to be so important in the US strategic future, someone else has recognized this too and fed that message to the US Department of Transportation.
The only way ahead is up, for everyone, though whether anyone is making money is still questionable. LG Chem believes the global market for lithium-ion batteries will rise by 15% in 2011 and that's got very little to do with electric and hybrid cars.
It's everything to do with smart phones, dual core processors and the general desire for more battery capacity such as lithium in power tools and media tablets which require wider and thinner polymer cells.
Christopher Pilot, whose company, Avicienne, once tried to convince the Scribe that there was a significant lithium-ion battery making business in Europe, showed the numbers starkly enough. If you calculate the total volume of lithium-ion batteries in Megawatt hours, then Pilot reckons that advanced automotive will make up less than five percent of the total— what that's worth is anyone's guess.
There are now more battery prophets than profits to be derived from batteries themselves. Pilot had one slide that the good Dr A didn't have in his presentations delivered in Pasadena this winter— a slide which showed the total investment in lithium-ion product from all manufacturers. What's certain is lithium cell capacity is going to outstrip demand— certainly in the EV sector.
So lithium-ion cell makers have got to change tack and move into other markets. A123 is a lithium-ion battery maker that doesn't miss a trick. Just as I predicted last year, in my questions to Ray Kubis of Enersys at the European Lead Acid Battery conference (see BEST October 2010)—the stop start market for European Microhybrids— or essentially all new cars— is being targeted.
Or perhaps I should say is being straddled, in the artillery sense. It's a price thing. The world-wide automotive (and almost exclusively lead-acid) market equates to 95 million units and the aftermarket is nearly three times that. Because of the way A123 assemble lithium-ion packs, it shouldn't be very difficult to come up with an SLI design.
It would weigh less than half what a lead acid system would and undoubtely last longer. And it will probably cycle better, though without revisions to cold cranking standards, and low temperature performance, it might not get far. But the big issue is price—Jospeh Adiletta of A123 wouldn't comment on that. But there's no question that as the EV market fails to deliver, more lithium battery makers will address this huge volume and slash prices to keep production lines moving.
There's no shortage of lithium-ion innovation and still newcomers, or should we say latecomers? in the market, included one of the big US Players— Dupont— sporting a whole range of products including new separator material, new binders and seals. The separator product, called Energain, is just moving into commercial volume manufacturing. BASF, as one would expect, sang the praises of its "deal" with Argonne National Labs for all NCM materials but made the point that they have to go even further with lithium utilisation to reach the goals they need for EV and hybrid requirements.
As to the big boys like Sanyo, Sony and the like, the trends are the same. For higher power batteries, you need to up the cathode voltage, you need to inhibit decomposition of the electrode by developing new electrolytes and coatings. And as for anodes, well they're all into Silicon now. Once just a niche for companies like UK based Nexeon now everyone is trying to boost performance by the mythical 40%. Your Scribe has never known times so busy; so competitive; so innovative and so mind blowing— never have I left a meeting with such a pounding head.