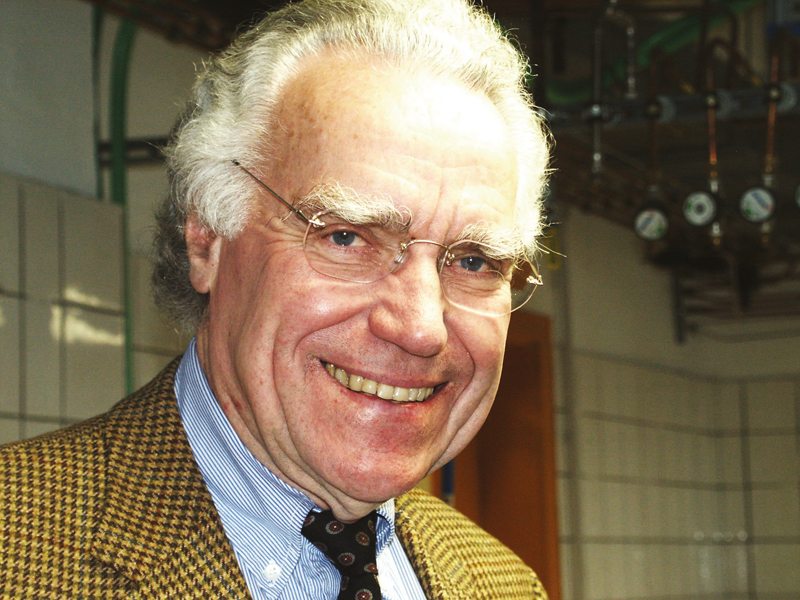 Electroforming battery grids is no longer a laboratory scale idea – DSL Dresden has made it a viable proposition. With lead prices likely to stay high, the Editor learns from Hans Warlimont why the technology is a money-saver for lead-acid battery makers.
I can remember the day I first met Hans Warlimont. It was in January 2001 at the now sadly defunct Long Beach Battery Conference, in California. Warlimont, a metallurgist who has worked in industry and academe, had come up with a very different way of producing battery grids, using electro-deposition; and this was just the kind of paper that made the Long Beach meeting interesting. Afterwards we talked about the process and how he might interest the lead-acid battery industry in it. I gave him some contact names of companies and people who I thought would be sympathetic. And in April 2001 I ran a paper on his novel approach to grid making in Batteries International.
I also warned him the industry was conservative (well, you're ultra conservative, aren't you?) and that he would have a tough time persuading the industry to adapt to new technologies. I wasn't wrong about that.
But times change. Hans and I met again in Berlin last year (September 2004) and the world had changed. Lead had become a lot more expensive. He has a new business partner, and a prototype machine to produce grids through the faradaic process is now running.
Professor Warlimont has learned that lead-acid battery makers are mainly interested in saving money these days (who isn't?) rather than in technology per se. And now the industry has a superior publication to promote the technology and its benefits.
"Right then, Hans," I said, "we'll show them how your process will save money for lead-acid battery makers through the use of less lead, and even more money through using less energy, and we'll put some real numbers in which they'll have to take seriously." And in late November 2004 I visited DSL's operation in Dresden.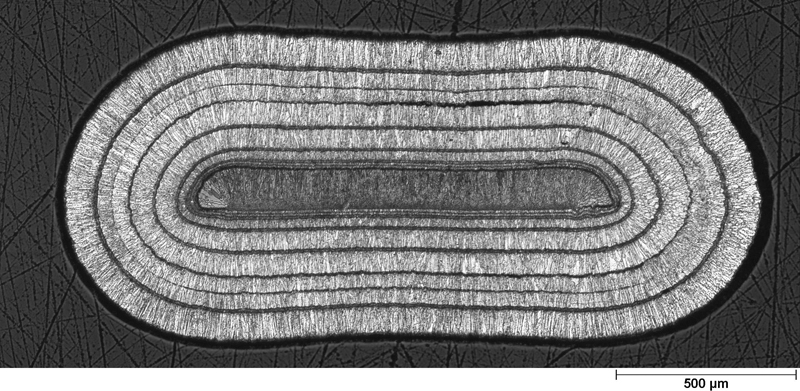 Hans has always appreciated my down-to-earth approach to technology reporting so we'll begin with a bit of name dropping by announcing who Warlimont's new business partner is. He's none other than Theo Roehr, who retired recently as MD of JL Goslar, but it's not JL Goslar's money that's invested in the process (though it might be in the near future) – it's Herr Roehr's own money. And since this individual knows how to 'make a bob or two' in the lead business (when few have) – doesn't this tell you something?
Exactly. It's something whose time has come. DSL Dresden is based in what was once a huge electric motor factory on the outskirts of the city. The business occupies just a few rooms on a single floor. But don't be fooled by first impressions. Why waste money in some fancy business park?
Hans and I sat down and he explained the process to me again. Forget casting, forget rolling, and forget all of the mechanical processes that have come up in continuous expanded grid making these past 25 years. We're talking 'engineered materials'. DSL is doing for battery grids what the likes of the semiconductor greats have done for thin-film technology and VLSI (very large scale integration). Here's the key message: it's possible to fabricate grid designs of any pattern and they can be composed of two, three or more layers with different mechanical strength and corrosion resistance and a tailor-made grain structure. These features allow the production of grids with up to 30% reduced thickness and lead saving and, depending on where you are based, a considerable reduction in energy costs – the process operates at just 35˚C! And that probably means halving your grid-making costs.
But don't forget everything you knew about lead acid battery life, one of the keys to which is grid corrosion. Up until now, the way in which corrosion has been controlled in battery grids is fabrication using a combination of alloying lead and rolling in order to create a well-defined microstructure. The finer sizes and shapes of the grains create an increase in the number of grain boundaries and that, it's always been argued, slows the speed of corrosion and creep.
Through the micrographs of the grids he's produced, Warlimont is showing that he is able to produce a completely different structure – a much more uniform structure – than you'll ever see in a conventional grid micrograph. It's this uniformity combined with a columnar grain structure which, further combined with a pure lead-tin composition, slows rate of corrosion – and as a consequence produces a grid with a much longer life.
As the grid is built up through a series of deposited layers, you can 'engineer in' the properties an ideal grid should have – thickness, hardness, corrosion resistance and even controlled roughness. It's all a matter of tweaking the electrolyte and current flow in each electro-deposition cell and the overall speed of the process. You can even adjust the profile of the grid by altering the current flow locally to add thickening for lugs, etc.
So we took a look at the machine itself. It's really not that complicated. And it's infinitely scaleable.
Four years ago Warlimont was only able to show me a mock-up of the process. Since then the company has built two machines to produce the electro-formed battery grids, and a lot of real grid samples have been sent out to test. It's essentially a series of galvanic baths. In the first one an electroformed grid core is produced on a cylinder structured with a conductive grid pattern which acts as the template of the grid design wanted. What you get at the other end, after the thin strip coming from the cylinder has passed through a coating bath, is a coil of grid material. "The process looks slow," I suggest. But Warlimont points out that the number of grids that can be produced is related to the width of the cylinder and the number and length of the subsequent coating baths, which can be added in a modular manner. "We can match the output of any conventional process by simply producing a wider cylinder and a longer machine." And Theo Roehr nods in agreement; the metal industry has been handling wide sheets of foil for years – this really isn't a limitation.
In an industry where we're used to machines moving rapidly, the sheer grace of the process is indicative of the quality of grid strip that can be achieved. The final product is like a multi-layered sandwich. At the centre is a Pb-Sn-Cu layer – about 99.5% lead, which can be between 50 and 150µm in thickness. It's hard to imagine something so thin can be handled easily, but it is. The main thick corrosion resistance layer, which is deposited in the coating tanks, is simply lead-tin. The lead grains arrange themselves in a columnar structure perpendicular to the surface, with much better oxide adhesion than in conventional grid microstructures.
Warlimont argues that it's this arrangement of microstructural detail combined with the pure lead-tin composition which gives the grid its corrosion resistance – more order, less corrosion. The tin forms a series of tin-rich layers, a little like growth rings in a tree, right through the structure. This makes the grid's dissolution a much more predictable and uniform process.
Warlimont's hypothesis is borne out by independent testing, as in the VW 750 73 battery test standard. The VW report showed that when the grids had lost about half their thickness they remained fully ductile and with no wire breaks. Electroformed grids have also passed the SAE J240 test, having survived 1,550 cycles at 75˚C.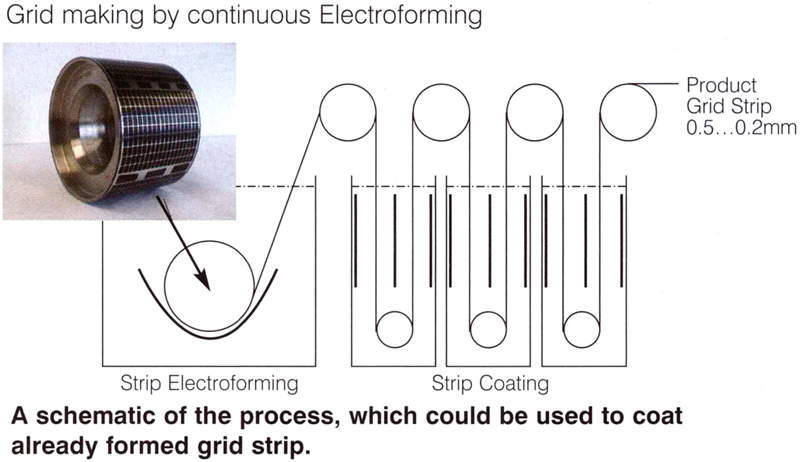 The top layer can be tailored to have a degree of roughness – again current density is the key. Why should that matter? Roughness will have an effect on paste adhesion but, as Warlimont told me, most battery makers have no idea what the optimum figure for roughness of the grid should be.
Warlimont originally envisaged making grids for battery makers, but when you see the potential for optimisation to every battery maker's needs, it's self-evident that most customers would eventually want to operate such a process in-house.
You can control the thickness to ± 10µm so it's an experimenter's dream. You're not limited to three layers of electro deposition – you could add more. Warlimont is already lining up a post-doctoral student to carry out further work with additives tuned to even better grid performance. And if you don't want to use a faradaic approach to total grid making, it's perfectly feasible to use the same basic system as a coating technology on, say, expanded grid material you've already produced.
Given the conservative nature of the battery industry and the comple-tely radical approach of this technology, one can almost envisage that using it as a coating technology would result in initial introdu-ction and slow, but eventual, adoption. A major bonus of the process is that the grid alloy need not contain calcium or silver – the traditional grid hardening and stabilising agents. This further helps in reducing costs.
The savings are obvious enough. Grid cost is related to grid weight. An average auto battery grid weighs 50g. If you can take 15g of lead out of a battery grid and not shorten its life… surely there should be takers?
All of this 'value adding' points to where the electrodeposited grid might best make its mark, so to speak. Maybe the beginning will be not in 'bog standard' automotive batteries but in the more profitable markets of telecom and traction where it is possible to command premium prices.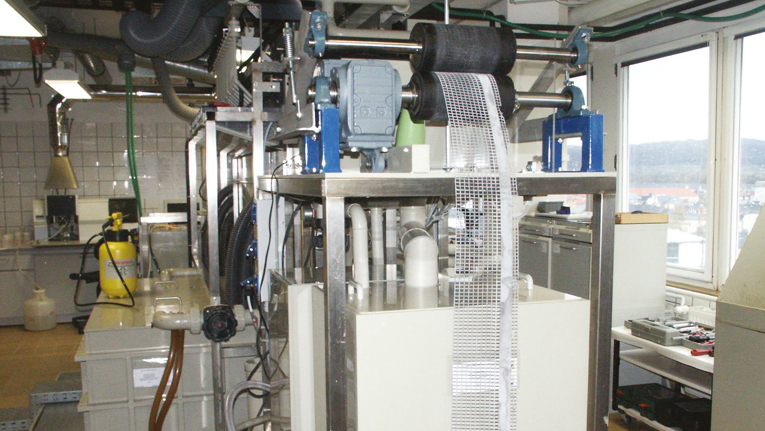 And then in premium automotive applications? Warlimont shows me a recent article in the German Weekly Der Spiegel. Despite all of the improvements we talked about in the pages of BEST, the German automobile club has evidence to show that almost every third car breakdown is due to an exhausted battery – and in vehicles just three to five years old. The German auto experts put the problem down to heavy cyclic loads, causing the electrolyte to stratify and the grids to disintegrate. It's no wonder then that the top auto battery makers like German Moll and Austrian Banner have been examining Hans Warlimont's tougher electroformed grids.
And they're not the only ones. Another premium customer might be top-of-the-range traction – such as submarine batteries. Quite a few battery makers have taken sample grids to study dissolution and growth. Only one (and you can guess which one) has taken the 'sorry, not invented here, we aren't interested' approach.
Perhaps part of their difficulty is making a like-for-like comparison in corrosion tests with grids they've already made using traditional methods. "You're really comparing apples with pears," says Warlimont. "Grids might weigh the same, but different designs put each of them in a class of their own." If you can't appreciate that, well, it's not going to be easy to see the potential benefits. But then one of his overheads says even more: electroforming is a one-step process from the raw material to a grid ready for pasting. The conventional route involves casting, rolling and expanding or punching.
Simplifying a process must make it cheaper. And the process can even be integrated with recycling of grids and paste, another saving to be added.
Show me some numbers then, I hear you ask. Very well. Take a grid weighing 35g. Assuming the cost of lead is E900 per tonne and your electricity costs are E0.05 per kWh, the cost per grid produced is around E0.07 – and that allows for labour and capital costs. The cost of the machine is not fixed exactly yet, but was estimated at E2.5 million. This is based on a recent specification by DSL Dresden and a cost estimate by an equipment maker with which the firm co-operates.
Can you calculate the true cost per grid in your own processes? Probably not, because you can't account for all the costs of melting lead in your plant, never mind the cost of rolling and expanding.
There's little doubt we could devise a study programme for a postgraduate chemical engineer to look at the efficiency of lead-acid battery making but end to end, from making plates to formation, it's screamingly obvious that it's energy-inefficient. Since 9ELBC, more battery makers have ventured to Dresden. And more will probably order grids for testing. But when will they want to produce them, or have them produced? This must be pretty frustrating for Professor Warlimont. The numbers show that you can cut lead costs and produce longer-lasting grids using this technology. And right now all lead battery makers need to be doing just that. So when will one of you begin?