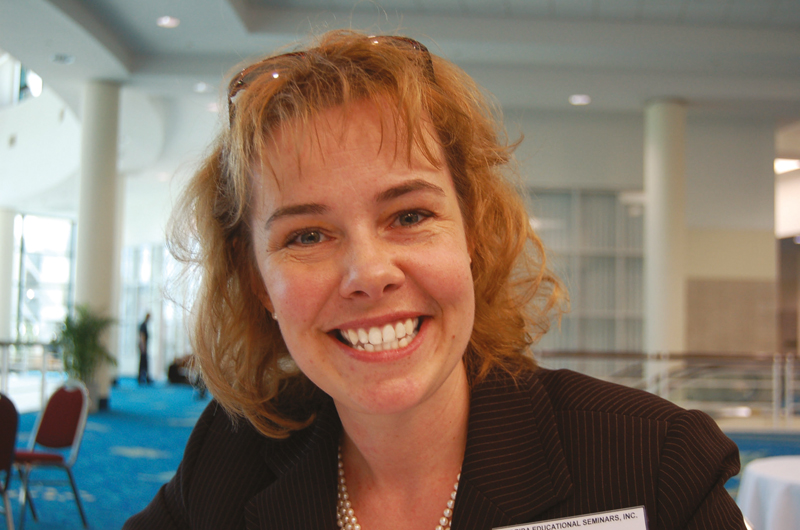 The Editor meets a woman who is campaigning for greater battery safety – by making what she claims is a safer product.
She's spent years sorting out other people's lithium battery problems. And with the gradual gathering of momentum for lithium battery recalls in the past few years, Dr Christina Lampe-Onnerud decided that there had to be a better way.
So in 2005 – together with her husband, Dr Per Onnerud – she decided to create a new company, Boston Power. The company's mission is to build the next generation of lithium-ion batteries – batteries which will not only be safer but may actually give better performance in the long run.
'Charismatic' is a word not often used in the battery industry – compelling presenters are even rarer – so it's not hard to see that Dr Lampe-Onnerud is going to have very little difficulty in getting an audience from the OEMs (and maybe an even wider one from the general public) in casting doubt on the inherent safety of today's lithium-ion battery systems.
Scientist have to be sceptical – unlike marketing people who have to remain forever optimistic – but, as a battery trouble shooter, she could see more and more problems coming as manufacturers pushed the envelope of greater capacity and run time to an ever more demanding customer base.
Dr Lampe-Onnerud believes the two issues of catastrophic battery failure and capacity fade are inextricably linked, as a consequence of trying to achieve high first-cycle capacity.
In the course of a decade, a typical 18650 cell has more than tripled its capacity – but larger capacity cells are actually suffering from greater capacity fade than their predecessors. Dr Lampe-Onnerud has demonstrated that some of the larger capacity systems available today actually give fewer cycles and much less run time.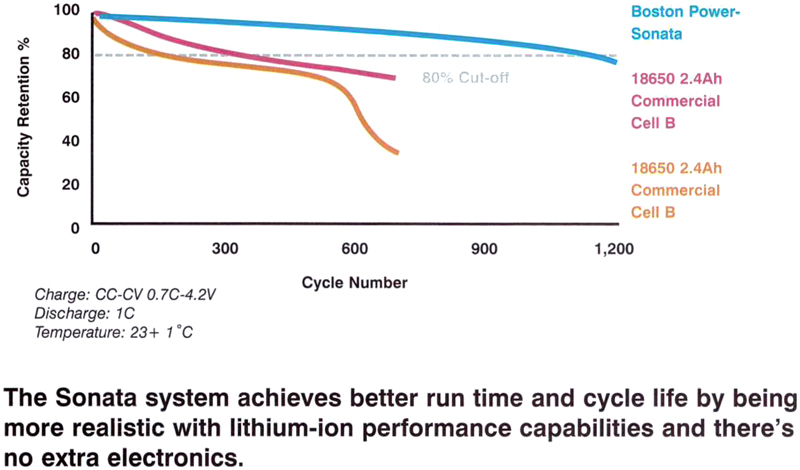 Boston Power's first product has an unlikely name for a battery – Sonata – but Dr Lampe-Onnerud did push the point about slowing down reaction kinetics. Unfortunately – and, she says for commercial reasons, she did let herself down a little by not going into much detail about the chemical changes she's made to her batteries' cathodes – all we were told was they had a unique formulation and we were shown a slide of the calorimetry. Less, but not hugely so, than conventional cobaltic cathodes.
What else might she have done? Put in a less flammable electrolyte, that's for sure, and maybe increased the size of the cell vent. She did tell her audience that the cell form is prismatic, and the packing density is less, and the cell impedance is lower. And there are no parallel interconnects. All of these features should bode well for a safer product, but they're not rocket science.
She also told me she was not keen on the idea of adding more and more electronics to compensate for unpredictable cells. And if the whole system is charged to less than its maximum it can be 'fully charged' in less than 30 minutes – that's what customers want after all – and you're doing them a favour which they wouldn't understand anyway: this adjustment of the charging regime makes the cells safer to operate, and they'll cycle for longer.
"It's not an easy sell," I argued on behalf of a world which generally demands more for less. But Dr Lampe-Onnerud thinks differently. "The laptop is a commoditised product, and if you can offer the OEM something which makes his product different, then that's a bonus."
"It's like you're tuning down the performance of lithium – from a race car to a street car," I suggest. And that's exactly the metaphor she needs to use – the lithium-ion battery industry has been trying (and largely succeeding) in delivering a Formula 1 car product for everyday use. Such cars requires fine tuning from a team of skilled engineers, or else the engines blow up – as do the batteries.
I'm not sure the idea will work. The IT field is wedded to selling faster, lighter, cheaper; but can it say safer? Dr Lampe-Onnerud suggests "greener", which is a big selling point with the Sonata system.
The company has just obtained European Eco-label status. The Eco-label is a voluntary scheme designed to encourage businesses to market products and services that are kinder to the environment, and to make it easier for European consumers – including public and private purchasers – to identify them. It is part of a broader strategy aimed at promoting sustainable consumption and production.
But no one's more cynical that a journalist. For company purchasers, if Dr Lampe-Onnerud can show lifetimes longer than conventional products and a financial saving to boot, Boston Power will get the business.
But I still think we'll have to wait for the lithium-ion battery fire, on a plane, which actually kills people before Boston Power really takes off. She wouldn't like to admit it but, deep down, I think she can see it too.