At the recent International Power Sources Conference, QinetiQ presented performance details of battery packs based on Li/CFx packet cell technology. The cells gave a specific energy of >464 Wh kg-1 and the battery, a specific energy of >360 Wh kg-1. In this paper Quinetiq's Emmanuel Eweka shows further performance improvements of Li/CFx packet cells, and the development and performance of a military radio battery (BA5590) which uses these later generation cells. Specific energies of >600 Wh kg-1 and up to 460 Wh kg-1 have been measured on a cell and at battery pack level respectively.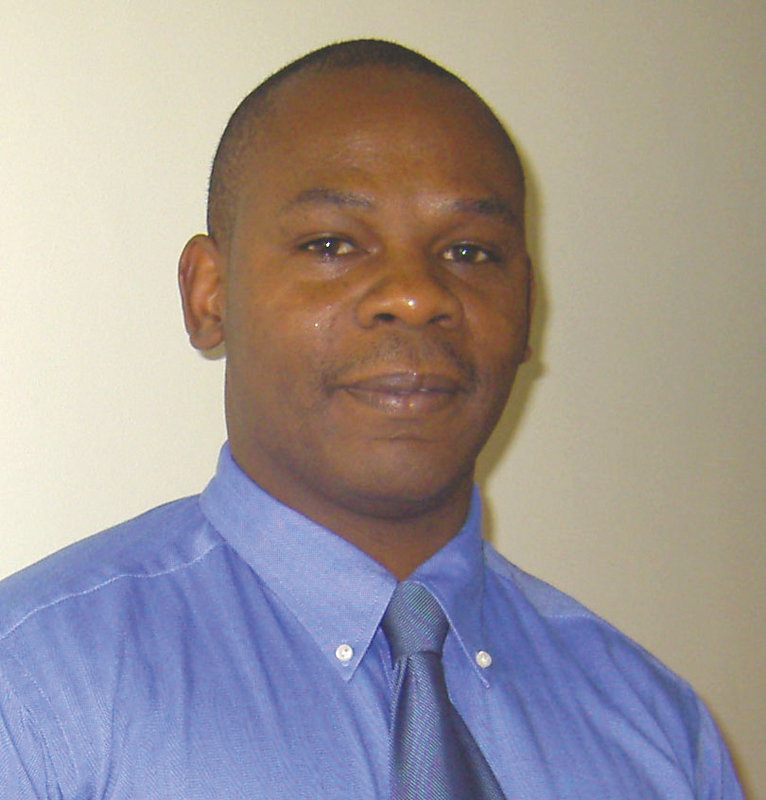 High-energy batteries are required for a wide range of military applications, from small man-portable radio devices to large battery chargers. Most high energy density batteries use lithium as the negative electrode because lithium provides much higher energy content than most other battery types. Both primary and secondary (rechargeable) lithium batteries are now in use by the military; however at the present time the industry does not offer the significantly higher energy that is urgently required by the military for increased mission duration and operational effectiveness.
Based on a cathode theoretical energy density of 2,180 Wh kg-1 (cf. 1,622 Wh kg-1 for thionyl chloride, 1,255 Wh kg-1 for sulphur dioxide and 1,005 Wh kg-1 for manganese dioxide [1,2,3]), Li/CFx primary cells have the potential for the highest energy density of all lithium primary systems if cell design is optimised.
Li/CFx primary cells are commercially available, e.g. in button cells [4,5,6], but are largely used for low-rate applications such as pagers, cameras, computer clock and memory back-up [5], gas meters [7], electronics and communications equipment.

The aim of the current project is to develop a battery pack based on Li/CFx chemistry using lightweight plastic packaging technology developed by QinetiQ. This electrochemical system could potentially be utilised across a wide number of military applications, but for this programme it is being developed to replace in-service batteries with the BA5590 form factor (Table I) such as the 7.5 Ah/28V lithium/sulphur-dioxide radio battery because of its superior performance in terms of duration and capacity.
QinetiQ has previously demonstrated the performance of large battery packs using lithium/carbon monofluoride packet cells with successful results [8]. A 17V, 2.2kW battery pack consisting of 42 25 Ah Li/CFx packet cells gave a specific energy of 360 Wh kg-1. The cells used for this battery were optimised for safety, which reduced the gravimetric energy density because of the use of excess electrolyte and inclusion of a copper gauze current collector.
The development of the BA5590 battery prototypes involved scaling from individual cells up to modules and the full battery pack in a number of steps, ensuring that the quality of the final product was maintained in the process. The battery pack prototype contained ten cells, each with a nominal capacity of 14.4 Ah to a cut-off voltage of 1.5V and connected in either 5S 2P (two, five series strings connected in parallel) or 10S (two, five series strings connected in series i.e. ten cells in series). At an on-load voltage of 2.5V per cell the battery was expected to be rated at an energy of 360 Wh in either the 5S 2P (12.5V) or 10S (25V) configurations.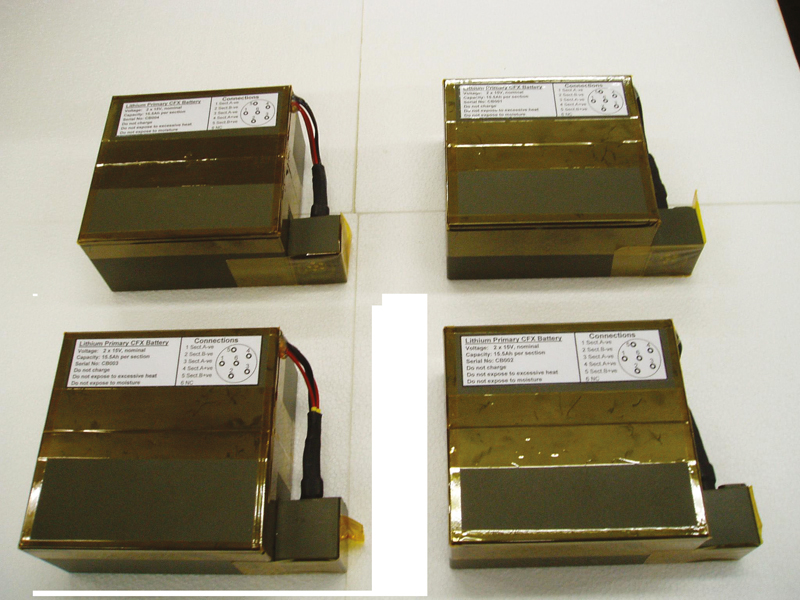 The cells were designed to fit loosely into the space envelope of the BA5590 battery. Fig. 1 shows a photograph of a standard BA5590 box. The box has the dimensions 127mm (L) x 112mm (W) x 62mm (H) and a total volume of 0.87dm3. The cell design and construction were based on a flat pack configuration which has been described in previous publications [1,2,3]. Each cell weighed ~66g and had an OCV of ~3.0V.
Electrical and physical
characteristics
Cells and battery pack: the Li/CFx BA5590 replacement battery contained two separate strings, each consisting of five cells connected in series (5S) to produce a single module with a nominal capacity of 14.4 Ah and an open circuit voltage (OCV) of 15V. Each of the modules could either be connected in parallel, 5S 2P (to give a battery pack with an OCV of 15V and capacity of 28.8 Ah) or in series, 10S (to give a battery pack with an OCV of 30V and capacity of 14.4 Ah). Connections in either configuration were achieved via an external 5-pin connector. The pack weighed 870g and could be tested either as two separate 5S strings or as a complete battery pack in the 10S or 5S 2P configuration. When the 5S strings were used to record test information the performance of the battery pack was scaled up from the performance of the string. This was useful for maximising the information that could be obtained from a single battery pack. Each cell was fitted with a thermal fuse and a diode, which acted as additional safety features, and for demonstration purposes the connectors were fitted external to the box. However, with very slight modifications, the connectors can be incorporated within the battery pack.
The target electrode loading required for superior performance of the Li/CFx BA5590 replacement battery pack was 15.3mg cm-2 at a thickness of less than 0.140mm. Based on this specification, the electrodes were expected to have a unit capacity of 11 mAh cm-2 to a cut-off voltage of 1.5V.
Cell, string and battery pack testing
All tests were at constant current using Arbin cycling equipment. Discharge was carried out at rates varying from C/50 (50 hr) to C/7(7 hr) to the stipulated cut-off voltage. The cut-off voltage was usually 1.5V per cell, which corresponds to 7.5V for a 5S string and 5S 2P battery and 15V for the battery in the 10S configuration.
Carbon monofluoride, CFx, is intrinsically a poor electrical conductor, and as a result Li/CFx batteries are more suited to low rate discharge (<C/20). The low conductivity of CFx results in an initial voltage drop in a Li/CFx battery when an electrical load is applied. The magnitude of this drop increases with applied current and hence is larger at higher discharge rates, which could result in a decrease in the cell or battery voltage below the cut-off value. However, as a Li/CFx cell is discharged the electronic conductivity of the CFx cathode increases due to the formation of a conductive carbon matrix. This leads to a decrease in electrode resistance and an increase in the cell voltage (voltage recovery) – the so-called 'voltage delay' phenomenon.
In order to avoid the drop in battery voltage below the cut-off value when a load was applied at higher rates (>20) it was necessary to pre-discharge the electrodes to a pre-determined capacity. Pre-discharge increases the electrode conductivity and hence tolerance to higher current loads. Pre-discharge conditions for Li/CFx packet cells that were subjected to a pulse discharge profile have been presented in a previous publication [8].
Other effects – including storage time and temperature, discharge temperature, and different rates on nominal capacity and cell/battery performance – were also investigated.
Performance verification
Electrode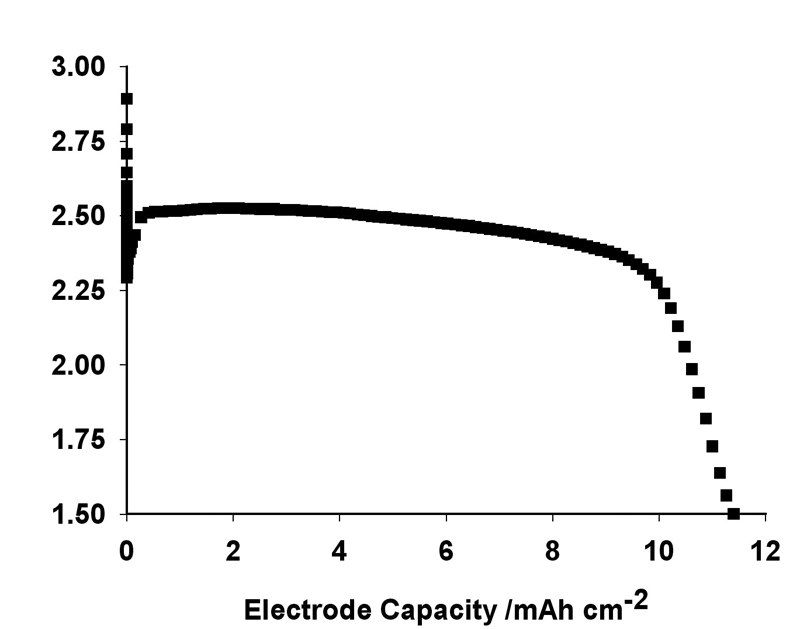 The target electrochemical loading of the cathode required for superior performance of the Li/CFx BA5590 replacement battery pack was 11 mAh cm-2 to 1.5V. This is based on a CFx specific energy of 864 mAh g-1. Fig. 2 shows the voltage profile for the constant current discharge of a laboratory cell at the C/40 (40 hr) rate. The electrode delivered a capacity of 11.2 mAh to 1.5V indicating that the target specification required for the desired performance of the BA5590 had been met.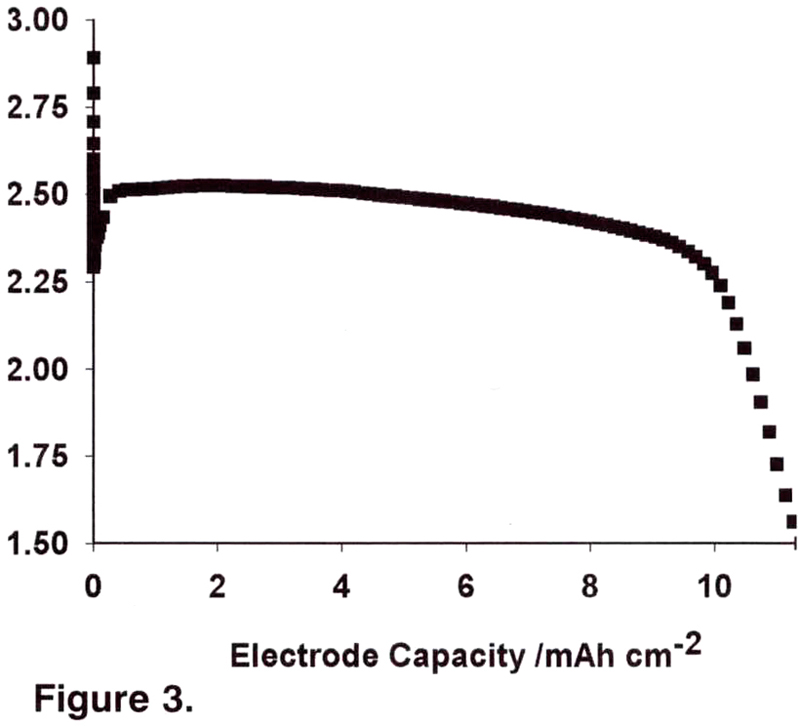 Fig. 3 shows the voltage-capacity plot for a QinetiQ envelope cell, which was fabricated using the electrode specifications described above and discharged at the C/40 rate. The cell weighed 66g and had an average discharge voltage of 2.5V with a capacity of 14.4Ah to 1.5V. This corresponds to a specific energy of 600 Wh kg-1 (compared with 264Wh kg-1 for a Li/SO2 D cell) and it was cells with this specification that were used for string and battery pack assembly.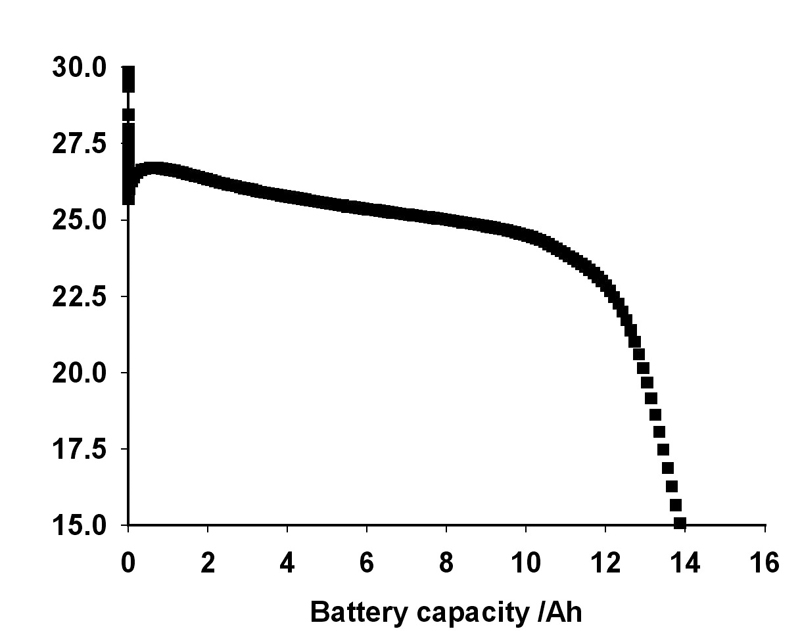 Fig. 4 shows the voltage-capacity plot for a battery pack in the 10S configuration which was discharged at a constant current of 0.3 A (C/48). The voltage profile for the battery pack is similar to that for the single cell (Fig. 3) indicating that the single cell and battery pack have similar discharge characteristics.
The battery pack delivered a capacity of 14 Ah to a cut-off voltage of 15V and discharged at an average voltage of 25.5V. This corresponds to an energy content of 357 Wh.
The battery pack weighed 0.87kg, which gives a specific energy of 410 Wh kg-1. The comparison in Table II shows that this is nearly twice the specific energy for the BA5590 system based on Li/SO2 and one and a half times that for the equivalent Li/MnO2 system.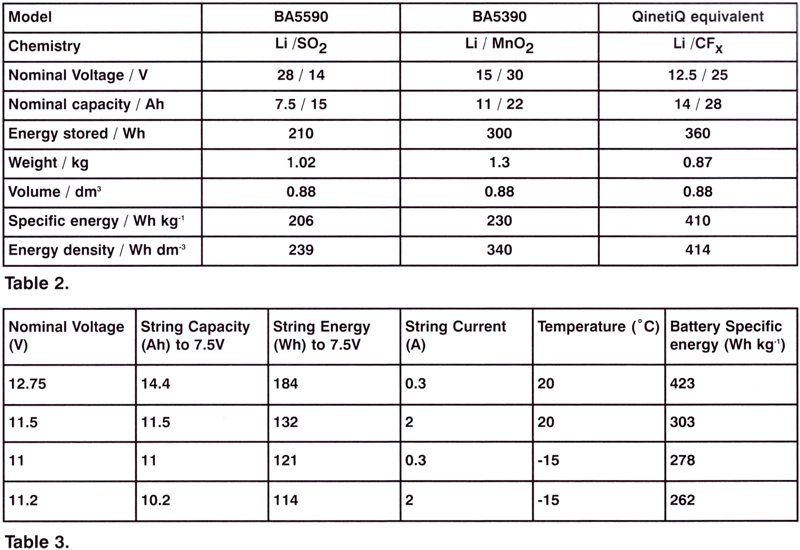 In addition the Li/CFx-based system has nearly twice the capacity of the Li/SO2 equivalent and is about 160g lighter. This has the following main benefits to the military:
• The dismounted infantry needs fewer batteries (less than half) since the Li/CFx equivalent has nearly twice the capacity, reducing the weight to be carried;
•There will be less need to replace battery packs during a mission.
•Both of these factors will increase mission effectiveness and operational duration, and increase survivability. Furthermore it can be anticipated that fewer batteries will reduce the cost of a mission.
Battery string temperature and rate performance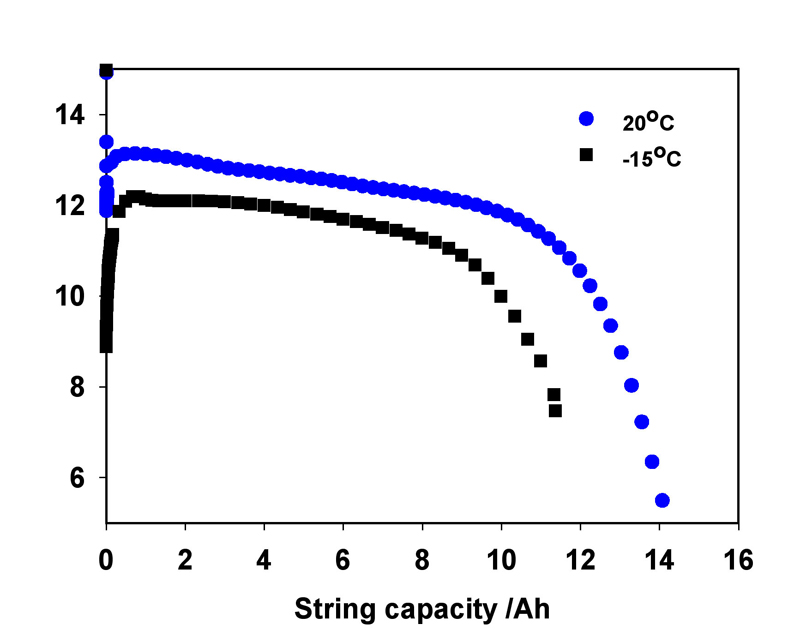 Table 3 gives a summary of the test results for battery pack strings in the 5S configuration and the scale up to the battery specific energy performance. The strings discharged at C/7 were pre-discharged at C/40 to a predetermined capacity, usually to 4% of the string capacity. Fig. 5 shows typical discharge curves for the battery strings discharged at 0.3A (C/48) at 20˚C and -15˚C. At the C/48 rate the string utilisation decreases from 14.4 Ah at 20˚C to 11Ah at -15˚C i.e. by 22% while at the C/7 rate the corresponding decrease with temperature is only 10%.
Battery string high temperature test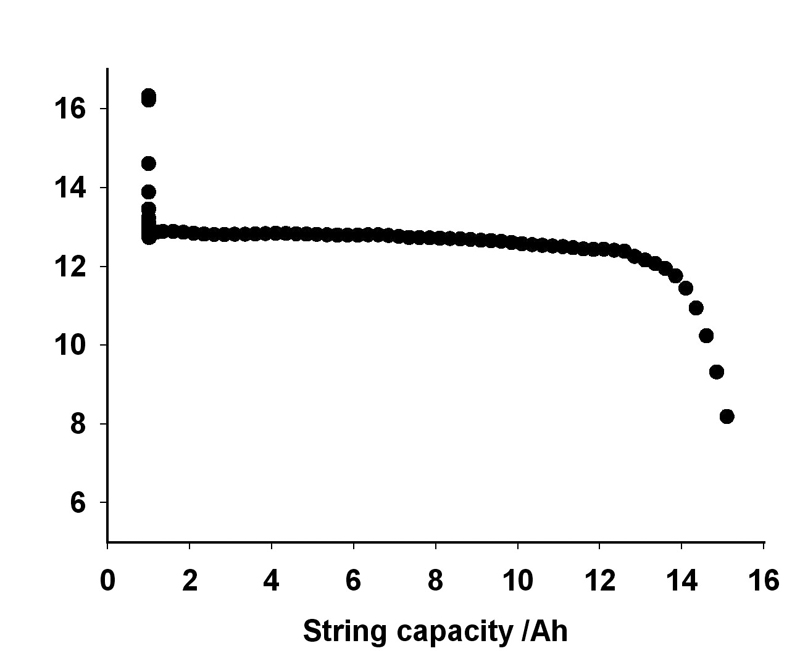 Fig. 6 shows the discharge profile for a battery string at 55˚C following a 48 hour storage at 55˚C. The string discharged at the C/48 rate delivered a capacity of 15 Ah to 7.5V; scaled up to a battery pack specific energy of 440 Wh kg-1. This is a 4% improvement over the specific energy observed at 20˚C (cf. 423 Wh kg-1). The string discharged at C/7 rate also showed an improvement in specific energy over the room temperature performance (321 Wh kg-1 compared with 303 Wh kg-1) thus indicating a better overall performance of the battery at the higher temperature. In addition no bulging or deformation of the battery pack was observed following storage or during discharge.
Single cell temperature and storage tests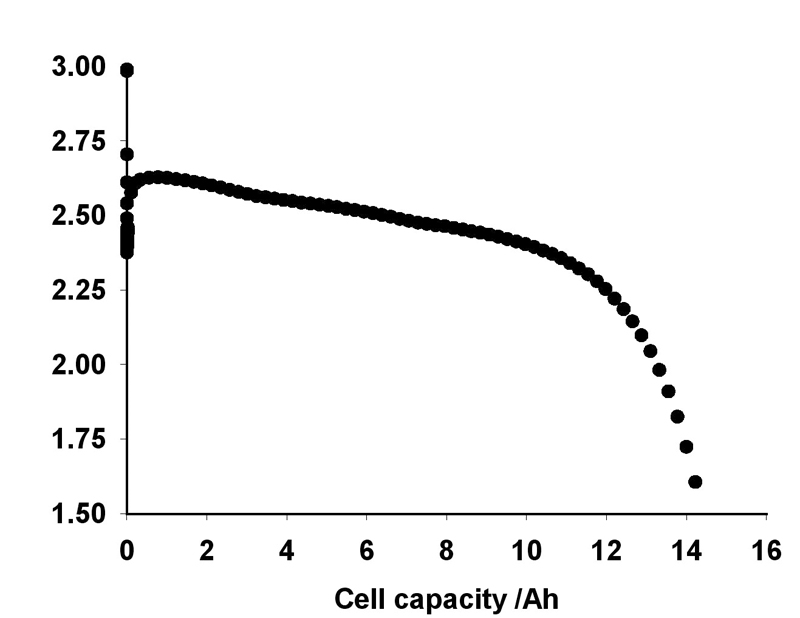 Fig. 7 shows the voltage-capacity plot for a cell stored at 55˚C for six weeks and discharged at the C/48 rate. The cell delivered the expected capacity of 14.4 Ah to 1.5V indicating that there was no degradation of the electrode during storage.
High temperature tests
The discharge profile of a cell stored at 80˚C for two hours and discharged at the C/50 rate is shown in Fig. 8. No swelling, gassing or deformation of the cell was observed either during discharge or storage and the cell delivered a capacity of 14.5 Ah (571 Wh kg-1) to 1.5V.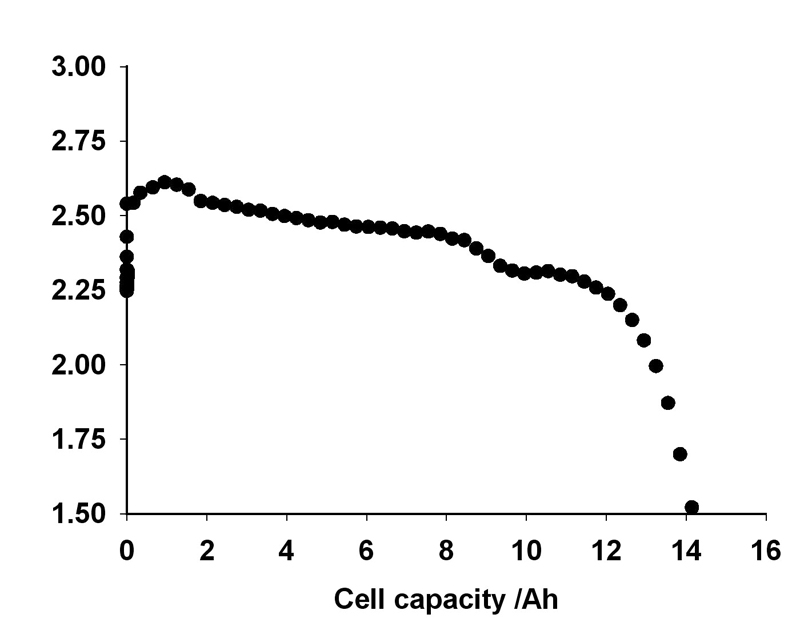 QinetiQ has successfully developed, built and tested battery prototypes based on the BA5590 form factor using Li/CFx envelope packet cell technology. A battery pack discharged at 0.3A to a cut-off voltage of 15V delivered a capacity of 14 Ah, and a battery energy and specific energy of 357 Wh and 413 Wh kg-1 respectively. This compares with 195 Wh and 205 Wh kg-1 for published information on the in-service BA5590 battery based on Li/SO2 cells and represents a 83% improvement in energy.
Discharge at -15˚C resulted in a loss of capacity of 28% while discharge at the C/7 rate (2A) led to a decrease in capacity of only 6.5%. By contrast, discharge at 55˚C resulted in an increase in battery capacity of 4%.
Single cells stored at 50˚C for up to three months lost less than 10% of their capacity when discharged with 0.3A at room temperature, while cells stored at 80˚C for two hours suffered no capacity loss but a slight capacity increase. In addition no swelling, gassing or cell deformation was observed during either storage or discharge.
The performance data presented in this paper is for development prototype Li/CFx packet cell. Following further optimisation the specific energy of the cells and battery packs are projected to increase beyond 700 Wh kg-1 and 500 Wh kg-1, respectively. Recent results have shown that following electrode optimisation up to 710 Wh kg-1 can be achieved on a cell basis.
QinetiQ would like to thank the Ministry of Defence for financial support and ABSL Power Solutions for its contribution to electrode coating fabrication and construction of the battery packs.
1.C. O. Giwa A. G. Ritchie , P. G. Bowles, E. L. Price, Burgess, A. Gilmour, and J. Allan, Scale-up of Lithium Carbon , Monofluoride Envelope Cells, pp 32-35, Proceeding of the 39th Power Sources Conference, Cherry Hill, NJ, USA, June 2000.
2.A. G. Ritchie, C. O. Giwa, P. G. Bowles, J Burgess, E. I. Eweka, and A. Gilmour, Further Development of Lithium / Polycarbon Monofluoride Envelope Cells, pp 180-183, Power Sources 18, Proceedings of the 22nd International Power Sources Symposium, Manchester, May 2002, Journal of Power Sources, 96 (2001).
3.C.O. Giwa, A. G. Ritchie, E.I.Eweka, P G Bowles and A. Gilmour, Development of 25Ah and 50Ah Lithium/Polycarbon monofluoride Envelope cells The 20th International Seminar & Exhibit on Primary and Secondary Batteries Fort Lauderdale, Florida USA, March 2003
4.D. Rohde and M. J. Root, Li/CFx Cell and Material Development for High Rate Applications, pp 350 – 352, Proceedings of the 37th Power Sources Conference, Cherry Hill, USA, June 1996.
5.M. J. Root and K. Dittberner, Investigation and Development of Lithium Carbon Monofluoride Cells, 6th Workshop for Battery Exploratory Development, Williamsburg, USA, June 1999.
6.D. D. Pagoria, S. A. Megahed, J. L. Lautzenhiser and R. J. Ekern, Lithium Carbon – Monofluoride Batteries for Extended Ultra – High Temperature Storage and Surface Mount Applications, pp 7 – 9, Proceedings of the 35th International Power Sources Symposium, Cherry Hill, USA, June 1992.
7.M-L. Chan, Reliability and Performance of Primary Lithium Batteries for Ultrasonic Gas Meters, Journal of Power Sources 273 – 277, 80 (1999), Power Sources 17, Proceedings of the 21st International Power Sources Symposium, Brighton, May 1999.
8.E.I. Eweka, C.O. Giwa, G.O. Mepsted, K. Green, and D. Scattergood, Journal of Power Sources, 162 (2006) 841-864.