We're collecting, auditing, checking our efficiency, but are we any closer to true recycling consumer and truly advanced batteries in Europe? The Editor has his doubts.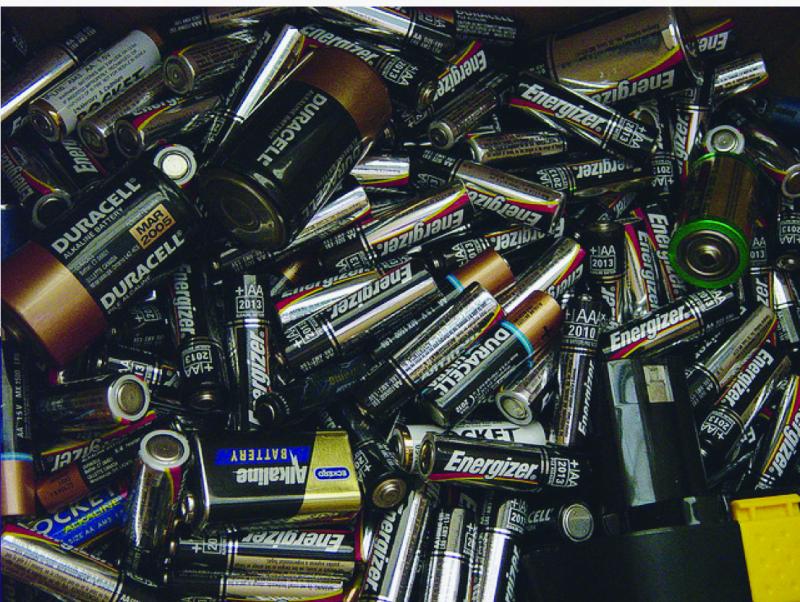 It's been a few years since your scribe has attended ICM's annual meeting on battery recycling. That's partly been because the event has clashed with other "pressing" matters and because I mistakenly believed that all the issues surrounding battery recycling had been discussed, possibly to death.
But I have to tell you that I was wrong. I was as wrong as I could be. And I was particularly wrong about the European Battery Directive, which I thought had effectively dealt with wiping out consumer nickel cadmium (which was in reality as dead as a dodo anyway with the onward march of lithium-ion and nickel metal hydride) and had foolishly attempted to kill the starter battery market and had failed on economic grounds.
But pen pushers don't like to put themselves out of a job. No they like to go on and on examining the unnecessary. Many years ago, in the days of steam radio and the BBC light programme, there was a wonderful radio comedy series called the "Men from the Ministry". which made fun of the way British Civil Servants worked and failed to achieve very much. It's probably available on the Internet somewhere so if you have a free moment then Google it. The writers of the series though would have a field day with the lunatics in Brussels.
Now it appears, they are going to look at capacity issues on cells. How this affects recycling I don't really understand but it's the kind of stuff you learn attending meetings like this.
The European Union though, as many of you will know has much, much bigger problems on its plate than the recycling of batteries and with any luck the whole rotten edifice will fall flat on its face, soon enough.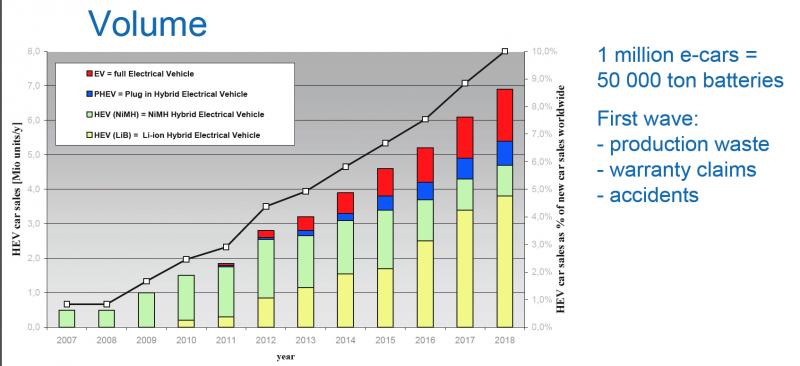 Your scribe is beginning to sound a bit like his mother (and she has Alzheimer's disease). But its hard to believe that there are people out there who spend their days working out how many batteries are placed on the market and how many end up being recycled, but there are.
Now make no mistake, there is valuable information to be gleaned at this event but to me, it seems a little like the Eurovision song contest: you get a lot of differing musical (powerpoint) styles and the voting is probably rigged.
My winner of course was the British entry, delivered by a British woman who was straight talking—Julie Ann-Adams, who works for Accumulator Recycling Ltd, one of the companies which is managing the UK scheme.
Collections of batteries only began in the UK this February (we're a bit slow in Britain but we think dealing with issues like child abuse and people trafficking are a little more important than the collection of spent consumer batteries).
Ms Adams was very detailed on how much the collection scheme was costing: Eight companies had applied to join the scheme as collectors in 2009 and paid nearly £1million in fees to do so. By the time collections started. there were just six operators.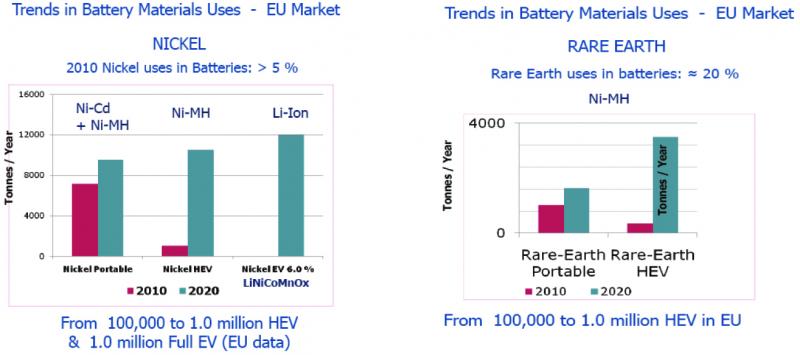 There was also something of an underestimate of how many batteries would be placed on the British market. It was thought that perhaps there would be 200 large producers placing at least one tonne of batteries on the UK market. But nearly 400 producers registered, paying £681 each or a total of £281,000.
I can't even list half that number of battery companies, so where did the money go? Not entirely clear, I'm afraid. But one thing is for sure, in the UK we're collecting just a fraction of the batteries we should be.
Adams said that just over 900 tones of consumer batteries were collected in 2009 but an estimated 37,000 tonnes were actually placed on the market. The UK government is hardly making life difficult for collectors— it was only looking for 10% of batteries to be collected in the first year of the scheme or some 4 709 tonnes of batteries. Next year some 18% or 8 476 tonnes.
So what's happening is woefully inadequate. Why is that then? Well, there's been very little publicity for the great unwashed (the public) to bring back their spent batteries to Sainsbury's and Tesco and your scribe has seen very little evidence of nice collection point for spent consumer batteries where he lives.
Under UK law, if you sell more than 32kg of batteries a year, you have to have a collection point. And collectors have to have their spent batteries received by an Approved Battery Treatment Operator (ABTO) or an Approved Battery Exporter (ABE) – who are able to issue evidence to battery compliance schemes so that they can prove that their members are compliant with the legislation— in other words, play the crazy game.
And these people have to submit quarterly reports on how many batteries they process. All ABTO's and ABE's must also provide an annual independent audit report which will certainly have to confirm that records kept and reports submitted are accurate down to Scheme, category and chemistry level.
So far then, all good stuff. We're obeying EU rules, we're totally inadequate, the public haven't really been told what to do and they don't give a damn. Britain will carry on doing what its really good at— having more illegitimate babies born to mothers under 16 and getting drunk and disorderly.
What of the rest of the world? What about the Middle East? Now one has to be careful what one says here but again, you'd think there are bigger issues to worry about than the recycling of batteries. Out in Lebanon there's an organization called Beatoona, an organization for environmental development. Well, why not?
But when you see a slide come up with the title "current status of batteries in the middle east" one's mind takes off with surreal thoughts? Are batteries involved in some kind of civil war or dispute over land? Is there a United Nations resolution asking lead-acid batteries to return to where they were in 1967?
Of course there's inappropriate means of disposal, lack of regulating policies, lack of awareness in civil societies, lack of process and disposal facilities. Of course there are none of these things. These things are facets of rich and wealthy and stable societies, which Lebanon, amongst others for the most part, is not.
But one begins to wonder about whether battery recycling makes sense in highly developed countries. Take Australia for example.
Darryl Moore of Ausbat, a body which has sprung from the prosperous zinc mining industry, explained the position well: a large island continent stretching 3 700km north to south and 4 000km east to west. The population of Australia is estimated to be 22.4 million as of July 2010, making Australia the 51st most populous country in the world.
The country has a relatively small population and in the most part is inhabited on the coastal fringes with a small number of large cities and numerous small towns and communities. So, the population is concentrated mainly in urban areas. Quite.
So is it worth transporting the few consumer batteries Australians use to centralized reprocessing centres? How few batteries do they use? Remarkably few. Just 6 000 tonnes of primary batteries and 2 000 tonnes of rechargeables. Makes you think, doesn't it? How many tonnes of CO2 are going to be expended collecting all of those batteries? With a land mass so huge, wouldn't it be better to put the batteries into landfill? Australia's big enough so you wouldn't even notice.
Such a thought is heresy to the likes of the European recyclers. Because there's a big concern that the EU could face serious shortages of materials: The EU has looked at 41 elements, many of which are vital to the electronic industry and ironically batteries. So there is some logic in having a collection and recycling industry— if there's material to recover.
Michel Catinet told the meeting that the following materials were seen as critical and in short suppy: Antimony, Beryllium, Cobalt, Fluorspar, Gallium, Germanium, Graphite, Indium, Magnesium, Niobium, Platinum, Tantalum, Tungsten and not surprisingly, rare earths. And the issue for batteries materials is one of concern— demand for rare earths will rise 3-4 times, cobalt at least six and lithium by a factor of ten. Perversely, while the demand for lithium is predicted to rise so much, there are fewer concerns about running out of the material because it is reasonably abundant.
As to whether technologies exist to recover all these materials and whether they exist in Europe, well you can be sure that companies like Umicore will play a role. It's already building a new recycling facility in Hoboken in Belgium to cope with the 9 000 tonnes of spent materials and batteries from electric and hybrid battery vehicles. But it is extracting the high value metals like Gold and Silver from all kinds of electrical and electronic scrap (like mobile phones and computers) which is where Umicore really makes its profits.
Dr Steffen Haber of Chemetall, which produces half the world's lithium carbonate for use in batteries pointed out the obvious —to date there is no real recycling for lithium-ion— electronic waste gets disassembled but small batteries are being disposed of by burning— feedstock for the steel industry. Despite all the EU posturing about recycling, what's really happening is that batteries are only being collected, and when they are being disposed of, recovery of lithium salts is not the goal.
In the field of Nickel metal hydride however, one company has developed a recovery process to extract rare earths, involving a hydrometallurgical separation process. However little detail was given because a patent is still pending on the process.
One thing is certain: Recupyl wouldn't have gone to the trouble of creating a process to recover rare earths unless there was a market for those materials and that time is now. Secondary lead producers wouldn't have gone to the trouble of building smelters to recover scrap lead for the battery industry unless there was a demand for the material.
The EU can legislate all it likes on the collection and disposal of batteries but the plain fact remains that true recycling will only come about when markets for recycled materials can operate.