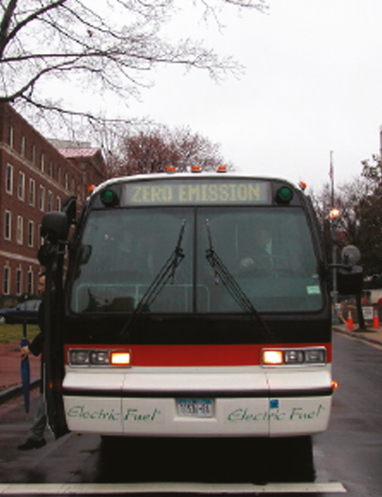 Dr Pat Moseley spells out the gravimetric and volumetric energy density numbers succintly and explains why the zinc industry now feels the time is right to turn the spotlight back onto zinc-air traction.
The limitations of specific energy and energy density of secondary batteries have encouraged developers of applications requiring clean energy storage to take a close look at hydrogen fuel cells. It has been envisioned that in electric vehicles (EVs), and for portable power systems, fuel cells may have the potential to offer the benefit of clean power delivery uninterrupted by any need to recharge (as long as the supply of fuel is maintained). However, the challenges in technology, cost and infrastructure for hydrogen fuel supply, storage and transportation as well as in solving problems caused by the complexity of fuel cell systems have remained, despite decades of extensive development. It now appears that significant commercial success of fuel cell systems for motive power applications is not imminent. "At this stage the jury is out on the future of fuel cell vehicles," according to messrs Rand and Dell in their book Clean Energy.
Zinc has the highest specific energy among those elements that are stable in aqueous electrolytes, as shown in Figure 1. So where can zinc-systems become more useful in the future? The most significant sector requiring a satisfactory supply of electrical energy remains the electric vehicle. Here the issues to be resolved are cost, gravimetric and volumetric energy density and all aspects of the fueling/recharging process. Rechargeable batteries limit the range of an electric vehicle to little more than one hundred miles, after which the vehicle is unavailable for a period of hours during recharge. Figure 2 shows the theoretical gravimetric and volumetric energy densities of battery systems that have been seen as candidates for EV energy storage, compared with the equivalent figures for a hydrogen fuel cell. These figures must be modified substantially to account for the addition of electrolytes, cases and supplementary plant, in order to arrive at practical energy densities. It can be noted in Table 2 that although hydrogen has a superior gravimetric energy density compared to other systems, its volumetric energy density is the lowest even when hydrogen is in a liquid form. In contrast, a zinc-air system has the highest volumetric energy density among all systems – more than four times that of hydrogen-air.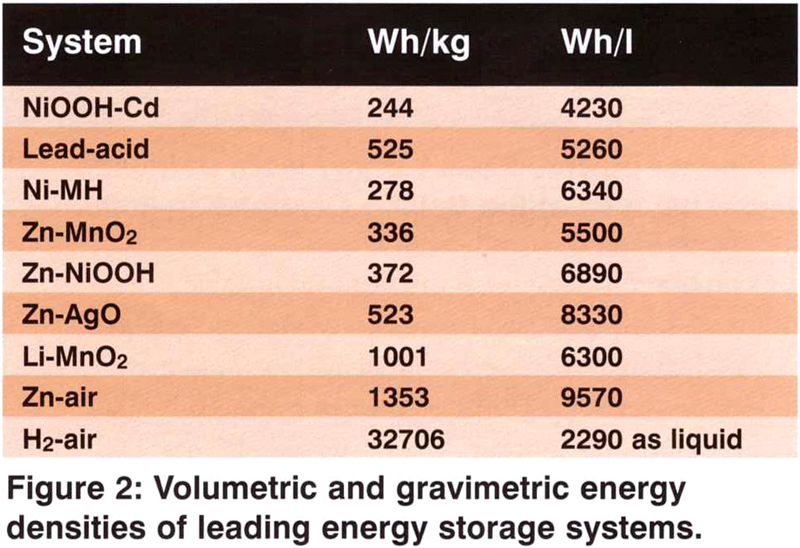 T
he difficulty for recharging a zinc-air system has prevented it from being used as a conventional rechargeable battery. However, developments in the last 15 years have resulted in a number of new ways of recharging or refueling a zinc-air system for large motive power applications. The new operation schemes provide sound options for zinc-air systems to be used in different applications in various business and cultural settings. For example, a mechanically rechargeable zinc-air system has been proved in vehicle use during the extensive program carried out by Electric Fuel Limited in conjunction with the German Post Office during the 1990s. More recently, in an FTA-sponsored program, Electric Fuel has demonstrated the zinc-air battery on a full-sized 40ft transit bus incorporating an advanced traction drive developed by General Electric, which met the driving range and other operating requirements of the most demanding daily transit operation (including air conditioning). In one recent test, the zinc-air bus delivered 119 miles of intensive stop-and-go central-city driving, providing – from a single charge – considerably more, in terms of energy, than the average duty cycle required of big-city transit buses. The bus can be refueled and sent off with a fully recharged battery in only 10 minutes. In another important transportation sector, Powerzinc has successfully conducted a market test for their electric bicycles powered by a mechanically rechargeable zinc-air system on the streets of Shanghai.
Independent studies have shown that zinc-air powered transit vehicles can compete favorably with other available alternative fuel technologies (e.g., diesel-hybrid and CNG) on the basis of life-cycle costs, while providing far greater environmental benefits in the form of zero tailpipe emissions and overall reduction in each of the key air pollutants associated with transportation. Moreover, the computation emerges even more favorably in parts of Asia, where labor and electricity costs can be much lower. In addition, many types of vehicles such as bicycles and scooters, which can tolerate higher fuel costs than automobiles, are popular transportation means in Asian countries and are ideal applications for zinc-air energy systems.
An early focus for the consortium will be the electric vehicle market in Asia. The Olympic games in Beijing in 2008 is committed to employing 1000 clean buses for transportation of athletes to and from sporting venues, and consortium member, PowerZinc, is bidding to supply at least part of this fleet on the strength of a reduced cost when compared with the fuel cell bus. PowerZinc is due to demonstrate their prototype bus this year.
As mentioned earlier, the battery/battery all-electric hybrid bus developed by Electric Fuel in conjunction with General Electric has already proven the feasibility of a zinc/air based bus system. There is also a large demand for electric motorcycles in China where the present 2-stroke vehicles have to be replaced following legislation in pursuit of cleaner air on the streets of 150 cities.
The ZEST consortium efforts will be devoted to providing publicity for the favorable attributes of the zinc/air vehicle systems and to developing the infrastructure to supply the appropriate form of zinc to the centers where these first projects will be pursued.
The overall mission of the ZEST consortium is to evaluate and to support all zinc-based energy systems and the initial membership includes the company PowerGenix, a San Diego firm, which has produced a nickel-zinc battery which is an ideal replacement for nickel-cadmium in power tools.
For further information please contact Pat Moseley, Manager of Electrochemistry at the International Lead Zinc Research Organization (pmoseley@ilzro.org) or Johan Van Wesemael, Manager of Market Development, at the International Zinc Association (jvanwesemael@iza.com).