Combining high performance characteristics and safety with lower levelised-cost-of-storage, flow batteries are the perfect choice for long-duration energy storage projects— at least on paper. But with a history dating back almost 140 years, the technology is suffering from a lack of wide-scale deployment seen by other battery technologies. But the tide is beginning to rise for flow batteries, as Paul Crompton reports.
On 9 August, 1884, airship La France (main image) completed its maiden journey. The 170-foot-long airship finished its 8km trip in 23 minutes powered by a 435kg zinc-chlorine flow battery.
Since those promising days in a French airstrip near Paris, the technology's metaphoric journey has been slow in comparison. Why Charles Renard's invention didn't continue its trajectory is lost to the annals of time.
Then in 1954, an unnamed German scientist patented a procedure for storing electrical energy in liquid using chlorine, and hydrochloric acid. In 1973 the National Aeronautics and Space Administration (NASA) began work on the technology, but its star only began to shine five years later during research into a redox concept based on 25oC operation and the use of anion exchange membranes as separators to prevent mixing of the acidified aqueous reactant solutions— with iron and chromium redox couples chosen as the positive and negative reactants. The NASA Redox Storage System Technology Project, which began in 1979, developed redox flow batteries and verified its use for utility and stand-alone applications.
NASA noted, in its final report in 1984, that systems with energy densities of 80mA/cm2 with energy efficiencies greater than 80% had the potential of delivering an energy storage system at $75/kWh. In conclusion, the report noted that iron-and-chromium redox flow battery technology was "quite encouraging".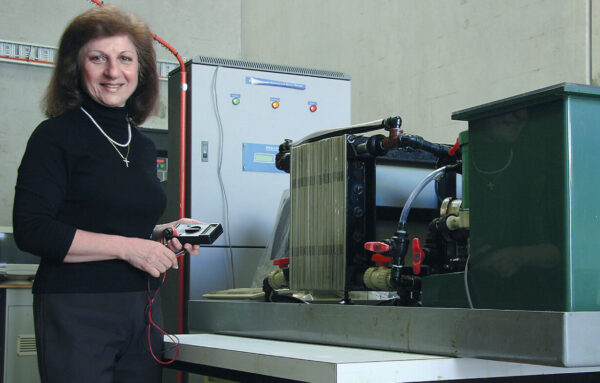 Two years after NASA closed its studies, the first all-vanadium redox flow battery (VRFB) patent was filed by the University of New South Wales (UNSW). The technology was developed the previous year by professor Maria Skyllas-Kazaco and her fellow researchers Martin Green, Bob Robbins and Tony Fane. Gaining a grant from the National Energy Research Development and Demonstration Council, the team concentrated V(V) solutions by oxidising a more soluble form of vanadium called vanadyl sulfate; however, at $400/kg the team soon began exploring vanadium pentoxide, which was $5/kg. Together with Dr Miron Rychcik, a vanadium electrolyte was successful produced and tested. This was the start of a 33-year program at UNSW.
Today the vanadium variant dominates project deployment of flow batteries, and the electrolyte is the most widely used on the market, but alternative electrolytes are being developed.
The first large-scale implementation of the vanadium redox flow battery (VRFB) technology was by Mitsubishi Electric Industries and Kashima-Kita Electric Power Corporation in 1995, with a 200kW/800kWh system installed to perform load-levelling at a power station in Japan. In 2016, plans for an 800MWh VRFB were unveiled through a strategic partnership between UniEnergy Technologies (UET)'s and Rongke Power. When completed, the system is due to include ten 20MW/80MWh VRFB systems, which will provide peak-shaving and grid stabilisation on the Dalian peninsula in northern China.
Today, a number of projects using VRFB and other chemistries such as iron flow and zinc bromine systems are being deployed in various multi-megawatt projects.
Growing importance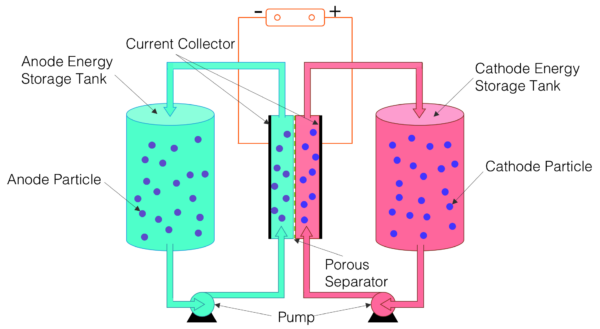 As a long-duration storage system, flow batteries can shift wind and solar generated power from times of over supply to times of over demand to maximise the utilisation of renewable energy sources over periods of at least 10 hours.
The industry is beginning to accept that no single storage technology is the perfect 'fit and forget' option for storing renewables, with high costs or limited availability of raw materials hindering some projects.
The reason is: storing vast amounts of renewables-generated power requires shifting that power from day to night, week to week and season to season— which can only be achieved through a vast increase in energy storage. "Long duration energy storage is the technology that will enable renewable energy to succeed and accelerate carbon neutrality," says Kees van de Kerk, president of Flow Batteries Europe.
While battery technologies— lead and lithium-ion, predominantly in today's market— have the advantages of low cost, mature markets, unconstrained by geography, and benefitting from fast response times and relatively high efficiencies, it is flow battery technologies that offer the much needed long-duration aspect of storage as it combines high performance characteristics with lower through-life cost than other battery types.
And it is long duration and large-scale MW+ projects that will "certainly be the dominant area to deploy flow battery technology", says van de Kerk.
There are also innovative smaller home storage systems coming to the market. A typical niche for flow batteries are peak shaving use cases, as they can offer 20,000 cycles and more without losing capacity, which is more than even the best lithium-ion batteries.
In these business cases, where peaks occur up to 10 times a day, lithium-ion batteries would need to be replaced every 2-3 years, whereas flow batteries can run for 15 to 20 years, says Van de Kerk. One of the attractive features of flow batteries is their capability for flexibility of application— meaning they can be configured to the needs. For example, for power applications (supplying a lot of energy per moment), energy applications (a lot of energy stored) or both.
Other typical use cases for flow batteries are governments or companies that seek a sustainable solution, but are not considering alternative battery types that can't be so easily recycled or repaired. Last, but not least, the Flow Batteries Europe (FBE) sees a demand for applications where tight safety measures are crucial, like large-scale storage systems for infrastructure (tunnels) or certain industrial locations— especially as the fires seen in lithium-ion batteries cannot happen in flow batteries.
Business-as-usual
With a relatively mature and proven technology, the FBE sees four distinct advantages of flow batteries compared to any other storage technologies. They are:
• Lowest levelised cost of storage over the lifetime.
• Best ecological footprint due to materials used, lifetime and recyclability.
• No losses in capacity nor power over lifetime.
• Possibility to store large quantities of electricity
So, with these benefits, what is holding back wider deployment, and how close is the technology to full business-as-usual for ESS project developers?
This is an interesting question because it reveals the true path flow battery companies are walking, ie they have not yet scaled their products to the same level as their counterparts.
FBE believes the combination of the above multiple relevant criteria will enable flow battery technology to be applied on a wider scale in the coming decade.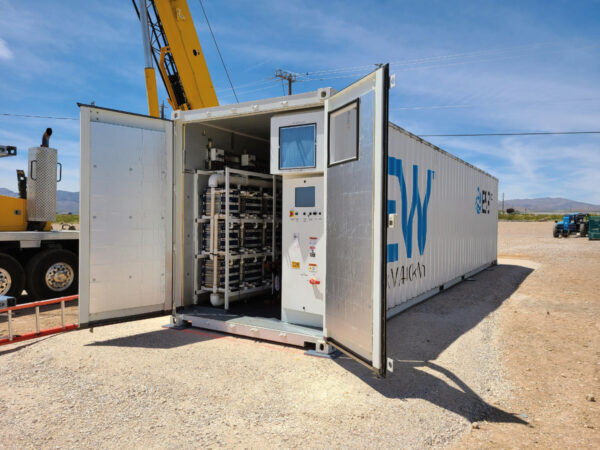 "Although the technology is proven, we have not yet achieved the economies of scale from mass production and replication," says Anthony Price, secretary general of the organisation Flow Batteries Europe. "This is a challenge for all energy storage technology developers— most are looking for a springboard to go from low volume niche sales to high volume bulk sales (lithium-ion was successful because of the demand for frequency response services as well as electric cars).
"But we are now seeing flow battery demonstrations that will be the precursor to follow on orders and increased scale. Flow battery companies clearly need some extra push as the US state of California is providing and the EU has provided to the lithium-ion in the past to overcome these hurdles."
Price adds that, due to limited scale, it is far more difficult for flow battery companies to compete for larger projects due to higher costs and more limited experience gained from projects in Europe and the US— but companies are making good progress.
Scaling up the technology is crucial. Until now authorities have focused on mobile storage applications, and only recently have first movers, like California, understood that some government support is needed to materialise on these benefits.
Additionally, FBE expects that increased renewable penetration will lead to increased long-term energy storage needs, allowing flow battery suppliers to scale.
Commercially viable options
Zinc bromine and vanadium have been the most developed and promoted flow batteries in recent years. Both systems are commercially available and commercially viable now.
But many researchers, developers, and manufacturers, having seen the benefits of flow battery technology, are exploring future generations of the technology by using other chemistries such as iron-chromium or organic electrolytes.
An increasing number of companies are introducing new, safe, non-flammable electrolytes that convert chemical energy into electricity to store energy for later use, while meeting the environmental, longevity and safety objectives of utilities, says Price.
"But it is clear that large-scale energy storage, which flow batteries provide, will be crucial to make or break the energy transition and the different actors are waking up to this," says van de Kerk. "So, we see a bright future for safe, large scale energy storage technologies like flow batteries."