Lead-acid battery sales and prospects look good but an environmental noose is tightening on lead on the most important continents. Editor Gerry Woolf reports from the ILA's Prague gathering.
Talk about extremes: Two weeks prior to the International Lead Association's lead conference in Prague, the city was at risk of serious deluge from extreme rainfall.
During the event itself, participants were at risk of heat stroke if they left the conference hotel, with temperatures of 38ºC outside. So it wasn't so difficult to enjoy the relative cool of the conference room. But it was anything but cool. Tensions were in the air to raise a sweat in the most unfazed lead industry executive.
Looking at this issue's front cover, you'd think all was very well in the world of lead and its principal market, lead-acid batteries.
In the all important automotive market, things are good. Lead‑acid dominates in the growing microhybrid vehicles market and will continue to do so for some considerable time. For all the hype, today's lithium-ion doesn't cut the mustard on price or performance for automotive and the jam tomorrow technology— lithium air— with the supposed energy density of gasoline, is a technological riddle which will tax the best minds in electrochemistry for the next 20 years. That's why our 'Thomas the tank-faced' lead-acid cell is at the chequered flag.
So why are today's lead executives still sweating under their collars? It's almost Biblical: the sins of the fathers are visited on the children. The lead industry is paying a high price both in lobbying and in stewardship costs to continue its operations in Europe and the USA: And the price will rise. Nobody forgets the holocaust, and regulators won't forget lead in paint and lead in gasoline, even though that's got nothing to do with today's battery industry.
It's made worse when the growth markets for lead-acid batteries are in Asia: yet Asian faces were a very small minority in Prague. And as the box story, 'Stormy weather' suggests, major western players face a wall of conflicting legislative measures to continue employing people in the industry, while in Asia generally, environmental stewardship doesn't count for much— which might explain the Asian absences.
The vagaries of where lead markets and the lead price is going seem to pall into insignificance compared to the potential impact of all of the above but where would lead meetings be without such contribution?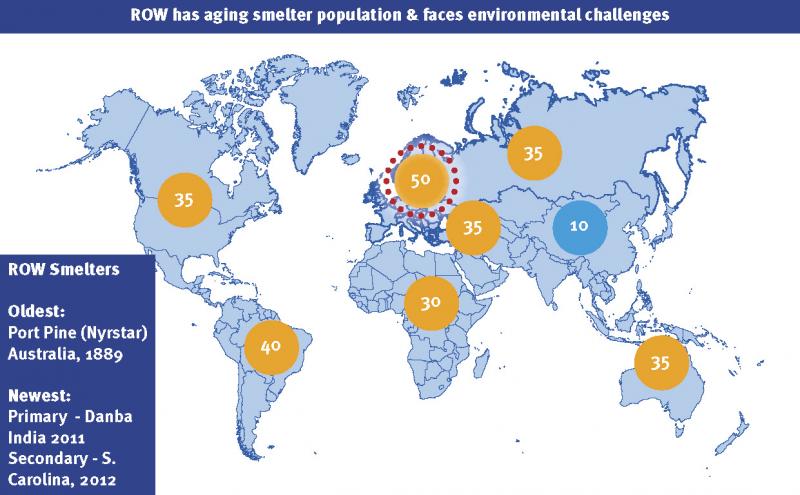 Cue Helen Matthews of Wood Mackenzie, who picked up on trouble spots in the supply chain— namely an ageing secondary smelter population and the potential loss of 0.5 million tons of capacity in the USA alone—including those of Exide. There's probably enough lead in the system and the metal has fallen out of favour with the speculators which is a crumb of comfort to battery makers.
But China is always the focus of interest and that's Huw Roberts territory. It's big picture stuff. Asia is 60% of the global population and now two thirds of global lead demand. Demand has doubled in a decade. But has it peaked? Certainly e‑bike demand has peaked which accounts a staggering 44% of lead demand. And there's little demand for e‑bikes outside China and fierce oversupply at home. You don't have to be too sharp to spot the outcome…. a round of impending closures and bankruptcies. The Chinese have created other problems for themselves and their lead refining— adding cadmium to the lead of e‑bike batteries in order to improve the life of the product— hardly a metal other battery importers will want to see.
Couple this with all the environmental legislation the government has put on the industry and you can see the motivation for becoming a Chinese Norman Tebbit— get on your e-bike and move your factory elsewhere. Roberts said Vietnam and Thailand are the places to watch— it's where Chinese are opening new manufacturing plants. Probably because there isn't a tough regulatory regime in these countries. Add to China's economic woes of rising labour costs and maybe the good times are behind us? No one's saying that just yet. China has plenty of primary lead smelting capacity and the youngest secondary smelter population in the world.
But if ever there was a case of assets now being in the wrong place, it's here.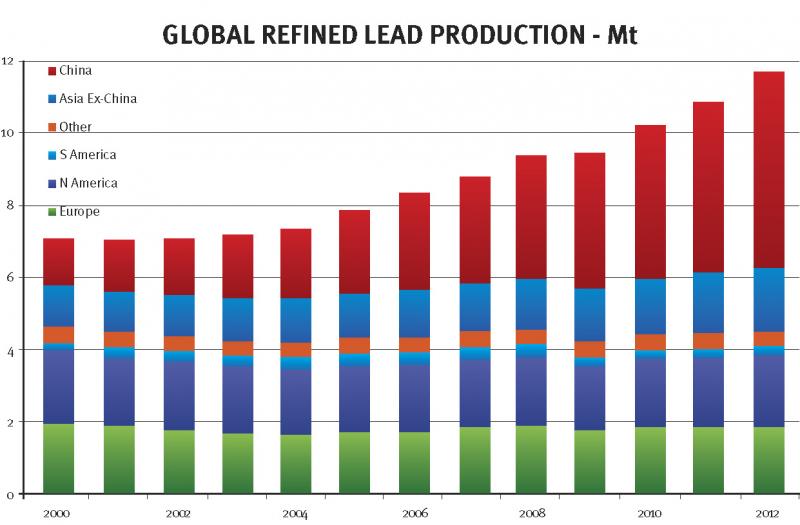 The one good news story the lead industry has is the Advanced Lead-Acid Battery Consortium and it fell to its recycled David Wilson (the former CEO of ILA and now chairman of ALABC) to recount the last 20 years (which we did in BEST two summers ago). It's been an interesting story, fixing the inherent weaknesses of the lead‑acid system, from positive plate corrosion, negative plate sulfation and charge acceptance issues, developing fast charge and partial state of charge regimes.
We covered it all in BEST and elsewhere— US$60 million has been spent over the 20 year period— a trifle in R&D terms across the whole industry (though not everyone has contributed).
The irony of the story is that it is the European Union which has probably done the most to foster a climate where lead-acid technology has prevailed to be the energy storage source in stop-start micro‑hybrids.
That technology has only come about because of the EU's strict automotive emission regulations, which forced car makers to re‑invent stop start and virtually guarantee lead-acid another good 20 years, minimum.
And that's not withstanding lead's current exemptions in the End of Life Vehicle Directive, the REACH regulations and so forth. So I put Wilson on the spot: "As a consequence of its automotive emissions policies, has the EU not been a beneficiary to the lead industry?" Wilson, a self‑confessed decryer of seemingly anti‑industrial EU policies, could not disagree. When good outcomes happen by accident, something is wrong.
And that outcome resonated with a lot of others' thinking. The structure and organisation of the European Commission is incomprehensible to too many. It is made worse by conflicting timetables and reviews of new legislation, existing legislation and so forth.
One could instantly sympathise with Violaine Verougstraete of Eurometaux in Belgium— in dealing with the regulatory issue in a wet and dismal Brussels, she has become addicted to chocolate.
This writer holds out little hope other than morbid obesity for this industrial toxicologist because it is almost impossible to step back and see what the big picture really is for both industrial and environmental policy across a continent of 28 nation states with different thinking and different outlook, not mention different languages and culture.
In the USA, the picture is the same: environmental groups brought two lawsuits in 2012 seeking to compel US regulators to promulgate regulations restricting the use of lead ammunition— for hunting. Increasing stringency in the use of lead and exposure to lead is getting tougher. The US EPA is re-examing the use of lead in aviation fuel with a final determination expected in 2015.
There is little doubt that lead has an extraordinary environmental and regulatory fight on its hands and the battle is being fought on all continents with each much more in tune with the regulatory debates happening in other parts of the globe, thanks to rapid communications.
Whether the industry has the resources and skills to fight back in the 'war on lead' is far from clear: to marshal the arguments of good news, good environmental and health data to a global- wide audience is tough enough, yet each part of the global audience having a different agenda is a communications nightmare. It's looking very good for lead‑acid battery sales for now but the industry ignores the global legislative storm ahead at its peril.
Stormy weather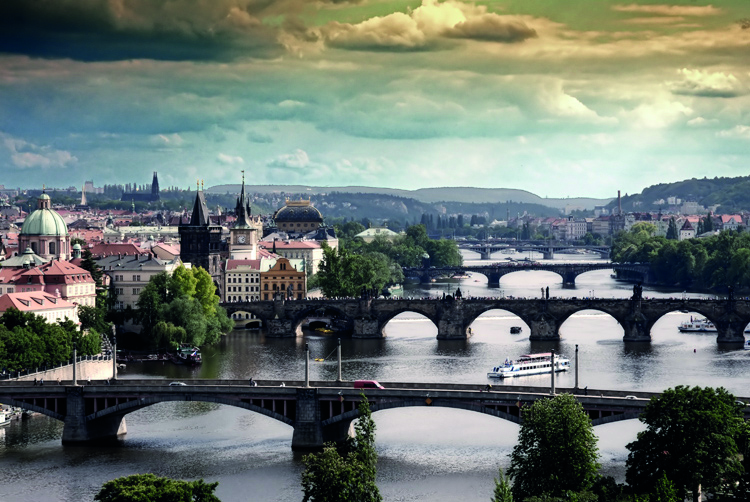 The great and the good of the international lead industry gathered in a sweltering Prague to discuss how it is going to deal with an ever tightening regulatory environment in Europe and the USA, and probably the rest of the world. Gerry Woolf reports.
When Eurobat and Battery Council International go to some lengths to trail a press release announcing that their member companies have committed to reducing their employees' blood lead levels to well below the permitted figures today, in both their respective memberships continents, you know there's something more to this than meets the eye.
The lead industry, or at least its trade associations, have recently become very sensitive to how small a place the world is and how quickly news about proposed regulatory measures or 'bad environmental news' is transmitted around the world, through social media and the like. News travels very fast.
So the European Commission is more than aware of what modulates Federal Regulators when it comes to lead— it's not the Environmental Protection Agency—it's the State of California— the pace setter on environmental standards.
"Just because you're paranoid doesn't mean they're not out to get you," goes the old saying but one does sense a growing feeling of a squeeze on the windpipe of the industry from the EU and the REACH Directive and across the other side of the Atlantic, as the US Occupational Safety and Health Administration begins the process of reviewing exposure levels for workers — mainly those in the lead-acid battery industry.
The industry is nervous. Permitted exposure levels in the USA have not been changed for 40 years and at a workshop held during the International Lead Association's Prague conference a number of companies presented data which showed they are regularly achieving blood lead levels which are much better than the 40µg/dl that currently stands. Some companies have staff exposed to lead, with blood levels under 20µg/dl, which is no mean achievement.
Hence the big song and dance press release from BCI and Eurobat last month— 'we are doing better than the law asks,' is the underlying message.
It's part of a 'charm offensive', if you like, with the regulators. According to Steve Binks of ILA, the European Commission wants a continuous improvement approach when it comes to the protection of workers' health. Some willingness to go the extra mile earns 'brownie points' with the Commission and, for the lead industry, that helps. And that's what the new blood lead monitoring programme and its 30µ/dl figure is all about. Life is unfair in many respects and it seems the lead industry will never shake off its reputation for previously exposing populations to, and defending the use of, lead in paint and gasoline. Lead is the chemical equivalent of the extreme right in politics. And it's extremely difficult for the lead industry to get a fair hearing on all the positive things it has achieved— especially with regard to recyclability, hence the nervousness. And because the industry is well aware that science is running ahead of regulations, which show possible health effects with much lower lead levels than those permitted, this could have serious consequences; the fear is future worker exposure levels could be set much lower than those currently permitted.
In October last year, the US Centre For Disease Control set a new reference level for lead at 5µg/dl to identify children with blood lead levels that are much higher than most children's levels. This new level is based on the U.S. population of children ages 1-5 years who are in the highest 2.5% of children when tested for lead in their blood.
Of course none of the children work in battery factories and the CDC figure set in train a string of popular press stories that suggested more than 0.5 million American children were suffering with lead poisoning. This has nothing to do with lead-acid battery manufacture but mud sticks and misinformation is the norm in mainstream media. And the Californian Occupational Safety and Health Administration (OSHA) has been recommending, for a number of years, the reduction of blood lead levels to under 10µg/dl for workers.
Women who are likely to become pregnant should not have blood lead levels greater than 5µg/dl and should be removed from the source of exposure— in other words not work in lead-acid battery manufacture.
These new proposals could prove particularly difficult for US battery manufacturers like Pennsylvania-based East Penn. The occupational health legislation conflicts with discriminatory legislation already on statute. In order to protect women's health, the employer would have to discriminate on gender grounds.
Troy Greiss of East Penn told the meeting the company had 5 300 workers exposed to lead at its major facility and a good number of female employees: It looks pretty certain that a costly legal battle lies in wait for US manufacturers.
So the worry is: how low can levels go and what will drive the regulators? And can the industry cope with tougher health regulation and lower blood lead levels?
The consensus view is that, in the USA, OSHA will undoubtedly revise the exposure level downwards, perhaps into the mid 20µg region and, in the worse case, perhaps down to 15µg but maybe over a longer period of time. But 10µg?
The International Lead Zinc Research Organization (ILZRO) is not without resource when it comes to assessing what's in the literature and, in the very prolific field of medical research, lead is still of interest— mainly because of the legacy of its past.
Jessica Ryman, one of two toxicologists with the organisation explained that some more recent studies which suggested a linkage between very low leads and stomach and kidney cancer were far from clear cut. In the end it depends whether regulators take a precautionary approach or an evidence based approach. For now, OSHA's decision making is evidence-based.
Keeping worker exposure to lead down and within legal requirements rests largely on good engineering— appropriate ventilation and dust control but also on behavioural-based safety schemes which are literally in the workers' own hands— adherence to rigorous personal hygiene approaches including scrupulous washing and ensuring no lead is ingested.
Russell Kemp of Environ International Corp, a ventilation engineering specialist, with 30 years experience in developing ventilation systems for lead-acid battery plants, took the view that the time might be approaching where it would be appropriate for full automation or even greater enclosure of lead-acid battery productions processes. But there would still be a need for workers to have close contact with machines when it came to maintenance and that might mean higher exposure for a few.
No companies appear to be prescriptive with regard to use of respirators and it's no surprise why— they are uncomfortable to wear. Indeed the whole gamut of procedures associated with working with lead are onerus to the extreme. So how do you get workforce compliance with an occupational health regime? Very simply— you reward them to comply— financially.
On both sides of the Atlantic— in non‑union East Penn and in unionised Ecobat's smelter at Darly Dale in the UK, a regular bonus is made to those workers who keep their blood lead levels at prescribed levels— under 30µg/dl.
And many do even better than that at under 20µg/dl. Can those levels be lowered even further? Dan Askin of Escatech has spent years observing workers in battery plants, devising personal hygiene systems and plant cleaning procedures and could not stress more the importance of relatively simple procedure— like excellent hydration for reducing blood lead levels in workers normally exposed to lead.
He recalled details of one worker, an amateur weightlifter who consumed between four and six litres of water a day while training, who got his blood lead levels down to under 20µ/dl. His urine specimens were clear. Would such a vast water consumption regime be acceptable to mere mortals who work in the industry?
The real challenge is reducing blood levels in older workers. Craig Boreiko, Director of Scientific Programmes at ILZRO explained that blood levels only account for relatively short-term lead exposure because the greater amount of lead to which an older worker is exposed is absorbed in bone.
And it takes considerably longer to reduce blood levels in older workers whose blood lead levels are over 40µ/dl because the bone acts as a slow release buffer— perhaps a couple of years to get down to 30µg/dl after complete removal from lead sources.
But fewer firms have workers with a long 'career' in the industry. The challenge now is to keep recent recruits blood levels as low as can be reasonably achieved. Whether that effort will satisfy a growing global regulatory environment which seems increasingly intolerant of lead is anyone's guess.