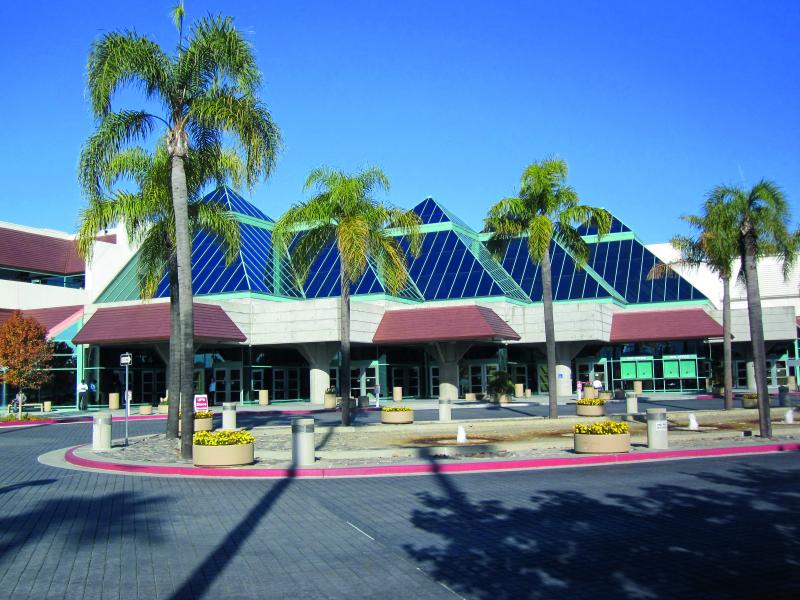 Cosy interviews with experts on sofas do not make strong take home messages. The Editor struggles to find substance over style at this Spring's annual Energy Storage Association's meeting in Santa Clara.
Maybe your Scribe is getting just a little too long in the tooth for this Electricity Storage gig.
The Electricity Storage Association has been in existence for more than two decades but is Electrical Energy Storage anywhere near mainstream yet? It's hard to tell at this West coast gathering of lobbyists, technology purveyors and consultants.
The portents are not good: Imre Gyuk, the wise old sage from the US Department of Energy can be rightly heard sounding the alarm:
Funding is running out: The Recovery Act billion dollar splurge which transformed Gyuk's department from nickel and dime store supporter of interesting research to serious investor is almost over and in less than 18 months, dozens of storage projects will need to look for private sector support if they are to continue. This is where the paralysis 'on the hill'— the US Government's inability to set a budget really comes into its own. US Government supported storage activity is heading toward the cliff—is anyone listening?
There's no shortage of technologies either: ESA's 'technology showcase' is packed with companies showing their storage offerings, but this is not a trade show— there is no evidence that power utilities, property developers or others are looking at what's on offer and collecting information about what they might actually buy and use.
Because it's far from clear about exactly what there is to buy, how you might use it and how you might gain after money has changed hands. Those manning the booths seem to know this too as they check their smart phones for evidence of real business going on in the real world outside.
Yet this event is happening in Santa Clara, California, the heart of Silicon Valley. The Scribe's sources say there are no VCs here; they are looking for sexier things than batteries and flywheels— the next Facebook maybe?
And yet the whole event is incredibly manicured and managed: conference presentations have progressed from the 'stand up and read your powerpoint' to cosy little Q&A's with industry experts on casual sofas like some late night TV arts show on PBS. Yet when these end, you pinch yourself and ask 'what is the take home message?
It's these feelings that make bone fide journalists reach out and look for the solidity.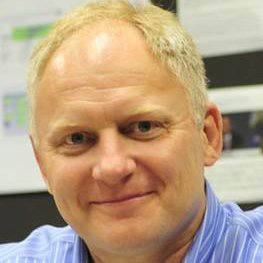 I find some in the familiar face of Rick Winter, who is carrying an enormous flat screen TV to his booth in the technology showcase— 'we have to demonstrate something,' he tells me. This must be a problem for all companies here— what to show. Long gone are the days of putting hardware on exhibition floors. The company he is now with is new to me— UniEnergy Technologies— but what it is doing is not new— repackaging a product from China and adding some technology multipliers giving the not-so-novel Vanadium Redox battery technology what it needs to be a global player— scale.
Winter, who has had years' worth of experience on flow batteries in the west could have carried on developing flow battery stacks, but you have to ask, why bother when others have solved the problems of making them work reliably in the real world? And that's what the Chinese have done. China has the the same issues of operating wind farms as those in the west— insufficient transmission capacity to where the power is needed and the inevitable problem of curtailment. So why not store the energy?
China's wind capacity has grown too fast— from almost zero in 2006 to 62GW last year— too much for the transmission system to keep up. Most of the wind farms are in regions with limited demand, creating a surplus of power not easily distributed to faraway load centres.
Seeing the problem ahead two years ago, the Chinese government began putting out tenders for large scale energy storage to do the job and Dalian Rongke power, along with Anshan Rongxin won the bid for the Guodian Longyuan 5MW/10MWh storage battery system project, the world's largest Vanadium Flow battery storage project in the world. Who? Yes, here at BEST, we felt the same. Its hard to get information on the pedigree of Chinese companies. Rongke's web site tells little once it's been through Google translator and further searches showed the company had contributed review articles to the Journal of the Electrochemical Society. Freely disseminated science and the same engineering needs and wants are the reason that a significant Chinese player would eventually emerge in this market. Canada-based Prudent announced a much smaller Vanadium Redox installation (1MW) for the China Electric Power Research Institute (CEPRI) in Zhangbei, Hebei province in northern China more than two years ago. And has not announced much since.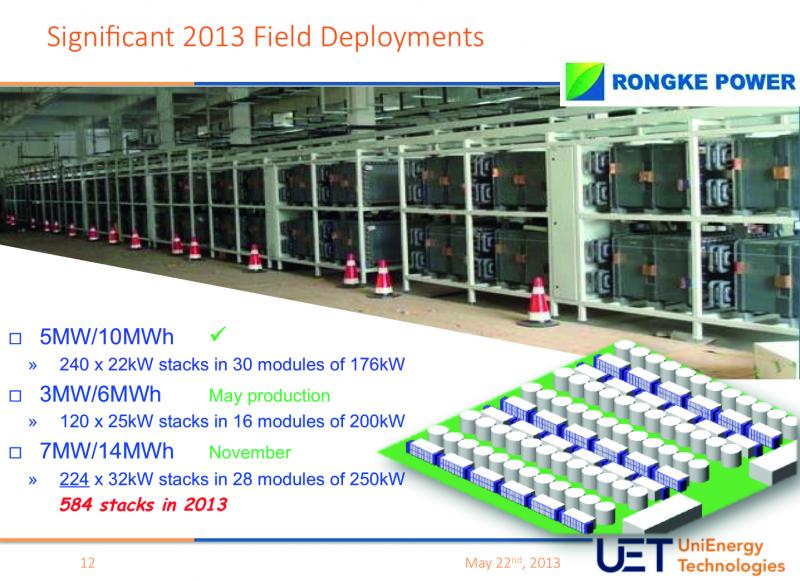 It took the Chinese seven years to perfect flow battery stacks, now they're churning them out like high performance cars.
Winter filled me in on Rongke's story: the Vandium Redox stacks have been in development in China since 2006 starting with a 1kW unit back then to a 32kW stack today. And the company has accumulated a lot of operating data with 10 000 cycles of stack performance. The company is in fact so advanced in stack production terms that it has a schedule to build 584 32kW stacks during this year. So where does UniEnergy fit in?
Its contribution to the mix in developing very large flow batteries is a superior Vanadium electrolyte invented by two former US Pacific NorthWest National Laboratory employees— Dr Gary Yang & Dr Liyu Li. Their electrolyte uses a combination of acids to double the energy capacity of the system and improve power density for a deployed footprint of up to 10kWAC/m2 for a 4-hour system. This is a 5-fold increase over typical vanadium systems, Winter explains.
And in the capable hands of Dalian-based Bolong New Materials, there is capacity to produce 1.5GW hours of electrolyte. So with partners that can build reliable working stacks in volume, oodles of electrolyte and a production facility that can integrate the system into the ubiquitous 24 ft container, what's missing? Well says the Scribe, financial data. The big project in China has only recently been inspected but there isn't any published data on operating costs, construction costs and so forth.
Who knows what rules Chinese power generation runs by? All Winter can say is that UniEnergy's product, ready to go and with a 15 year life, will be available in early 2014. I will be putting it on my wish list.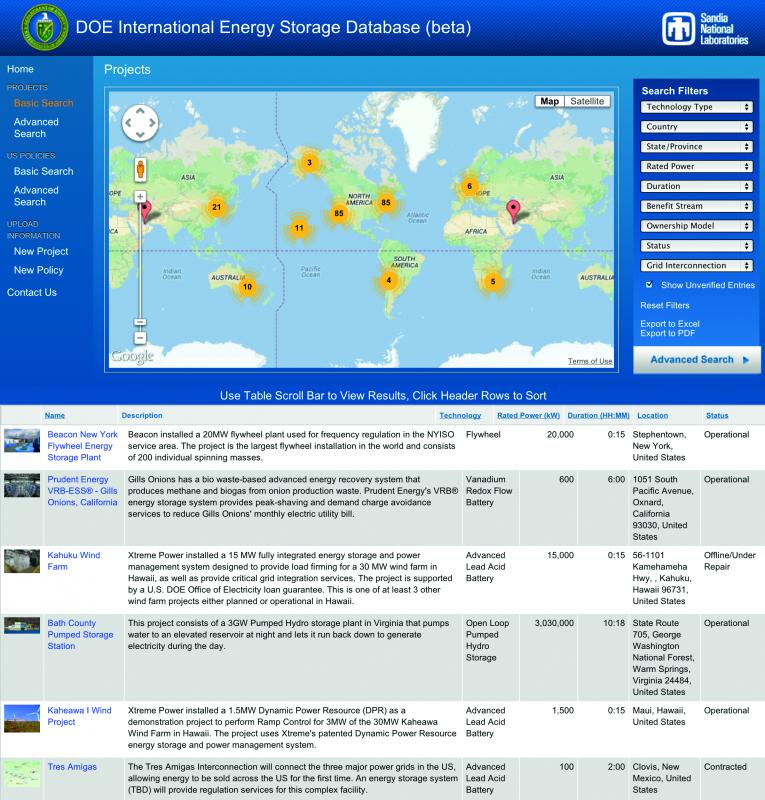 What else was 'solid' with tyres that could be kicked? Answer: information. Better than that: Free information. And better still quality, free information! One of the hardest problems this writer has had to deal with is keeping track of all the energy storage projects announced, through meetings, conferences and press releases. But Sandia Laboratories has been keeping track for all of us, with the DOE International Energy Storage database. It's been up and running for a couple of years now and in the writer's opinion was the most substantive item in the technology showcase. The screen shot above explains much but playing around online will reveal more. Set the filters by technology, country and purpose and you can see who is doing what, with what technology and to what purpose. What you can't see of course is data on up‑time, financial performance and so on. But to journalists, salesmen and investors it gives one vital thing— leads!
The US DOE Energy Storage Database is very US centric of course, with more than 85 schemes highlighted on that continent and just 200 in the world, and the team behind it admits there are a lot of missing projects. But it goes to show how little impact electrical energy storage has made globally to date and how much more there is to play for— and how insubstantial most projections for large-scale energy storage really is.
Which begs the question: Is anyone actually making any money from energy storage? More than a decade ago, this writer, attending the American Windpower Association's trade fair in Chicago, ran into Brad Roberts of S&C, now one of the foremost players in the storage market.
I asked him if he thought there was any opportunity for storage and wind. He thought not. Times change. This year, Roberts, now Executive Director of ESA picked up the association's Excellence Award, a timely pat on the back for installing more than 150 MW hours of storage capacity. A call to the company's very up-market (Edelmans) PRs, better known for representing Latin American dictatorships than the tech sector, summarised the story in the chart below.
S&C Energy Storage Solutions 2006 – 2013
A steady flow of business on storage products for S&C showed where money can be made— integration.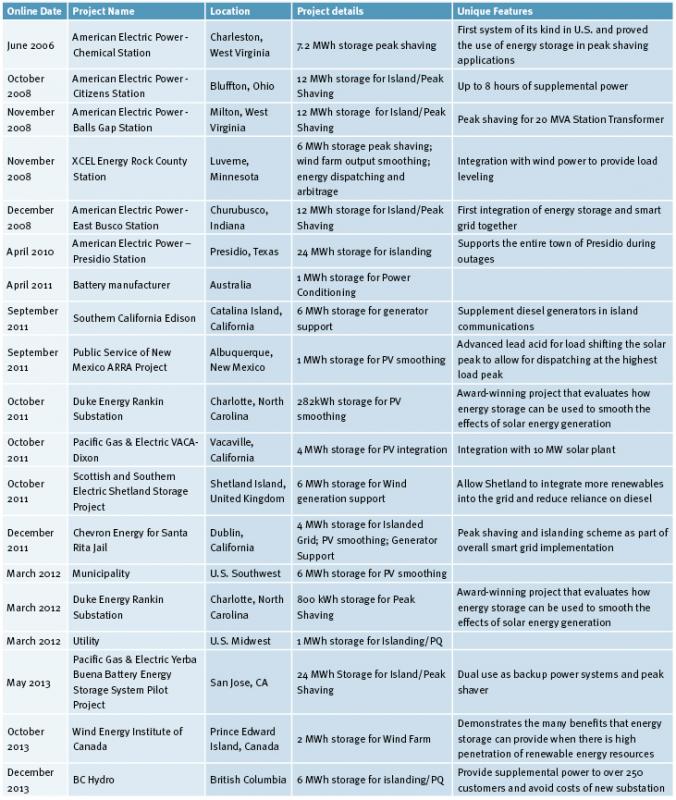 And these are the ones they were free to publicise. Its the integrators, like S&C who look set to make money out of storage— those who are equipped to tie together the batteries, tie-bars switch-gear and so forth. And those who are sharp enough to sell storage solutions to property developers, communities and forward thinkers who want to break away from energy unreliability, complacent utilities and in the UK's case, years of incompetent government that has allowed power generation capacity to slump.
It's tie-ups like the recently announced linkage of SAFT and Schneider, to develop and supply an electrical energy storage system (EESS) for industrial and commercial energy users that are the future. The first system will be installed this summer for French energy company Syndicat Départemental d'Energies du Morbihan. It will be the country's first smart grid-ready energy storage and management system.
The would be business winners in this market need new events and media to find their customers— not purveyors of hot air.