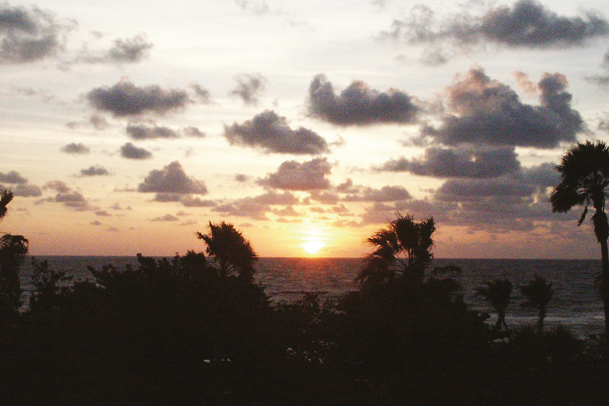 The Editor takes advantage of the sinking dollar to make an end-of-year trip to Florida to find out what's hot in super/ultra caps – but has only captured a small portion of the intellectual charge available.*
In all my years working on 'the other one' I'd never once made it to any of the famous Shep Walski battery meetings held out on Deerfield Beach, Florida. What better a place to stage an electrochemical event – in the low season, just before 'the holidays', where branched candlesticks and pines sit comfortably side by side under the stars and stripes.
John Miller, whose supercap column you can read in these pages, suggested I'd enjoy it – and he wasn't wrong.
The Double Layer capacitor meeting was, astonishingly, the 14th in the series and it had the atmosphere of a gentlemen's club or technical debating society. Its organiser, Dr Nikola Marincic, is (he told me) something of a 'stirrer'. And he's contributed a lot to battery science from involvement in the largest primary battery every built to developing batteries for high-temperature operation.
There aren't many technical conferences where a paper and its presenter shoots down the technical arguments and findings of the one which preceded it. The technical bunfight afterwards was a real pleasure, if you like that kind of thing. And many of us do. It's a bit like being back in an academic department (where you can leave after lunch).
And the styles of presentation are something else. From the classic English academic in the form of Professor Brian Conway, now in his seventies and still working at the University of Ottawa (and still attracting funding and applying for patents), the mathematically eloquent Frank Delnik of Sandia Labs, who reduces equations to a few simple terms and bullet-points, and taxonomically perfect Menachem Anderman, who has the gift of simplifying the complex to a form which maybe even a semiliterate and barely-educated salesman employed on a fast-fading trade magazine (we don't need to name names – he knows who he is) might have a hope of grasping. But it would be pearls before swine.
Aside from the academic fascination, what is it that most of BEST's readers want to know about super capacitors?
The questions are practical enough. What are they going to cost us (the potential customers, that is)? Who's making what kinds, and how do we integrate them alongside existing energy storage technology? And the big question: are they a threat to batteries? Or perhaps you should be asking, can they help make the inadequate batteries we are now making work better?
Somehow the finer points of what pseudo capacitance really is – the phenomenon that makes them happen – is not centre stage in the customer's eye (although this would deeply upset Brian Conway and his charming assistants).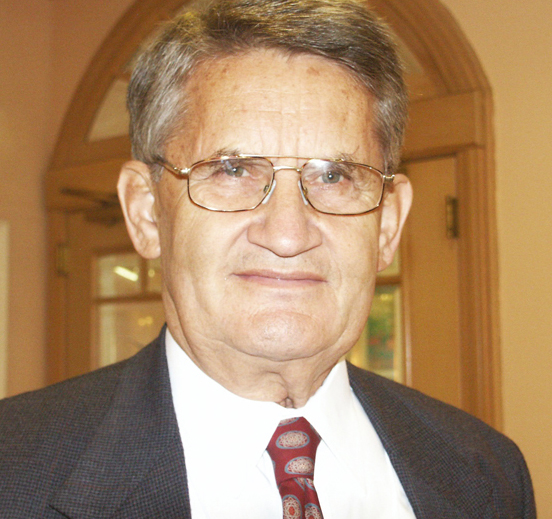 So what we have is a passing interest in materials science, and then another more focused interest in power electronics. In addition the industry has to evolve standards and testing regimes. At least that's what I think you're interested in!
Following on from David Boden's well-received treatise on carbon in the last issue of BEST, there's actually a lot of synergy between the lead-acid battery work and super capacitors. They both need improved understanding of carbon. It's all about surface area. Create an activated carbon with a vast surface area and you have plenty of space to accumulate charge.
But the problem with activated carbon is that a lot of the pores created in the structure are too small to be penetrated by ions. And that's the bulk of today's super capacitors.
Enter, then, a team from the Massachusetts Institute of Technology – Messrs Signorelli, Schindall and Kassakian – who have developed a carbon nanotube enhanced ultra capacitor with a rated power density of 100 kW/kg and a rated voltage of more than 3.5 volts. Don't know what nanotubes are? Go and look at the Physics World website.
The MIT team isn't the first to try to utilise carbon nanotubes, whose properties include a high surface density and a high specific capacitance. In the past, capacitor electrode structures using nanotubes have been formed through so-called entangled structures. The MIT team's electrodes will consist of vertically-aligned nanotubes which give an effective surface area of more name 4,000m2/ g – and an effective capacitance of between 500 and 1000 F/g.
Of course, precise details of the fabrication process, never mind the cost, weren't given. But the tantalising possibilities of what's out there in electrical energy storage were as visible to the cognoscenti as a beautiful female form behind seven veils.
Closer to the hearts and minds of industry is the aim of producing dirt cheap carbons – and the wizards at a small bespoke research operation based in Colorado known as TDA claim they can do just that.
Dr Steve Dietz nonchalantly drawled his way through a none-too-detailed presentation about the kinds of wonderful materials science TDA was already doing for the US military. The gist of his subject matter was this: high-performance activated carbons which exhibit high capacitance have a high price tag, so why not use materials with very low starting cost? There isn't anything much cheaper than sugar – the food industry has known that for years. Hence the obesity epidemic!
Dietz told the Florida audience that TDA was already offering multi-kilogram quantities of a carbon powder, using sugar at $0.46/kg as a raw material. What's more, Dietz said, the company had developed methods to control pore size distribution, surface area and density. It's all done by producing a carbohydrate solution, drying it to form a black solid, then carbonising this and activating with CO2 in a rotary kiln. And the capacitance of carbon produced in this manner? 131 F/g!
And if sucrose doesn't suit, well, you try coconut shells, as Alexey Beliakov explained. Coconut shell carbon offers a specific capacity of 135.2 F/g and a useable surface area of 345m2/g. And they require no special refinement or modification. One wonders what other sources of naturally occurring carbon have yet to be harvested?
The height of the academic portion of the meeting was a presentation on what's happening with Michio Okamura's so-called Nanogate supercapacitor. Unfortunately Okamura himself was not there to present it. I've said in these pages before, this gentleman is the best Asian English speaker/technology presenter I have ever met.
The reason he wasn't there was that he's got a real success story on his hands. He has a new company (a joint venture with big Japanese players including Power Systems Co Ltd), partners from the automotive industry and a factory which will produce 100,000 cells a month this coming Autumn. They're even building a bespoke IC to carry out capacitor monitoring. And they're planning to use an alternative electrolyte to acetonitrile. Predicted energy densities for this device have been as high as 88.5 Wh/kg.
But then along came Professor Jim Zheng from Florida's A&M University… and he shot the Nanogate performance figures down in flames with a volley of theoretical calculations I could barely follow – but the discussion that followed was alive like few I've seen in this industry.
The only credible (and unattributable) comment I could get was: "They (Power Systems Co) are engineers – they don't fully understand what they have produced."
It's such a shame Okamura wasn't there to defend his creation. It will be for his customers to determine whether the Nanogate device really can do the business, which I think is his real motive in setting up the new company.
If materials and mathematical bunfights aren't your bag, then maybe you're interested in what the US auto industry is doing. In its thinly-disguised form as the USABC (US Advanced Battery Consortium), the organisation has funding of nearly $50 million to find out if the devices can fit in with the Freedom Car goals. And it fell to Ted Miller to tell the audience precisely how the auto industry was spending the US taxpayers' money.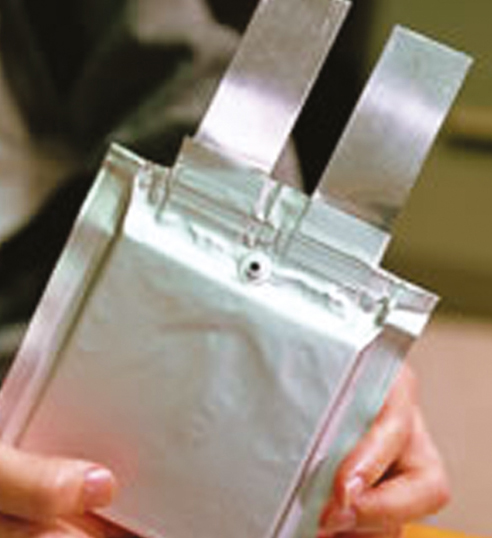 I've always seen the USABC as followers rather than leaders: if they've no idea what's going on, they call in a consultant. And that's exactly what USABC has done on this front. Remember Menacham Anderman's 'smart pitch' for his supercap study at the European Lead Acid Battery Conference in Berlin? Well, it turns out Uncle Sam is one of his first customers. Anderman will be carrying out a review of current technology, especially with regard to cost.
And USABC has also signed a contract with an unnamed company to develop and validate a 42 volt stop system using an ultra capacitor. What does that tell you? Is 42 volts back? Will the ends justify the means? What it should say is that supercap possibility is now close enough on the the big three automakers' technology radar to get serious appraisal.
The other issue USABC is looking into is testing standards. Apparently USABC has received overtures on this from the Japanese Society of Automotive Engineers. Miller rightly pointed out that involvement with EUCAR would also help.
So far, then, a lot of question marks. Andy Burke, a long-time watcher and evaluator of these devices, put some markers down if they are to seriously enter the automotive world.
Unsurprisingly, supercap makers will have to achieve what battery makers have already done, and then some. Firstly, auto makers won't want the simple devices – they'll want modules; and these modules will have to have excellent packaging factors. They'll also need to be rugged.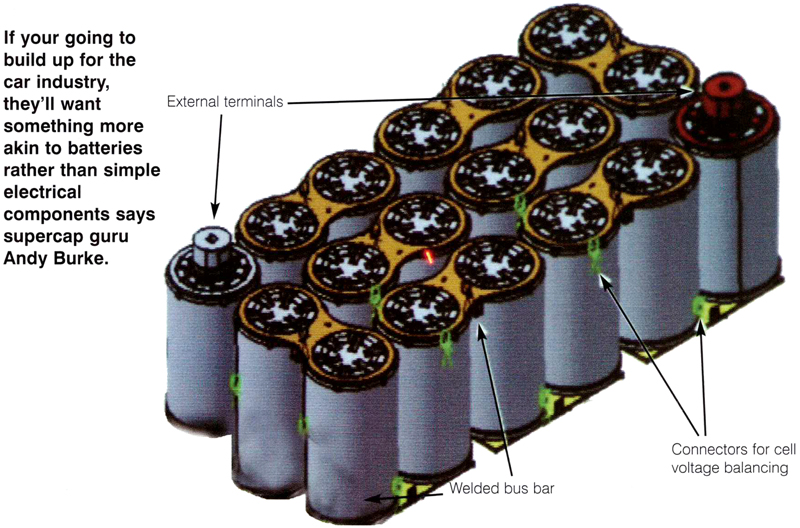 And the auto makers will want to see a lot of QC data. This means very little variability between cells (something the lead-acid makers never understood). Furthermore this means making cells in very large numbers on automated lines and then performing the testing – not using small, almost pilot-scale, lines. So that's a further heavy investment burden for the supercap makers.
To date, Burke's investigations seem to show the industry has been doing a good job on getting a uniform product out to the market – variations in capacitance between cells in the order of 1 to 1.5% – but there's a whole host of testing – life, self-discharge, changes in capacitance and resistance both in the laboratory and in real vehicles – that has yet to be done (including cell balancing and control).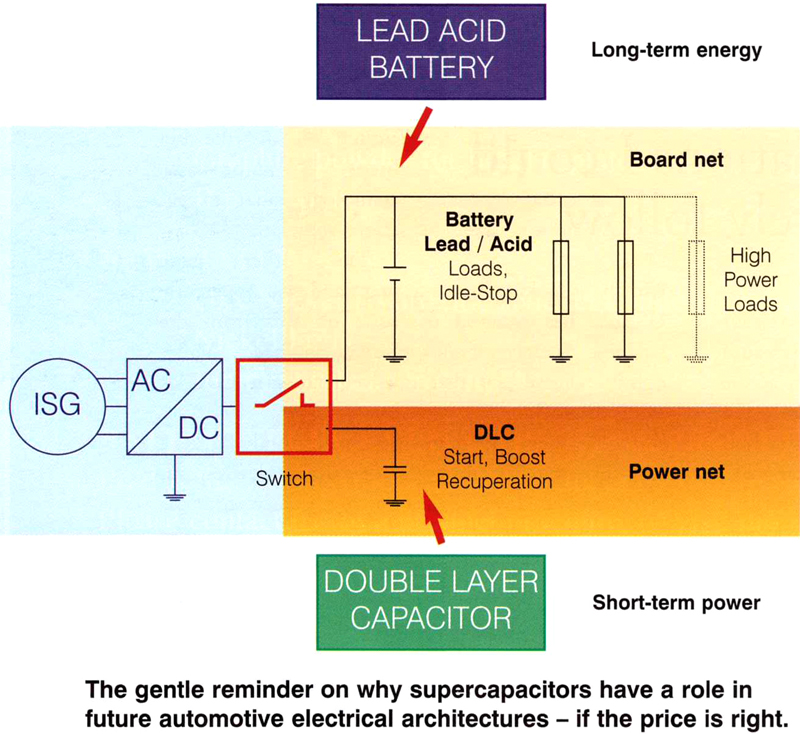 And even though a lot of people have good ideas about where supercaps can fit in an automotive portfolio (which would deliver better fuel economy) the huge number of unknowns with respect to testing make an investment decision a considerable risk.
Burke however is a softly spoken optimist. He is the kind of man who sincerely believes that engineering will find a way through, because so many groups are experimenting with supercaps in real world engineering problems – from Toyota in the 2004 Prius (regen braking system), to General Electric in buses, ISE in trucks, etc. It surely follows, doesn't it, that more demo programmes mean more devices which mean lower costs? Well actually, Andy, life isn't like that any more (sadly).
In the real world of car making, you need to be a spreadsheet-driven, cost-cutting automaton with a background in engineering and a real concern that going 'high end' could have disastrous consequences with the bottom line (and your job).
That's why Menachem Anderman's supercap study ought to do well when it's finished next month (February 2005). People want firmer answers than the likes of Burke et al tend to give. In Florida Anderman laid down a series of bullet point statements which were pretty hard to refute, and if you're in the business of drawing up a technology roadmap for your company, they are absolute gold nuggets to incorporate and reference, and absolve yourself of fault.
Yes, we know the power load of cars is shooting up. Yes, we know batteries are far from ideal in meeting the energy storage needs for hybrid electric vehicles. And we're beginning to understand that ultracapacitors are very attractive energy storage devices, because:
• they charge and discharge at high efficiency
• they can do this for hundreds of thousands of cycles
• they're not as temperature-sensitive as batteries
• their electrical behaviour is easier to control
• they use simple components.
Rather than ponder future affordability, Anderman has analysed the cost performance of ultracaps to meet a 42 volt mild hybrid performance (see tables).
The depressing factor (according to Anderman) is that if the system covers 99% of the duty cycle (i.e. electric power is always available, unlike today's hybrids where the system is designed to protect the battery) the total system cost, with the ultracap component priced at a predicted $14/Wh, comes in at nearly twice the cost that lithium ion battery technology can be expected to deliver a couple of years from now.
Today's costs for supercaps are much higher – the average price for industrial supercaps in Japan is between $40 and $70/Wh.
And there are other negative factors. The most commonly used electrolyte is acetonitrile – flammable, toxic, but cheap. The supercap business needs a more environmentally friendly alternative, which one can assume will add to costs.
Are they a threat to batteries? Well, despite all the cost disadvantages for the next few years, you can be sure that they're a challenge. It was encouraging to see one battery company smart enough to see how its technology (and customer) base fitted the interloper, even though it doesn't have a technology to sell you.
If you can handle electrodes and coating techniques, electrolytes and filling techniques, and you understand separators, then maybe it's time you joined the party.