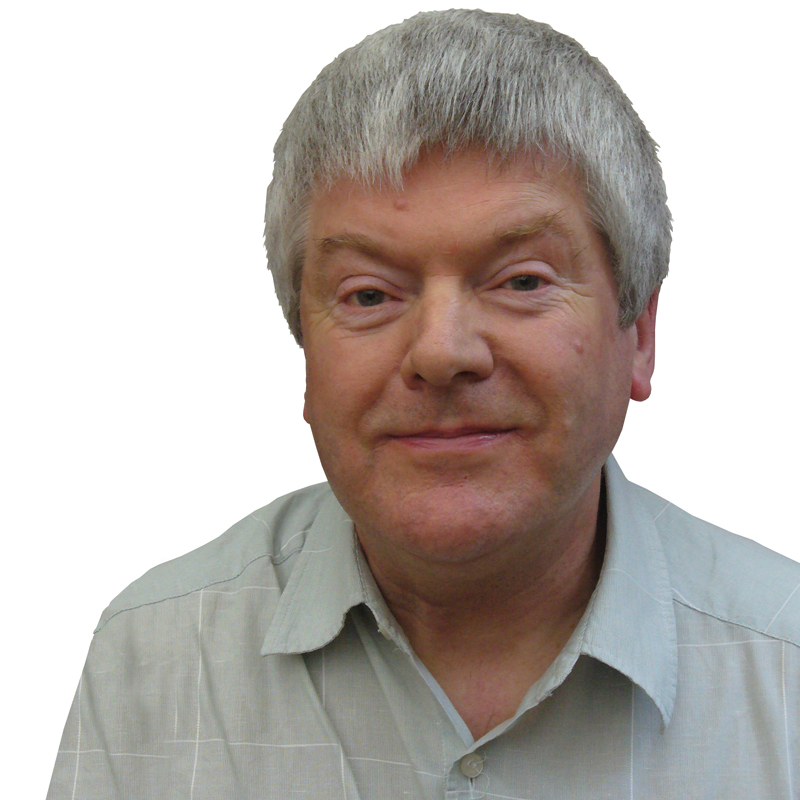 Battery industry analyst Mike Weighall reviews the overall size of the ultracap market in his report from the Intertech Pira capacitor meeting held earlier this year in San Diego.
It can be very difficult to estimate the current value of the ultracapacitor market. Annual reports issued by large companies such as Nippon ChemiCon tend to include ultracapacitors within the much larger market for conventional electrolytic capacitors. Private companies such as Nesscap are reluctant to disclose any details of their earnings. I had downgraded my own estimate of the current value of the market because Maxwell Technologies – who do show earnings from ultracapacitors in their annual reports – have shown lower earnings from their ultracapacitor business in 2007. Frost and Sullivan have also downgraded their own current market estimate to about $100 million, in contrast to previous reports estimating the market at over $200 million. During informal discussions with other delegates, it became apparent that the true value of the current market could be around $144 million, and could rise to as much as $260 million by 2012, as shown in the following table ( see over page) indicating ultracapacitor turnover by company.
Note that Maxwell Technologies are back on track as of the fall of 2008. During the first half of the year, their ultracapacitor revenue increased by 69% compared with the same period of 2007 ($12.2m cf. $7.2m). Existing customer volume combined with new ultracapacitor orders for hybrid and electric transit vehicles and wind energy systems accounted for the significant increase in revenue.
Existing markets for ultracapacitors already include wind energy, industrial, wireless networks, and consumer applications. Current applications for ultracapacitors tend to be typically less than 400F, while many new developments are likely to be for larger systems greater than 400F. It is also encouraging to note that customers are now much more aware of the benefits of ultracapacitors.
Ultracapacitors for plug-in hybrids:
The Chevrolet Volt has attracted a lot of interest, and despite skepticism concerning the cost, safety, life and reliability of the lithium-ion battery, GM are still saying that it will be on the market by the end of 2010. Surprising, however, is that apparently GM had not considered including an ultracapacitor module to take care of current spikes and to extend the Li-ion battery's life. However, we've learned that this option is now being considered by HRL Laboratories, now partly owned by GM. By this concept, the battery provides energy and the ultracapacitor provides power, thus improving high and low temperature performance and battery life.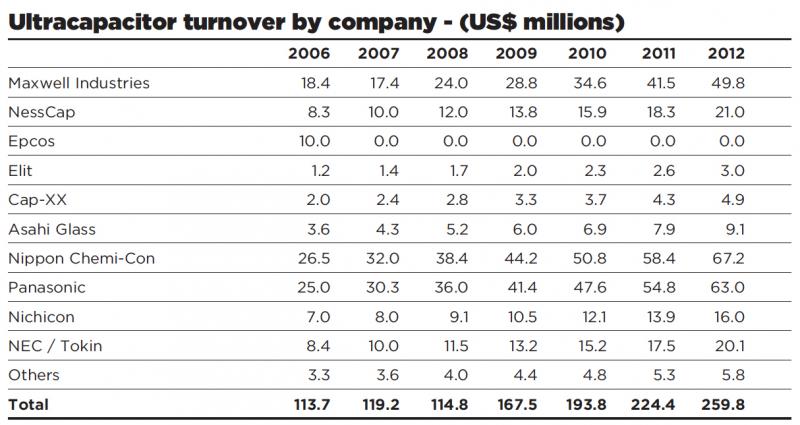 In contrast to Li-ion batteries, ACN (acetonitrile electrolyte)-based ultracapacitors do not show any significant temperature dependence. Because the battery encounters limitations at extreme temperatures (high or low) however, temperatures above 45°C should be avoided, and charge current should be reduced at both high and low temperatures. HRL have analysed the combined ultracapacitor + battery system, and found that the ultracapacitor provides most of the power at low temperatures. The inclusion of the ultracapacitor module could offer a potential safety benefit in that the ultracapacitor would "buffer" the battery, thus preventing currents that could result in overheating.
Currently, HRL are carrying out tests on the ultracapacitor and battery at the cell level. Eventually such tests will need to be scaled up, and the effect on battery life established. Currently three capacitors are installed in parallel with two batteries, to give an equivalent voltage. The voltage characteristics of the battery need to be considered in detail, and the right lithium-ion chemistry determined to ensure that there is no problem with the difference in resistance between the battery and the ultracapacitor.
The figure from Ping Lui's presentation shows a Ragone plot of power vs. energy for a range of battery or ultracapacitor systems, which includes a plot of the desired relationship between power and energy for the GM E-Flex/Chevy Volt. Achieving this will require a lithium-ion battery for energy and an ultracapacitor for power. GM will not offer this option in the initial Chevy Volt production vehicle, but may consider doing so later. Battery life and performance at the temperature extremes may also be improved, but cost remains a question mark.
A key issue now is the electrolyte. Japanese manufacturers and users don't want to use ACN (acetonitrile) because of toxicity/safety issues. ACN electrolyte has a much lower boiling point than PC electrolyte, with the added risk that toxic gas (HCN) may be generated if the ultracapacitor reaches a temperature above 75°C. PC (propylene carbonate) electrolyte is inherently safer, but there need to be significant improvements in ultracapacitors with PC electrolyte to achieve comparable power output to those with ACN electrolyte. Ionic liquids are a possibility but they are expensive and have a low conductivity. There is actually a significant volume of electrolyte in the cell because the carbon has porosity greater than 75%. The perceived safety issues with ACN electrolyte may provide a market opportunity for hybrid ultracapacitors that use aqueous electrolytes.
An unusual feature of this meeting was a "Supercapacitor Investment Panel" comprised of five venture capitalists-experts who discussed possible business opportunities and the road to commercialization of ultracapacitors. This was a surprisingly interesting session, notable for the fact that these obviously level-headed venture capitalists now see the ultracapacitor market as a potentially worthwhile investment.
Also noticeable was that a number of new potential suppliers are showing interest in the ultracapacitor market. For example, Hitachi and Nippon Oil are both developing activated carbons suitable for ultracapacitors. By 2009/2010, these suppliers could have 100mt available at lower prices and with higher performance: 160-190F/g (currently 100F/g) @ < $40/kg.
Kiwamu Takeshita, of Nippon Oil, stated that they currently produce about 50t/y of activated carbon from petroleum-based coke. The activated carbon is manufactured from green coke, which is an intermediate stage in the manufacture of needle coke. Needle coke is highly crystallized carbon, and Nippon Oil manufacture 80,000 – 100,000 tonnes of needle coke p.a. Nippon Oil have found that it is possible to produce an activated carbon with capacitance and resistance comparable to that of existing products. They are able to control the coke structure, which has a strong effect on the characteristics of the activated carbon. The company plans to open a commercial plant in 2010, with a projected capacity greater than 300tpy. A joint venture with GS Batteries in Korea is also under discussion.
Hitachi is developing an activated carbon that is made from a phenolic polymer with alkaline activation. The synthetic polymer is of high purity and has stable properties, particularly carbon, properties of which can be controlled by selection of the polymeric material. However, the high cost of the raw material results in a higher cost for the activated carbon, and the resulting electrode has a low capacitance.
Azure Dynamics have experience in using electrochemical capacitors in hybrid electric delivery vans, in both series and parallel configurations. Ultracapacitors offer considerable benefit in higher mileage applications, averaging round trip efficiency greater than 97%, and lower heat generation. However, the physical size of the ultracapacitor pack presents something of a challenge as it is larger than the equivalent battery. Power is good at -40°C; by contrast, the NiMH battery cannot crank the engine at -25°C. The ultracapacitor hybrid offers more consistent fuel economy across the temperature range, but the wider operating voltage affects motor and inverter efficiency.
Over the last 10 years or so, continuous improvements have improved the amounts of power and the ultracapacitor can provide. Further improvements are anticipated, particularly in power availability, as shown in the figure "Ultracapacitor P & E Evolution" from John Miller's presentation. This will enable the ultracapacitor to play a part in a number of niche automotive applications, particularly vehicle PowerNet stabilisation, energy recuperation for micro and possibly mild hybrids, and strong hybrids including plug-in hybrids.
John Miller (Maxwell Technologies) pointed out that the plug-in hybrid electric vehicle represents a particularly severe challenge for the battery, which needs to provide both range (energy) and power. The lithium-ion battery is very susceptible to extremes of temperature; because it relies on redox reactions, it slows down when cold and becomes too reactive when hot. Ideally, the normal operating temperature needs to be kept within the range 0°C – 40°C. Inclusion of an ultracapacitor pack in parallel with the battery pack can significantly reduce the peak current and RMS current, and lower the thermal stress on the lithium-ion battery pack. The ultracapacitor will be most effective during the first few seconds of pulse power events, but will lose its effectiveness during sustained current draws.
In combination with the lithium-ion battery in the straightforward direct parallel arrangement, the ultracapacitor can lower the thermal stress on the L-ion battery by 33%, reduce RMS current by 16%, peak-to-peak current by 6.5%, and mean value by 14%.
Maxwell Technologies are now involved in a joint programme with Argonne Labs (ANL) to identify the critical attributes of lithium-ion in combination with ultracapacitors. They plan to use an active parallel arrangement, to be installed as the LiDL (Lithium-Double Layer Combination) in a demonstrator vehicle. To date, early findings indicate that the ultracapacitor and dc-dc converter result in 34% lower current magnitude stress and 88% lower di/dt stress on the lithium-ion pack. Cold weather performance is greatly improved, but the extent of the cycle and calendar life benefit remains to be determined.
Gary Willms of ISE Corporation provided an update concerning hybrid electric drive systems for heavy duty vehicles. ISE, which supplies hybrid drive systems for transit buses and other commercial vehicles, uses ultracapacitors in 90% of their hybrid bus applications. They may be used in combination with batteries or on their own, depending on the application and duty cycle. ISE have the only commercially available gasoline hybrid-electric drive for large transit buses. These systems are certified by CARB as a qualified "alternative fuel" with very low NOx and particulate matter emissions. ISE have three possible energy storage systems available: Altairnano lithium-ion – using Altair NanoSafe technology; Cobasys Nickel-metal hydride LLC 4500 Series; and Maxwell Technologies' Thunderpack II Ultracapacitor.
The Cobasys NiMH batteries are heavier, with a similar cost but a shorter life than ultracapacitors. The Altairnano lithium-ion battery can be used to replace NiMH. However, high-energy lithium-ion batteries are currently only available in a small size for consumer applications; existing HEV applications, in which the battery is used on its own, require that the battery be designed for high power rather than high energy. Ideally, the battery used in a battery/ultracapacitor combination will provide 200Wh/kg.
The current hybrid drive system runs between $175,000 and $200,000, energy storage representing approximately 40% of the total cost. Thirty percent fuel savings are achievable, with a 7 to 9 year payback. In the future, the system cost will need to be reduced by half, to between $80,000 and $100,000.
ISE are also developing hybrid drive systems for hydrogen-fuelled vehicles. New Flyer/Ballard Power/ ISE are contracted to supply 20 transit hydrogen fuel cell buses for the 2010 Winter Games in Vancouver, BC; and ISE have contracted, together with Wrightbus/Ballard Power, to supply 10 hydrogen powered buses to Transport for London (5 hydrogen hybrid ICE buses, and 5 fuel cell buses).
Ultracapacitors are already being used in a wide range of applications in industrial, transport and consumer markets. Ultracapacitor manufacturers are well placed to take advantage of the current concern about environmental issues. For example, ultracapacitors are finding uses in the renewable energy market, particularly for wind power (back-up power for wind turbines). In the EU alone, the EU 2020 renewable energy target calls for 20% renewables by 2020, 12% of which could be wind energy. In the transportation sector, hybrid and plug-in hybrid electric vehicles will also benefit from the inclusion of ultracapacitors.
Of particular interest is the potential market for hybrid ultracapacitors that seek to combine the best features of batteries and ultracapacitors in one energy source, such as the Axion Power e3 Supercell and the Ultrabattery, both of which are based on low-cost lead acid technology.
I have already mentioned the difficulty of obtaining accurate market data for the ultracapacitor industry. One thing that the ultracapacitor industry seems to be lacking is an industry organisation that looks after the interests of its members, and collects and collates relevant market data for distribution to its members. Examples of such industry organisations in the lead-acid battery industry include Battery Council International, Eurobat, and the Lead Development Association, etc. Now that the ultracapacitor industry is poised for significant market growth, formation of a similar organisation for the ultracapacitor industry might be well worth considering.