Large scale energy storage, maybe on par with pumped hydro is possible with supercapacitors. John Miller explains how.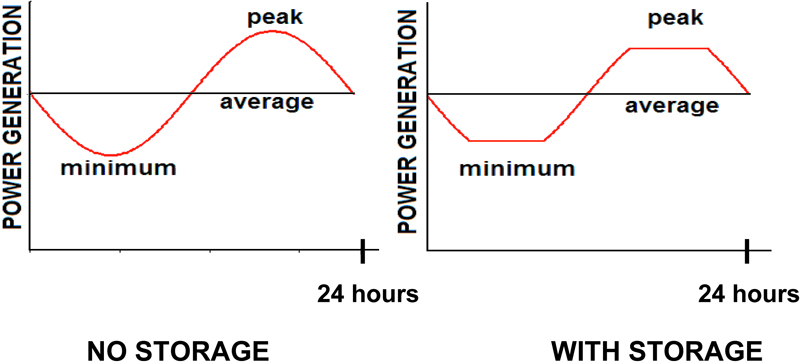 Electrochemical capacitor systems of truly gigantic size loom increasingly on the technological horizon. These large energy storage systems would be tied to the electric grid to help in load leveling the generation of electricity between day and night, an application commonly referred to as day/night storage or, sometimes, as demand 'time shifting'. While the demand for electricity reaches a maximum just after lunch in the middle of the day, the middle of the night finds that demand is almost always at a minimum. The obvious need is to store energy at night when demand is low and there is a great excess of generation capacity, so that stored energy will be available in the middle of the next day when demand is high and generation is already at or near its peak. This is shown in figure 1, where the left illustrates the situation without energy storage and the right the effect of having such storage. Plainly power generation in the latter does not decrease to as low a value nor does it reach the same peak on the next day, i.e. storage reduces the amplitude of the power generation cycle.
Bulk energy storage for electric grid applications will not need the high cycle life that many other, more common, electrochemical capacitor applications require. With one cycle per day, five days per week, over twenty years, for instance, this totals only 5 000 cycles. Thus, the capacitor system can be designed to provide only 5 000 cycles, and not a cycle more, to achieve minimum cost. We can expect that to be exactly the approach that will be used in the development of this application.
It helps, of course, to put this into perspective by taking a look at the already installed energy storage capacity around the world today. This totals, as it happens, to equal some 125 000 MW of generation capacity. Of that total approximately 98% is 'pumped hydro', i.e., the practice of pumping water uphill and letting it flow back down, storing potential energy in the lifted water for later release as kinetic energy to generate electricity. The remaining 2% of the world storage is accounted for by an assortment of technologies, including some 1% thermal storage and a variety of approaches including flywheels, batteries, molten salt, and compressed air. Although at present the bulk of the energy storage available around the globe may be pumped hydro, I believe electrochemical capacitors certainly demonstrate the potential to augment that very successfully, and much more substantially than any of the other alternate technologies now under development.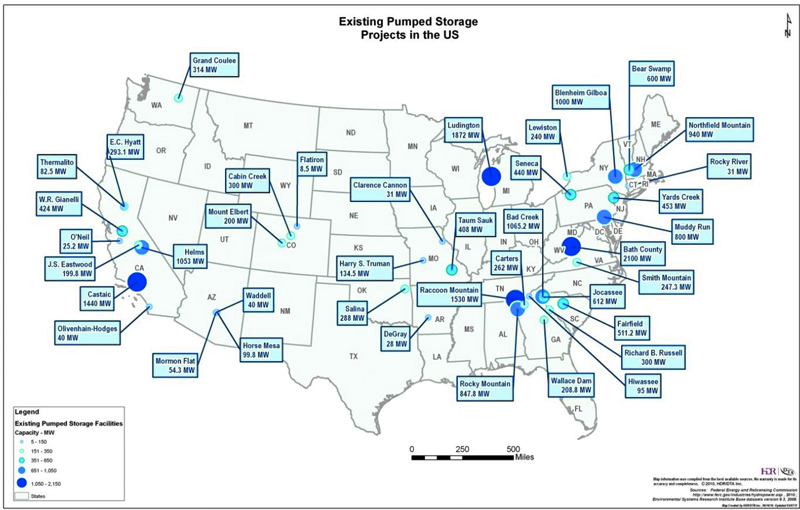 Pumped hydro requires the existence of two separate reservoirs, one upper and one lower, with water pumped uphill at night during times of excess generation for release the next day. The cycle operates like clockwork, and utility companies have come to depend upon it. There are many examples of this in the United States, and figure 2 shows a map, current in 2009, of pumped hydro facilities in operation around the country.
In comparison to other states, California certainly seems to have the most of these, but the Southeast is not far behind in its number of pumped hydro sites. One facility, Raccoon Mountain near Chattanooga, TN, has the capability of storing approximately 40 GWh of energy, delivering approximately 1 500 MW continuously for up to 22 hours. Water taken from the Tennessee River is lifted approximately 1 000 feet with gigantic electric pumps, with the stored energy becoming available as the water flows back down and spins these same pump turbines to generate electricity. Although this particular system, built in 1978, is currently undergoing repairs, historically it has been very much valued for its reliability in power generation.
More also needs to be said here regarding the optimisation of electrochemical capacitors designed for use in such very large energy storage systems. The premier metric that needs to be kept in mind, of course, is the cost of energy storage itself, specifically storage cost per kWh. Since these are stationary applications, mass and size are not nearly so important as they might be in other sorts of uses, for example in transportation.
As noted earlier, since somewhere around 5 000 cycles represents the typical life of this application, unlimited cycle life is not required. Because the lowest possible cost is a critical goal, our concern should thus be for getting those 5 000 cycles without incurring costs for any additional cycles since they offer no economic benefit.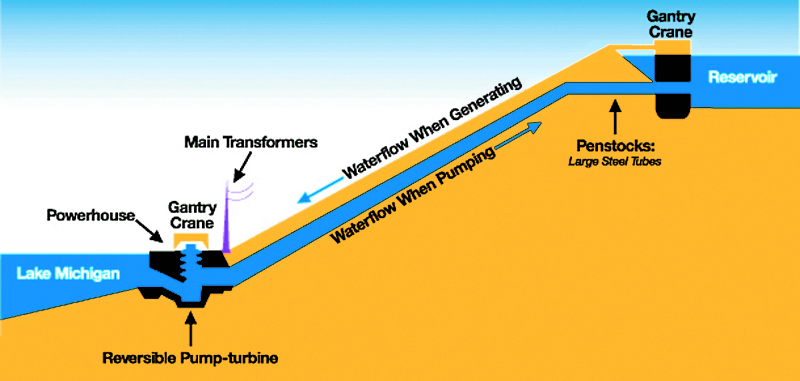 Historic approaches to reducing electrochemical capacitor costs have focused most commonly on increasing cell performance. Higher operating voltage, after all, means that more energy will be stored at the same cost. A rather different tactic is to begin with lower-cost materials and to concentrate on using less energy in the manufacturing process, most specifically the energy required to remove water from the activated carbon (electrode drying) that features prominently with the popular non-aqueous-electrolyte electrochemical capacitor products.
Another means to lower costs can be found with design changes, particularly going to an asymmetric design and use an aqueous electrolyte. This particular design does in fact offer the potential to produce the lowest cost of all types of electrochemical capacitors. It also has the potential, I believe, for being both suitable and economically viable for day/night storage applications.
In symmetric electrochemical capacitors both electrodes are made of the same material, generally activated carbon, with about the same mass in each. In asymmetric electrochemical capacitors the two electrodes are of different materials. One is activated carbon, like in the symmetric design, while the other is generally a material more like a battery electrode, with a Faradic charge storage process.
This asymmetric capacitor design was first invented and patented by the Russian company ELTON in 2001, US patent #6,222,723. The patent describes using different electrode materials with a different capacity in each, the ratio of capacities being 3:1 or greater. The name 'asymmetric' derives simply from the capacity asymmetry of the two electrodes. One electrode stores much more energy than the other, and it is, of course the battery-like electrode that has this greater capacity.
In operation the activated carbon double-layer charge storage electrode will cycle over its full potential range, while the battery‑like electrode will experience only shallow depths of discharge. If, for instance, the ratio is 3:1, the battery-like electrode will have a depth of discharge of 33%. In a 10:1 ratio, which according to the patent is preferred, there will be only a 10% depth of discharge of the battery-like electrode. The advantages of this are clear:
Because only one electrode experiences voltage change during cycling, capacitance is exactly twice that of a symmetric device made with the same electrode. Only the potential of the activated carbon electrode changes, while the potential of the battery-like electrode remains relatively constant throughout each charge/discharge cycle.
Operation can be at a higher voltage. Use of different electrode materials permits this. Several aqueous electrolyte asymmetric electrochemical capacitors operate at well above 1.2 V, with one actually operating at 2.0 V. This, again, is a matter of design.
Based on the asymmetry ratio, the cycle life can be precisely tuned to a given level, thus optimising the storage device for a particular application.
Since the electrolyte is aqueous, there is no need to dry the electrodes during manufacturing. This greatly reduces embedded energy costs.
Together, these advantages make it possible to optimise the storage device for the day/night storage application, an optimisation to achieve the lowest possible cost.
Day/night storage is, of course, not the only application for electrochemical capacitors. The ELTON company, formerly known as ESMA, demonstrated this technology in all-electric buses and trucks in the 1990s, having developed it specifically for that purpose because of its quick charge capability and very high cycle life compared to batteries.
More recently, a bus line in Shanghai, China operates similarly, on bus routes where charging capability is located at the bus stops, again making best use of the quick charge and high cycle life of electrochemical capacitors.
A new entry in the field is Aquion Energy, a startup company located near Pittsburgh, PA. Aquion's asymmetric capacitor has one electrode of MnO2 and a second one of activated carbon, using sodium sulfate as the electrolyte. They have been notably successful in attracting investment for development and commercialisation. A schematic of their energy storage model is shown in Figure 4.
Aquion's technology is reported to have a cost goal of less than US$250 per kWh, with a cycle life of 5 000 cycles, amounting thus to a storage cost of some US$250/5000 = US$0.05 per kWh. This assumes, of course, 100% cycle efficiency. If the cycle efficiency were 80%, then round-trip cycle efficiency would be reduced accordingly and the storage cost increased to a little over US$0.06 per kWh.
The ELTON technology now being developed for day/night storage uses lead oxide for the positive electrode and activated carbon for the negative electrode, with an aqueous sulfuric acid electrolyte. Their projections are for less than US$400 per kWh with 5 000 cycles or, looking at energy storage costs, less than US$0.10 per kWh. Is this viable in cost terms? As it happens, the cost of electricity in the middle of the night when demand is low is often actually lower than at times of peak demand. Conceivably, both the ELTON and the Aquion technologies can be successful.
If we can buy electricity in the middle of the night at US$0.10 per kWh and add US$0.05 storage cost to it, this amounts to US$0.15, which would approximately equal the cost of electricity freshly generated in the middle of the day. There are clearly economic grounds to project success for both technologies and that is why both companies have attracted considerable investor interest.
Numerous other technologies have also been considered over the years and some are presently being reinvestigated for day/night storage applications. Ones that come to mind include flow batteries, i.e., batteries that would have reactants in solution that would go through a reactor and generate electricity. Some flow batteries have, however, experienced difficulties over cost. One recently under development, for example, made use of the very costly element vanadium, something that from the get-go makes the idea of its use rather unattractive.
The CAES (Compressed Air Energy Storage) approach has also had some success. One major facility in the United States, in Alabama, has been in CAES operation for more than 25 years. For storage it makes use of an underground cavern that is pressurised with air at night when there is excess electricity. The next day the compressed air is released (with added fuel) into a turbine generator to produce electricity.
Other approaches include Japanese-manufactured sodium sulfur batteries, of which there are several small-size units in the United States. Unfortunately, the cost of this approach is much higher, so much so in fact that it can only with difficulty compete with the costs of new generation.
One other interesting possibility in regard to offshore windmill energy generation would use excess generation by the wind turbine to compress air with storage in a submerged air bladder, exactly like CAES but underwater rather than underground. A great advantage of this would be that storage is at the very location of generation plus the air pressure remains constant irrespective of the state of charge, not a decreasing pressure as found with CAES storage during discharge.
The electrochemical capacitor storage systems I believe the future holds for us are indeed going to be very large. Consider, for instance, a system with some 5 000 MWh of energy storage, i.e., 1 000 MW of power delivered for five hours. A system this size based on asymmetric electrochemical capacitors would require some 300 metric tons of material and have about 100 000 m3 of volume. To put things in perspective, however, it would in fact be much smaller than the typical reservoir of water found in pumped hydro energy storage systems.
For example, the pumped hydro facility at Raccoon Mountain near Chattanooga, TN has an approximately 1 000 ft drop and almost a square mile of surface in the upper water reservoir. The specific energy of this storage material—only considering the water—in its stored state is less than one Wh per kg.
In asymmetric capacitors, on the other hand, the corresponding figure is between 10 and 20 Wh per kg, making it possible for a capacitor storage system to be 10- to 20-times smaller in volume than the water of a pumped hydro system. And, of course, the capacitors will need neither a mountain, nor a body of water, nor any lifting and lowering capital equipment.
The question also always comes to mind whether battery technology might be used for this bulk energy storage application. Many battery demonstration systems have been fielded but none ever commercialised. With several simple assumptions, energy storage costs can be calculated for such systems in a straight-forward manner.
For instance, lead-acid batteries are one of the lowest-cost reversible energy storage technologies, costing in the order of US$150 per kWh, and they will cycle for roughly 300 times with an 80% depth of discharge. If we take that US$150 and divide it by 300, we find an energy storage cost of approximately US$0.50 per kWh assuming 100% cycle efficiency.
If we want to be generous and suggest either a higher cycle life or somewhat lower cost, we might get this down to US$0.30-0.35 per kWh, which we could then consider the going rate for lead-acid batteries. But this is indeed very high compared to the cost of generated electricity.
If we pay US$0.10 per kWh for electricity and then have an additional US$0.30 per kWh storage cost, this amounts to very expensive electricity, i.e. US$0.40 per kWh. Lithium‑ion batteries are being developed for many transportation applications and have also been considered for use in large day/night storage systems. But these represent even higher costs for storage than lead-acid batteries and even given their higher cycle life, are thus not economically viable for use in creating bulk energy storage systems at present.
To summarise, I see very large capacitor systems in our near future, with much more storage capacity than is found in the many other sorts of applications currently using capacitors. The metric that is important for this grid-tied stationary application is the energy storage cost, where the storage system is filled and emptied consistently once every 24 hours, day after day after day.
A second point is that an optimised grid storage system, since it is stationary, need not have high energy density nor high power density. The charge period will be five hours, and the discharge period the same.
Extremes of performance are thus in no way required. And asymmetric electrochemical capacitors can be optimised for this specific application to minimise energy storage costs by designing them to precisely meet cycle life requirements. Maybe best of all, there are already companies in the field, ELTON and Aquion Energy, engaged actively in the development of products designed for just this purpose.
Perhaps the greatest wisdom we can bring to the consideration of our future day/night storage needs is to be found in the words of Dr. Imre Gyuk, DOE program manager for energy storage research, in testimony to a U.S. Senate committee on July 28, 2008: "Energy storage provides energy when it is needed, just as transmission provides energy where it is needed."
BOOK NOTE:
Readers of this column will want to know about the recent publication of Supercapacitors: Materials, Systems, and Applications, edited by François Beguin and Elzbieta Frackowiak (Weinheim: Wiley-VCH, 2013). With contributions by experts in the field from around the world and the latest available information, this is the first comprehensive treatment of the topic since Electrochemical Supercapacitors: Scientific Fundamentals and Technological Applications by the late B.E.Conway (New York: Springer, 1999).