If it can go wrong then it will go wrong is the old adage— with a huge push now to get cars on the road with lithium-ion batteries as their energy source, Martyn Ottaway of Thermal Hazard technology looks at techniques which can be used to take worries out of battery-pack safety testing.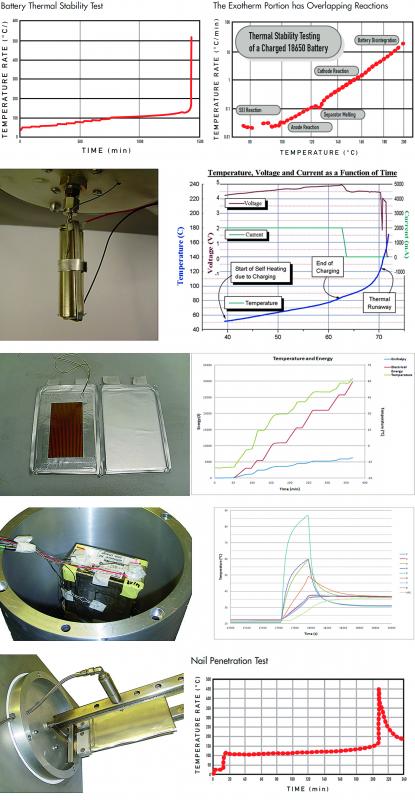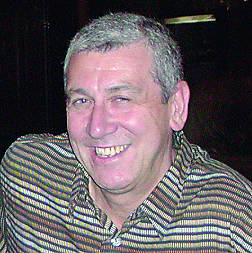 Lithium-ion battery technology is now developed to the stage where Li-ion power packs are to be utilised for full electric or hybrid electric vehicles. In the haste and rush to be the foremost supplier, demands are placed upon vehicle manufacturers and battery makers. Their products must be safe under such a wide variety of conditions and scenarios. The EV Power Pack is new for most car makers and there is therefore the need to know what can happen to the power pack both in its normal use, or if the pack is in one of many ways abused when utilised within a vehicle. 21st Century regulations and potential risk circumstances make this essential.
The EV cell, module and pack must be studied in very many ways to be sure of what might happen in so many possible circumstances. And when it is used, and especially when it is abused, heat —often in large quantities, will be released. There are many possible thermal problems.
In normal day to day use of the battery, there is the need to know how much heat is produced and from where the heat is released; this knowledge will make for reliable "thermal management" of the pack for safe implementation in a vehicle. And there are many ways to remove the heat output – but to direct this cooling to the most appropriate area is important. Abuse of the power pack might relate thermal, mechanical or electrical types of issue; thermal being the overheating of the pack; mechanical may be for example crush or nail penetration; electrical could well be inadvertent overcharging or short circuiting.
All of these possibilities, use or abuse, will result in heat being generated; in use the heat may be restricted, in abuse it may be very significant and may occur in a very short time period. Overall the problem to be addressed in EV Power Pack use and safety is the production (and prevention or removal) of heat. There is firstly simply the effect of heat on the cells which might be described as their thermal stability – and how this may vary under differing battery conditions. There is also the amount of heat produced by the cells in their normal or abnormal use. Indeed these two potentials can combine: ie will the heat produced by the cells raise their temperature to an extent when the cells themselves become thermally instable and might thermally disintegrate. The level of heat generated depends upon size and chemistry of cell but also depends upon the age and state of charge of the cells and the level of abuse that might occur.
One cell or a module or a pack may be affected. The result may be combined within the cells, they may deform or in the worst case may completely disintegrate, and with rupture eject gaseous and powder materials. The material ejected is likely to be spontaneously flammable in air. Gas generated is also of major concern but little is currently known on the quantity and species of gas ejected or its effect – though catastrophic battery disintegrations are well known and visually recorded.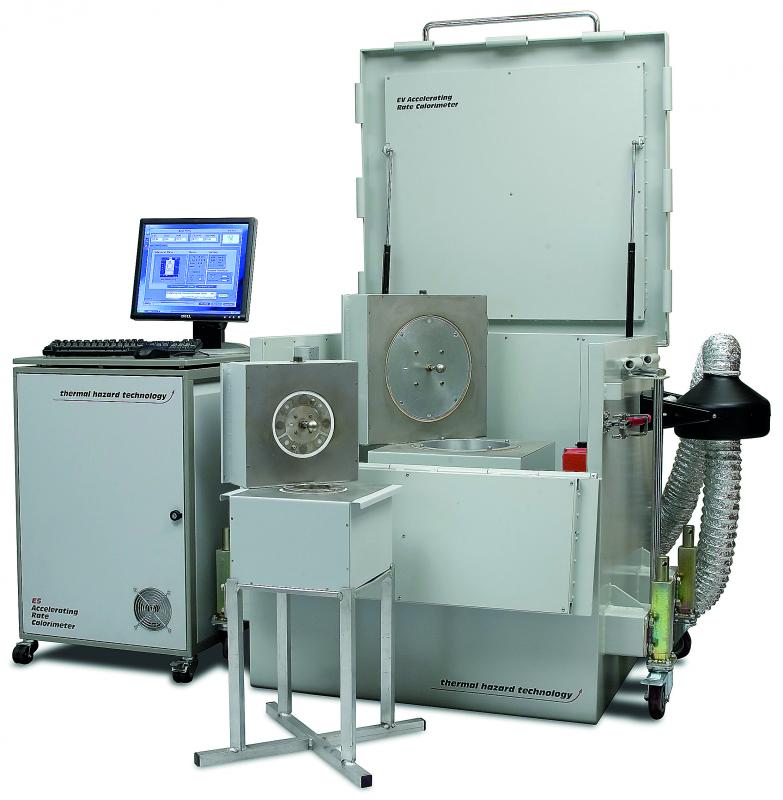 Pioneering work in abuse testing and thermal characterisation under abuse conditions has been carried out at the Sandia National Laboratories in Albuquerque, New Mexico, USA and this carries on today with great emphasis. Resulting from this work under the USABC, Freedomcar program, a manual that details test methods that may be applied has been released. In parallel the US Society of Automotive Engineers have a manual of practice tests preferred. The two documents detail tests appropriate for Abuse of EV batteries, cells or modules are SAND 2005-3132 and SAE J2464.
Abuse by whatever method leads to heat release and to quantify the effect of abuse therefore requires the measurement of heat and the
overall effect upon the battery – and measurement of heat is achieved using a calorimeter. Most current thermal analysers or calorimeters take small chemical samples, a few milligrams, they have been developed for research and quality control purposes and use in academic institutions.
The requirement of a calorimeter to fulfil battery needs is rather unusual; namely the ability to hold a very large "sample"; a battery module may be 30cm by 30 cm by 30cm. To perform abuse tests and withstand the resultant effect, the calorimeter must be rugged and robust and it is important that it is designed with safety in mind since disintegrating batteries emit spontaneously materials that are flammable in air. There are needs that simply have not before been considered in calorimetry; the ability to pass cables and tubes into the calorimeter for electrical connection, for inerting, for subzero cooling, for pressure measurement and the need to implement mechanical abuse within the calorimeter itself. An outlet for gas collection can also be important. It is also recognised that the calorimeter should operate in a way to get "worst case" data and should operate both isothermally and with temperature scanning, but primarily the calorimeter must collect data under conditions of no heat loss – i.e. adiabatic conditions. The adiabatic method gives a simulation of a worse case; for example if a single cell was tested and the result gave data with no heat loss. the data would mimic a cell in the centre of a module or pack.

The calorimeter itself will need to be cleaned and there will be the need to clamp batteries. Above all, there will be the need for significant safety features and remote operation. These requirements mean typical commercial analytical calorimeters are far removed from what is needed, though large scale industrial calorimeters do exist, calorimeters designed to simulate runaway reactions within the chemical industry, for example. The available calorimeter technology most appropriate to this work is the Accelerating Rate Calorimeter, ARCTM. This indeed is the calorimeter technology utilised in Sandia and the ARCTM calorimeter technology is now utilised in laboratories of most major battery manufacturers, automobile manufacturers and research institutes focussing on large format battery development.
The classic (standard) ARCTM system has been used for assessing lithium battery safety for over 15 years, the standard calorimeter is relatively small but has been widely used to evaluate 18650, cell-phone prismatic batteries and a range of smaller format batteries. But this calorimeter is too small for the larger format of EV cells. To address the needs for EV size cells and modules testing, larger format ARCTM calorimeters have been devised and built And for both calorimeters a range of options appropriate for battery abuse testing have been made. Today there is technology available to make the appropriate tests. However it is also clear that the types of testing as described in the documents is significant, wide ranging, challenging both for organisations and their staff.
In many of the described tests, what is needed is at the present time rather open to discussion. However, from what is now clear, a matrix of ARCTM calorimeter based tests and the thermal, electrical and chemical (gas analysis) information obtained is being recognised as a necessary requirement – there is a need to have data on batteries. The results showing performance and safety of batteries is often vital information needed by companies seeking a supply of batteries to a vehicle manufacturer. There is, therefore a requirement to battery manufacturers to get the data from ARCTM calorimetry technology either in-house or through consultancy.
There are several themes of tests needed:
Thermal Abuse and Thermal Stability.
Perhaps the first testing to undertake when needing to characterise a cell is to define the effect of heat upon the cell to understand its thermal stability. Such a test within an ARC calorimeter uses standard Heat-Wait-Seek protocol. The cell within the calorimeter is heated in small steps and after a wait period for isothermal equilibration, the calorimeter will determine if heat is being released by the cell as this would cause an upward temperature rise. When there is no exothermic reaction and no temperature increase, a heat step is instigated. This protocol continues until the exothermic reaction is detected; at this stage the calorimeter will enter the adiabatic mode; track and record the data. The results define the cell stability and potential to self heat and disintegrate – though the amount and speed of heat release is likely to depend upon type (chemistry) and state of charge of the battery; and
the battery may or may not disintegrate. The effect of heat upon the battery is readily determined. Though the tests are simple it may be modified with options that can be: measurement of internal pressure, cell voltage measurement, collection of released gas; video recording of the event.
Shorting and Overvoltage Testing.
Tests to define the result of electrical abuse will require connecting the cell or module via low impedance cables to a battery cycle or EV test system. Such tests are done simply from isothermal temperatures which may range over the possible environmental temperate that can be seen by the battery; from -40°C to + 80°C. For sub-ambient testing the calorimeter has a cryogenic cooling option. The electrical units used would depend upon the test need, a separate load and charge unit may be used – the range of these units would depend upon battery requirements.
Shorting will lead to rapid heat release and the test is likely to be short. The amount of heat release will depend upon State of Charge and other cell parameters. Just knowing the heart release is of value – but the test will determine if, when the cell gets to the raised temperature, this is such to cause battery disintegration to occur.
Overvoltage application from an ambient temperature and determination of heat release is also vitally important particularly so as lithium batteries are known to overheat dramatically when overcharged. Again, knowledge of the potential temperature rise is important to see if this could lead in to battery disintegration.
Whilst these thermal tests can be performed simply with no other options, it is possible to link the tests with video, with gas collection, with voltage monitoring to give a fuller understanding of battery performance.
Gas collection and video recording are aspects of tests requested by the defined methods. Gas collection might be by gas collection bag (FEP or Tedlar bag) or within sealed cylinders. Other techniques may be employed to collect the gas. Gas analysis might be achieved by simpler methods— eg Draeger tubes or by off line analytical techniques eg GC-MS. On-line analysis could be possible though specific methods are not yet devised. Video recording is straight forward, getting, studying and retaining a visual record of the tests. Both of these aspects that link with calorimetry will not be elaborated, their linking to the calorimeter is simple.
In addition, calorimetry and interpretation of the data is new to many battery engineers; the classic data presentation results in graphs displaying temperature or temperature rate against time or temperature. Battery engineers may prefer data presented in terms of heat, which is enthalpy and measured in joules; and speed of heat release, which is power and measured in Watts. To have the data in this form requires conversion to these fundamental units and for this the heat capacity of the battery must be known. The heat capacity is usually unknown, but the calorimeter will help; the ARCTM system with a 'specific heat option', will determine the heat capacity of batteries and hence with the heat capacity known the data can be presented in units of enthalpy and power. The method used can be employed in most calorimeters: a separate small heater is used typically sandwiched between two cells. A known power is applied, the cell temperature will increase, the ratio of temperature rise to power is the heat capacity – this can be calculated automatically and is available over a temperature range.
Conversion of the data in the units of Joules and Watts is valuable in data from abuse tests, but is essential when the studies are for Thermal Management. For reliable Thermal Management, the heat release must be quantified from various charge and discharge scenarios, these might include urban, country or combined drive scenarios.
Surface Area Heat Distribution.
In this area, in addition, whilst knowledge of the amount of heat that is released in typical battery use is valuable, it is also fundamental to know from where over the battery surface or terminals much of the heat is released. It is not enough to just place one thermocouple somewhere on the cell. There is the requirement to measure the distribution of heat release over the surface. Options have been devised and are available with the ARCTM calorimeter to position 8, 16 or 24 fine thermocouples at positions on the battery surface. Recording the heat release profile over the battery surface as the battery is subject to charge and discharge often at high power will quantify from where the heat is released. It is possible that this might give complex or might indicate, for example, that much heat is conducted through collector plates and emits at the terminals. This Multipoint option is specific for the larger EV cells and modules and has applications with many use and abuse test protocols.
Mechanical Deformation and Nail Penetration.
Defined tests specify the size and shape of probes used for mechanical abuse. They also define the controlled speed at which nail penetration should occur and also the extent of penetration. Also defined in tests, where the aim is to crush the battery, there is the need to stop movement when a voltage drop has occurred. This test simulates an internal short. This is important as many researchers have found ad reported that an internal short (often the result of dendritic growth of lithium) which then penetrates the layer is a major cause of cell failure. Such a mechanical abuse, controlled speed penetration and crush option within a calorimeter is challenging.
The current ARCTM option allows for the full range of mechanical abusive tests to be performed and these tests can be carried out in a sealed environment. Not just does this allow for gas collection, but retains gas and should the test be performed manually in an environment that is not sealed, the rapidly produced gas could cause fire and damage and potentially operator injury. Knowledge of heat release and gas release under these conditions of usually battery disintegration is achieved.
It is clear today that there is a range of abuse and use testing that can be carried out utilising ARCTM calorimetry technology to define battery safety and address many potential scenarios.
As a fuller understanding of battery safety testing requirements, that are needed for an EV power pack, has been gained, the protocols have been developed and tests within calorimeters has matured. In this area initially smaller batteries (18650, cell phone, prismatics and small pouch cells) were tested using simpler test protocols.
Today most test types are now defined for large format batteries appropriate for power applications. Throughout this time ARCTM calorimeter technology has been applied to gain the required battery safety information, implementing a range of specific options appropriate for such batteries.
Looking back over more than 10 years, it is clear that the significant research effort employed has developed batteries that are safer and this in turn has led to the ability to go to larger formats with much increased capacity and linked to this with faster charging and discharging rates. Calorimetry will no doubt play a significant role in gaining data to give a good understanding on cell, module and even pack safety and answering the question of "what happens if" an undesired event occurs helping, amongst others, the automobile industry get to market full electric or electrically assisted vehicles.