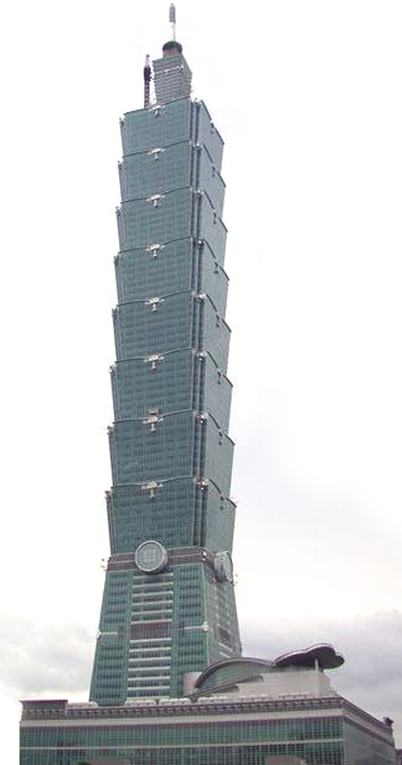 Bored with battery meetings where electrochemists talk to each other and not their customers? Gerry Woolf finds there's plenty of electrochemical crossover into other fields taking place in Taiwan.
It'll be nine years to the day this month (January) that I attended my very first battery meeting, organised by Prof Rhadi Das at California State's electrical engineering department. Lord knows how many I've attended since.
Though that meeting is long gone, Das had a vision that it should be the crossover between electrical engineering and electrochemistry. His dream was never really achieved; but little known to me, such a hybrid meeting was taking shape – on the other side of the Pacific.
Last year Charles Huang, who works in the Taipei Industrial Technology Research Institute (which BEST plans to visit for the next issue), gave me a personal invitation to the Power Forum which took place at the Taipei World Trade Center at the beginning of December.
I could kick myself for not having gone before (it is now in its eighth year). The Das vision has been realised. The crossover between batteries and pholtovoltaics, batteries and power systems, and a lot more besides is at the heart of this meeting. There was even an embryonic trade show, with companies other than battery firms.
The only shortcoming was: there weren't many westerners – a shame because the meeting's official language was English. How else do Chinese, South Koreans and Japanese communicate with each other?
So why haven't I been before? Well, direct flights to Taiwan are rare, and perhaps we've all been overwhelmed by the omnipresence of China's manufacturing capability. But perhaps that's been our mistake. It may be here in Taiwan that the key to our own industrial and economic salvation lies. The smart Taiwanese know their days in manufacturing are numbered. One can also see why Beijing's interest in this small but incredibly capable island is so strong: here are the consultants, the ideas men and women and the marketeers to make its economy foolproof. The future here can only be in intellectual property and trying to develop the ideas which are still being toyed with elsewhere. In this sector these included the integration of wind power with storage into power grids, the development of low-cost EVs such as electric scooters, and the incorporation of photovoltaics into new buildings. And all of these mean opportunities for battery technologies.
And, I felt, there was a certain synergy with the Japanese embrace of these ideas – which might account for so many of the keynote speakers being Japanese.
The meeting had a different pace from many I'd known. After the quasi-political opening, with fine words from the trade minister, the mood was still very much alive. Perhaps it was the lack of grey middle-aged battery men – or is it that oriental battery men age better, or perhaps it is ginseng in the tea?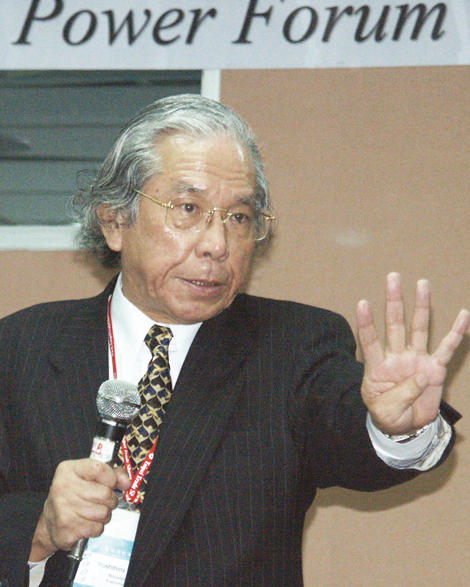 The first keynote speaker was no youngster, but he was certainly animated: Yoshihiro Hamakawa, Adviser Professor to the Chancellor, Ritsumeikan University. A neat job title.
And he certainly had a bold title for his talk – an accelerated promotion of solar photovoltaic technology in Japan and its roadmap up to 2030. A 25 year view! How many of us have a view of business beyond the next two quarters?
But this chap's slides and themes were taking on the issues we're all facing every day – the move towards development in new and clean energy, starting to take off just as the cost of energy rises and the economic cycle goes negative – so bucking the trend.
Well, we all know the benefits of solar power, and we all know how inefficient it is – 17-20% with the latest polycrystalline silicon. But, says Hamakawa, when half the energy in fossil fuels is wasted in steam turbines, and not taking into account the cost of thermal pollution, why even worry about low efficiency? Solar power is free!
Hamakawa's arguments make sense when you take a long-term view on the cost of capital and on devices which will probably last 20-plus years.
Cynics can wipe the smiles of their faces as Hamakawa explains how companies like Kaneka and Canon are gearing up their production of thin-film solar cells. It's all about business models, but with an expected fall in the price of PV power from ¥55.8 per KWh to less than ¥19.2 in the next five years, the market really begins to move.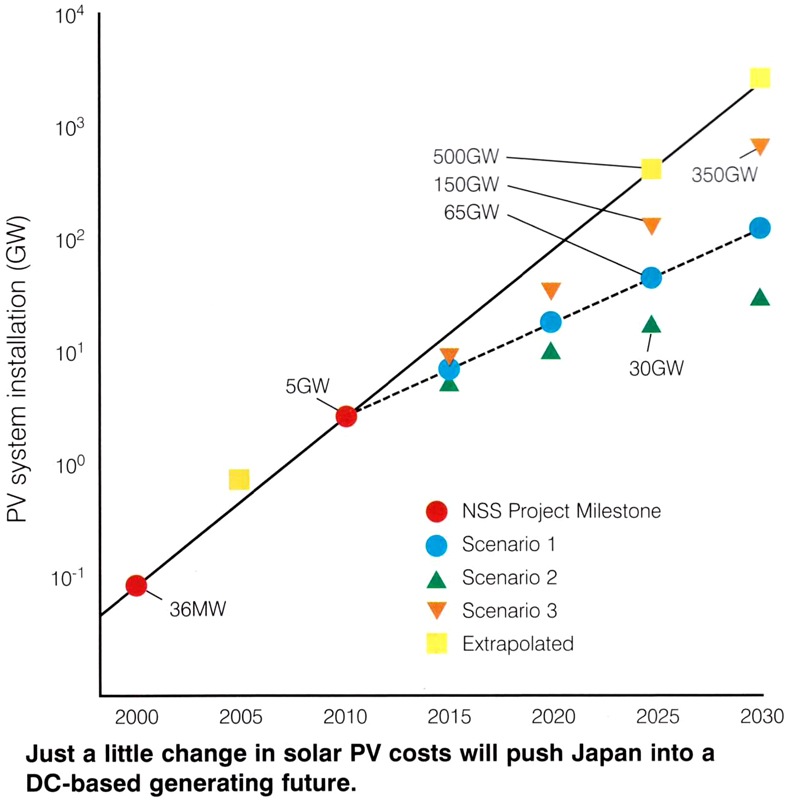 Take into account developments like translucent PV panels from Kaneka, which architects can use both aesthetically and functionally; and economies where green policies are rewarded.
It only takes a little imagination to see how office blocks can become their own solar-driven energy-storing peak shaving systems. Perhaps a prediction of 350 GW of solar generation in Japan by 2030 is a little optimistic, but even with only 12.5% system efficiency it represents the provision of 43.7 GW from conventional power stations. That's an awful lot of nuclear or conventional power stations rendered unnecessary, and a lot DC inverter opportunities to realise.
The meeting tempo took a dive in the lithium ion chemistry section when the major players only confirmed what they had to say a little while ago in San Francisco: that the Japanese leaders are beginning to admit that there isn't much further to go with lithium ion. Other than going to Li(Ni-Mn-Co)O2, which is mainly being adopted because of the soaring price of cobalt, all ideas are incremental – such as denser cell packing and the removal of electronic protection.
The presentation by Sanyo's Kazunari Kobayashi told the story that the reformulated anode performed well as well as the cobalt-rich design, and Panasonic's man did a recapitulation of how much lithium ion had improved since Sony introduced it more than a decade ago.
But performance improvements in the past are no guarantee of future improvement gains. The battery industry can't rest on its laurels. All lithium can do, for now, is to move into newer markets and Chinese company BYD is eyeing up a move into power tools. This isn't surprising really given what the European Union has just done for small cell nickel cadmium, numbering its days.
BYD's Rex Chang outlined the advantages of high-rate high-performance lithium cells for power tools – and there are advantages, mainly on weight. There should be concerns too. The low temperature discharges aren't so good. These batteries will be used in professional power tools to begin with: there could be a lot of cursing as power screwdrivers fail to deliver on cold days. These batteries are also likely to be produced without electronic protection – the potential for abuse from ham-fisted construction workers and for explosions could be greater than ever, doing untold harm to the reputation of lithium ion as the power source of choice for portable electronics. Watch this space.
There's something almost ritualistic now about the Japanese contingent apologising for the shortcomings of today's lithium ion batteries. This is countered by the would-be new guard and wanabee battery developers with new chemistries, as we've seen at other meetings.
Taiwan is not short of the understanding necessary to push lithium ion systems to their theoretical limit either, as Jin Ming Chem of ITRI's materials research laboratories explained in describing their nano engineering of both anodes and cathodes. By putting a SNO2 coating layer on graphite, ITRI workers have shown a 28% increase in anode capacity and a reduction in irreversible capacity loss. Most importantly, perhaps, the material cost is cheap (less than $20/kg).
The cathode research was more predictable; they've seen the possibilities of lithium ion phosphate – but perhaps too late, as Valence is rumoured to have locked out competitors' access to this highly attractive chemical with its patents surrounding the Saphion product range.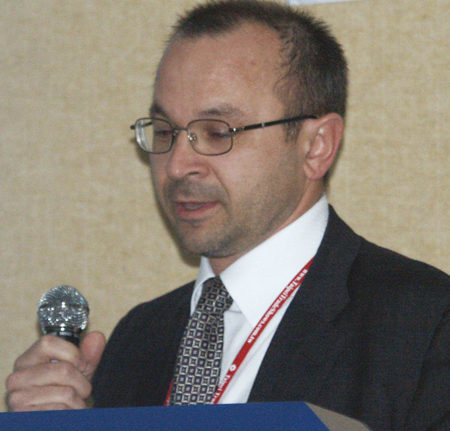 An interesting newcomer here was UK-residing Russian Gleb Ivanov who was pushing the advantages of lithium sulfur. Dr Ivanov and I talked much about this on our delayed flight back to the UK. Lithium sulfur offers an energy density of between 350 and 600 Wh/kg. You can read more in our Spring issue about Dr Ivanov's plans to get it to market.
When we launched BEST in 2003, one of our hopes was to cover more about energy storage applications rather than just recording developments in energy storage technologies. We knew where they might come from, and at last these issues are beginning to be discussed. With so much attention being lavished on wind energy, little has been focused on linking it with storage to make it dispatchable.
Dr Jih Sheng Lai, of Virginia Polytechnic Future Energy Electronics Center, tackled the subject head on. With the cost of wind generation falling (more players, more wind farms) to less than three cents/KWh and with so much more installed capacity, steps will have to be taken over the balancing of electricity grids when wind farm output falls as wind speeds decrease. Options suggested by Lai included the creation of storage back-up using flywheels and diesel engines, but the cost could be considerable.
As we've long suspected, batteries fit well into the equation, but wind energy producers are avoiding the costs. Part of the cost is in new thinking in power electronics where inverter/ charger technology is combined to reduce those costs.
No meeting in Asian electrochemistry with batteries at its core would be complete without a glimpse into ideas on pure EV and hybrid propulsion development. We were not disappointed.
ITRI has designed and built not one but two parallel hybrid system power trains, configuring one to work within the increasingly ubiquitous SMART city car. The vehicle combines a 375cc lean-burn internal combustion engine, a 6kW permanent magnet electric motor and – note this well – an 88 volt high-power lithium ion battery. Fuel economy is 60 miles to the gallon! A 25% improvement on the author's pure IC SMART! The second power train, based around a two-litre engine, may work with either NiMH or lithium batteries. Safety issues? What safety issues?
I hope these guys are coming to Hawaii.
Two wheels though rather than four is still a big mainstay of personal transportation. It amazes me how both large and small companies have continued to bash away at developing pure battery powered and even fuel cell powered scooters, when common sense tells you and me that the end product will probably be beyond the reach of the consumer. Two-wheeled commuters would rather be four-wheeled commuters, but they don't have the money.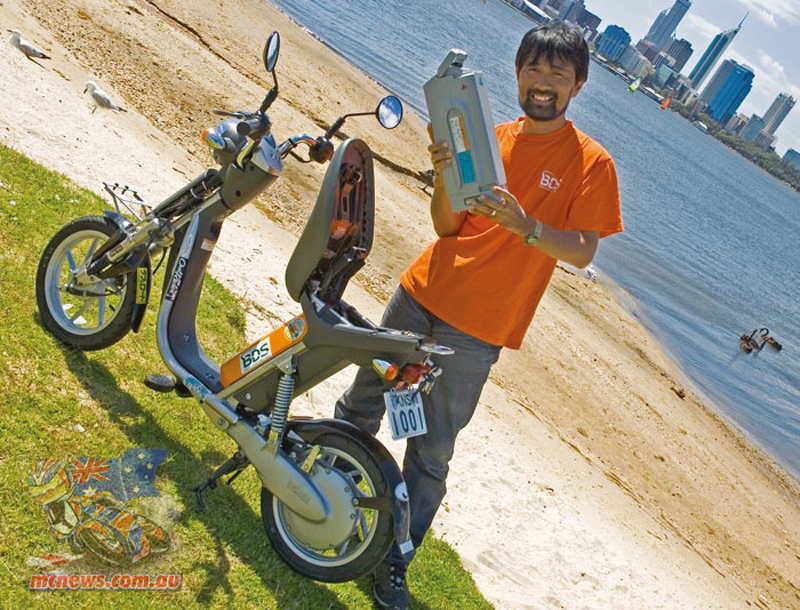 Take Yamaha's Passol, a neat enough battery-powered moped, presented by Hiroaki Takechi. It's come about from the company's involvement in electric bicycles. In ten years they have transformed 31kg, $1,500 lead-acid powered bicycles to 22kg lithium ion powered vehicles costing under $900.
Can the same be done with a pure scooter? The Passol was shown at the 2003 Tokyo motor show and, Takechi conceded, the vehicle has been far from a success. Being twice the cost of a conventional scooter doesn't help and with a range of just 32km. But Yamaha is not daunted. The company even has a prototype direct methanol fuel cell power source for such a vehicle – rated at 500 watts and with a weight of just 20kg. Asking about price seemed futile.
The Taiwanese are afflicted with the same crazy dream. Asia Pacific Fuel Cell Technologies is a fuel cell company trying to get a scooter off the ground.
Its chairman, Dr Jefferson Yang, claimed the company was not a 'research' company but had already selected its technology. However its membrane electrode assembly stubbornly remains the high cost determinator. If these costs don't fall Yang has absolutely no chance of getting a product to market – even if the scooter were made in China and the workforce paid him to work! Yang was brave enough to admit that even if he could manufacture and sell 120,000 scooters, the electrode assembly would still be 34% of the cost!
And on the small EV side, Taiwan has a third of the companies within its boundaries that are producing the kinds of EVs you and I may both need one day – the kind to move us around when we're old, fat and immobile: the personal scooter! Let's hope the guys who are working on the activated carbons based on sucrose force up the cost of the material so that we will avoid getting fat.
Meanwhile, before we get old, I commend a visit to next year's Power Forum where you can catch up on a host of things I've not had space to mention here. More reports from Taiwan next issue!