Still wondering what kind of Ohmic method is BEST? Alber says it theirs and Midtronics say they've more of theirs in the market. They are different, but which technology has resulted in fewer back up disasters? We don't know but they all work – it's official!
You can't please all of the people all of the time; this is particularly true of a business to business magazine editor – especially when one is writing about rival companies offering competing technologies to the same group of customers. I'm bound to upset someone, but that isn't the idea.
When I went to visit Glen Alber at Albercop this January, it was partly to repair fences.
(I had made the error of describing all ohmic battery testing methods as the same – I was wrong).
But the Alber had recognised what I had been driving at – it's extremely difficult to explain the finer points of resistance-testing in the format of a technical conference when you're using the terminology of a BS degree in electrical engineering and you don't have the facilities to get your attendees to do the maths afterwards for themselves.
However, the good news is that the Battcon meeting, which the Alber company has organised over the past nine years, has succeeded in one very altruistic goal – it has established the overall importance of ohmic methods right across the industry – to DC power technicians, to companies who use batteries to protect their businesses and perhaps most importantly to lead-acid battery makers themselves.
Glen Alber is the first to admit though that resistance-based testing – despite the tremendous educational work done by the company – does not dominate the world of lead-acid battery state-of-health testing. He takes his metaphorical hat off to the other guys – Midtronics, a bigger company which has done an excellent job in selling its conductance-based technology to the various constituencies of the battery world.
Glen's the first to point out the Midtronics gear's advantages – it's light weight but then it doesn't have the huge resistor inside it that Alber's Cellcorder has.
And the Cellcorder, at least in its first iteration, did not have the level of user friendliness that some customers might have wanted – that's Glen's view also.
But despite this Alber will never concede that conductance testing of lead-acid batteries is superior or equal to resistance-based testing.
But how do you argue that point to customers, many of whom won't have the grounding in DC circuit theory to follow your arguments? Enter Mats Kallstrom, Alber's marketing man with a bit of a flair for teaching.
He had to come up with a nice analogy – a means of explaining the finer points of DC theory to non technicals. And when it comes to resistance, there's nothing better than water pipes (or if you're medically inclined) – atherosclerosis.
Kallstrom likens the idea of battery ageing to the furring up of pipe – when internal resistance increases, battery terminal voltage drops.
Keep the picture of the pipe in your head. Now let's put a very small flow of liquid current through it. Furring up of the walls isn't going to make much difference to that flow of current. Let's take it in another direction, a little exertion, when you've got advanced atherosclerosis isn't going to provoke a heart attack.
And that is where Alber stake their claim – what you are measuring (using the Alber methodology) is battery internal resistance as an indicator of battery state of health.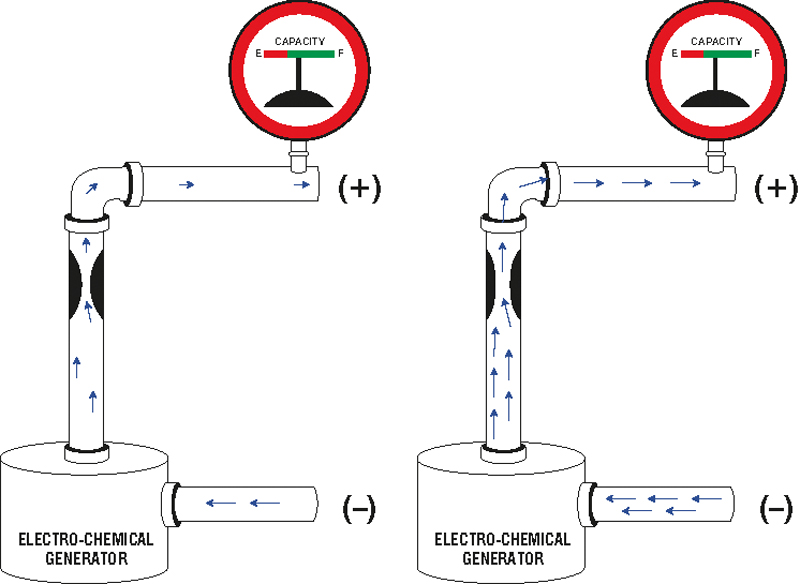 And very large batteries used in standby power have extremely low internal resistance.
Now since Alber's method relies on a DC voltage measurement in accordance with the very simple ohms law where voltage is the product of current multiplied by resistance, it follows that to detect the kind of voltage change you need to indicate a change of resistance. You'd need to pass a very large current through the battery.
Alber argues that most battery testers out in the market place don't pass very large currents through the batteries they test – it's usually less than an amp. Now to pick up a change in resistance in such a circuit with such a low current, you'd need a voltmeter sensitive to six figures of decimals – they do exist, but usually in research laboratories.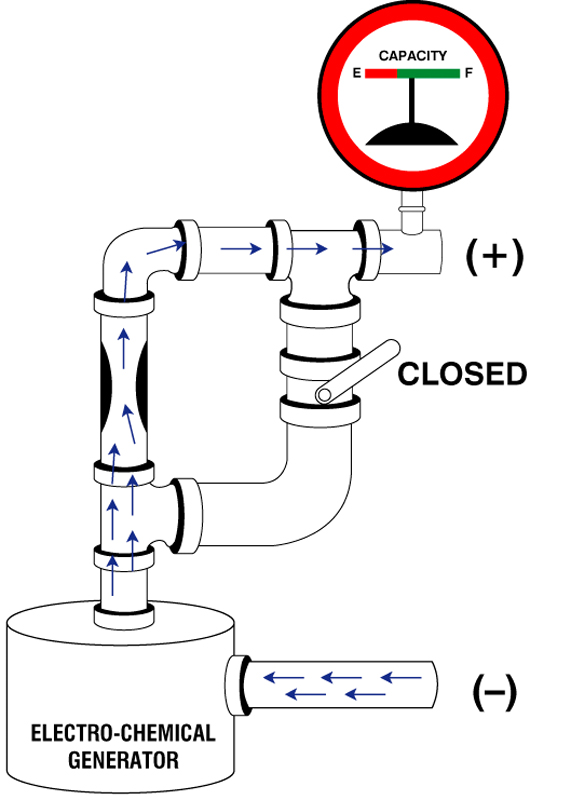 They're not normally used in the field of day-to-day battery monitoring.
Alber argues that its rival technologies – AC impedance and AC conductance methods do something quite different – the AC current flows through the capacitive part of the battery, which Alber likens to a parallel circuit or pipe with a valve in it (see diagram left).
Alber's analogy is the AC signal/liquid flows through the parallel circuit (capacitive properties) rather than the main circuit (the DC path) which is where the problems really lie.
Since the Alber system is DC based, what's recorded over time are a series of voltage drops as the battery ages and the capacitive component which we know exists isn't even affected.
Well enough of water and pipes. Let's talk about noise. All of the competing technologies are designed to operate with batteries connected to their loads. And since they work in an AC environment, there is noise present referred to as ripple on the DC circuits. Alber argues that the impedance and conductance technologies (which inject their own AC signals) can be affected by this noise, thus altering the validity of the reading they show.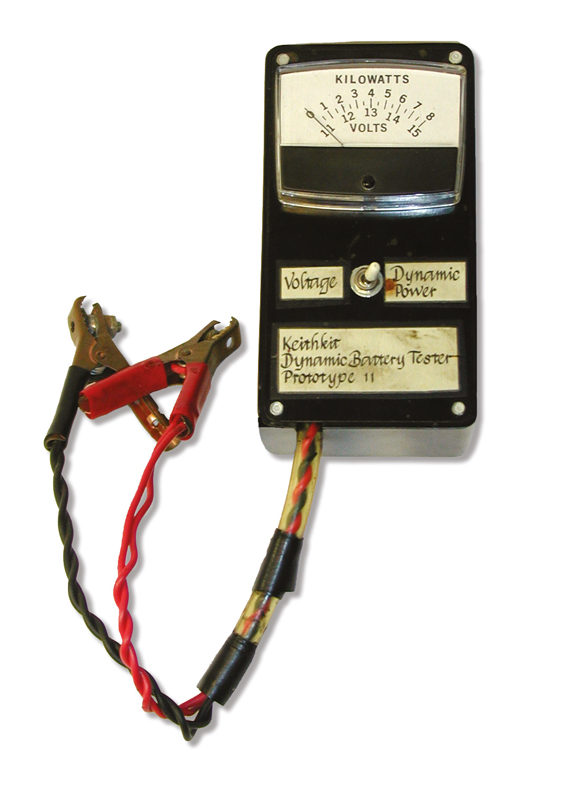 The rival technol-ogies would, I'm sure, argue the case that they can operate over a number of frequencies to avoid this effect or at least ameliorate it. And they could also argue that the changes which cause batteries to age (grid corrosion, etc) have aspects to them which have faradaic properties, as well as ohmic ones. Trying to isolate them might prove difficult, however.
The key thing of course is to remember what external assessors have said about all the technology out there – it's important to try and do these tests in a repeatable fashion, using the same instrument and to look at the trends – increasing resistance, increasing impedance and increasing conductance show you that something within the battery is changing and for the worse.There are critics of resistance testing outside of Midtronics, who also use conductance technology for battery testing.
They say there are some discrepancies in the resistance readings between the 'load test' and 'AC conductance test'. The differences are more apparent on marginal than on good batteries. So which reading is correct? In some aspects, the AC conductance is superior to the load test. However, one single frequency cannot provide enough data to evaluate the battery adequately. Multi-frequency devices are being developed but their complexity rises exponentially with the number of frequencies used.
In their opinion, resistance measurement, as a whole, provides only a rough sketch of the battery's performance because various battery conditions affect the readings. For example, a battery that has just been charged shows a higher resistance reading than one that has rested for a few hours. An flat or nearly discharged battery also exhibits elevated internal resistance. To obtain reliable readings, a battery must be at least 50% charged.
Temperature further affects the internal resistance readings. A hot battery reads a lower resistance than one at ambient temperature or one that is cold. In addition, the chemistry, the number of cells connected in series and the current rating of a battery influences the results.
So it's not easy.
Load testing remains the only full-proof means of thoroughly assessing whether a battery really performs in standby mode – but no one ever wants to do this because taking batteries off-line to discharge them through a resistor is costly, time consuming and leaves you open to the risk that the mains might just fail as you're carrying out the load test – we know there are ways round this, but it's a risk.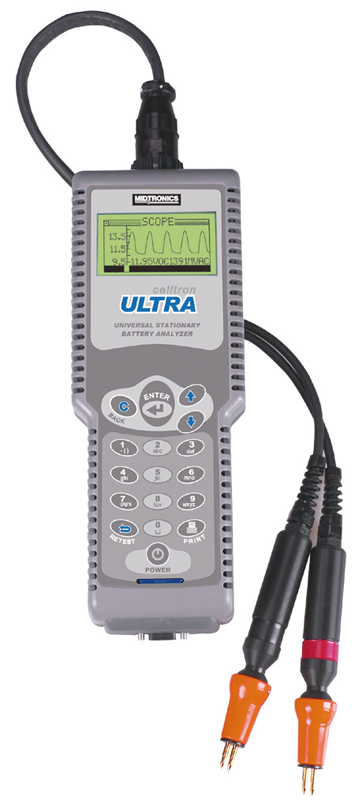 And there's another thing – if you discharge the batteries – you've aged them, albeit by a small amount but an amount none the less. The Alber resistance method goes about as close to this as it can without working the batteries – putting the battery on a load through a shunt and measuring the voltage drop accordingly, then scaling the reading in microhms.
The method tries to do what good physicists have tried to do always – to make measurements without disturbing the equilibrium of the systems they measure.
And perhaps that's the weakness of all of the technologies on offer today.
But both Alber and Midtronics have gained something as they have sought to argue the cases for their rival approaches. Both companies are working with lead-acid battery makers to use their systems as a benchmark of battery performance from new. It should be possible to equate resistance/ conductance/impedance values with battery ageing.
And divergence from the expected figures could lead to a justified warranty claim. Or could it? Will customers have to provide regular battery room temperature checks, logs of power outages, etc, to validate a claim?
Who knows? Meanwhile out in the market place, the acceptance that standby power is a necessity for modern business has grown.There are more standby systems that ever. Battcon has more attendees each year from more countries as more technicians come face to face with components that don't behave like anything else – they're mystified. And so the education and marketing to a new group of customers will go on. No the methods aren't the same – but if the outcomes on the use of the differing methods is the same – ie: that batteries get replaced before they fail, that's all that matters – so far no one's told me if that happens.
Seemingly, in an attempt to address some of these problems, Megger introduced the Bite 3 battery tester towards the end of 2004, which not only measures impedance but also battery float and ripple current and cell voltage and intercell connection resistance. It has its own on-board data analysis software, so that past readings can be referred to and compared. And that's a key point – there's no point in making readings with another instrument, even if its the same make and model as the one you were using before – it all adds to error and the biggest error is people.
I refer to a paper given at last year's Intelec by Cantor, Malek and Voltman* which examined all the existing technologies and how they were used by a group of technicians – and the nature of the tests they performed was to evaluate the usability of the instruments, the clarity of the technical literature and the operator's manuals.
And this was no small trial – 12,000 ohmic readings were taken and a further 10,000 supporting readings were made – the project used 1,000 man hours. Blind testing consisted of a technician, inexperienced with a particular instrument, trying to use it properly with only the manufacturer's documentation.
Controlled testing was defined as testing when the technician was fully conversant with the instrument and the battery configuration he was assessing. The average deviation across all meters, batteries and technicians was a significant 13.2% on readings made.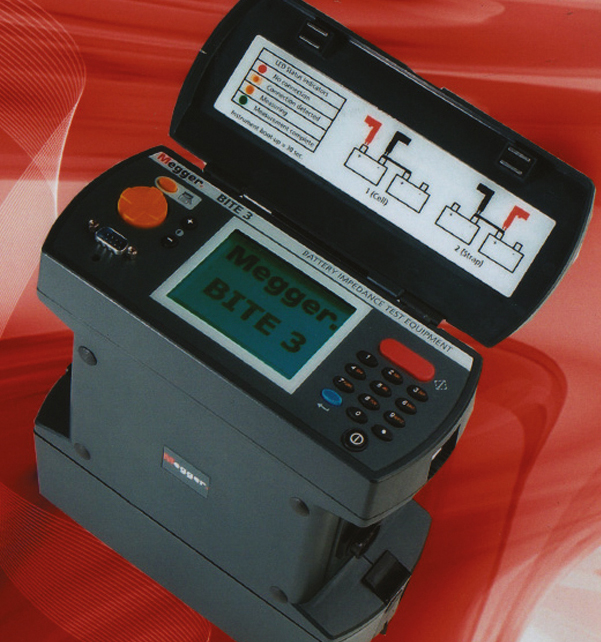 And the point is obvious. For many telecommunications technicians, battery testing is not their full time job and they would use the instruments infrequently or with very little training. And training in the use of these tools is essential to get meaningful results. Some of the findings were staggering – 32% deviations on post-to-bolt measurements clearly showing that it does matter where the user connects his probes. All this has been said before – almost certainly at Battcon, but I have no memory of anyone publishing data which shows the difference between experienced and inexperienced operators doing the same job.
The authors were smart enough to get their technicians to make ohmic readings on parallel strings of batteries and of course, the more strings there are, the more varied the readings – proving you have to isolate strings to make meaningful measure-ments – but if your technicians don't know that or get readings with differing numbers of strings in parallel, what's the outcome? The authors quite rightly say that deciding to do ohmic testing is one thing but selecting equipment is, to use their words – challenging.
Repeatability of course is everything – but the overwhelming conclusion was that most tests were similar in their ability to predict battery health. Whatever instrument you choose – if it's used properly – should do the job the manufacturers intended. So yes Glen, the methods are different but on these findings the outcome if everything is done properly, should be the same. And at the end of the day, that's the simple answer.
Ohmic testing: who does what and why – a repeat message.
Glen Alber gives credit to one Shelden DeBardelaben who did work for a telecom company and who published a paper which described experiments which showed how ohmic measurements might determine the end of life of a battery, which Alber commercialised.
But even he wasn't the first to begin this process. It was in fact scientists at C&D – E Willinganz and Pete Rohner, back in 1959. But they weren't interested in using impedance measurements to assess battery state of health either.
Alber's equipment is based soley on determining battery resistance. But other manufacturers have used impedance, which takes into account reactive factors which undoubtedly exist in a battery. The big question however is which frequency should be used?
Most manufacturers work with a frequency close to that of AC mains (either 50 or 60 Hz) and that's Megger's approach.
Then of course one can get clever and use reciprocal values of resistance using an AC technique using the Siemens or Mho as the unit of measurement instead of the ohm. That's the Midtronics way.
It's enough to send one running back to textbooks of electrical theory that you haven't looked at in years.
So which one is better? There is no definitive answer and the manufacturers continue to slog it out with one another.
Two year's back, this writer referred to the work of one Eddie Davis of the US Electric Power Institute of Charlotte in South Carolina, who told the second ever Battcon conference (July 1998) that all this technology can and will detect bad cells.
New on the scene then was one Chalasanni Bose, who used to work in the lead-acid field and who is trying to correlate battery state-of-health by measuring the coup de fouet, the phenomenon of voltage drop as the battery begins to discharge. Is there anything new here?
This is really interesting, if it can be done accurately enough and in a repeatable way. But trying to explains what happens when the battery goes on load, developing the model to explain why the voltage drops and then developing a suitable field-usable technique may prove too costly. The point surely for all battery testers is to collect your data in a repeatable manner, using the same techniques, the same instruments and making a note of the conditions. If you don't do good science, your results are meaningless!
The Editor