This year's INTELEC conference in Chicago was good in parts, bad in most, and sometimes plain ugly. Telepower Australia's John Hawkins stood in for your Editor – and shows similar bite!
INTELEC is the annual technical conference of the telecom powering fraternity; it's been going for 26 years now. It was one of the first of a then new style of conference that mixed research and academia with engineering practitioners, vendors and end-users (customers). Some say it's getting stale – not much there that's new, in technical terms.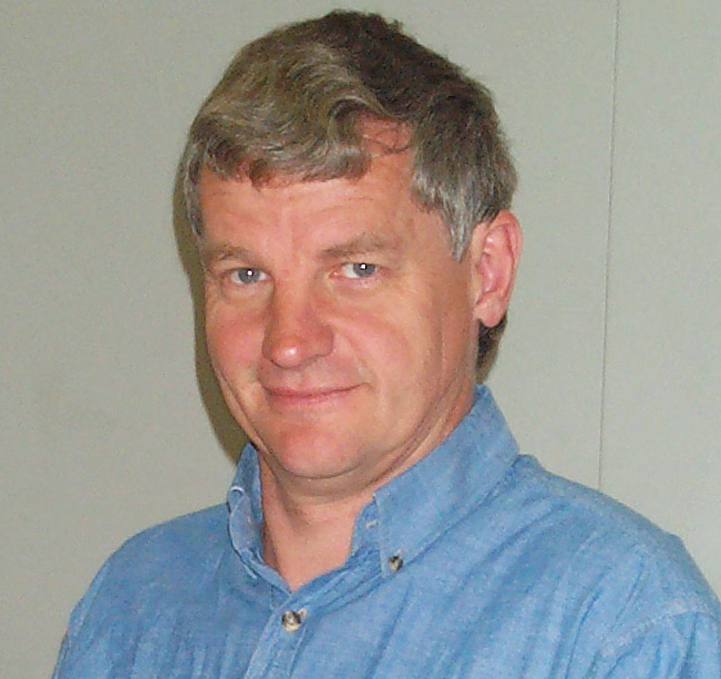 The 26th Annual International Telecommunications Energy Conference was held in Chicago in September. Conference organisation and local arrangements were good. Chicago is a wonderful city and the weather was perfect. Everything was right to help make INTELEC '04 memorable. Numbers were down at Yokohama last year; part of the global doom-and-gloom. This year, still much gloom, but market conditions in telecom had relatively improved. I wanted to witness a reversal of the growing disquiet about content, focus and relevance. I wanted Chicago to be a great conference for General Chairman Charlie McManus and his team. Charlie is a good guy. He said they had been listening to the grumbles within the fraternity and were set to put the INTELEC mood back on track. I'm part of that fraternity.
It started out well. Charlie made good his promise of an engaging and challenging plenary session. The message was clear – affordable reliability (but only the bargain-basement price variety need apply). The old guard telephony engineering mentality needs to give way to the newer ways of risk management thinking for the new information transportation enterprises. Of course, the barbarians have been at the gate for some time now, but the themes were well received and gave delegates hope of substance to come and high anticipation of the 'blood-on-the-floor, take-no-prisoners' potential of the upcoming AC vs DC and the Grid Reliability workshops.

But alas, the promise of the plenary sessions was not sustained. For the most part, the technical content was uninspired – although there were some gems, well worth talking about as reminders of the original purpose of INTELEC. Part of the problem was that the programme was full; too full for many who, like me, hated the dilemma of multi-technical stream choice. As usual, there were three parallel technical streams – energy storage (batteries), power systems, and power converters, including two workshop sessions; and all this in parallel with two streams of tutorials, at which participants can gain industry training accreditation towards certification in power and protection installation methods and engineering. You don't have to be a telecom powering practitioner for long before the scope of interest goes beyond just VRLA batteries or rectifier functionality. And it was easy to miss the technical gems amongst the sales pitches.
INTELEC has become renowned as a forum to bag (often unfairly) VRLA battery technology, and it is no surprise that at previous INTELECs the lead acid battery sessions have dominated in popularity. But in a welcome departure from the endless stream of VRLA-related papers, the alternative battery technologies got a really good airing at this Chicago meeting. Perhaps the king (i.e. bad VRLA) really is dead.
Lithium technology got a good run as the would-be near-term heir-apparent to the incumbent VRLA technology, and perhaps with a little more self-serving marketeering than any substantive new science, a number of manufacturers got to speak on their particular lithium technology flavour. Not much here to spark new technical interest, and the burning questions from the floor seemed to always focus on the promises of price and life. Who said nothing was learnt from the bad VRLA experience! But the interest level was certainly raised when INTELEC's dear Dr David Feder fearlessly asked Chantal Robillard (Avestor) to confirm a burning (no pun intended) rumour in the industry about a thermal incident with one of its demonstration batteries. To Avestor's credit, they did; and, in fact, its subsequent presentation about the incident was the single positive highlight of the 'battery' workshop later in the conference. Perhaps it's a sign of a truly maturing industry when the fraternity can feel sufficiently entitled to ask vendors to come clean, and vendors are sufficiently honest and feel secure enough to do so.
Fuel cells also got a good airing, and commanded their own full session and a couple of papers sprinkled through other sessions for balance. Fuel cell technology, and the consequential hydrogen economy is topical in the wider community; and in terms of science, it is easy to see why fuel cells are attracting and engaging interest. They are complex beasts, requiring electrochemistry, integration and control electronics, a fuel delivery system, and power conversion elements – something for the engineer or scientist in all of us. Perhaps the multi-discipline INTELEC fraternity feels a little more technical equity in fuel cells than when confronted with the vagaries of the VRLA battery technology, which always seem to be reduced to myth and magic arguments between electrochemists.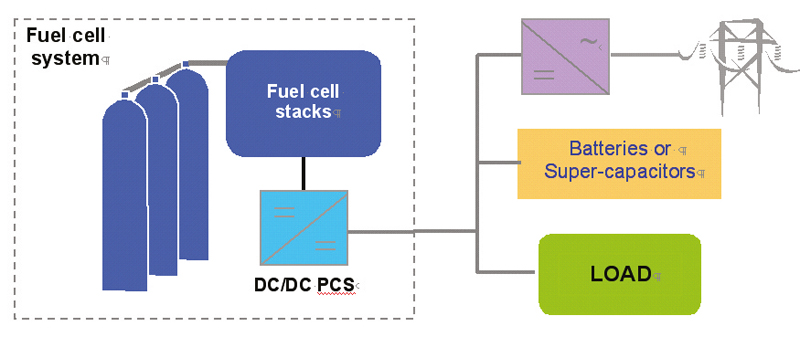 Like lithium technology, fuel cells come in a number of flavours, and across the presentations we got a quick, broad-brush overview of the various technologies. Fuel cells have been around for some time now, extensively used in applications much more exotic than dreary old telecom power backup. But it would appear that low temperature proton exchange membrane (or polymer electrolyte membrane) fuel cells (PEMFCs) have now evolved sufficiently to the point where a number of players see the telecom market as (potentially) viable. Market entry rationale is brazen, though. Not wanting to dwell on the technical difference between energy generation and energy storage, all the fuel cell players use the rationale that the incumbent VRLA battery is so inferior in terms of performance and reliability that an alternative is urgently needed, and of course, fuel cells conveniently address all the woes. However, in a lovely sense of irony, orderly start-up and shut-down and limited responsiveness of the fuel cell to load changes means that they all need an internal DC energy storage system to provide critical ride-through function to hold up the DC-bus (Fig 1).
And guess what? Most of them are forced to use low-cost VRLA battery technology to do it. Super- (ultra-) capacitors are stated as the preferred means, but at present supercaps are too expensive to consider in addition to the already steep cost of the fuel cell system. Cheeky really. Cite the performance of incumbent VRLA technology to establish the market rationale for developing the fuel cell for telecom power applications in the first place, then use the same VRLA technology as one of the critical elements in the fuel cell product being offered as the sensible, 'fix-all-woes' replacement. Nice work if you can get it, but the real downside is cost. As Mike Perry (UTC) said, general fuel cell development is driven by electric vehicle applications, and costs will come down substantially with volume (but we are talking millions of units/year).
At present that seems to be still many years away, and thus it will take specific and genuine interest from the telecom operators to help catalyse development of UTC's 5kW fuel cell offering for 48V standby applications. But the entry capital cost, still around $1000 to $2000 per kW, is prohibitive for cash-focused telecom operators. Catch 22.
Greg Smith (Millennium Cell Inc.) was honest enough to go further and say one of the most significant barriers to widespread use of PEMFC was the fuel supply dilemma. Establishment of infrastructure to deploy hydrogen needs much bigger drivers than telecom power. Catch 22 again; and any mention of technical issues such as cycle efficiencies, maintenance and service life will just invite the telecom bean-counters to remind us all of the economic rules of diminishing returns.
For my money, the most interesting system was a proposed compressed-air, thermal heat exchange flywheel hybrid from Active Power. A truly battery-free energy storage system which, as per John Sears' (Active Power) presentation, combines a small low-speed flywheel for ride-through and short-duration outages, and an expansion turbine driven by compressed air and thermal energy for longer outages. The development concept was related as a challenge to design engineers to use 'off-the-shelf' and proven products to create a compact, non-electrochemical battery replacement solution, and they called it TEX (for Thermal EXpansion). You'd think with such an innovation they could have picked a better name, but perhaps it also reflects pride in State of origin!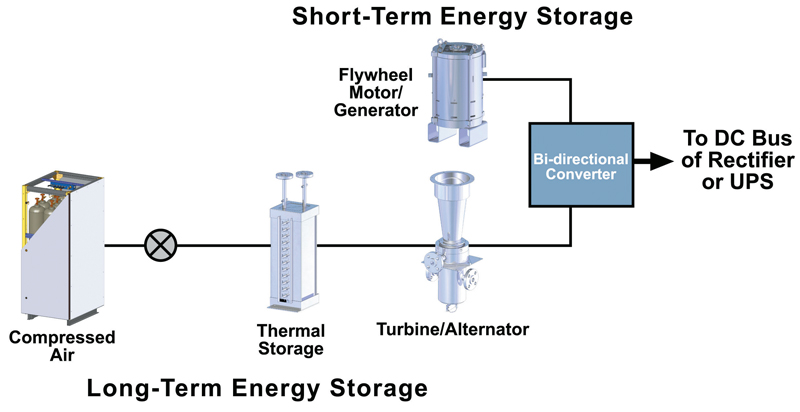 In simple terms, the hybrid uses a very basic flywheel to supply at least three seconds of backup at full load (Fig 2). As pointed out, low-speed flywheels have been around in short-term ride-through and UPS applications for some time. Active Power has a background in UPS with flywheels, and they know how to do this. These types of flywheels are quite reliable and relatively low cost, but flywheels have not been adopted in telecom power back-up applications because of their limited run-time. High-speed flywheels have attempted to address the energy density limitations, but the concomitant carbon-fibre composites, magnetic bearings, vacuum pumps and integrated power conversion electronics has resulted in cost, reliability and safety concerns that have all but dismissed the technology for the telecom back-up market.
The Active Power approach is elegantly different. They chose to accept the basic flywheel for the short-duration requirement, and use a heat cycle for the longer-term energy supply. In their scheme, when the sense circuitry determines an outage longer than that which can be supported by the flywheel, a thermal storage unit heats a stream of compressed air, which expands and drives a very simple turbine connected to a low inertia alternator, which apparently can reach the 70,000rpm full operating speed in about one second.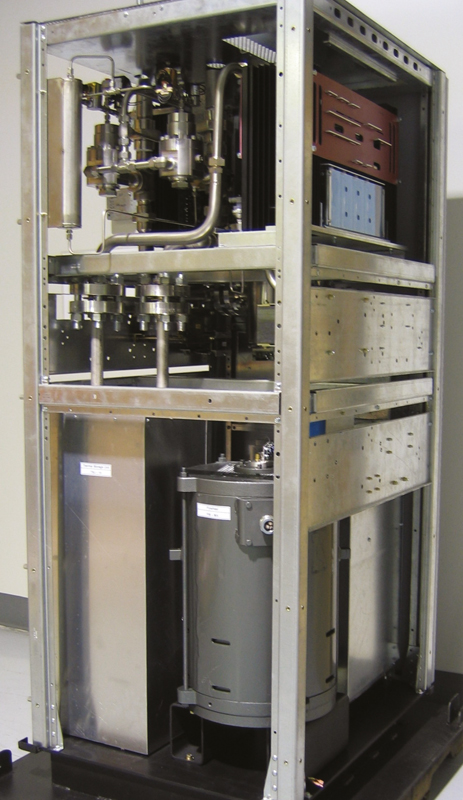 When primary supply is restored, the TEX recharges the flywheel to full speed, returns the thermal unit to full temperature, and replaces the spent compressed air. Increased run-time is potentially available with a greater volume of compressed air (commercial high pressure gas cylinders), although the duty cycle is limited by the re-compression rate. All this is packaged up in standard-sized cabinets which fit through normal doorways.
According to Sears, the TEX concept has been proven with a 20kW 15 minute unit, and the subsequent 80kW, 15 minute prototype units have formed the basis of the initial commercial model, designed to support a traditional three-phase 100kVA UPS system for 15 minutes. Sears made it clear that the UPS-centric product could be readily adapted to telecom back-up power applications, provided there was interest. Indeed, Active Power's sojourn at INTELEC was to gauge the level of interest in TEX as a battery-free 48V energy storage system. If the numbers of delegates scrutinising the demonstration unit in the exhibition hall is any guide, there was interest in this. Sure, there was no real talk of energy efficiencies, maintenance requirements, costs, or even the sensibility of the concept – and no doubt the defenders of the incumbent battery-based technologies will launch probing questions downstream if operators do show interest. But it would be nice to see this thing go at least a few more steps down the path of commercial success, if only because of its novelty at INTELEC.
Lead acid battery technology is the energy storage technology of choice in telecom powering. Fittingly there were a number of sessions devoted to VRLA batteries, although the focus was more on reporting their life from real-time test results, and on monitoring their health, than on actual design technology. The monitoring talks were more about products rather than know-how and value, but in a pleasingly honest way the presentations on VRLA life were largely non-partisan and showed that service life expectations for VRLA batteries are not uniformly unreasonable.
Herbert Giess (Oerlikon Stationary Batteries) was revealed as a Star Wars fanatic with a delightful parody of the VRLA battery as an agent of the Dark Side, but his light-hearted introduction did not distract from the results of a simple yet valuable real-time experiment. He showed with measured data what many operators have long suspected – that over typical service life periods (in this case, seven-nine years) small but persistent ambient temperature differences (ca 2°C) across a vertically-racked battery bank can significantly affect the rate of ageing (degradation) of the monoblocks within the bank. He also showed that a design modification, in this case shifting to a higher tin content in the grid alloy, is often the best way to improve performance i.e. deliver a product more resilient to capacity-limiting corrosion under the same operating conditions. A timely example of improved product and improved knowledge of the best way to use the product. INTELEC doing its job!
Rhodri Evans (EnerSys) further pushed the idea that new and better product knowledge is the best way to repair and build the tarnished reputation of VRLA batteries in a balanced presentation of results of testing stand-by VRLA batteries for cyclic duty under various international standards. Of particular interest was the use of variable capacity micro-cycling regimes within the specified standard regimes to better mimic the reality of telecom installations where the batteries are often limited to time-restricted float-only charge regimes. This is 'fit-for-purpose' testing, advocated by many in the fraternity from a user's perspective, but until now largely ignored by battery manufacturers. Good to see big players like EnerSys getting involved.
Two workshops were held and, presumably, it was envisaged that both would lever off the themes canvassed in the plenary sessions. One, entitled AC vs DC, went nowhere – perhaps predictably it was really a matter of preaching to the converted in a fraternity of DC practitioners, and was really reduced to a 'stern' finger-wag at the inadequacy of UPS specifications (the UPS folk being deemed the AC fraternity).
But it was the second workshop that was really silly and, to the assembled fraternity, embarrassing. The title 'The Good, the Bad, the Ugly: Power Grid Reliability', implied discussion of the very purpose and function of back-up powering. But no; moderators Drs David Feder and Subhas Chalasani, both battery men, quickly declared that the grid will always fail, and thus we will always need batteries (sorry TEX), and thus hijacked the workshop into a battery session. Moreover, needing batteries, the telecom powering industry had been severely let down in the previous decade by VRLA battery manufacturers 'not coming clean' and admitting product problems, they said. New advanced battery players will have the same characteristics as their VRLA predecessors, so it's important to encourage the new players to 'come clean' (to the fraternity). In group therapy, there is salvation.
Harvey Wilkinson (Avestor) then gave a simple, concise and very professional summary account of an 'incident' with one of the Avestor lithium metal polymer customer installations. No big deal, nothing earth-shattering in technical terms: the talk did spark some healthy dialogue about complexity and control electronics, but it spun into a silly area of speculation that, had micro-electronics been so cheap and advanced during the evolution of the VRLA, perhaps the VRLA battery would have been full of smarts to make it work better. Hello? Finally, some kind gentleman from the back pointed out that VRLAs can be made properly, and can last a long time, and can't we (as a fraternity) move on?
The honesty shown by Avestor didn't prompt any fuel cell guys to get up and wax lyrical about secret hydrogen explosions, so to keep going what little momentum there was Dr Feder reminded the participants of the circumstances in which (the conspiracy of?) VRLA thermal runaway was exposed. Well, that ignited regurgitation of thermal runaway theories, and it all just spiralled into absurdity.
As Glenn Aspland (Singtel Optus Communications), an INTELEC first-timer, commented: "I came to find out what is going on in the land of telecom power and to try to establish links with other operators, and I have achieved that." Indeed, INTELEC is a fraternity, built on meeting and mixing. But there weren't many telecom operators (the customers?), and there were nearly half as many exhibitors as there were technical delegates. There were real grumbles about the technical mix (too much in too little time). But perhaps the best measure of INTELEC's success was a group of disgruntled delegates, despairing of the regression to thermal runaway during the 'battery workshop', lamenting on the irony of having the conference dinner with dinosaurs. The conference dinner was held in the magnificent Field Museum, under the watchful eye of Sue, the most complete Tyrannosaurus Rex fossil yet discovered, named after Susan Hendrickson. The Field Museum itself is just fabulous, and the atmosphere of the fraternity mixing in such an awe-inspiring public space made the night probably the most memorable INTELEC banquet in recent memory. So for me, the message of INTELEC '04 was yet again clear and unambiguous: telecom power industry, change or perish. INTELEC, re-invent thyself. Otherwise there may be a permanent seat at the table with the dinosaurs.