The annual Battery Council International conference was back on the agenda for those who reside outside of the US. An 'alien' returns to the United States and finds an enthusiastic welcome at one of lead's premier events— networking and social interaction almost back to a pre-Covid normal.
In these 'latter days' of the COVID-19 pandemic, you can expect a few delays on a journey from the UK to the US—ours started with a short wait for a 'fit-to-fly' Covid test (no longer needed) at Gatwick Airport. Once results were received by email half an hour later, it was off to a short queue for baggage drop. With that done, we found ourselves in a long queue for security— it stretched out of the hall down the corridor and then snaked back on itself. Joy of joys. How long was this going to take? As it turned out, not too long. About half an hour to get through the liquid separation and boarding pass phase, and then plenty of staff on to complete the hand baggage and personal check after that. Less than an hour in total.
That accomplished and it was time for breakfast in a rather crowded restaurant before the scheduled departure time— with no delays. An uneventful BA flight saw us land on time in Tampa where we faced our next queue— immigration. This was rather longer— the best part of two hours before we entered the US and were greeted by a seasonal downpour as we made our way to the car rental.
Reasons to drive an SUV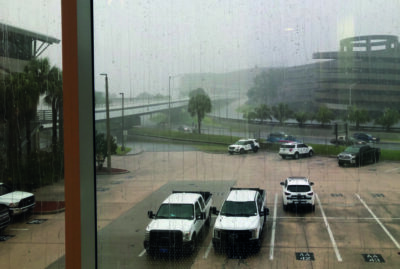 Evening was well underway by the time we had completed the hiring process and got on the road in our upgraded transport— from Toyota Corolla to GMC Acadia— or, a European-sized car to a US-sized boat. It didn't feel ideal towards the end of a long day travelling— a big car on unfamiliar roads. However, half an hour into a two-hour journey the heavens opened— Florida style, and it was dark, aaarghh… but now the boat came into its own. As visibility dropped at times to around 50 yards the 'boat' motored serenely down the highway and the driver and passenger appreciated the upgrade after all.
We arrived at our somewhat dryer destination in Sarasota and spent a relaxing weekend with a good friend from the industry who lives nearby. Breakfast by the waterfront and then off to the 'drift racing' at the Freedom Factory, where the motto is "smoke tires not drugs". That was curtailed after a few hours of brutal sunshine by another downpour, so it was off for some lunch and searching for fossilised sharks' teeth during a walk along the beach. The next day took in more of the local area before we headed south to Naples and the BCI conference.
Rain stops play
As we drove through more rain, we wondered how the golfers were faring. Not too well as we later found out— they got called in before the 18 holes were completed. At least there were no electrifying experiences.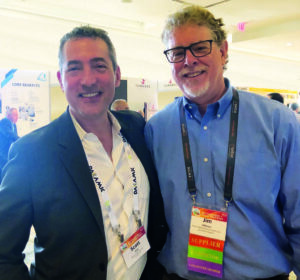 The welcome reception on Sunday evening saw the usual drinks and snacks in plentiful supply and was held on the covered terrace— a definite upgrade from the pre-Covid BCI we attended in New Orleans. It was an enjoyable evening of networking, and the signs were clear— people enjoy meeting up with old friends and making new ones. This was evident throughout the networking and social events. An invite from Digatron, Inbatec, Kustan and TBS to their hospitality suite saw memorable evenings spent in convivial company.
This year the conference attracted some 600 delegates, which was a significant improvement on the 2021 BCI event held in San Diego, which attracted 350 delegates. The extra footfall in the PowerMart exhibition made it a lively affair, at times perhaps, more of a social event than one for transacting business. A common theme appeared in conversation with more than a few exhibitors— the difficulty in recruiting manufacturing staff— see our feature on page 30.
Women in manufacturing
The conference keynote from Gina Radke, author, owner and CEO of aerospace manufacturing company, Galley Support Innovations, revealed there are 826,000 unfilled manufacturing jobs in the United States. Radke spoke about the transition that is necessary to bring in and retain more women to roles in manufacturing. She focussed on three questions: Where should we be advertising jobs? How can we retain more female employees? And how can we improve our company to be more female friendly?
Radke is hands-on. She has learned to operate all the machines in her company and is immersed in every aspect of the business. She believes, "If you can see it, you can be it". And it is important to demonstrate that to retain women in manufacturing.
About recruitment, Radke said: "Words matter. Intentional inclusion is important— our natural instinct is to go with what we know." Did someone say nepotism? Radke was not quite so blunt, but she did give some clear examples. And, when writing a job advertisement, she said that to attract more women, it is necessary to choose gender-neutral/feminine words.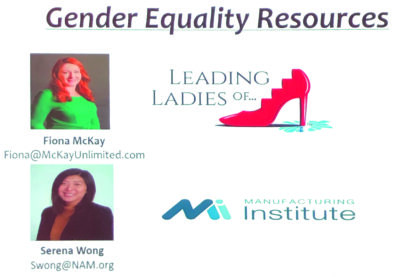 Staff retention is about asking the right questions, e.g. What about our company makes you think you will be here long term? What makes you think you will move up? And, what can we do to improve the retainment of female employees? It is also about flexible work hours, participation in women's industry groups, and mentor programs.
Regarding promotion, Radke said that much depends on personal opinion such as 'they remind me of when I was younger' and, the bias in all of us is both conscious and unconscious. She concluded that if men see something that is not right they should become aware, ask, take action, and be a male ally.
Heavy regulation
Roger Miksad, senior vice president and general counsel at BCI, spoke about the regulatory aspects of the industry— as new legislation, which has been mooted for some time, is coming into force over the next 18 months. He said, ours is one of the most heavily regulated industries in the USA with regulations from the Environmental Protection Agency (EPA), Occupational Safety and Health (OSH) and California's Green Chemistry Program.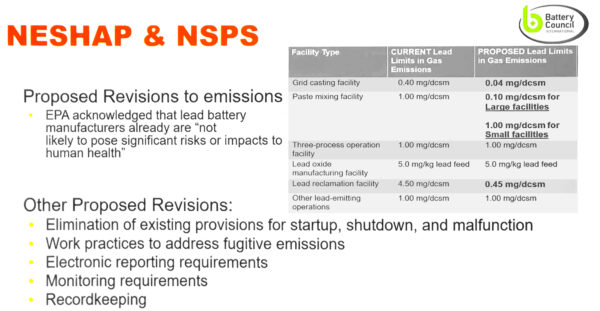 In April, BCI filed robust comments with the EPA about Emission Standard for Hazardous Air Pollutants (NESHAP), which found that lead battery manufacturers today are "not likely to pose significant risks or impacts to human health". While the EPA proposals will add significant costs, without meaningful benefits BCI's analysis found that many proposed changes would not even reduce actual emissions.
Meanwhile, the threat from California Green Chemistry has been abated. The Department of Toxic Substances Control (DTSC) 2021-2023 Priority Product Work Plan removed lead batteries from further consideration. It is the first and only product to ever be fully removed from the Work Plan.
The Voluntary Blood Lead Improvement Program, established in 1997, is the industry commitment to achieving best-in-class world blood levels among workers. The BCI board approved a strengthened blood lead level program, saying: "Member companies agree to continuous improvement in the management of employee lead exposures striving to achieve blood lead levels as low as reasonably practicable respecting the application of the hierarchy of controls."
The witty economist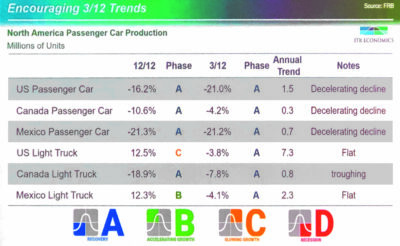 Alan Beaulieu brought a breath of energy, with his wonderfully dry wit, to present, what he claimed can be a very dull subject— economic forecasts. The main takeaways: the US is in a good marketing position with inflation already falling from a peak in early-2022. This is sooner than most of the developed world and shows that America's consumer behaviour is still strong despite pressures of Covid recovery and war in Ukraine.
The conclusion of Alan's talk was that now is a good time for increased business spending and debt will remain cheap. Determine if a weakening USD in 2023 will impact your cost structure versus your competitors. Or, in the vernacular, make the most of your investment opportunities now because in 2030 the 'proverbial' is forecast to hit the fan.
Lead in stationary storage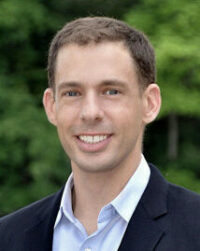 Nick Starita, division president, energy solutions at Hollingsworth and Vose, gave an upbeat presentation of the future of lead in stationary storage. Motive power also has a strong demand and order book, as does telecoms, and there are renewed opportunities in UPS for lead.
However, lithium is taking a significant share in ESS and UPS markets and is growing in motive, albeit at a slower rate. His overall forecast is that lead remains an important solution.
The US has a strong domestic supply chain for lead batteries, and this will continue to be the case even as foreign-controlled lithium takes a greater share of the overall US battery market.
Awarding innovation
The Sally Breidegam Miksiewicz Innovation Award from BCI, was established to honour one of the industry's leading thought leaders who advocated for continuous battery technology advancements. This year the Award was won by Advanced Battery Concepts (ABC) for its bipolar-based Home Emergency Energy Storage (HEES) system.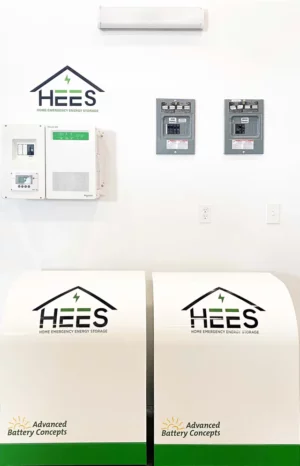 ABC's CEO, Dr Edward Shaffer, said: "This Innovation Award marks a milestone in our company's progress in creating, or at least enhancing, technologies to store and reuse electricity in ways that are socially, economically and environmentally superior to everything that has preceded them."
The HEES system offers a modular approach to home energy storage starting with a base unit comprised of six 48V battery units, providing 8.6kWh of usable energy. This can be expanded with additional 6-pack units. The system provides seamless power transition in the event of a grid power disruption with no noise, no fumes, no maintenance, and no on-going consumable costs.
Next year the conference moves to Louisville— the home of the Kentucky Derby. Derby week runs from 30 April to 5 May. The BCI convention runs from 23-26 April.