The battery industry needs to develop a secure and transparent supply chain so that auto manufacturers can have a secure local supply of batteries containing safe and recycled materials. Vic Giles reports from the 26th International Congress on Battery Recycling (ICBR) on the developments in lithium battery recycling.
When cigarettes are cheap and water expensive (One wonders, are they being priced by weight?) you can be fairly sure you're on an international flight to somewhere. In this instance, it was from the UK to Geneva for the 26th ICBR. The end of summer 2021 saw the lifting of restrictions to the point where BEST could get out on the road again.
Of course, travel was a somewhat more convoluted affair than before. Entry into Switzerland involved demonstrating being fully vaccinated, but it was getting back to the UK that was more arduous. As a 'fully vaccinated in the UK citizen', this writer still had to get a COVID test in the three days before travelling home and take a PCR test two days after arriving in the UK— along with a four page passenger locator form. But spare a thought for the Swiss citizen, who wanted to travel to London for an overnight stay, having to pay for a UK PCR test two days after arriving, at which point she would be back home in Geneva.
And then there were the various queues at the airport— somewhat lengthened by the extra checks. Not the worst this traveller has endured and, as long as you had the QR code to demonstrate your acceptability, moved fairly swiftly. Of course, this was all in the process of changing and by the time BEST went to press restrictions were being eased.
The wearing of masks in communal spaces, such as the restaurant and lifts/elevators was a hotel requirement. But delegates, all of whom had a valid health pass, were happy to return as close to normal as possible in the conference areas.
With this taken into account, the 26th ICBR could really be described as a friendly and joyous affair. Steering committee member, Jacques David, who received the Honorary Award for his 45-year contribution to the battery recycling industry said to BEST: "25 years ago, we spoke about alkaline batteries, we spoke about sorting, and we spoke about the actual problem 25 years ago. Today, we are focused on the tremendous evolution of the EV battery and part of the problem organising the congress is because it's impossible to speak about programmes other than lithium batteries— and mainly lithium batteries for EVs. This is the main difference. And for the congress delegates this year— they are totally new and different compared to five or ten years ago."
The networking dinner saw some delegates letting loose on the dance floor, but it was the networking times between the well-attended talks that were, for many of the delegates this writer spoke to, the greatest reward. It was being able to meet colleagues, strike up 'random' conversations, and enjoy a glass or two (which is something that just doesn't happen on any of the platforms that have been tried for virtual events) that saw a return to feeling human again— we are, after all, created for relationships.
The seminars were attended by around 250 delegates— and with at least another 70 online it was a hybrid event. Will this continue to be the way forward for conferences? Quite possibly, as one of the conferences' main themes looked to reduce our collective carbon footprint.
The talks at ICBR were complimented by an exhibition that saw a dozen companies most of which were perpetually engaged by the delegates during the networking times. Some of the companies also presented during the conference and were perhaps the busiest of all.
Speaking to BEST, David said: "A lot of people are trying to speak about the recycling process. A lot of companies are saying tomorrow, we will have our recycling facility. Nobody except Reiner Sojka [managing director of Accurec Recycling] is really able to explain clearly what is the recycling of lithium batteries. What type of recycling if it's portable batteries? What problem if it's EV batteries? What problem if it is production scrap? And so on. And I'm surprised the limited number of people able to explain clearly, by minute, what is the problem of recycling because there are two or three possibilities. There are two or three variations in each possibility. There is one first step to dismantle/crush the batteries. There is a second step to extract the black mass. There is a third step to transform the black mass, the metal, in car or cell-phone batteries, and there is a fourth step, to transform the precursor in co-oxide to produce new batteries."
A rising tide floats all ships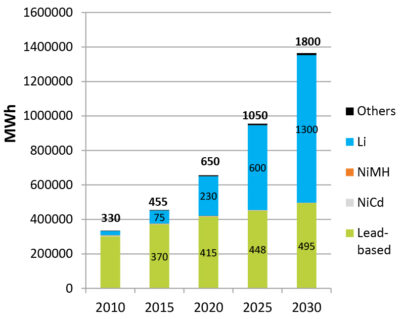 In the opening keynote, Christophe Pillot, partner and director of Avicenne Energy, said: "Lead-acid batteries are far from dead." (Fig 1) Their use is not increasing at the rate of lithium batteries but still represents more than 60% of the secondary market, with overall volume increasing in line with the overall rise in demand for storage. It is well known that lead-acid batteries are the most recycled product in the world— although we should continue to recognise that some regions have still to formalise their activities in this matter.
However, it was lithium that was the focus of this event and Pillot was the first speaker to highlight that there is no clear route for lithium recycling yet.
Several 'chance encounters' with delegates working on hydro-metallurgical processes and a number of talks from recycling companies leads this writer to wonder which of them will be the first to produce a system that works at a commercial scale.
It's how the change occurs that events like this one may well facilitate. A representative of one of the large automotive manufacturers commented that their customers buy into the company philosophy— safety, quality and care for the environment— and if they are to continue the relationship, the company needs to be seen to follow through with its promises.
How the control of the battery supply and recycling works out will also depend on the relationships that foster that philosophy. These could be with small innovators or the existing large recyclers. It is the control of the feedstock that is of greatest concern— a pattern repeated in many talks.
Jean-Pol Wiaux, chairman of the Steering Committee, said: "Manufacturers must have control of the materials supply chain."
Battery materials supply
Pillot spoke about increasing volatility in the worldwide battery and raw materials markets. He said: "Even with very conservative forecasts the growth for the battery business and the recycling business will be huge." The huge increase in demand for strategic metals such as cobalt, nickel and lithium give cause for concern and shortages could happen very fast if investments are not made in time— batteries consume 70-80% of production from mining (Fig 2) (including suitably pure nickel). Will recycling provide the shortfall? Pillot expects that in 2030 metal from recycling could account for 15-25% of the metal needs to produce lithium-ion batteries.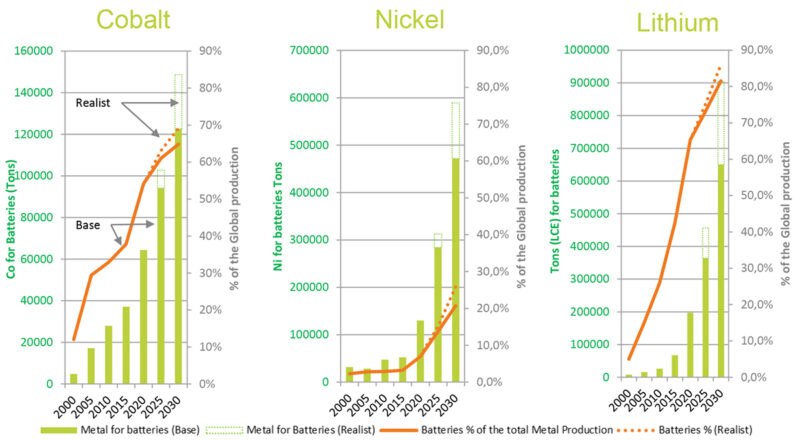 The majority of recycling today is production scrap and Pillot said that in the first year of production a factory would produce 20-30% scrap, reducing to 6-7% after a few years. Max Weeber, deputy head of center for battery cell manufacturing at Fraunhofer IPA, later contested this when he said: "The figure of 30% battery scrap in the manufacturing process is not true— it would not be profitable— it is nearer to 1%— this amounts to a 24km cargo train. Recycling is more than just automotive batteries reaching end-of-life (EoL)."
Kamila Slupek, sustainability director at Eurometaux, sees, in the EU Green Deal, a growth opportunity for metals, as the EU increases climate ambition for 2030 and 2050. The industry will need to act according to a circular economy, accelerating the shift to sustainable and smart mobility. Draft EU regulations legislate for entire lifecycle coverage; responsible and ethical sourcing of battery raw materials; and appropriate chemicals management.
The risks to human health and the environment, associated with metals used in batteries, must be controlled, but the hazardous properties are not the only consideration— disruption to the EU battery value chain must also be managed. Slupek said the important underlying message is the metal has to be recovered and made available for the next application— and the black-mass market has to be kept in Europe.
Slupek's five conclusions are:
Metals are key to Europe's battery revolution
Batteries are key enablers for the 2050 EU Green Deal ambition
The upcoming EU battery regulation is a blueprint for the future product legislation
Proposed sustainability requirements, targets and timelines should be realistic for market actors to adapt and apply
Industry needs a predictable and coherent regulatory framework for long-term investments in the EU metals and batteries production
Supply-chain control
Pillot noted that automakers want battery manufacturers located in close geographical vicinity and, in turn, the latter also need their supply chain close by and controllable.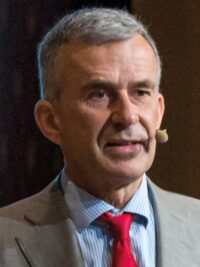 Thore Sekkenes, EBA250 programme director industry at the European Battery Alliance, said: "Europe needs to control the automotive drive chain as there are 15 million people employed in the auto industry."
During his talk he said, auto manufacturers have recognised the need to change and leave the ICE age behind; hybrid solutions are also being abandoned. There are significant factors affecting the rollout of EVs— cost, range, charging availability, time to charge, and availability of models— but charging availability is the ongoing barrier.
Around 90% of batteries produced go into electric vehicles, Sekkenes said. "Industry lacks the raw materials and recycling is behind the curve— it needs to be scaled up," said Sekkenes. "We must not wait for EV batteries to grow old because the materials are needed for remanufacture. We see only a few cars for recycling but we need to build the recycling facilities now. The cobalt in existing batteries may be enough for five new batteries. Batteries are leaking out of Europe now— we need to stop that." The story of manufacture has changed from the lowest price point to 'build locally'.
The battery is the biggest sustainability factor in an EV. Sekkenes said: "It is of fundamental importance that we cannot drive a clean car with a dirty battery. To achieve this the EU is developing new battery regulation that has three goals: strengthen the internal market; promote a circular economy; reduce environmental and social impacts. Almost half the regulations apply to recycling."
Leo Raudys, CEO and president of Call2Recylce, said: "Profitability is linked to production in the early years so volumes must exist for entry into the market. The key to success will be, who has control of the feeds. There is no business case to start a plant today because there is not enough feedstock for the refining industry process to work efficiently. You have to be sure the black mass you produce can be refined."
There is some uncertainty in relation to the amount of battery manufacturing scrap that is created. Raudys said: "There is a number of different ways in which product is quantified; manufacturers talk about GWh, then we talk about cars/number of pieces coming back, and later on we talk about tons with the recycling guys."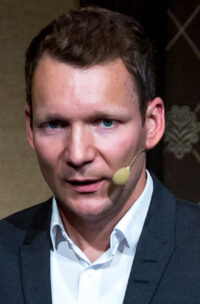 Weeber said, when it comes to second use, it is the technical aspects of repair and remanufacturing that negate this as an option. He showed the disassembly process of one pack involves removing 40 screws to release the cover and a further 59 that retain the inner parts— with eight different screw types being used. Then there is the sealant, glue and fillers holding the cover and modules in place, not forgetting the myriad of electrical connectors— hidden in the most awkward places— that need to be unplugged. And, whilst disturbing these components, the potential of thermal runaway events means worker safety is an issue. Weeber said: "If battery packs are to remain the property of the manufacturers (control of materials), design for disassembly is more likely to be a consideration than it has previously been."
In the short to medium term variety will exist but if dis- and re-assembly technologies are developed in the design stage the case for second-use could change in the longer term.
Second-life vs recycling
EV batteries are expected to last an average of 10-12 years and then, many believe, go into second-life applications. Acknowledging his view as contrary to the expectation of many in the room, Pillot believes that second life will delay their availability for recycling by only 2-4 years. He said it will probably not be a success because the price of lithium batteries is decreasing and energy density is increasing, at 5-6% per year— a 10-year-old battery will be 2-3 times less energy dense than a new one. Meanwhile, the costs associated with ensuring a safe second life are not insignificant. Dismantling, testing, and cell selection for common state-of-health will result in a battery price similar to a new battery. Pillot said recycling businesses would be profitable for chemistries such as NMC but less so for LFP.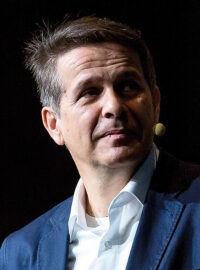 It is the second life of LFP that is of interest to Nils Steinbrecher, MD of TES. He said, climate change is the challenge, and part of the reason we are here at the conference. He reminded the audience of a Stephen Covey quote: 'Begin with the end in mind', and said: "We must design batteries with the end in mind". LFP batteries are advantageous in second-life applications because they have low raw material costs, long lifespan, thermal stability, non-toxicity and reduced fire hazards. In the year 2020-21, LFP increased its share of the market by 5% to 25% of global cathode material production.
For second-life applications, the BMS is a challenge— but it is feasible. Manufacturers want to keep the data, if not secret, at least confidential. It is this that presents the first challenge to repurposers and recyclers. Hydro-metallurgical processes can be suitable for recycling LFP but are not yet available at scale, whilst pyro processes consume large amounts of energy and will only recover copper and lithium. In China, LFP recycling is subsidised by the government, but who, Steinbrecher asked, will be the first in Europe? The proposed Battery Passport should help identify the various chemistries, but the auto manufacturers say there are safety implications to releasing the information.
Johan van Peperzeel, who chaired the first Recycling Processes and Technologies session, said: "The European material safety data sheet (MSDS) should have all the chemistry in it, how it is built up, etcetera. If it is not, you are not complying with the law." He noted the MSDS vary significantly in detail from country to country.
For companies that want to demonstrate they have a focus on CO2 reduction, Stefan Bahamonde, co-founder and CEO of Libatttion AG, said, companies could mitigate their CO2 with the use of second-life battery systems. The company offers a battery-as-a-service model for companies operating fleets of e-systems.
Best route for recycling
Pillot said there is no clear route for lithium recycling, yet. The case for hydro, pyro and mechanical recycling continues. Great expense and energy has gone into purifying metals for use in first life to ensure a safe and long life— and a number of direct recycling offerings are attempting to make use of the previous work by rejuvenating the cathode materials.
The sorting of batteries from different waste streams varies considerably. An EV battery can be readily identified for its chemistry, state-of-health and other factors determining its use in second life— if the manufacturer allows the data to be released from the BMS. It is the portable batteries that present a challenge to recyclers because, as Anthonies Joseph, chief business development officer at Linev Adani, said: "The quality of the final product processing directly depends on the quality of the sorting. We should bear in mind that the higher purity of sorting should reduce the risk of emergencies such as explosions and fires in lithium battery recycling plants."
The company has developed an x-ray sorting method, which means corroded or unmarked batteries are no longer a challenge. The fully automated technology allows for the accurate assessment of the real chemistry of the battery— regardless of labelling. Linev claims the technology overcomes the problems experienced with manual, optical, magnetic and weight/conductivity sorting.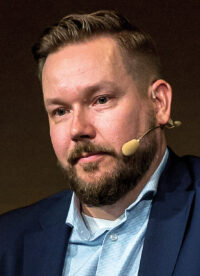 Tero Hollander of Fortum Waste Solutions asked, what is necessary to create a sustainable battery value chain? To this end, Fortum has created a one-stop-shop for sustainable, low-CO2 battery materials involving local and international companies— with CO2-free energy for charging EV batteries. The company has a solution to extend the life of batteries by combining the instant response of batteries with hydropower, which has a 90-second response.
When they reach EoL a low CO2 recycling solution makes more than 80% of the battery recyclable. The company is concentrating on e-mobility batteries, achieving a recovery rate up to 95% of the critical metals in the active materials of a battery's black mass. The process produces a technical-grade product, which requires further refining for use in future batteries. One big issue is the moving of the waste because EoL batteries are considered hazardous waste and permitting varies according to country.
Jean-Christophe Lambert, business development manager of Lithion Recycling, said, the company uses a mechanical separation followed by a hydrometallurgical process capable of recycling 95% of lithium-ion battery components. Running since Q1 2020 the company's industrial-scale demo plant has a capacity of 200mt/year. The spoke and hub process is feedstock-agnostic with modules being crushed at any SoC and SoH— no sorting is required.
Zheng Li, co-CEO and chief science officer of Li Industries, said: "Although predictions differ significantly, they all show market demand for lithium battery materials will at least triple in the next ten years. However, this creates environmental and sustainability issues with the critical materials supply chain. Direct recycling simplifies the cathode materials recovery process, retaining much of the resource-intensive work that has been performed on the materials by earlier manufacture, enabling them to be directly reused in battery manufacture." After sorting, the waste is fully deactivated and cut open. Cathode materials are then recovered and regenerated using scalable processes drawn from existing lithium-ion battery production.
Supply chain transparency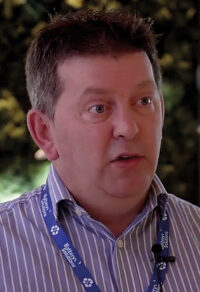 Key to all the materials supply chain is the traceability of materials used in battery production. Fearghal Kearney of Circulor said: "Fund managers and pension fund holders are now forcing, publicly funded companies in particular, to change how they do things and become more transparent."
Circulor offers transparency as a service by assigning a digital identity to a commodity and tracking the supply chain data and embedded carbon at each stage of production, recycling and end-of-life. This provides full visibility across opaque and complex supply chains, tying in with the EU battery regulation for proving the source of all materials— both virgin and recycled.
Kearney said: "Recycled nickel and cobalt is significantly less damaging to the environment than extracting. Extracting nickel is a dirty business. The amount of carbon Kgs per ton of nickel can vary depending on where the nickel comes from. If it's coming from Western Australia it tends to be fairly OK, if it's coming from Indonesia, where it's repurposed from a different class of nickel, then it's six times [more damaging]— that's very punishing on the environment.
"There is a lot of smoke and mirrors going on in the markets in terms of sustainability messaging and claims on the markets by how green their supply chains are. As prices fluctuate there can be a hidden motivation to taint clean product with cheaper, more polluting product."
Safety
The auto manufacturers have a concern that to ensure the safety of workers, the disassembly of packs should only be done by professional, trained experts, acting on the manufacturers' behalf. This is a matter of product responsibility and safety— to avoid some of the past incidents.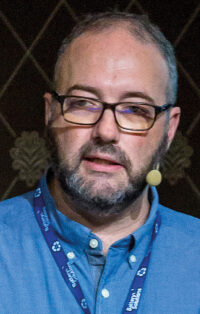 When a used pack arrives for evaluation, state-of-charge and state-of-health need to be quantified to determine suitability for either second-life or recycling. Shawn Murphy of Titan Advanced Energy Solutions gave an energetic presentation about the speed at which their technology is able to evaluate a battery pack. The company is an MIT spinoff that has been working under the radar for the last six years on a SoH diagnostics system using ultrasound. They are now ready to demonstrate their portable system that can give results in a matter of seconds, with average errors of less than 1%. This compares with 1-2 days when grading with expensive battery cyclers.
With no clear route to recycling lithium batteries, some of the key factors for the recycling industry to consider are: design for disassembly; diagnosis— to direct reusable batteries to second life; sorting— to create cleaner fractions; black mass assaying— to determine what is in the waste (or not waste) product; block chain tracking— to ensure what starts the journey finishes in the same state; localised control of the supply chain for manufacturers.
What's happening in the world of black mass?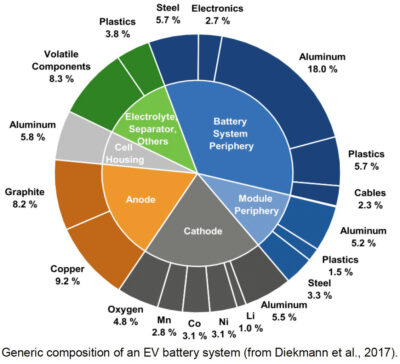 The 26th ICBR was concluded for a small number of delegates with a Friday morning workshop on black mass. The crushing, shredding, and grinding mechanisms applied to end-of-life batteries create what has become known as a black mass. But what exactly is black mass? How many types of black mass are there? One, or an unlimited number? Is recyclable waste a resource or a problem?
Laurance Donnelly, head of technical services and geologist at Alfred H Knight, has been evaluating black mass, which is already an internationally tradable product. The company has sampled, inspected and assayed black mass from China, Europe, the USA and Canada— and found significant differences between the samples. They use a number of techniques to understand the physiochemical characteristics including automated SED-EMS integrated with x-ray computed tomography for 3D morphology. 'Unexpected content' in some of the samples raises questions over contamination, whilst other contents such as copper foil is impurities that show the processes still need work.
Alain Vassart, senior project manager at Arcadis, examined the legal question of whether or not the black mass is waste. There are measures that determine if the substance is a by-product and meets the end-of-waste criteria. Unless you have a use for the entire quantity and no further refining is required, the criteria are unlikely to be met— simply grinding up dead batteries creates a waste, not a product. The indications are that it will be considered hazardous waste.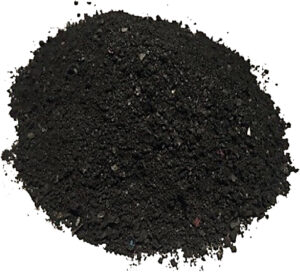 Reiner Sojka, managing director of Accurec Recycling, said, black mass varies in a very broad combination of elements and hazards, we should be more precise in how we talk about this. Black mass is not the end of recycling, it is the start of recycling and the efforts we have to put in over the few next years are finding the most energy and material-efficient processes to get metals out of waste to reintegrate into a circular economy.