Governments around the world are committing to reducing carbon emissions. Dr Mike McDonagh looks at the broader picture and asks if existing battery technology is up to the decarbonisation task or whether new technologies are still required to meet the latest policies in light of an increasingly energy-hungry population.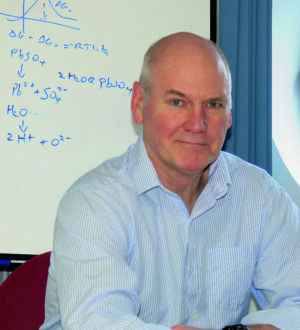 In the Winter 2022 edition of BEST, I wrote an article questioning the current wisdom of developing better, cheaper batteries with greater range and faster-charging capability in order to persuade the general public to purchase personal EVs. In this article, I stray a little from the pure battery aspects of reducing CO2 emissions and look at a broader picture that encompasses other important factors that need to be considered when attempting to reduce atmospheric CO2 buildup. There are four major influences on the concentration of atmospheric CO2; these are:
Transport

Energy generation

Domestic and agricultural activity

Biological absorption of CO2 and synthetic methods of carbon capture
For the BEST article, I focussed on those areas where battery technology plays a leading role in achieving the required reductions. In this opinion piece, I have endeavoured to highlight the contribution of the battery-led solutions to the larger canvas of measures being pursued. This is not exhaustive, and any conclusions that I draw are entirely my own and do not reflect any editorial policy of BEST.
The UK as a model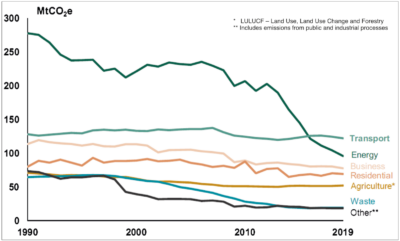 As I live in the UK, it makes sense for me to use it as a model for tackling CO2 emissions globally. At COP 26 this year the UK government committed to achieving net-zero carbon emissions by 2050. An interim target of 78% reduction in emissions (compared to 1990 emissions) is scheduled for 2035. Fig 1 shows the contribution, by energy sector, to the total CO2 emissions in the UK. According to the DOT, GHG emissions in the UK totalled 455 MtCO2 in 2019.
Of this, transport had the highest contribution— 27% of all emissions. Within this, cars and taxis accounted for 61%, providing a whopping 75Mt— almost 17% of the total. This means that cars and taxis alone contribute almost as much GHG equivalent to the atmosphere as the whole of the national energy production. If we add in all road vehicles such as HGVs and vans, then the contribution becomes nearly 25% of the country's total (Fig 2).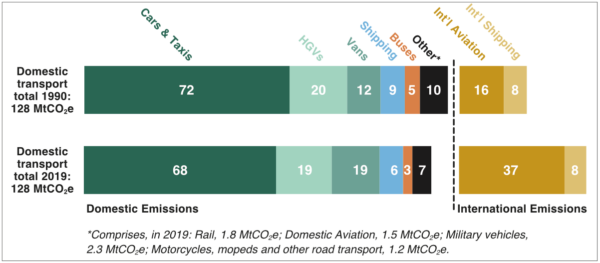 The problem of electrification
The electrification of vehicles and its associated problems are discussed in detail in the article. This explains the problems of infrastructure and the sheer scale of the power and energy hike needed to support any substantial increase in EV use. For instance, if we look at the power and energy requirements to charge one million 80KWh EVs by 50% say once per week in 15 minutes, this would require an electrical power supply of 160KW per car for 15 minutes. For one million cars this would be 160GW. For reference, our entire national grid has a peak output of about 70GW. Of course, not all cars would be on charge at the same time, and on average it would be only once per week. This figure can be divided by seven for the days in the week and again by say 20 hours in the day. We now have a value of around 1.5GW per million cars. We could divide this again by four if we could guarantee that every car charging incident was equally distributed at 15-minute intervals.
That situation is also unlikely, as most charging would probably occur at similar times of the day and probably a small majority would be on domestic chargers, mostly overnight. These chargers would charge in say 10 hours, possibly five times per week at a rate of 1KW, which would reduce the power output requirement. However, the other 50% of EVs would be charging in bigger clusters, which would raise the peak. What is evident is that the solving of this requires as much speculation as it does statistical modelling.
In order to reach, for example, 50% of the total vehicle market it would require the population to purchase around 20 million EVs between now and 2030. We would then have an unlikely potential load of 3,200GW, or 3.2TW, if all cars were to charge at once. This is clearly never going to happen and, using the above assumptions as guidelines, it is more likely that we will need an extra capacity of 1.5 x 20 = 30GW of extra electricity generation. This, on top of the UK's existing maximum of 70GW of output, represents an increase of 43% in under 10 years.
Even with this massive shift, it still only gives us a 50% traffic emissions reduction— not the 2030 68% target. To make matters more difficult, this increase in generation has to be achieved with zero GHG emissions. And this is on top of the plan to decarbonise the national grid by replacing existing gas and coal generators with renewable energy and nuclear power stations.
Performance versus size
The article also discussed the logic of investing in R&D to produce better performing, higher energy density EV batteries for privately owned electric cars. It proposed shifting the emphasis to public transport improvement. Rather than maximising battery performance, we could simply use bigger batteries on redesigned electric HGVs (HGEVs), buses and coaches. Ranges could feasibly be 400 miles, fewer charging stations would be needed; in fact, haulage and transport companies should have their own charging facilities. More freight could be moved by rail (electrified of course) with local HGEVs used for delivery and collection/distribution to and from rail freight centres. More people would be using public transport due to better local and national services, resulting in fewer cars and fewer charging points on roads and lower total power generation.
Energy storage and distribution is another major factor here. Just looking at current figures for the UK we have a national peak electricity demand of 70 gigawatts— for about four hours per day. For the other 20 hours, we have a cruising load of around 28 gigawatts. This is a total energy requirement of 70GW x 4h + 28GW x 20h = 840GWh per day. Spread over 24 hours, this would be 35GW continuous output.
On average, in 20 hours, it would generate an additional 20 x (35-28) = 140GWh of stored energy. This additional energy could be released from the existing BESS technologies (Fig 3), at a rate of 35GW for the four hours a day required to meet the 70GW maximum. This means that with a national energy storage capacity of just 140GWh, we only need to have an installed energy generation capacity of 35GW.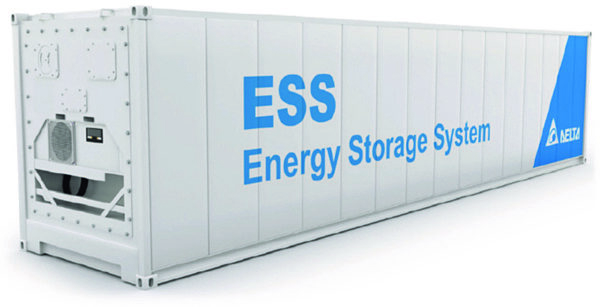 In other words, with existing and cheap battery energy storage chemistries, we could halve the UK's current total power generation. And looking ahead, the total power requirement with a 50% EV take-up, reduces from 100GW to around 65GW, i.e., less than the current UK energy generation requirement. This would be a truly remarkable achievement; all made possible by battery energy storage. This is a very elementary calculation; any other factors such as supply efficiency, maintenance and downtime, etcetera, will increase this figure, but it will be a low percentage. However, it does clearly demonstrate that we need to use existing battery technologies as possibly the most important part of our energy strategy.
Implementation factors
The all-important questions of cost, and availability of batteries to provide the energy storage for power generation and EVs, need to be addressed. Going back to the earlier discussion, we can use existing and low-cost electrochemical storage technology, both for EVs and for energy storage.
For energy storage, the energy density is largely irrelevant. The space taken up by any battery chemistry is far less than wind turbine or solar panel generators. Cost is the most important issue for this application. This is where lead-acid and zinc-based batteries require a far lower capital investment than high energy density lithium-ion chemistries. And, lest we forget, those persistent twin thorns of lithium-ion battery recyclability and safety are still found— swept underneath the clean energy carpet.
However, within the lithium genre, we do have the LiFePO4 design to consider. This type of battery is relatively safe and potentially recyclable with the added benefit that we do not need to dig up minerals like cobalt, manganese, etc. from sources like the Congo and the ocean beds, then transport them around the globe.
Balancing the equation
Reducing GHG emissions at source is an important step; equally important is the absorption of CO2 and the associated regeneration of oxygen. Even if we achieved our net-zero emission goals, we will still need surplus oxygen, even if only to sustain organic life. There are welcome plans to plant more trees in the UK, but have we really understood the enormity of the task just to process the emissions let alone generate enough oxygen to breathe?

The scope of the task has to include the natural absorption of CO2 by photosynthesis. This is a very straightforward chemical reaction made possible by a naturally occurring organic machine that uses free sunlight to mop up CO2, and, at the same time, push used oxygen back into the atmosphere. This provides a far better ROI than our physical methods of carbon capture.
The net-zero emissions target takes into account the biomass available in the UK. It is the arithmetic sum of the amount of GHGs generated, minus the amount absorbed. Again, some straightforward numbers give us a reasonable idea of the amount of carbon removed from the gross emission figure by just trees alone.
According to the UK forestry commission, there are around three billion trees in the UK. On average, a mature tree will synthesise around 21Kg of CO2 per year. Taking our current emissions as 455Mt CO2 per annum and dividing by 21 Kgs we get a requirement of 2.12×1010 or 21 billion trees to get us to carbon neutral. We can deduct the three billion that we already have, leaving a mere 19 billion trees to plant in order to suck up all the current CO2 emissions.
Apart from the logistics of the planting exercise, how much area would be needed to accommodate this extra forestry? According to the Centre for Sustainable Health Care (nhsforest.org), typical forestry planting densities are around 2,000 trees per hectare. To plant 19 billion would need 9.5 million hectares of land, or the equivalent of 11 North Yorkshire counties worth, or more dramatically, close to one half of the total UK land area.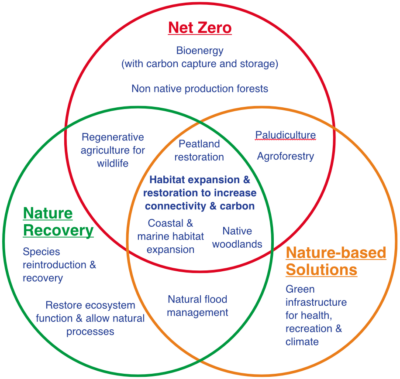 Luckily, there are other carbon sinks including grasslands, heaths, hedgerows, coastal tributaries and surrounding seas that also contribute (Fig 4). We also are reducing emissions to reduce the burden. In all, we can expect the number of trees required would be reduced to about one-quarter of this value— if future emissions were halved. We would only need to plant a further five billion trees by 2050, which is a mere three North Yorkshire sized areas. The planting rate, however, would need to be around 167 million trees or 83,000 hectares per year. This compares with the government scheme of 30,000 hectares per year. Another problem is the 21Kg absorption per annum for one tree is based on a mature tree of at least 15-years of growth. Later planted trees would be relatively ineffective. In all, it means we need to reduce our emissions by a lot more than 50%; in fact, it would be closer to 90% by 2050.
Paying to breathe
That is fine for our emissions, but we still need to breathe. Taking into account human and other biological entities breathing out CO2 in our net figures would provide us with a more accurate net-zero condition. Since we breathe out around 1kg of CO2 per day, 365 days per year, with a population of 70 million (and growing) that's about 26 million tonnes per annum of CO2 to be dealt with. Another 1.22 billion trees (600,000 hectares of land) would be needed to make us self-sufficient in oxygen to breathe. Unfortunately, the biological effectiveness of trees as a method of carbon sequestration is a changing picture.
As Fig 5 shows the effectiveness of trees as a net absorber of CO2 peaks within a couple of decades, after which it starts to become a net store rather than a sequester of carbon. We also have to consider the survival rate of newly planted tree saplings, which is in the ballpark of 50-70%. This could point to a doubling of the tree numbers calculated above. However, it is based on assumptions of EV take-up and driving patterns, which, frankly, are at odds with reality.
Oxygen, however, is a constituent of the atmosphere and every country in the world both contributes to and subtracts from that oxygen store. O2 depletion and CO2 build-up are global, not national problems. One of the questions from COP26 was how to dissuade less-developed countries from replacing their forests with revenue-earning agricultural activity. Whilst this is a political issue, there is a possible solution based on using oxygen as a resource. The burning of any fossil fuel will require one vital ingredient, O2. This is currently free to everyone despite its country of origin. The reason why we pay for coal, methane gas etc. is that it has to be extracted and shipped. It also can be stored and withheld in order to obtain payment. Oxygen produced by trees is not so easy to contain and hold, despite it being an essential ingredient in fuel combustion.
However, it could be argued that industrialised countries should pay for their usage and remunerate those countries that have the forests and process the CO2 into oxygen. At the moment we are losing global forests at the rate of 10 million hectares per year (Food and Agriculture Organisation United Nations), which is more than 300 times the UK's planting target. A lot of countries would have to plant a lot of trees just to keep up with the global losses, let alone achieve net-zero per country.
So how do we persuade emerging economies to keep their forests and to not do as we have done – that is, grow rich by chopping down our trees for products or profitable land use? Using oxygen as a combustion component with a cost could be a new source of income for businesses of emerging economies, particularly those already engaged in deforestation activities.
This would have the effect of encouraging reforestation rather than deforestation— provided the financial incentive was at least the same as that of farming equivalent areas of forest land. It would be easy enough to check on the activity by using satellite pictures to measure forest areas.
The contributions from developed countries could be made through world trade levies or taxation methods based on, for example, area and type of forestation. It would obviously need political will and agreement, and I do not underestimate the difficulty of agreement on who contributes and how much should be contributed, but it could supplement, or even replace, foreign aid (albeit at a higher level), for many countries.
There will be a net cost to this, but countries are investing vast fortunes in developing carbon-reducing and capture technology. Unfortunately, this is one highly sensitive political area that does not lend itself to logical financial calculation.
It would also place a larger burden to succeed on our politicians and governments— rather than solely on the technologists and scientists who are currently shouldering the brunt of responsibility for our planet's atmospheric composition.
It's a mad, mad race
At the moment, the impression we have is that there is a madcap race down many technological alleys, some of which are blind and some may even be leading to a cliff edge. The other impression is that all governments have no clear direction and are simply throwing money at anything vaguely associated with reducing fossil fuel dependency. This is presumably in the hope that some beneficial technologies will emerge, giving them some political vote-winning kudos for future elections.
I hope the analysis I have given, although rudimentary, does back up with numbers at least, a credible approach to reducing the CO2 build-up in our atmosphere.