Most modern high energy batteries, not only Li-ion, contain highly reactive and potentially explosive chemicals as exemplified by the recent Boeing incident. Testing techniques exist that can predict these problems yet are rarely used and not widely understood. The most important of the tests aim to define the safe working limits: safe temperature, maximum discharge current and maximum safe voltage. Yet some of these parameters are often missing on battery data sheets and even when they are quoted, there is little supporting evidence. Jasbir Singh of HEL Ltd describes how that information can be obtained.
These important working parameters are often mixed up with the whole range of so-called "abuse" tests that are specified for Li-ion batteries. In reality these particular "abuse" tests are special, both because they are much more fundamental to the use of batteries and because the data can only be obtained on special equipment, called an adiabatic calorimeter.
This article will present the main "abuse" tests designed to understand fire and explosion risk resulting in thermal runaway of commercial Li-ion and other modern batteries.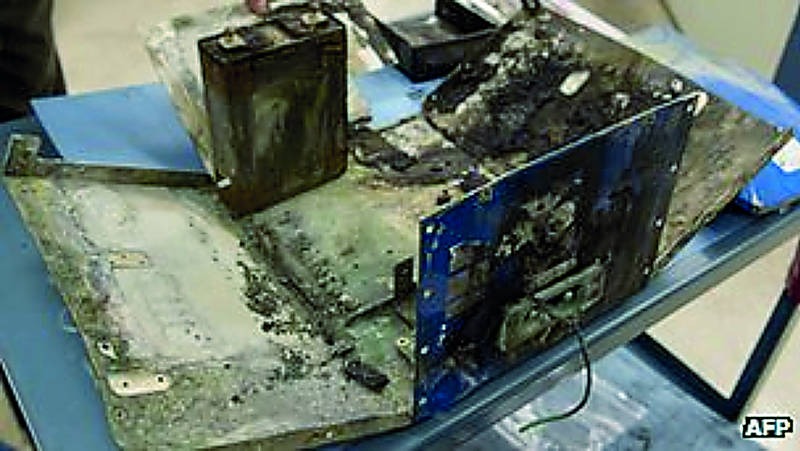 Discussion will also focus on an important issue that is not addressed by "abuse" tests, namely the prevention of these problems through a better understanding and design of batteries and heat management systems. A new experimental method will be presented, isothermal calorimetry, which can address this.
Small scale fires involving new batteries, exemplified by, for example, the recent grounding of the entire fleet of Boeing 787-Dreamliners, has already illustrated the fact that Li-ion batteries are potentially dangerous. The United States' FAA has listed 132 previous aircraft incidents between 1991 and 2012 that involved "smoke, fire, extreme heat or explosion" in which battery powered devices were implicated and 62 of these incidents involved Li-Ion batteries. The result of the Boeing incident, (see figure 1), was rather confined and though expensive for the companies involved, it did not lead to any injuries. This will not always be the case and when larger numbers of more powerful cells are used, for example in EVs, the situation can be far more serious. Commercial pressures such as the need to drive EVs more quickly, over greater distances and charge the batteries in minutes rather than hours, will increase the importance of battery testing.
The safety testing of batteries is defined in various procedures and some of this data is, for example, necessary before the batteries can be shipped. These tests mostly involve subjecting batteries to extreme conditions (such as falling from a height, exposure to fire or crushing) and hence are described as "abuse" tests. However, some of the most important tests need to be done in a special device called an adiabatic calorimeter while others require no defined apparatus and test methods can be set up to suit the battery size and potential hazard.
One of the most widely quoted procedures for abuse testing is produced by SAE International (ref 1) and another is by Sandia National Laboratories (ref 2). Most of the tests in these guides are quite similar. Typically the abuse tests are divided into three categories with several different tests in each:
Mechanical Abuse
Tests in this category include shock, drop, penetration, roll-over, immersion and crush. Penetration is one of the important tests due to the severity of hazard that can result as the battery is internally shorted (by penetration with metallic nail) and all the energy stored in the battery can be released within seconds, potentially leading to a rapid temperature rise followed by a fire or explosion.
Thermal Abuse
These tests include high temperature (essentially fire) exposure, thermal stability, temperature cycling (without thermal management), and passive propagation resistance.
Thermal stability is by far the most important and complex of these and without an adiabatic calorimeter the data is meaningless, as will be explained later. The objective of the test is to specify the maximum temperature at which a battery can safely be used but if this is not measured in the adiabatic calorimeter the figure reported will higher than is actually true.
Electrical Abuse
Tests in this category include short circuit, overcharge voltage, over-discharge current and separator shut-down. The objective of short circuit and separator shut down is simply to demonstrate the consequence off these faults in the battery. The tests need to be performed in a protective environment as consequences similar to shortening by nail penetration are possible. The overcharge (ie the safe maximum voltage) and over-discharge (ie the maximum safe discharging current), are important in defining the normal use of a battery and hence the figures are worthy of special care. To get reliable values, the test must be performed adiabatically. This will define the working boundaries of the battery and consequences of exceeding those boundaries. This is similar to the thermal stability test, which defines the safe temperature boundary, using also an adiabatic calorimeter.
As a consequence, adiabatic calorimeters are slowly becoming an accepted way to test the safe working boundaries, of batteries primarily because they represent an acceptable "worst case" approximation of the conditions under which batteries are likely to be used. It is a special piece of equipment for performing an important few "abuse" tests.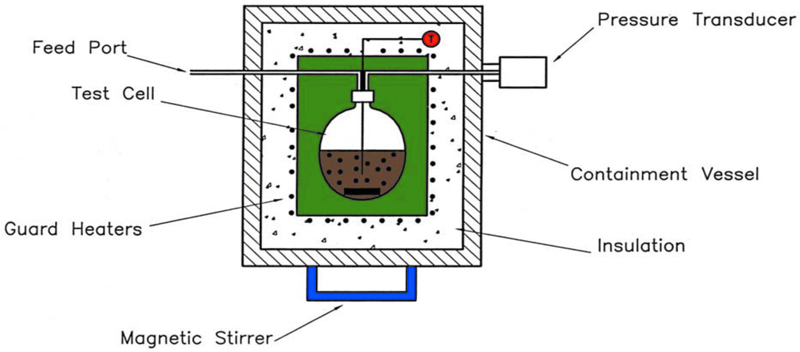 The first commercial version the adiabatic calorimeter was the "ARC" developed by Dow Chemical in the late 1970s and although it has long ceased to exist, the name continues to be used (ref 3). Essentially, these calorimeters allow the heat generated by the mal-function of a battery to be retained within the battery so that its temperature rises in proportion to the heat liberated and thus enables the consequences of malfunction to be realistically and unambiguously measured. In extreme cases, the temperature can continue to rise more and more quickly (often called a thermal runaway) leading to the generation of vast amounts of toxic chemical gases and the battery can physically disintegrate and possibly catch fire too. This is therefore a realistic simulation of an accident, using real battery samples, but performed in a laboratory and possibly photographed.
Abuse Testing and Adiabatic Calorimeters – how and why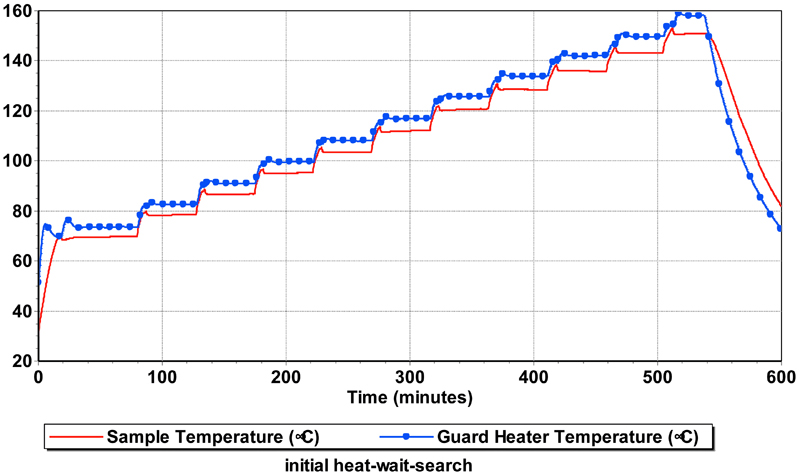 An adiabatic calorimeter is essentially an electronic "oven" consisting of several "guard heaters" which control the oven temperature distribution such that heat loss from the test battery is prevented, see figure 2. The oven temperature relative to that of the battery has to be changed as the test is conducted at different temperatures and as the battery starts to self-heat (or thermally runaway).
The most common test determines the battery temperature at which problems of thermal runaway start and hence defines the maximum safe temperature. This involves use of a heat-wait-search (HWS) procedure that starts by heating the sample in small steps (see figure 3) and at the end of each step, the system "waits" to see if the battery is generating heat that can be measured by a temperature rise (so called "search" step). The data in figure 3 shows that the sample being tested, did not thermally runaway at any temperature.
Doing the same "abuse" test without an adiabatic calorimeter would have three main drawbacks:
The correct maximum safe temperature would not be determined. More likely a temperature higher than the safe figure would be obtained (ie the battery would be perceived to be less hazardous).
The consequences of the thermal runaway would be understated in terms of severity and speed of incident. For example how hot the battery gets, the amount of fumes generated, the damage to the battery itself and of course how long it takes to produce these conditions would be less severe in a non-calorimetry test.
A custom-built calorimeter provides a safe environment for operators to carry out the tests. The absence of such provisions can present a serious hazard to the operators.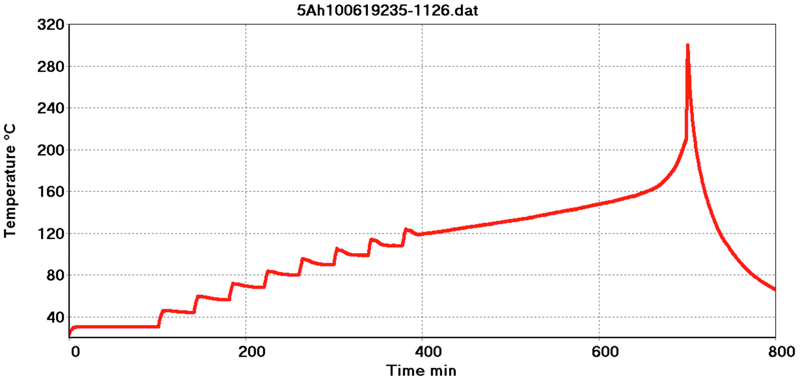 When large batteries and packs need to be tested, a custom calorimeter design is required and the Battery Testing Calorimeter (BTC) is specifically designed for this purpose – see figure 4 -where a normal lead-acid car battery is shown for scale only. This instrument has space for battery units measuring, if necessary, up to 50cm and 50cm high (though normal versions are smaller) and as a result is constructed from thick steel plates to ensure safety under fire and explosion conditions.
Safe working temperature and thermal runaway of batteries
The heat-wait-search procedure described earlier can be used with cells and large battery packs alike to determine the maximum safe temperature.
The test data for a pouch type Li-ion battery with a 5Ah rating is shown in figure 5.
In this experiment the "search" procedure starts at around 35C and since no heat generation is detected (temperature remains constant) the battery is heated again. This stepwise heating followed by a wait period before search, is repeated until self-heating within the battery can be detected (at around 120C); this is essentially the maximum safe temperature.
When this point is detected, the instrument simply controls the oven (or guard heaters) so that adiabatic conditions are maintained, which means that the battery keeps heating itself until chemicals are consumed or more likely, it blows up or catches fire, often generating lots of toxic products at the same time.
In most cases (as here), the pouch will rupture at some elevated temperature and this often gives the impression that the runaway has stopped – see the sudden fall in temperature after exceeding 300C, in figure 5. This fall is often due to the thermocouples measuring the temperature being moved so that they are no longer in close contact with the battery and not because the runway has stopped. The state of the battery before and after the runaway is shown in figure 6.
Overcharging and Over-discharging limits leading to battery explosion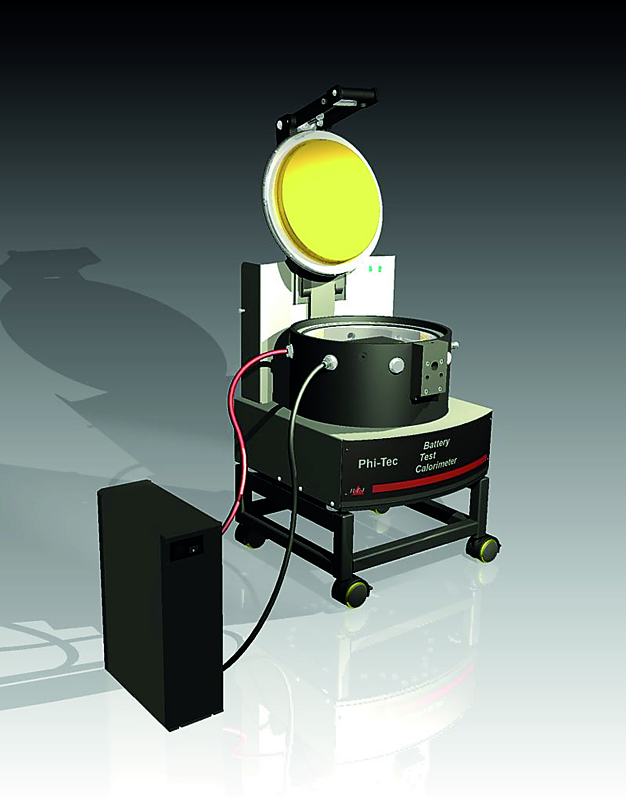 While the thermal stability of normal (undamaged) batteries is of huge interest it is also important to determine how the results change under abnormal conditions or when a battery is charged and discharged at too fast a rate. There are huge commercial pressures to speed up charging/discharging; in the context of EVs, charging is the equivalent of filling a tank with fuel and the discharge rate determines the car speed. If the battery is connected to a cycler while placed in the BTC (see figure 7), changes in the battery temperature during charging/discharging cycles can be measured. The cycler can be programmed to repeat this operation for many days and thereby also provide information about the longer term stability of the battery.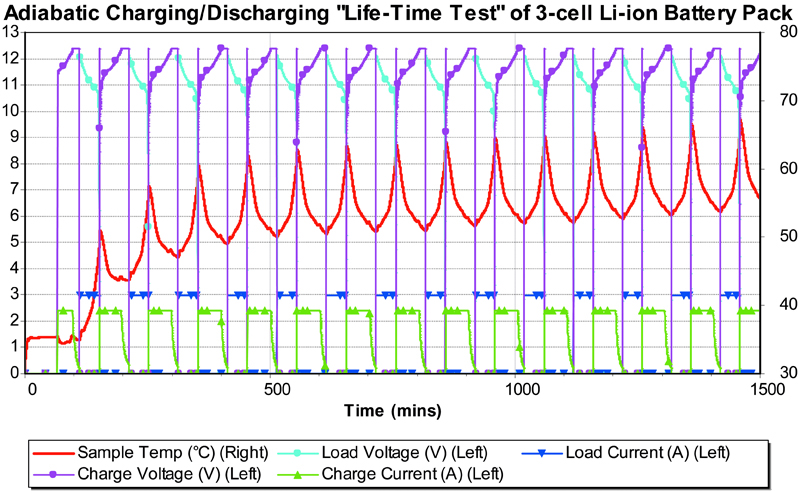 The advantage of placing the battery sample in the BTC during such a test is that the temperature changes will indicate accurately the energy changes taking place in what is close to being a worst case situation where no cooling of the battery is taking place. Results for a 3-cell, 2.2Ah Li-ion polymer battery are shown in figure 8.
During charging (at 2A), the battery cools (endothermic reaction) and when discharging (at 3A) heat is produced leading to a rise in temperature. However, overall, there is a rise in temperature after each cycle as the discharge produces much more heat than the cooling effect of charging. Eventually the temperature stabilises at between 55 and 65C.
In this example, the charging/discharging currents are quite safe and although the battery temperature rises, it does not lead to a problem and safe long term cycling is demonstrated.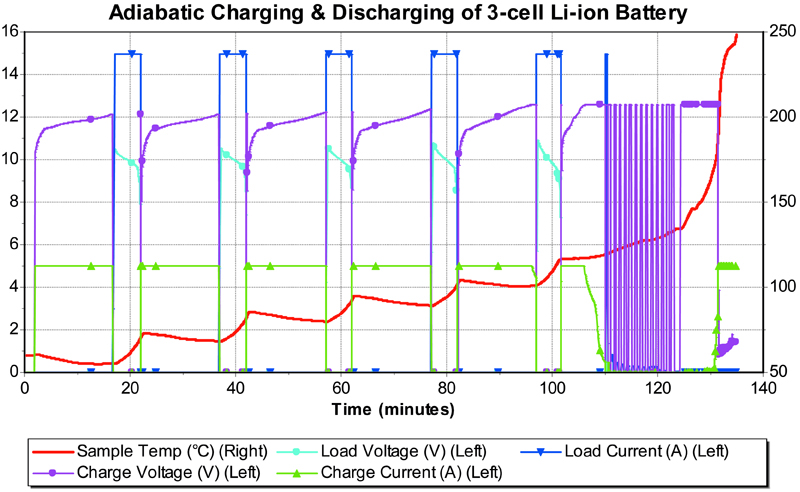 The same battery was then subjected to higher charging and discharging currents, again while inside the BTC. As before, the temperature rises during discharging (now 15A) and falls during charging (now 5A), but overall there is now a continued rise in temperature and after only a few cycles the battery goes into thermal runaway – the temperature being around 110C when it does so.
At this elevated temperature the battery quickly develops an internal short and therefore can no longer be charged. As a resultthe cycler switches back and forth frantically (hence the pink lines). The results are shown in figure 9. The BTC can also be fitted with a video camera and some selected images from this are shown in figure 10.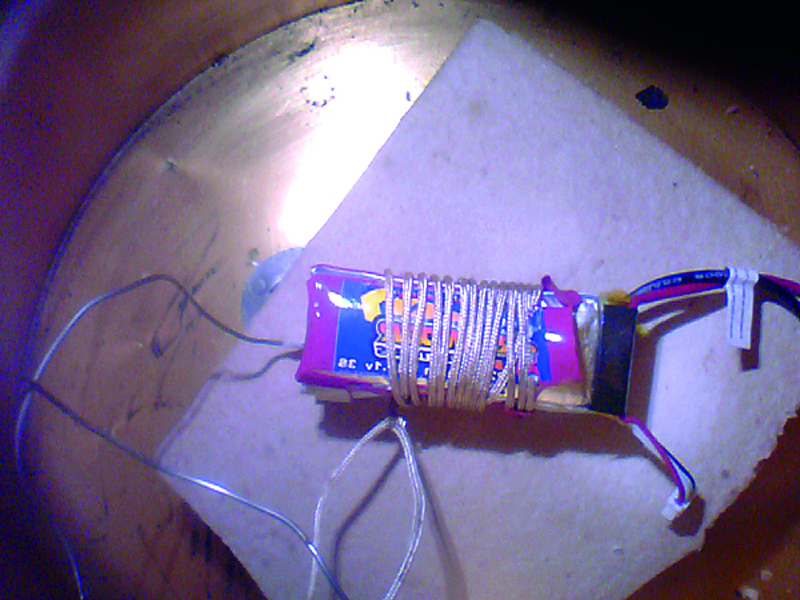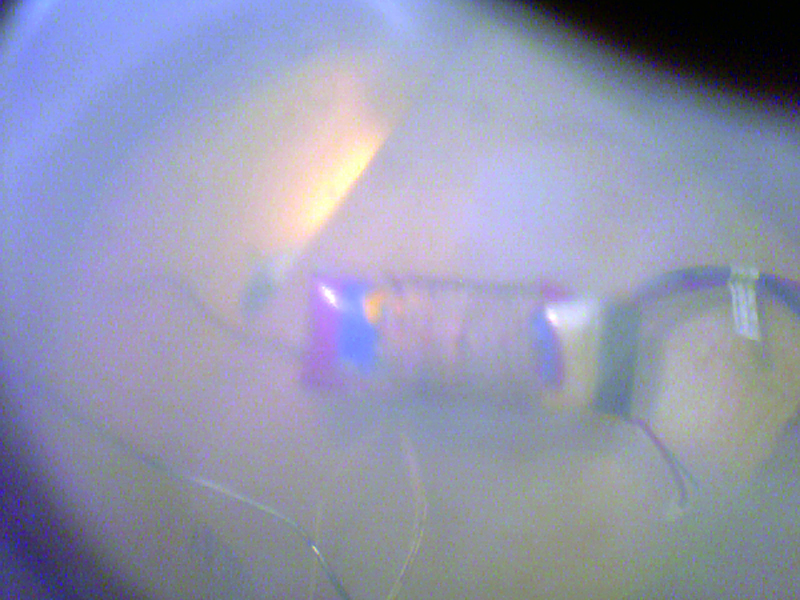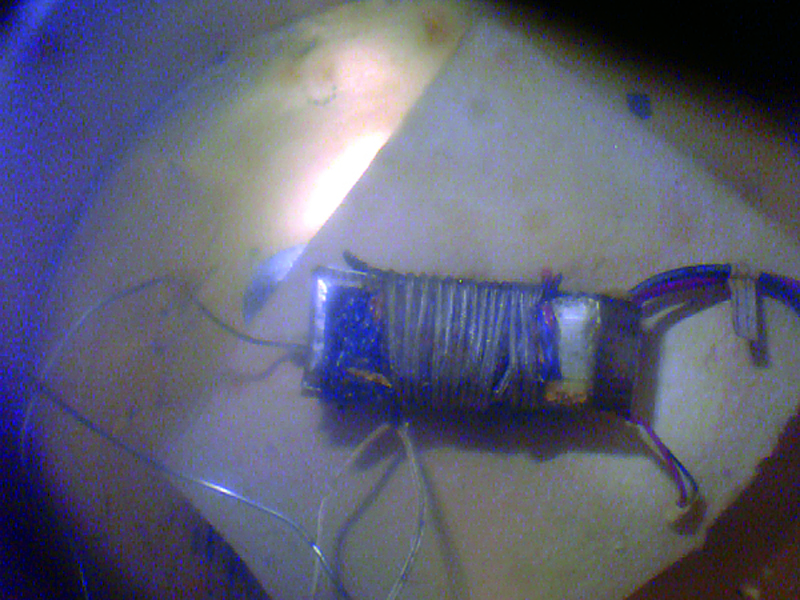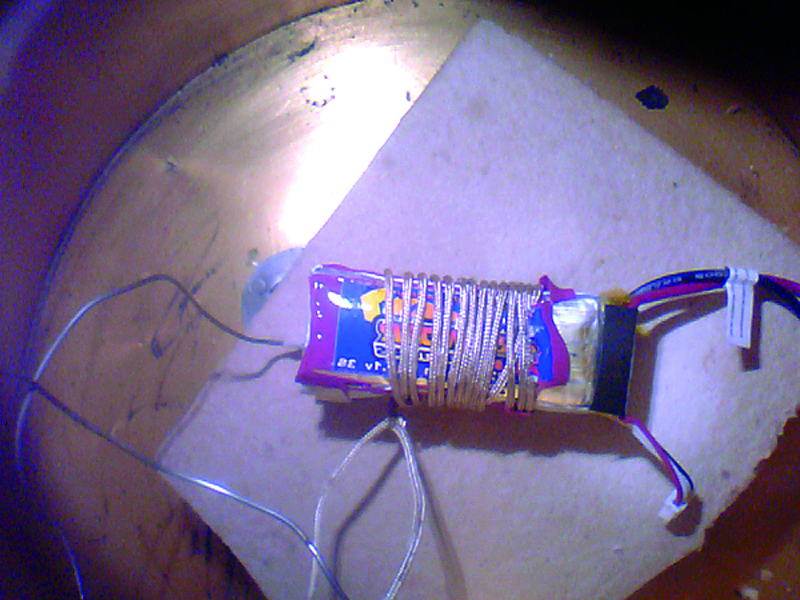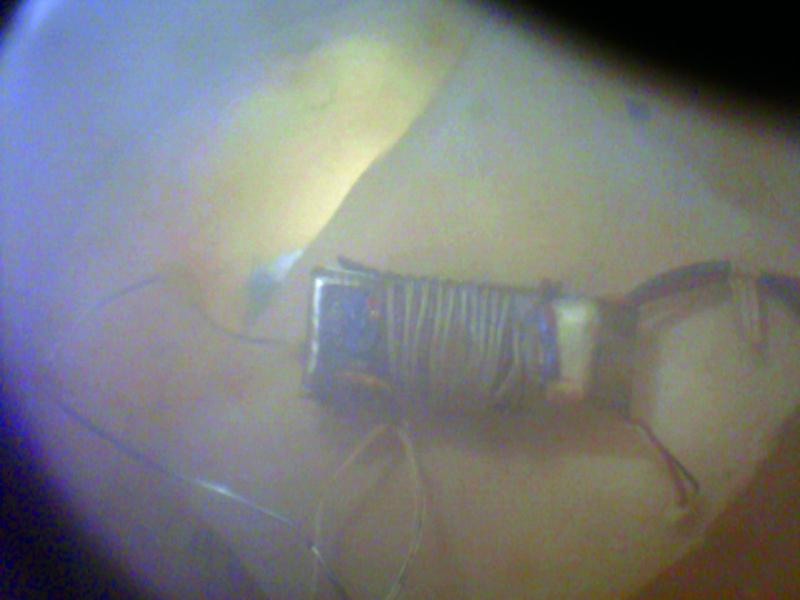 Clearly, at this discharge current, the battery would most definitely need to be cooled to prevent runaway, though the cooling duty is not known from this test.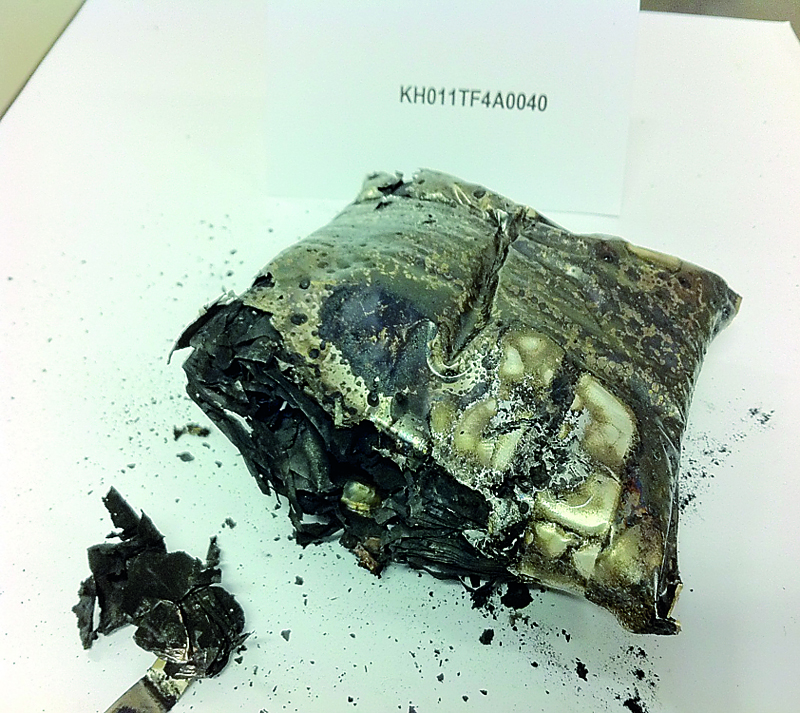 The overcharing (voltage) test is similar to the over-discharge (current) discussed above except that now the current is at a normal (and safe) value but the battery is charged to higher voltages until it starts to thermally degrade. Photograph of a 8Ah Li-ion pouch battery based on NMC-graphite chemistry after overcharing to 5V (instead of long term safe figure of 4.5V) is shown in figure 11.
Preventing Thermal runaway through Thermal Management
Discussion of battery safety should not only look at abuse testing but also include prevention of the problem and hence the design of necessary protection systems and possibly also better batteries. The changes in battery temperature reported above – which eventually lead to thermal runaway – confirm the fact that heat is produced during cycling but the amount of heat is not directly quantified and without this, design of cooling (thermal management) systems is guess work.
A calorimetry method that is new to the battery industry has been shown to provide both the information needed for thermal control and potentially provide an insight into battery performance and hence, enable better design.
This new technique is isothermal (as opposed to adiabatic) calorimetry and such calorimeters are normally stand-alone devices built for this sole purpose. The BTC (originally designed to be adiabatic) can however be configured to operate in this mode with the addition of extra software and hardware features.

Typical data from this mode operation is shown in figure 12, involving a charging step followed by discharge. As this is done, the battery is heated and cooled by the calorimeter, as necessary, to hold the battery temperature constant. The amount of heating and cooling needed is measured and displayed, as the test proceeds. Notice that for this battery type, the charging is endothermic (ie a cooling event) and the battery needs to be heated, while the discharge is exothermic (ie heating event) and the battery has to be cooled.
The effect of changes in the discharge current (while holding the temperature constant) for this same battery (Li-polymer, rated to 2.2Ah) is shown in figure 13. From this information, it is possible to specify the demand on a thermal management system as discharge current is varied and hence design the cooling system to handle the worst rate. Notice that under adiabatic conditions, this same battery type resulted in a thermal runaway at a discharge rate of 15A; here, with active cooling to control the temperature, 20A has been achieved without problem.
The amount of heat produced, for a fixed discharge current, varies with the temperature of the battery and this relationship can also be quantified in the isothermal BTC. The resulting profile for the 8.8Ah NMC-graphite battery, over a temperature range of 0 to 60C is shown in figure 14.
Clearly, as the temperature is lowered, the amount of heat generated increases – by a factor of 3 in fact, showing the demand on the thermal management unit can vary enormously.
The ability to measure heat generation rate from a battery as a function of both discharge current and battery temperature is a huge step forward for battery developers and safety system designers alike.
Charging/discharging of batteries over a range of temperatures in the isothermal BTC can also reveal other useful information about battery performance, not related to safety.
For example, changes in battery capacity with temperature can be also be deduced from the same experiment.
As an example, the charge and discharge capacity profiles for the same NMC-graphite type battery are shown in figure 15. The area under the current plots represents the battery capacity at each temperature; this area is clearly decreasing as temperature is lowered. The pertinent battery capacity data is summarised in figure 16 which shows a 70% drop in capacity; experiments reveal that for a Li-ion polymer battery, the capacity drop is only 20% over the same temperature range.
Finally, a detailed look at the heat generation profiles reveals that battery discharging involves a number consecutive steps, both exothermic and endothermic, some fast and some very slow, see figure 17, for the Li-ion polymer battery. These steps correspond to the different events going on within the battery and their understanding can be invaluable to battery developers not only in terms of safe design but also in improving efficiency perhaps.
Conclusions
Abuse testing of batteries is an important step in their widespread and safe use but some tests are more crucial than others and also require test equipment that is very special.
In particular, adiabatic calorimetry is crucial for defining the safe maximum working temperature, maximum safe discharge current and maximum over-charge (voltage).These parameters define the envelope of safe use and such data obtained without calorimeters is largely worthless. The main objective of the test is to provide results that conform to a worst case scenario and this is the precisely what adiabatic calorimeters do.
Too often, battery data sheets provide no reference to these key measurements or else information is obtained using equipment that is unsuitable.
In addition to providing the safe envelope of use, these tests provide an understanding of the severity of incidents (without risk of injury to operators) if the safe envelope is transgressed. Also, photographic recording of the event can be provided for training use and information exchange more widely.
While adiabatic testing is already somewhat established, its use is still very limited and as a result the hazard potential of batteries is rarely understood.
A different but complementary testing method, isothermal calorimetry, is even less well appreciated but could be fundamental to providing data needed in the design of thermal management systems in high energy applications such as EVs. Isothermal calorimetry can potentially provide a bridge between battery developers and application engineers.
References
1 Battery Standards Safety Committee, Electric and Hybrid Electric Vehicle Rechargeable Energy Storage Systems (RESS) Safety and Abuse Testing, Surface Vehicle Recommended Practice, SAE International, J2464, Nov 2009.
2 Doughty, D.H. and Craft, C. C, Electric Energy Storage System and Abuse Test Manual for Electric and Hybrid Electric Vehicle applications, Sandia National Laboratories, Report SAND2005-3123, 2006.