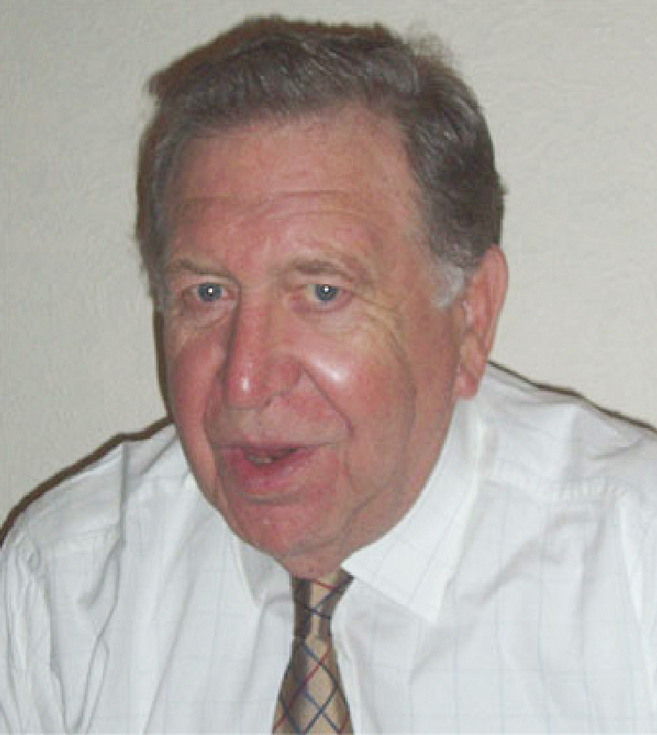 Now that VRLA batteries are built 'properly', Ken Peters wonders if BEST will still be able to fill its pages with articles as he reflects on the technology's turbulent history.
Amongst the major innovations in the 150 year history of the lead-acid battery, the development of gas recombining valve regulated designs is seen by many as potentially the most important. Offering improved high-rate output, higher specific energy and operating flexibility never previously envisaged, their use in telephone and UPS systems grew quickly in the latter years of the 20th century, replacing previously-used designs in standby applications. Within ten years of the first installation by British Telecom in 1981, 60% of the telephone systems in Western Europe relied upon VRLA batteries for emergency power. Today it must be approaching 100%.
Yet in spite of this widespread commercial application in a market where reliability is the primary requirement, the use of VRLA batteries remains a matter of concern – with regular complaints at Intelec and Battcon meetings from people at the hard end of the business.
The problems have been widely reported, and I often wonder what the editors of battery magazines such as this would have used for copy without VRLA. Twenty five years after their first use in this market it is worth reflecting on the situation and on the lessons learned – or not learned in some cases, and learned but ignored in others.
The initial concept of gas recombination in lead-acid cells resulted from a venture technology programme at Gates Rubber Co, a major manufacturer of tyres, gaskets, hoses etc. based in Denver, Colorado. It was highly focused, not blue-sky research of the type common among major corporations at that time. Some 20 years earlier Georg Neumann at Varta had developed a process for the manufacture of sealed nickel-cadmium cells, based on earlier work by
colleagues who showed that oxygen produced during charging could be electrochemically reduced on a
cadmium electrode. Operational in any position, leak proof, no maintenance required, these cells were designed for the growing market for cordless
equipment.
If it could be done with cadmium, why not lead? A fairly obvious step, but innovations frequently seem so after the event. The Gates team of Don McClelland, John Devitt (both with backgrounds in nickel-cadmium technology), Kathryn Bullock (later to be President of the Electrochemical Society), Will Bundy (ex-National Lead Co) and others were engaged primarily with this objective.
Other organisations had similar programmes, including my own laboratory where a range of wound cells was undergoing tests. Their performance was disappointing and work was shelved, with the results presented at the 1972 IPSS in Brighton. At that meeting Don McClelland showed me Gates' D cell and subsequently supplied cells for evaluation. Although advised by market consultancy Arthur D Little, the Gates management – with no background in batteries – clearly didn't trust their scientists and wanted the opinion of a major battery concern.
Their cells had low impedance and high power capability, and they cycled well – far better than maintenance-free batteries of that period. Unspillable and operational in any mode with little or no loss of water when charged extensively, they were equivalent to sealed Ni-Cd with, of course, higher voltage and lower cost. After many years during which a variety of maintenance-free designs had been promoted, many with serious limitations, McClelland's cells were rather special.
Gel cells had been around for some years, but they had limitations and their use was mainly in alarms and emergency lighting. Some measure of oxygen recombination is possible once cracks develop but this wasn't recognised until much later. The critical invention of the Gates team was the use of highly porous glass micro-fibre separators which could absorb sufficient acid to support the discharge reaction while leaving open pores for gas transport. Resilient and compressible, they conformed and maintained contact with the plate surface. But on subsequent visits to Denver it became apparent that Gates' interest was primarily to develop small wound cells for portable equipment and tools using punched grids and high-density acid-free pastes. The company was not familiar with mainstream battery markets.
The development of large VRLA batteries (75-100Ah) as an integral part of DC power systems for telephone exchanges and transmission started in 1974, using established plate-making processes with prismatic plates in monobloc containers. With the same primary features of the Gates product – i.e. unspillable, no maintenance, good high rate capability and operational in any mode – they were less than half the size of the previously used Plante and flat-plate designs Even with extensive ventilation European telephone exchanges, most with several hundred open-top Plante cells in lead-lined wooden boxes mounted on wooden stillages with porcelain insulators, were tolerable only for short periods. North American central offices with flat-plate cells in glass jars were environmentally better but still produced a toxic and explosive atmosphere.
Little vision was required to recognise that VRLA designs offered the possibility of safe use in a working environment, free of noxious fumes, enabling location in offices or in cabinets in or under streets. With the IT revolution at an early stage and distributed power increasingly required, their introduction was timely.
Co-operation with British Telecom started in 1978 with trials at their Ongar (Essex) workshop. BT had considered sealed nickel-cadmium cells for distributed power but high capacity designs were not available and cost was a deterrent. The first batteries were installed in March 1981, coinciding with a review article in the trade magazine Telephony. Initially BT specified a service life of eight years but this was soon changed to ten. Performance was monitored by taking cells out of service at regular intervals and, from the outset, the voltage of all cells in service were recorded at a central BT facility.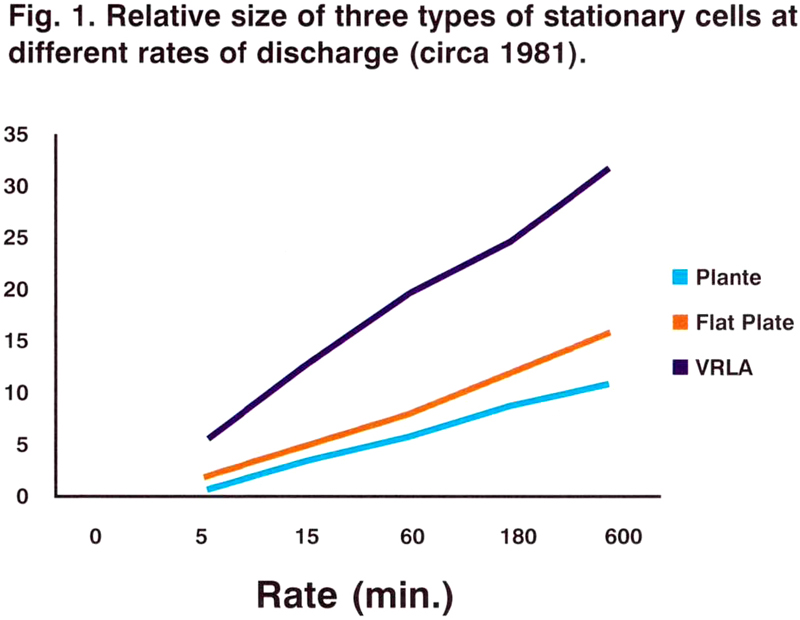 The better performance and the flexibility of location were undeniably attractive, but it wasn't all roses and wine. There were drawbacks. VRLA cells are more difficult to make properly, with material choice and several processing operations critically important. Even with the extra care it was apparent within a few years that excessive grid growth and corrosion would be a problem, and improved grid designs and higher tin content alloys were introduced in 1990. It was also known from earlier work with VRLA engine starting batteries that high operating temperatures are more of a problem than they are with vented batteries. The latter are often operated without temperature compensation of the line voltage but it was recognised that this is essential with VRLA designs.
Other telecommunication companies quickly followed a similar route. It was a period of intense activity and change. In Europe batteries were usually locally sourced, and the quality was poor initially; but this improved by the late 1980s. By early 1993 BT had 435,000 six-volt VRLA monoblocs in service – about 70% of its total standby power battery installation at that time. After the initial quality problems, operational experience in Europe has been satisfactory and guaranteed service lives of up to ten years are routine. Except for a small and decreasing number of manufacturing defects, failure within this period is rare. End of life is almost always due to grid corrosion, a type of failure understood and manageable by battery designers, and service lives of 12 to 14 years are expected.
The manufacture and installation of similar batteries started in the USA in 1983 where central office batteries, usually much larger than their European equivalents, are invariably sold with a 20-year warranty. The new VRLA batteries were marketed similarly. Early failures, however, were extensive with reports that up to 40% of batteries produced by one manufacturer were replaced within four years. Examination showed that this was almost entirely due to poor manufacturing quality, resulting in variability within battery strings. Reputable manufacturers were 'completely unable to make a product which had anything like a reasonable life' – not my words but those of eminent speakers at various industry meetings.
Service life forecasts in float duty of this type are traditionally based on corrosion rates; the thicker the grid, the longer the life, assuming of course that corrosion is life limiting. Examination showed that cells were failing through drying out, heavily sulphated negatives and dendritic shorts through the separators. The substantial grids around which life was forecast showed little corrosion. Replacement promises were fulfilled, but it was a painful and expensive learning phase. With hindsight it was clearly wrong to market these new designs with a 20-year life expectation before establishing performance and life profiles, and to argue that it was due to pressure from customers who demanded a 20-year warranty is not a plausible excuse.
Certain manufacturers soon appreciated the need for more specific processing operations. For example, previously-used filling and formation methods were inadequate. Dendritic shorts will develop if the compressed separator is not fully wetted and each cell must contain the design volume of acid after formation if the necessary capacity and recombination capability is to be achieved. Plate thickness tolerances must be tighter and leak testing, which previously with vented cells was a fairly routine operation to avoid acid creep, has to be much more precise.
The pressure in VRLA cells is less than atmospheric for most of their service life and air ingress – through inadequate post or cover seals or via the vents – upsets the oxygen cycle. Heat sealing ABS covers requires special skills, particularly with the more substantial containers that are essential. Custom-built manufacturing equipment, often made in-house, was used initially; but production machines and equipment which overcame many of the processing hazards soon became available and, with improved designs, product quality progressively got better. Central office duty or similar service in controlled environments is now generally satisfactory.
But that is not the end of the story, as anyone who has listened to recent complaints at Battcon meetings will confirm. The problems now are mostly related to batteries in 'out stations' such as those supporting cellular technology, and particularly those operating in warmer climates. Often located in cabinets on roof tops or in streets, fully exposed to the sun with no protection or cooling, batteries may be at temperatures of 40-50ºC or even higher for long periods. Unfavourable installation in high temperature ambients is the common theme. Life calculations are not strictly pro rata, but IEEE publications state that one month of operation at, say, 40ºC will 'consume' 2.94 months of the life expectancy of a VRLA battery at 25ºC. Recent experience however shows earlier failure in many locations, with failed cells having lost considerable amounts of water, negatives plates extensively sulphated and excessive growth of the positive grid.
Operational difficulties at high temperatures are not restricted to lead-acid batteries. Secondary battery systems in general have similar problems, and more favourable location with better temperature control is the obvious course to take.
Much has been written about high temperature effects on VRLA, many related in particular to float operation. Nevertheless it is worthwhile re-examining the reason why high ambients are potentially more damaging than with vented lead-acid batteries. Vented cells are essentially thermally stable under normal operating conditions; heat is exhausted with the vented gases and with a high heat capacity the response to environmental influence is relatively slow. VRLA cells, however, generate considerable internal heat because of Joule effects and the exothermic chemical reaction at the negative, the extent of both being dependant on the saturation level in the cell. Most VRLA designs have saturation levels greater than 90% when new. The internal resistance is low in this condition but increases as the saturation decreases. The effect of partially desaturating porous medium initially saturated with a conducting fluid is to increase its resistance. In the case of the gmf separator there is a very considerable increase in Joule heating as the saturation decreases to 80% and below, during both charge and discharge.
The saturation should not decrease to these levels if the float current is maintained at the specified level, usually 0.5 to 1.0mA/Ah (0.1 to 0.2 mA/Ah with pure lead). At these currents the transport of anodically evolved oxygen through the separator and subsequent recombination at the negative plate proceeds efficiently and the rate of water loss will be low, with the saturation remaining at a reasonably safe level. Under these conditions the designed service life can be expected. That is how it is supposed to operate, but if the float current increases to a level at which all the evolved gas cannot diffuse quickly through a highly saturated separator, some gas will exhaust through the vent and the saturation will decrease – with an increase in both resistive and exothermic heat from the recombination reaction. In some designs quite small losses of water are all that is needed to reduce the saturation to this level.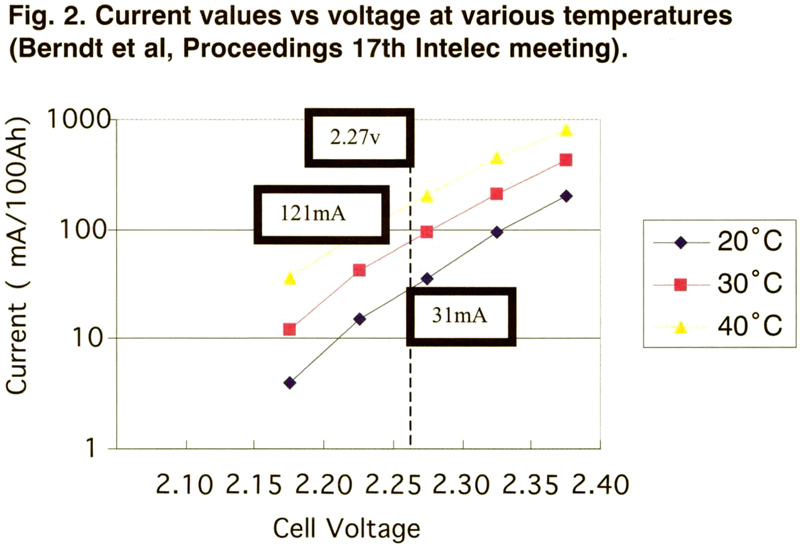 Several factors can cause the float current to increase, and high operating temperature is the most obvious. The typical increase in float current at three temperatures is illustrated in Fig. 2. This example shows the current increasing from 31mA/100Ah to 121 mA/100Ah at 2.27 volts per cell when the ambient temperature increases from 20˚C to 40˚C. Advice on the correct level of compensation varies from manufacturer to manufacturer and, while a temperature coefficient of -3mV/˚C is widely recommended, greater compensation of up to -5mV/˚C may be preferable.
Depolarisation of the negative plate by impurities or by air leaks will of course increase the charge current, particularly at high ambients, and can be avoided by ensuring purity of raw materials as well as vents and container materials which function effectively at higher temperatures. The change in conductivity of gmf separators as the saturation changes is distinctly non-linear, decreasing by 50% when the saturation reduces from 97% to 85%. Improved separators which distribute electrolyte more uniformly when partially saturated will reduce Joule effect heating.
Improvements and changes of this kind are within present technical capability. They add cost, but selecting the right battery for the job doesn't always mean selecting the cheapest option. And anyway, the overall cost to system operators will be less than adopting the alternative battery systems which are being considered in some quarters.
There is an opportunity to hear a panel of international experts speak more extensively on this subject at the 10th European Lead Battery Conference to be held in Athens in September 2006. For more details e-mail: 10ELBC@ldaint.org or go to www.ldaint.org