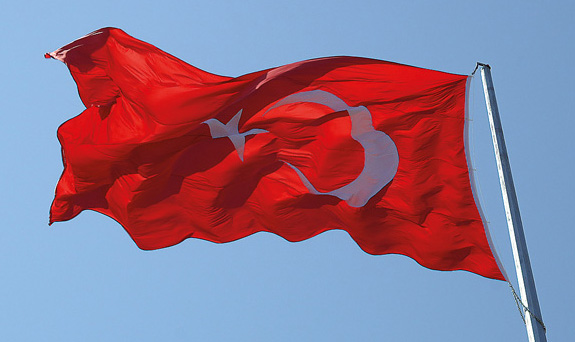 As the European market continues to idle, Turkish battery machine manufacturers are relying on customers in the East to ensure their futures in the lead-acid battery industry. Ruth Williams reports on the shift from west to east.
Every month market figures are available giving a different view on the continued demise or recovery of the Eurozone. The growth that does exist is slow, while Asia continues to boom for both automotive and battery markets. With news that AABC is relocating to Asia for 2014, it is clear that many in the industry see the future for battery production lying away from Europe.
Although Turkey, Maghreb Arab and near Middle East regions have not been impervious to the global financial crisis, they have not sunk as low as Europe.
Turkey shares a border with several of the near Middle East countries and has a close proximity to North African countries that are gaining industrial momentum. Following the Arab Spring that began in Tunisia in December 2010 many nations are becoming democratised and industrialised.
Countries in North Africa and the near Middle East are in a transition period following the social uprisings. While some of these countries have on-going troubles, several nations embraced change to mark the beginning of a new era of stability both politically and for the economy.
The Arab Spring dampened economies in the near Middle East, but forecasts for 2013-14 indicate that the non-oil economy alone is set to grow by 4.3% this year.
While in Africa, countries have seen growth of 4.5% in 2013, according to figures from the African Development Bank. For 2014, growth is predicted to be 5.2%. As a region, North Africa is anticipating 4.3% economic growth for 2014. One of the infrastructural challenges for industrial growth is implementing energy security.
In battery terms, these regions are seeing considerably more growth in their respective markets than Europe— a trend that is expected to continue into the next year, according to figures from Eurobat, based on collated data from its members.
The figures from Eurobat's Industrial Battery Committee for 2012 show motive power batteries make up 57% of the total lead-acid battery market and standby power accounts for the other 43% in the Europe – Middle East – Africa (EMEA) region. The motive power market in the Middle East and North Africa region is growing considerably but the market size is much smaller than Europe for 2V cells.
The lead-acid battery stand-by market was worth €840m (US$1143m) in 2012 across the EMEA region. For the Middle East the value was €53m, which is 7% up on the previous year, compared with 2% growth for the EMEA region. Africa has a double-digit increase on the previous year, with a value of €51m showing that the Middle East and Africa are experiencing far greater growth than Europe for battery consumption.
Turkey has long been called the gateway from east to west and its manufacturers have the best of both worlds. Picture Turkey's prime geographical position: it borders Greece, Bulgaria, Georgia, Armenia, Azerbaijan, Iran, Iraq and Syria, as well as having ports on both the Black Sea and the Mediterranean Sea. This opens trade up to many regions, including the near Middle East region that has little by way of domestic battery production.
This position works to the favour of Batek Engineering, maker of grid casting, plate making, battery assembly, and battery and cell formation machines. Celal Saricam, Managing Director says: "We have a strategic advantage of being able to reach European and Asian customers alike.
"The logistic advantages are there for both Asian and European manufacturers; customers get all the European qualities of competence, engineering and technical qualifications. Our position means they are getting much better terms and quicker lead times than other manufacturers can afford. We are the most eastern European country and close to Asia, so we have a logistic advantage in terms of service and shipment."
Turkey has a trade agreement with the EU, called the Customs Union, which has been in effect since 1995 to allow goods to travel between the two without customs restrictions. The EU is Turkey's number one import and export partner with machinery and transport equipment being the major sectors. Turkey's other major export markets for these goods are Iraq, Russia, USA, UAE and Iran.
As readers will know, Zesar is a plate production and battery assembly machine maker based in Istanbul that also views the proximity to Europe as an advantage.
Zesar's General Manager, Mohsin Ali, says: "In Europe, there is a decreasing number of manufacturers due to rising costs, so customers have to look beyond to Asia. However, Turkey is very close and European customers do not have to pay import taxes because of the shared economic community. This makes Turkey important for European traders."
As the industry in Europe has struggled, companies have had to move their attention to other markets. "The share of our business in Europe is gradually decreasing each year. We have gone from having 50% of our business in Europe to just 10%. The market has shifted to Asia," says Saricam.
The impact of the Eurozone crisis has been felt by all industries. Saricam says while the problems in the European battery industry had a lesser impact on Batek, the economic downturn still reverberated.
"The downturn is affecting not only European manufacturers but also those supplying Europe as well as Asia and the Middle East." He explained that because Asian companies make up much of Batek's customer base, any slow down in sales for those companies will affect Batek's sales.
Despite these problems, there is growth for Turkish battery manufacturers both domestically and for exports. Inci Akü is a lead-acid battery maker which increased its total sales revenue in 2012 by 40% over the previous year. It broke production and sales records to increase its total sales revenue from overseas sales to be 60% of the company's revenue.
Domestic sales increased by 40% compared to the previous year. Inci Akü exports to over 70 countries from its production locations in Manisa in western Turkey, Ukraine and Germany.
Like the machine makers, the battery producer weathered the Eurozone crisis by focussing its direction to other regions. In a statement at the beginning of 2013 Göksel Paker, Chairman of the Board and CEO, said of the company's response to the financial problems: "We have acted with planned and long term perspectives in terms of diversifying our foreign markets, increasing our market shares and realising our investments that would enhance our competitiveness. Thereby while we got over the hardest period of crises with success, we also gained significant advantages compared to our competitors."
Turkey's geographical position offers a natural advantage once more for companies to strengthen exports to Asia and Northern Africa where the markets are growing.
Ali says: "The position of Turkey makes it open for anyone who doesn't have domestic manufacturers— such as Iran or Syria. Generally speaking those places are open for anyone, we know they have a lot of problems with new countries, that's why it is not easy to trade with them, but Turkey has very good relations with them. This makes Turkey a peculiar country, because we can export to those countries very easily."
But selling into the Middle East comes with its own problems. According to Ali, it is a less successful region for Zesar. "There are not so many battery manufacturers in the Middle East and the ones who are there either go for very low-cost Chinese products or they go for expensive US or European-made brand products," he says.
Ali admits Zesar is not at either end of the scale: "For the type of machines we make we are not low quality like many Chinese or Far East products; but at the same time we are not as sophisticated as European or US products. We are somewhere in the middle— which puts us in a bad position to sell to the Middle East.
"It makes our lives difficult because some people want the price of Chinese products but the quality of European products. That is just not possible," he added.
Africa is another growing export region for Zesar; Ali said it is one of the most important export markets. "In African countries there's a demand for industry, so our customer base is increasing. So far we are active in Sudan, Algeria, Morocco and in contact with some other countries that we expect to expand to soon."
An ever-growing battery manufacturer in North Africa is Assad Battery, which has plants in Tunisia and Algeria with a total production capacity of 1.26 million lead-acid starter and industrial batteries.
Assad has a 59% market share of battery sales in Tunisia, leaving a minority for overseas manufacturers to sell into. It has a strong presence in other North African countries: a 26% market share in Libya for 2012 and 14.8% in Algeria shows its strength in these regions.
Slim Ayadi, Product Development Manager of Assad says this is far from an exclusive territory: "We export across the Middle East, Africa and Europe. For example, 1.3% of replacement car batteries sold in France in 2012 was an Assad battery." Indeed, 80% of the company's output is SLI batteries.
Assad gains 68% of its total revenue from exports; of this distribution 60% is in North African countries, 35% in Europe, and 5% in Middle East and Africa. Since 1989 it has had an international trading group called Assad International which allowed it to trade with customers in the EU, Africa and the Middle East including France, Germany, Italy, UK, Spain, Algeria, Libya, Morocco, Senegal, Egypt, Syria, Saudi Arabia, Iraq and Iran. It also has a joint venture with Enersys to manufacture and export industrial batteries to the European and North African markets.
Inci Akü sees the potential of growing into North Africa. It is considering building an assembly plant in Egypt to serve Arab and African countries. As a central production site Egypt would have the advantage of trade agreements between Arab and African nations, covering about 30 countries, which will give a great competitive price advantage.
While Asia is set to continue growing, South America is tipped to be the next major region of growth. Saricam says Batek is concentrating on gaining a foothold in this market: "We will put our efforts for the future to having a solid market share in South America. We are doing market research and studies to be able to penetrate this market."
Batek intends to replicate its success in Asia with South America. Despite having no geographical advantage for supplying the continent, Saricam says it is essential for future success: "It is one of the growing markets of our industry so we have to be there. Any company that wants growth has to be in the growing markets."
This change in strategy is related to the European downturn, to continue to grow, companies will have to diversify the markets they operate in instead of depending upon just one.
Despite the changes in markets, Batek has no fear of the future of lead-acid batteries for the automotive industry: "I'm sure the lead-acid battery will maintain its advantage in terms of price and cost in the automotive industry for the next 10 – 15 years. I don't think the industry will change the energy storage technology from one day to another, it will take quite a long time."
As the Middle East and African regions move more and more towards industrialisation— and with it cars needing replacement batteries— the market is opening up for machine makers, component suppliers and battery makers. Turkey is poised to serve this tinderbox of battery activity that could soon leave Europe in its wake.