Higher voltages and non-toxic electrolytes: Vinatech has set a standard in the fast moving worlds of ultracapacitors, says John Miller.
With the appearance of the 3.0 V rated Vina Tech Hy‑Cap electric-double-layer capacitor, the 3.0 V cell electrochemical capacitor has now arrived. Aqueous electrolyte electric-double-layer capacitors were first introduced in 1978, the most popular application for them at that time being for 5.5 V CMOS memory backup. To achieve that 5.5 V rating required meant, of course, having at least six cells in series. Nonaqueous electrolyte electric-double-layer capacitors followed soon thereafter. Rated initially at 1.8 V per cell, it took only three of these in series to satisfy the CMOS memory backup requirements. From the very first products with water-based electrolytes, development moved to organic-based electrolytes, increasing dramatically from much less than 1 V up to 1.8 V per cell. Over time cell voltages of nonaqueous electrolyte electric-double-layer capacitors have increased progressively, from 1.8 V initially to, after a few years, 2.0 V then 2.3 V, to the 2.5 V value that remained the standard for a number of years. The most recent past has seen some components rated as high as 2.7 V. The introduction of the Vina Tech product sets the new mark at 3.0 V.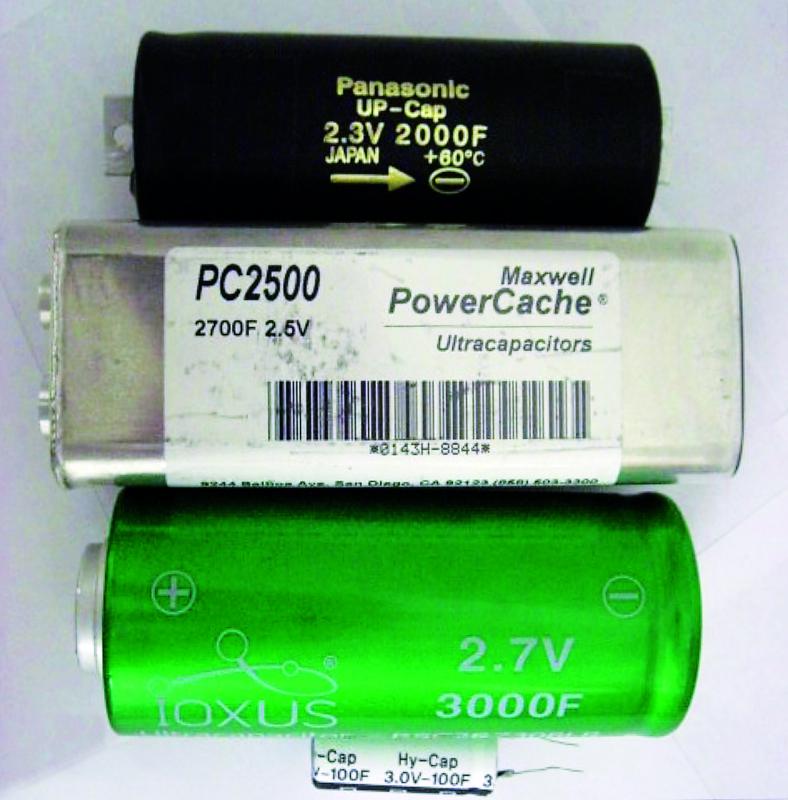 Naturally, higher cell voltage makes it possible to have fewer piece parts to meet the voltage requirements of an application, certainly a step in the best possible direction for achieving lower-cost solutions. Fewer cells will need to be series connected in order to meet voltage requirements. In going from 2.7 V to 3.0 V, for example, approximately 10% fewer cells are needed, obviously an important means for reducing the costs of this technology as a provider of solutions for any given application. Furthermore, since stored energy is proportional to cell voltage raised to the second power, energy density receives a substantial boost as well. A 10% increase in voltage corresponds to an approximately 20% increase in stored energy.
This translates into storage systems of correspondingly smaller size. In fact, in comparison to what was the case just a few years ago, current systems are some 40% smaller than the 2.5 V systems of yesteryear, although there are still, of course, plenty of products on the market rated at 2.5 V. From the standpoint of reduced dimensions, higher cell voltage is a significant development. Such a reduced spatial footprint is extremely valuable for many portable electronics, and there is thus a constant emphasis on reducing the size of components as much as possible.
Perhaps not quite so obvious a feature of higher cell voltages is the positive impact this has on the reliability of high-voltage systems. Operating at 3.0 V per cell rather than 2.5 V or 2.7 V means that fewer cells must be strung in series to meet the required voltage, in itself a statistical guarantee of increased system reliability.
The impact here can be far greater than one might imagine, until we recall that only a single cell in a series-connected system need fail for the whole system to go down.
Overall then, the advancement to 3.0 V reported by Vina Tech can be expected to have considerable impact on reducing the cost and dimensions of storage systems, while simultaneously increasing their reliability. But Vina Tech, clearly now the leader in the quest for higher voltage cells, will not likely be alone in this role for very long.
In his presentation at the ECCAP symposium in Mainz, Germany this June, Mike Everett, CTO at Maxwell Technologies, commented on a slide showing the 3.0 V Vina Tech capacitor by remarking that "while currently there is only one source out there, more are on the way." It appears that Vina Tech's advancement in operating voltage is only the first step on a path that many other manufacturers can be expected to take.
Considering the technical side of this issue, however, how has such an increased cell voltage actually been achieved? Operating voltage on an electric-double-layer capacitor depends on a great many factors related to the two active materials that are used to store charge, the electrode and the electrolyte.
The electrode is typically activated carbon, as discussed in detail in this column in the Spring 2012 issue of BEST starting on page 119. In an electric-double-layer capacitor, activated carbon with high surface area is wetted with an electrolyte, typically a liquid. With voltage applied, charge is stored naturally at the solid/liquid interface, in the so-called electric-double-layer region that extends at most only a few nanometers on either side of the interface.
In essence, an ion in the electrolyte faces off to exactly balance an opposite charge (electron or hole) just below the surface of the carbon. No charge is transferred across the interface boundary. Charges of opposite signs simply line up facing each other.
Such a balanced condition holds unless the voltage level exceeds some critical value, at which time an electron will in fact transfer across the interface and chemistry will occur. For this to happen is highly undesirable, given that such processes are typically not reversible. More schematically put, an electric double layer is set up at the solid-electrolyte interface, with the additional requirement that the voltage on this electric double layer must be below a critical value where an electron transfer and its accompanying chemical reactions would begin to take place, a situation we want to avoid at all costs.
What establishes this critical voltage value? The critical voltage value is related to the breakdown of the electrolyte by the electric field that is in the electric double layer, and this breakdown itself is what creates the limiting value.
The typical electrolyte is composed of a solvent plus a salt that is dissolved in it. It is the salt that provides the ionic conductivity, the solvent serving as its carrier. The vital factor, therefore, is the breakdown strength of the electrolyte's solvent, which establishes an ultimate upper limit on voltage.
Proper selection of the solvent is important. We want a solvent with high breakdown potential. But that high breakdown potential is in fact very seldom ever reached because the solid surface it is in contact with is not smooth and uniform. Rather, that surface has in most cases numerous sharp points like, for instance, graphene edge planes where the local electric field strength can be much higher.
Because of the high field strength around these local areas breakdown occurs at a reduced potential, one much lower than the value obtained for the solvent by itself. But that is not the end of the story, in that impurities can also reduce the breakdown potential. Impurities of certain types on the carbon surface can catalyze solvent chemical reactions, and these reduce the effective breakdown strength of the solvent.
Over and above these impurities on the carbon surface, there can also be adsorbed surface impurities, most notably oxygen, which can react chemically at potentials below the breakdown potential of the solvent and thus limit the operating voltage of an electric-double-layer capacitor. Similarly, there may also be impurities in the carbon that become dissolved in the electrolyte. These may decompose the solvent at values below its theoretical maximum breakdown potential, again reducing operating voltage.
One of the impurities in the solvent may, in fact, be water, difficult to remove totally, a very common impurity in nonaqueous electrolyte electric-double-layer capacitors and generally present to some degree as well in all high-surface-area material like activated carbon.
Water decomposes at a potential well below the breakdown potential of typical nonaqueous electrolyte solvents, so it can indeed be a real limitation on operating voltage. One might, of course, decide that the water should simply be removed, but it is in fact very difficult to remove water from activated carbon because it is absorbed on a surface created through the use of a highly microporous structure. One needs to be very patient to effectively dry activated carbon. We can start out with a very dry electrolyte, but water will always remain something of a problem with activated carbon.
Yet another well-known impurity is iron, which need be present in only levels of parts per million to cause problems. Iron is present in activated carbon from natural sources, and it can be introduced during the processing of the carbon, e.g., during its grinding. If iron becomes dissolved in the electrolyte, it can create a serious limitation on operating voltage owing its being electrochemically active at potentials well below the theoretical breakdown potential of the solvent. Impurities in the electrolyte are thus also sources of operating voltage limitations.
Sometimes, of course, the voltage limit may be set by more complicated processes. One of these pertains to residual water impurities reacting with the salt in the electrolyte, for instance, the common BF4 negative ion found in many of the ammonium salts that are in today's products.
Hydrogen in the water reacts with the fluorine in the BF4 to create hydrofluoric acid (HF). This causes real havoc in the device, since HF is very corrosive and can attack both the aluminum current collectors and the aluminum case.
It is not consumed in these processes, truly a nasty chemical to have inside a sealed electric-double-layer capacitor package, even in trace quantities. It constitutes the path to degradation of today's products precisely because of that BF4 negative ion. Thus the salt selected can obviously impact the maximum voltage at which one can stably operate electric-double-layer capacitors.
These are some of the factors that affect operating voltage. Electrolytes have other important properties to keep in mind as well when selecting one for use in an electric-double-layer capacitor. Perhaps the second most important of these is the ionic conductivity of the electrolyte, that essentially establishes the maximum-power performance of the device, which makes it possible to charge and discharge these devices at high rates with high energy efficiency.
Yet another important property is operating temperature range, with the upper temperature limit usually the critical factor. One would like to be able to operate a capacitor at high temperatures but today's products are generally rated at 85°C or below. We want an electrolyte that will provide long life at these high temperatures so as to not require a special cooling system.
Low temperature can also be an important limit in some applications. When the temperature drops, the solubility of the salt in the solvent decreases, and at sufficiently low temperatures this can result in precipitation of the salt out of solution.
If this occurs in a microporous material like activated carbon, it may be irreversible. In such a case the electrolyte would "salt out" and the salt not be able to dissolve again, resulting in loss of electrode surface area and a lower concentration of the salt in the electrolyte that effectively reduces its conductivity. Low temperature issues can thus indeed be serious, and so one wants the best possible low-temperature operation in the electrolyte as well.
Another important property of the electrolyte is its ability to wet the carbon. Activated carbon has a very high surface area, and in order to store charge on that surface the electrolyte must be in intimate contact with it, that is, wetting it as completely as possible. The solvents in some electrolytes are much better at wetting the carbon than others, an important property.
Yet another important property is long-term stability. The electrolyte will be in contact with the activated carbon for a very long time. There are many applications using electric-double-layer capacitors that are intended to operate without maintenance for ten or more years. The contact of the electrolyte and the carbon must remain stable over such extended periods of time.
There exist some additional secondary considerations for the electrolyte as well, for instance the solubility of the salt. We would like to have a relatively high concentration of salt, and so we need a solvent that is able to hold a sufficient quantity of it. Flammability of the electrolyte may also be important in some applications, particularly those where we want to minimize fire hazards. Similarly, toxicity may be an issue since some electrolytes are more toxic than others, while still others are entirely nontoxic. Last, but not at all least, cost is always a consideration in any component.
Let's for just a moment move to speculate about the future. With Vina Tech's new product we now have a 3.0 V electric-double-layer capacitor, but it took more than thirty years to reach this from the first 1.8 V cells, an increase of only 2.2 V over thirty years. This is progress, yes, but certainly progress that took a very long time.
Can we expect voltages higher than 3.0 just around the corner, as it were? Higher voltage in fact depends most directly on higher purity materials, i.e., higher initial purity and better packaging to keep impurities, like water in particular, from entering the package over its operational life.
There is, however, a practical limit on how well activated carbon can be dried. Today's process involves a high-temperature (~150ºC) vacuum drying of the carbon before a very-dry electrolyte is added to the package. As vacuum drying progresses, it becomes more and more difficult to remove the very last traces of water, making this something of a self-limiting process. The drier the carbon becomes, the correspondingly more difficult it becomes to dry it still further.
Without venturing into the mathematics of the process, to get down to a given level might take one hour of vacuum drying, while to get to one-tenth that level might take not ten but perhaps a hundred or a thousand times longer. In any event, it is simply increasingly difficult to remove the very last vestiges of water as an impurity from activated carbon.
Rather than employing the processes available today in order to produce the drier carbon that would make higher voltages possible, we need a different and better way to remove the water from the carbon. We might, for instance, consider adding a getter material in the package that would somehow attract and trap or decommission water impurities so as to prevent them from causing problems.
We are in need of a different negative ion from the one in common use today. The BF4 ion reacts with even the merest trace amounts of water and readily results in the formation of HF, the primary degradation path for these nonaqueous electrolyte devices. We need a different negative ion to use in the salt.
But we also need to maintain the power performance of these devices, and so we cannot go to some of the lower-conductivity ionic liquids that have recently been discussed. These certainly have higher operating voltages and, being "all salt", so to speak, they don't have any solvent that may decompose. But their conductivity is generally lower than today's solvent-based electrolytes. One thing we can be sure about with regard to the future, however, is that there will always be cost pressures.
The Vina Tech product line demonstrates that 3.0 V can be achieved in a commercial product. It is believed that attention to detail, particularly reduction of impurities, is one of the major means to realising such advancements. Future advancements will require even higher purity of materials and perhaps very different approaches to reaching and then maintaining such low levels of impurity.