BEST's Editor found little to get excited about at the 14ABC battery conference.
Cue drums, cue elephants, cue candle lighting ceremony: yes once again, its another Asian Battery Conference, this time in the magnificent city of Hyderabad, in incredible India.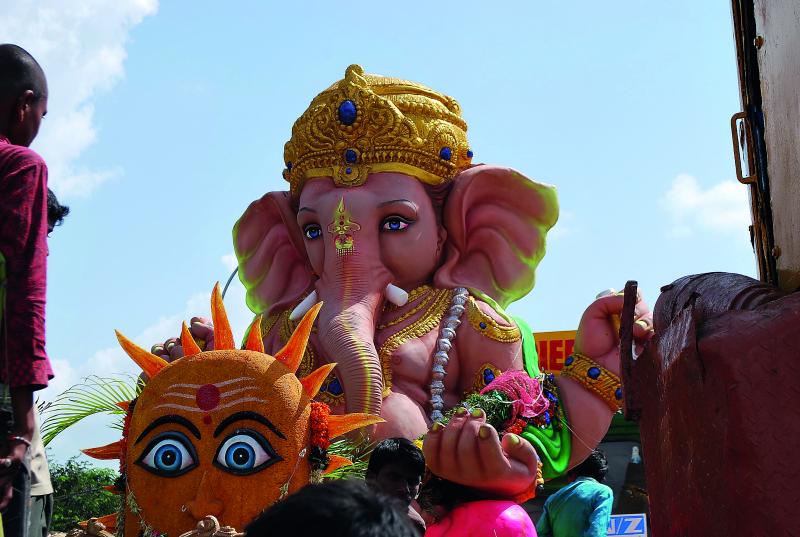 OK, spot the errors and lies in my opening paragraph. That's right, no elephants and it all depends what you mean by "incredible". Incredible that the country's overwhelming bureaucracy made it nigh on impossible for some of the invited Chinese speakers to get visas to the conference, for several companies to have their materials delivered and what's so special about Hyderabad? Well, not a lot really.
Home to HBL Nife and twice the venue for Ajoy Raychaudri's abortion of an Indian battery exhibition, where there are plenty of exhibitors but next to nothing in the way of visitors.
India is not the easiest place to do business and that's not just the grumpy Publisher and Editor of BEST speaking. No, it took one very honest Indian, one Vinod S Dumra, who represents Rahimafrooz Batteries in India, to tell it like it is, once you've gotten over the "City of Pearls" routine. OK, Hollingsworth & Vose are setting up a plant for AGM here that will open in 2012. Rahimafrooz is actually a Bangladeshi company and you can read its frustrations of doing business in India in our news section on page XX
One wonders if H&V know that India comes 165 out of 183 countries in ease of starting a new business? And 177th in obtaining a construction permit? These are World Bank numbers. Good luck H&V !
"A lot of Indians are very angry with me for making my presentation in the way I did," Mr Dumra told me afterwards. Mr Dumra and I have a lot in common. People have a right to the truth. I make a lot of people angry too.
The fact is that with 1.2 billion population and English widely spoken, India should be doing even better than China. Its economy is likely to grow at 8% per annum over the next decade and management consultants, Mckinsey, reckon that by 2025, its middle class will swell to 600m or 40% of the population. But the country creaks with inefficiency, blatant corruption and chaotic infrastructure. It is what the British taught them and I'm personally ashamed. Electricity distribution transformers perch precariously on platforms in the street with rat's nests of cables emerging from them.
No wonder there are endless power outages throughout the day and inverter batteries make up 40% of all lead acid battery sales.
India's total power consumption is just 118 Gigawatts and the per capita consumption, at 733 kWh per person, is one of the lowest in the world.
The electricity demand supply gap is about 10% overall and 12.7% at its peak… hence all the black‑outs. Now there's talk that big private concerns will do their utmost to build new power plants, stabilise the grid and, at a stroke, the inverter battery business could be dead.
Wouldn't that be wonderful? No, says Mr Dumra that would be terrible. I couldn't believe this. Its tantamount to being happy as a pig in… (you can choose your own words here).
One thing that is happening in India is that people are taking to the roads in cars and in droves. Mr Dumra believes that Indian battery market is worth around US$3.2 billion and 60% of that is automotive. But despite double digit growth, Indian car penetration is just 10 cars per thousand and there are only 114 million vehicles in India anyway and a lot are two wheelers, so the sky is the limit. The automotive battery opportunities here are huge—better it would seem even than China.
Telecom? A licence to print money— 800 million cell phones in use and 425 000 base stations— just think of all those lead-acid batteries dutifully obeying the laws of Arrhenius and generating a shed load of replacement business, probably less than every three years.
And the battery industry here? We only gave you the superficial view in our 14ABC preview. The lead-acid battery scene in India is completely "wild"— 300 registered smelters. Lord knows how many unregistered. We know the big name battery makers— Exide Industries and Amar Raja… but what about the small ones— a 100 of those and many many more tiny ones. No wonder those guys aren't one bit interested in export.
They're not really interested in buying the latest machines from efficient dynamic tool makers from both the West and Asia, because import tariffs are too high and they can get by through doing things the way they always have. There are 40 battery industry associations— I wonder how many organise golf tournaments or write position papers on the future of electric vehicles? You can see the drooling globalisers in Wall Street just itching to leverage their way into this teeming market but it would take more than Art Hawkins running on Kryptonite to make any difference here.
And it gets better than this. India has 300 clear sunny days a year. In July 2009, India unveiled a US$19Bn plan to produce 20GW of power by 2020 using solar power. The Clinton Foundation is investing in the World's largest solar energy project in the western state of Gujarat, an integrated Solar City with a capacity of 5GW. In fact, India is more than capable of generating perhaps 1000 times the power it is likely to need by 2015. Can you even imagine the size of the potential market for battery back up to all this solar power? You can see why India is a frustrating place to do business— there is so much potential here and yet the 'Chinese style' dynamism just isn't there.
Mr Dumra's startlingly frank scene setter was the prelude to the enormous let down of not having invited Chinese speakers— namely Raymond Zhang, of Beijing Antaike Information and Yuehong Shu, to talk about the now pretty grave situation affecting Chinese lead‑acid manufacture, which even at the time of writing is getting more serious with the larger companies, like Fen Fang and even JCI plants being shut.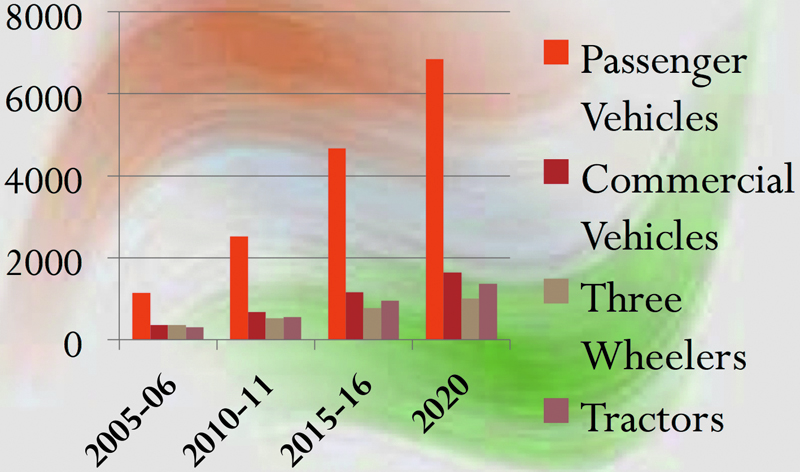 Why weren't they there? They couldn't get visas… not the fault of the organisers but the host country's chaotic administration.
I know because I saw their letters, with their reasons.
At short notice, we had the UK contingent instead— Helen Matthews of Brook Hunt. I chided Helen the evening before at the welcoming party, "Is this shortened version Helen, lead prices up, down, up, down— why? As is usually the case, the lead soothsayers focus on the past, concentrating on what they call " fundamentals"— demand, tightness of supply. They cannot take into account the ineptitude of European finance ministers and the wild oscillations of global stock markets and the greedy speculators. We're left none the wiser. Lead is going to get more expensive, like my electricity bill.
If you're looking to inject an element of positivity to any conference or event, then invite Bob Cullen of H&V. His industrial battery forecast has rarely been in negative territory and wasn't this time. Once again, it was a tribute to the smart phone, the IPad and everything wireless —almost a eulogy to the late Steve Jobs of Apple, a month before he died— "thanks Steve for changing the way we do everything and for boosting the Capex of telecom companies globally. And helping the industrial battery business. More wireless devices mean more telecom infrastructure— that's all you need to know.
Before you could say Thomas Alva Edison, it was time for a coffee break and the second half of the morning of the conference and for me the content went downhill fast— a blatant advertisement from Leoch International which told the world that they could make thin plate, pure lead batteries probably as well as Enersys or Northstar. Mario Natalluci of Faam gave a lightweight presentation of the work of Eurobat as if anyone in the sub continent actually cared but I'm saving my wroth for the technical incoherence of Subhas Chalasani of Exide who was billed as presenting on the development of an enhanced flooded lead‑acid battery for Stop‑Start.
Dr Chalasani, who returned to India recently having worked for many advanced battery companies in the USA had, as far I could see, completely ignored the time limits of 25 minutes to deliver his presentation. He gave a rushed picture on how his company had used cyclic voltammetry to choose suitable negative plate materials but we were no wiser as to what the performance of the extended flooded design would be. If you haven't mastered what can reasonably be delivered within the time frame of a 20 minute slot at a technical conference at an advanced stage of your career, well what can one say? And I don't have a lot of time for the Editors on this one either. Its not enough to say "thank xxxxx we've got a paper in'.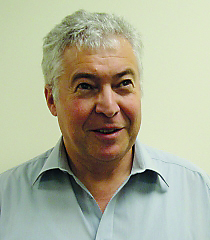 Thursday morning proved little better. Exide Technologies had pulled out and the morning session was only buoyed up by Boris Monahavov's presentation on carbon enhanced additives— work carried out under the auspices of ALABC. If there was one take‑home review paper in the whole meeting, this was it.
Monahov set into context all the currently understood means of using carbon in lead‑acid batteries.
You can:
Replace ALL the negative active material (NAM) in the negative plate by a high surface area carbon – as in the PbC battery developed by Axion Power – the capacitance of carbon matches this of PbO2 in the positive plate giving perfect cycleability at HRPSoC, high specific power.
Replace part of the of the NAM by carbon – as developed by CSIRO and ALABC, produced by Furukawa and East Penn – giving the double layer capacitance and Faradaic electrochemical process – superior HRPSoC cycleability, high W/kg — theUltra battery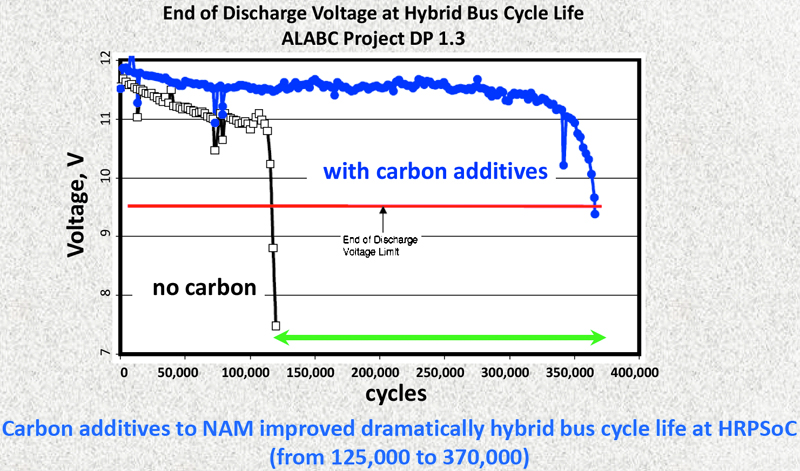 Replace all the grid, or part of it, by 3D carbon structures – techniques developed by Warsaw University, Power Technology, Firefly Energy, CEA-INES, and 3D battery produced by Firefly Energy – giving high specific power, high specific energy.
Or you can add carbon powder to the NAM with an optimised Pb grid. All NAM negative plates, modified paste recipes and mixers have been developed in ALABC programs, produced by several companies, giving excellent HRPSoC cycleability.
It is probably the last approach that most companies will use. And ALABC studies have shown that just a few percent addition by weight of carbons from companies like Cabot, EnerG2, Mead Westvaco, superior Graphite and Timcal make batteries which can actually meet mild hybrid duty cycles without major changes to battery productions lines.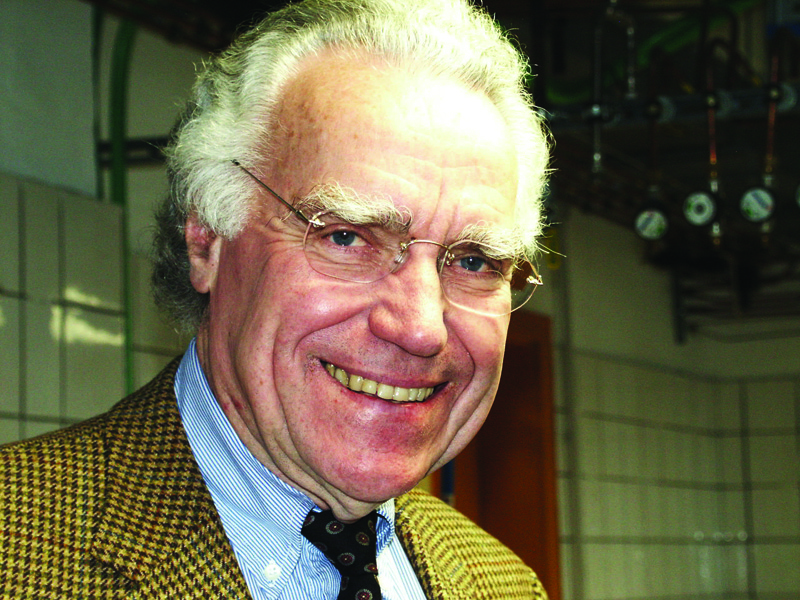 Snake oil or what? Monahov presented a review carried out by Pat Moseley on possible mechanism of action but this is really the subject of a much longer technical article. The fact is Carbon makes an enormous difference to lead‑acid performance shown in the way conventional batteries perform in these easy to appreciate figures.
Jun Furakawa gave a repeat of the paper he delivered at AABC Mainz, showing the astonishing performance of the Ultrabattery design.
The fact is the lead acid community lead by the ALABC have quietly chipped their way into the mainstream of the European auto industry at least. making mild hybrisation affordable and do‑able.
After the coffee break, I had the dubious pleasure of chairing the next morning session. The hall was now sparsely populated— it reminded me of the dying days of the International Power Sources Symposium, kept alive by a handful of old men, when the UK pretended to have a battery industry. It had been more than a decade since I'd first given Hans Warlimont the oxygen of publicity in a battery publication for his concept of electro formed grids.
He's still doing the circuit. Then Kevin Whear from Daramic on how the physical form of the firm's separators can make a difference to acid stratification in flooded batteries— which need as much help as they can get if they are to stay in the market for micro hybrid duty.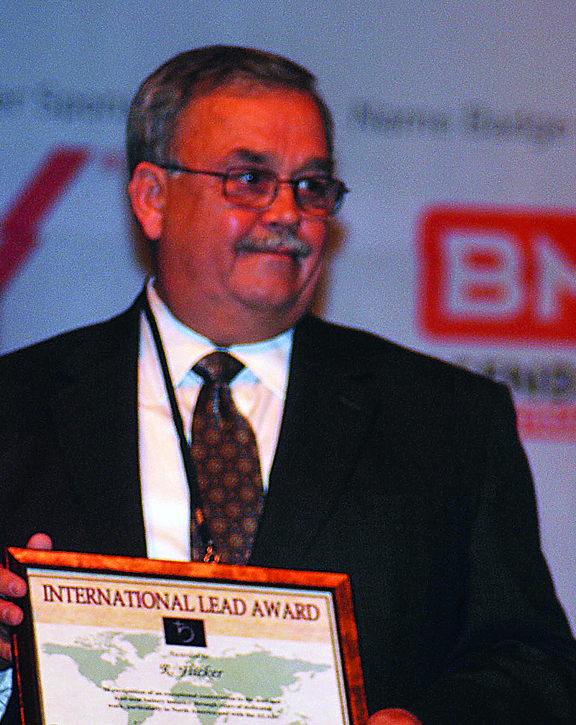 I left the session with a feeling that bringing the great and the good, and the not so great, to deliver technical papers to a mixed audience of businessmen first and battery technologists second, is an idea which no longer holds water as well as it once did.
The huge upheaval in the Chinese lead‑acid market didn't help much either.
Why were Chinese visitors not present in large numbers? Simply because they couldn't get visas? No, probably because they are wondering whether they still have a workable business model with more than half the lead-acid battery making plants closed and a very twitchy environmental regulatory authority making life very difficult for those that remain.
Will the Indian authorities take a leaf out of the book of the Chinese? Maybe but their ability to enforce a draconian approach looks limited.
On thing is for sure: The Asian Lead‑Acid battery landscape looks set to be very different when it next meets in 2013.