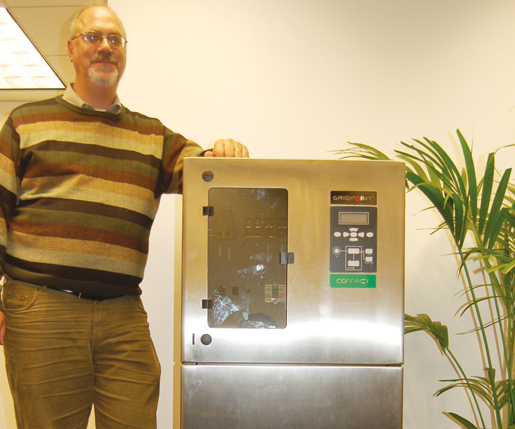 Looking for your next tech toy? If you have 'green intentions', or simply want a bigger better UPS system, then Gridpoint could be just what you're looking for. And it could be a major opportunity for battery makers.
It looks like some spanking new piece of kitchen hardware – a cross between a stove, dishwasher, or over sized wine cooler – it's certainly not meant to look like a piece of kit you'd find gracing anyone's stand at Intelec for example. It's just been voted into Scientific American's top 20 of gadgets they love.
And the US Consumer Electronics Association – the people who organise the gizmo jamboree in Las Vegas, named the company behind it as an "honoree" in international Best of Innovations in the Home Appliances Category.
Open up the door though and there's no doubting what this device is… the sight of those lead-acid monoblocks tells you everything – this is a large scale energy storage system for the domestic user who has already invested heavily in renewable energy – photovoltaics and/or a wind turbine and wants to hook all this up to his grid supply, so when that goes down, you'll have more than enough stored energy to get through the outage and maybe even some energy to sell back to the utility.
But it does much more than that – its software provides a host of information for the so far hundred plus customers who've spent more than US$11,000 on each unit.
GridPoint Central customers have the ability to see current energy usage statistics, historical usage patterns and the amount of carbon dioxide emissions avoided by utilizing a renewable energy source. GridPoint Central ties a customer's energy consumption and production patterns into their utility's rate schedule.
Doug Danley, the company's head of R & D waxed lyrically about this product when I met him at Battcon in 2006, where much is talked about battery monitoring.
But this is the first product you're ever likely to see that makes battery monitoring fun and could save the customer money. When we met again in Washington at an ESA meeting I had to drop by at the company's corporate headquarters and development lab to see the thing for myself.
GridPoint, the company behind this box called 'GridPoint protect', is described by the CEO Peter Corsell as a "kind of TiVo for electricity". But this off the cuff trivialisation is somewhat self-effacing. In September the company received a US$21m injection of funding with Goldman Sachs ploughing in some US$18m. Goldman Sachs subsidiary Cogentrix also has agreed to market GridPoint's demand response and conservation solutions to utilities, and GridPoint and Cogentrix officials are having talks with a number of utilities, said Larry Kellerman, managing director of Goldman Sachs and president of Cogentrix.
"We focus on selling things that utilities want to buy," and while that traditionally has involved power supplies, "we're seeking to diversify" as more and more utilities are interested in demand-response products", Kellerman said.
And the potential for this technology to really fly may come as a consequence of the Energy Policy Act of 2005 which requires power utilities to offer each of its customer groups within 18 months a so-called time-based rate that reflects the utility's cost of generating or procuring electricity – so peak shaving, which is what this technology can really deliver makes real economic sense. US power utilities should begin to deliver this from this month.
A single utility that deployed 100,000 GridPoint products across its territory could draw up to 500 MW of resources, or the equivalent of a power plant, according to Corsell. But unlike generation, GridPoint's products provide additional benefits to utilities by reducing demand, relieving stress on the grid and mitigating new plant construction. And of course it's a lot of battery sales…