You don't expect much controversial information at a highly focused battery meeting now, do you? The Editor nearly fell off his chair at the Lithium Mobile Power meeting in Boston in November of last year.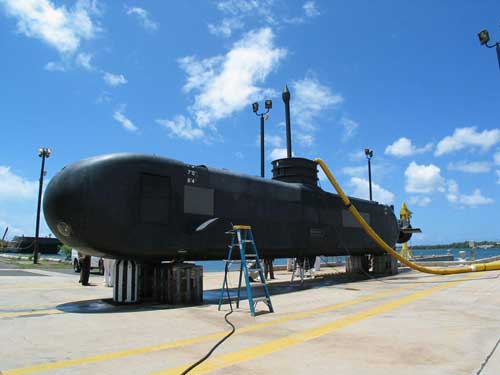 It's day two of an elite lithium ion battery meeting — one of a series this author has not been to before. You know the kind of thing: too many people in a small room trying to follow a PowerPoint presentation that is as clear as, well, lithium mud. A speaker from the Naval Surface Warfare Department is due to speak. I've almost dismissed it as conference padding. It'll either be the usual collection of images of weapons systems that Uncle Sam is planning, requiring batteries or standards information. Dull dull dull!
But no. One Clinton Winchester begins talking about lithium battery fires. The Navy has had quite a few it seems, and has lost buildings. My ears prick up. It has lost more than that. It has lost a submarine, confirming a story BEST had received earlier this year, but that no one would confirm — until now.
Sometime during 2008 a 1.2-megawatt, 300-volt (75,200 Ahr) Li-ion battery, allegedly made by a major US military battery manufacturer for the Navy, burned up inside a 63 foot sub called the Advanced Seal Delivery System (ASDS). The submarine, apparently on dry land in Hawaii, was totally destroyed. 
The Li-ion cells in the battery were 400 Ahr and probably used the Li-LiCoO2 system since they were likely made about 2005 or 2006. The fire occurred during charge and fortunately nobody was hurt. It was a great embarrassment all round and likely for the Navy too. But the incident also had huge ramifications. A major review took place and new safety procedures have been put in place for working with batteries larger than 1KW. All lithium work at the manufacturer and the Navy was halted for nearly six months.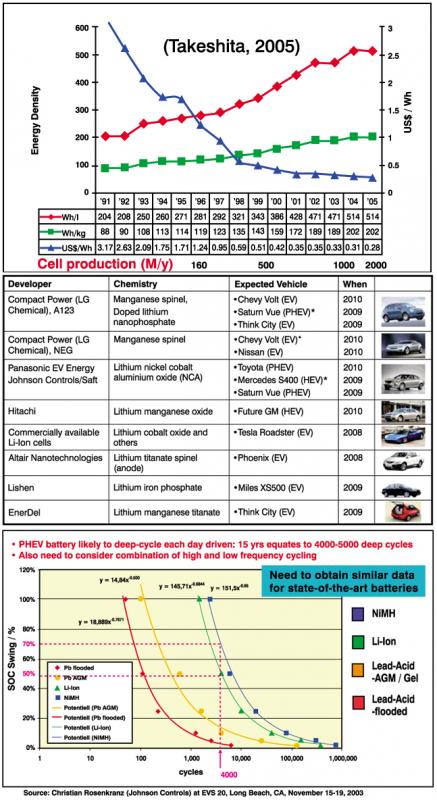 Coming at a time when lithium is the flavour of the decade, with huge sums being pumped into electric and hybrid car development from US Government and private investors, the presentation was the true elephant in the room. If there was a theme to this event and at times it was hard to be sure, safety seemed very much it.
Brian Barnett of Tiax, who has done much to explain what goes on in the failure modes of soft short circuits with 18650 cells was one of several speakers with a product which might do much to alleviate the issue of lithium-ion fires — a new cathode material — based on Nickelate.
Called CAM-7 (no explanation for what happened to the other 6), the new material has a very high energy density of 200mAh/g with a power rate of 100C at130 mAh and low temperature performance down to –20C, putting it nicely in the frame for HEV applications.
It's also low cost, though no numbers were given to support this. And it has excellent cycle life, with less than 4% capacity fade after 200 cycles. Of course Barnett didn't give away too much about composition and how the material is synthesized other than telling the audience that Nickelates aren't new.
Tiax, of course, is not a battery maker. Panasonic is, and staff engineer Yasuhiko Hina was even less than forthcoming on why the company's NiCoAl cathodes were just as stable.
To some degree, the lithium-ion battery industry is peddling a bit of a myth. It can build small cells in a number of chemistries with very few failures, but high power is still a challenge. And that's what we're looking for hybrid and pure electric cars. Not just on price, which is challenging enough. Safety is still a huge concern. The ideal electrolyte does not exist yet (one that is non-inflammable at very high temperatures, and that can be attained when packs go wrong). Shut down separators need to be faster on their feet and not do the equivalent of the electrochemical Maginot line. The auto industry cannot afford the equivalent of burning submarines in vehicle wrecks.
And this year (2010) is the year when lithium-ion vehicle launches are about to happen, according to K M Abraham of E KEM Sciences, one of the many lithium-ion battery consultants, who gave a very comprehensive overview of what's "known", in the Donald Rumsfeld sense.
One thing this writer has noticed over the years is that battery specialists are rarely alarmist or defeatist. What an industry can't do is described as "challenging"; where it is stumped, more research is needed, and what it can actually do is soon buried in patents and non-disclosure agreements.
There are other rules too. If you don't have good news of your own, cite other people's and reiterate everything else where possible. It takes least fifty years for the public to understand that smoking causes cancer; so how long will it take for the investment community to understand that not all lithium-ion chemistries are the same?
Dr. Abrahams clearly knows these rules and applied them rigorously. Take Hideo Takeshita's famous observations: lithium-ion batteries have got three times the energy density they had 15 years ago, ten times the power density and ten times the price reduction. How jolly clever of a non-battery specialist to separate the wood from trees of lithium-ion data, when most lithium battery scientists wouldn't have spotted this in a month of Sundays?
But no new physical law has been discovered and there are no guarantees that "improvements", especially price reduction in lithium-ion batteries, will inevitably occur through some process change: there are no new "Chinas" to be opened up for labour cost reductions, for example.
We are almost looking for an innovation in battery chemistry as fundamental as the development of silicon in electronics to bring that kind of price reduction about. That is what Donald Rumsfeld would rightly call a "known unknown" and sadly it's the known unknowns that most speakers fail to address at most battery meetings. Every other price reduction comes about through our overall greater prosperity, which starts the domino effects of increased volumes, and hey presto, the poorest man in Africa has a cell phone.
We now know that the US lithium-ion business has been freshly energized and primed with money. What about Europe?
Though this writer has visited Caderache, the French Nuclear facility near Chamberay where that trio of wonderful female lead-acid researchers are based, we had no idea the French Government had established LITEN, a 600 person strong research facility capable of making prototype lithium-ion batteries in large volumes (up 1500kWh/month).
It offers the kind of technical facilities you'd normally find in a commercial factory: large scale calendaring and cell winding facilities, a 130 m2 dry room facility and more than 400 channel testing and formation channels with a 20 % increase in capability by the middle of this year. Lead researcher Sebastian Patoux hid little: France, unlike the UK has a lively indigenous vibrant automotive and associated component sector: PSA Peugeot Citroen, Renault, Valeo. Let's not forget battery makers SAFT either, or that whole tranche of battery component makers like Solvay, Umicore, Merck and Timcal.
LITEN has focused on Mn2O3 and Mo2 cathodes. Having worked as a group on the rich layered lithium oxides for more than 30 years, their potential to deliver very high practical capacities has long been recognized.. Equally there's the understanding that there are limitations on performance at high rates and low temperatures.
But the potential to take these electrodes to deliver up to 300Wh/kg in association with SI/C composites is also recognized — a superior offering to graphite-based anodes.
Leclanche is a name those with an historic perspective on batteries would know well. But in Boston this writer heard for the first time what this now German-based company, which according to a Business Week profile used to be called Bullith Batteries, actually did. As I've said many times before, when it comes to marketing… too many firms in this industry are in the class with learning difficulties.
Mr Karl Heinz Pettinger, CEO of the company, fairly whisked through the technology on offer. The company has patented ceramic-based separator technology. It offers a titanate-based chemistry (similar to that from the much promoted and acclaimed Altairnano). It seems to have a very neatly arranged method of stacking its pouched cells. And the cells seem to have very long life and temperature stability.
So why have I not heard of them before? Is it because they carry out downright strange demonstrator projects, like providing the power source to keep Lavazza coffee hot on Swiss trains? They have more typical projects too, like trying to get GT type electric vehicle races of the ground. But they should have a much higher profile in the market place than they do at present.
One company that clearly was concerned about getting its image across (but that was only to TV viewers back in Japan was the Hirose paper company. They'd called in a TV crew to record Yoshinori Kishimoto's performance on high performance lithium-ion battery separator made of "nanofiber overlaid non woven". You know the story. The current generation of lithium-ion microporous polymer separators have all the qualities of a chocolate fireguard: a low meltdown temperature, low porosity, they don't stop dendrites and they're expensive.
The next generation of high power lithium-ion batteries will require a higher porosity material with a faster shutdown at higher temperatures. Enter Hirose. The nano-engineered material certainly melts at a higher temperature —200°C. But the shutdown property wasn't demonstrated in a cell-based system, though the company has "hopes". And by coating the fibres with ceramic particles, you can raise the melting temperature even higher.
No one talked about price of course. Today's lithium-ion separator is extraordinarily pricey. Better products are unlikely to be cheaper.
I left Boston with a strange feeling: the elephant in the room — lithium ion safety — or lack of it — seemed a larger problem than ever. But nobody wanted to put their heads above the parapet to discuss. Except our friend from the Navy. Strange.