Volvo has created a way to integrate batteries and supercapacitors into the materials of a car so entire bodywork panels would become a battery.
Working with researchers from Imperial College London and a consortium of engineers, Volvo has developed a nano-structured lithium-ion battery surrounded by carbon fibre composite material.
Volvo is testing a prototype of the battery in its S80 gas-powered model. The integrated lithium-ion battery has replaced the regular 12V SLI battery.
It features rechargeable panels made of layered polymer-infused carbon fibre that act as the anodes and cathodes.
The carbon fibre is layered and shaped before being cured in an oven to set and harden. The supercapacitors are integrated into the component skin, which can then be used as the car's hood, roof and side door panels. In the prototype model it forms the boot lid and plenum cover.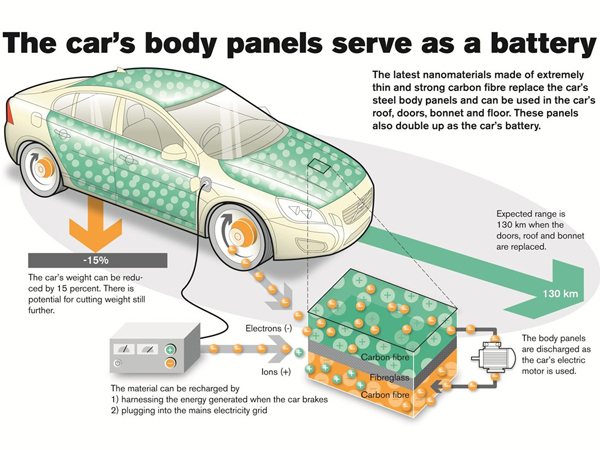 The carbon fibre energy storage sheets can store power from regenerative braking as well as mains charging.
The boot lid is a functioning electrically powered storage component and has the potential to replace the standard batteries seen in today's cars. It is lighter than a standard boot lid, saving on both volume and weight.
Volvo said the prototype featuring the energy storage plenum demonstrates that it can also replace both the rally bar, a strong structural piece that stabilises the car in the front, and the start-stop battery. This would save more than 50% in weight and is powerful enough to supply energy to the car's 12 Volt system.
It is believed that the complete substitution of an electric car's existing components with the new material could cut the overall weight by more than 15%.
Volvo did not discuss the safety implication of having the battery in the outer shell of the car.