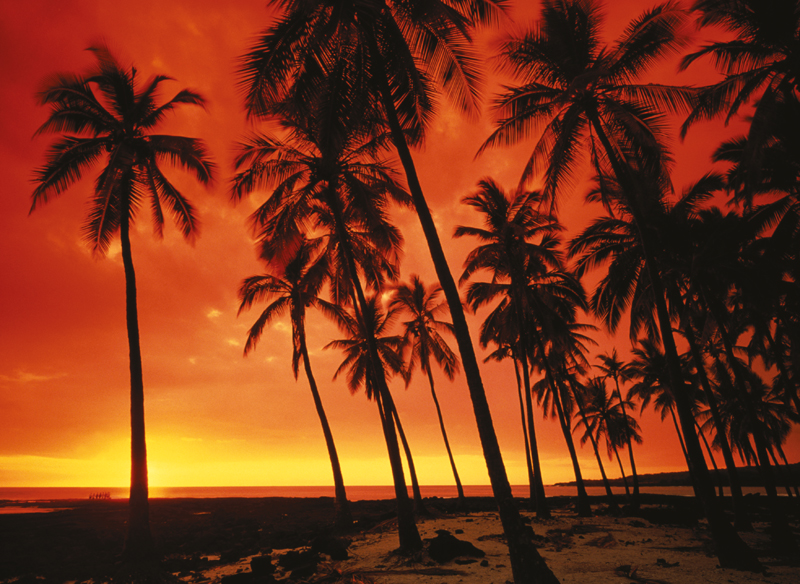 The Editor takes a hybrid trip to Hawaii – and the Fifth Advanced Automotive Battery Conference – soaking up sun and electrochemistry to see who's ahead in the race to develop hybrid electric power trains.
If you hadn't worked it out already, staging this year's Advanced Automotive Battery Conference in Honolulu made a lot of sense. Sure, it's half way round the world for Europeans – but Europe seems to be making little headway in developing hybrid electric vehicles. So let's get up close to Japan, where they are continuing to make significant advances – and not too far away from the USA where (Toyota hopes) the great majority of these vehicles will be sold.
And since it's such a nice place, let's turn it into a week-long electrochemical party! With 68 presentations, a lot more posters than last year and a huge number of people to talk to, trying to summarise this meeting in the 3,000-odd words I've allowed myself will be difficult. Even double that space wouldn't fully do justice to all that I saw and heard. This article in some ways fills in the gaps from my report from Monaco.
But all that glitters is certainly not gold on the road to advanced transportation, and there will be wrecks along the way. Perhaps the biggest warning sign was signalled ed the title of the meeting, which finally emerged as the Fifth International Advanced Automotive Battery and Ultracapacitor Conference. Get it? That's right… no mention of fuel cells. There are plenty of meetings covering those, but if Menachem Anderman is right (and he did attract over 350 delegates) there just isn't the demand from power train professionals to listen to hot air.
In essence there were two main entertainments at this show. The first was the Toyotarama ride – sitting back and watching in awe (and possibly in shock) as Toyota and its supply chain continue to roll out a seemingly endless string of improvements to batteries and the vehicles for which they are intended to provide the energy storage.
The other entertainment is the mild/micro hybridathon, where you can run around in ever-decreasing circles discussing the relevant energy storage technologies (and combinations thereof) which you might use to build a mild/micro hybrid at no more cost than a conventional vehicle and then sell in large numbers to customers who are queuing up to buy.
The Toyotarama ride is by far the most entertaining. It should be accompanied by cries of ooh and aah from the audience as they are mesmerised by the engineering competence and innate sense of how to sell the product to today's customer: an American who cares first and foremost about performance (and damn all about the environment).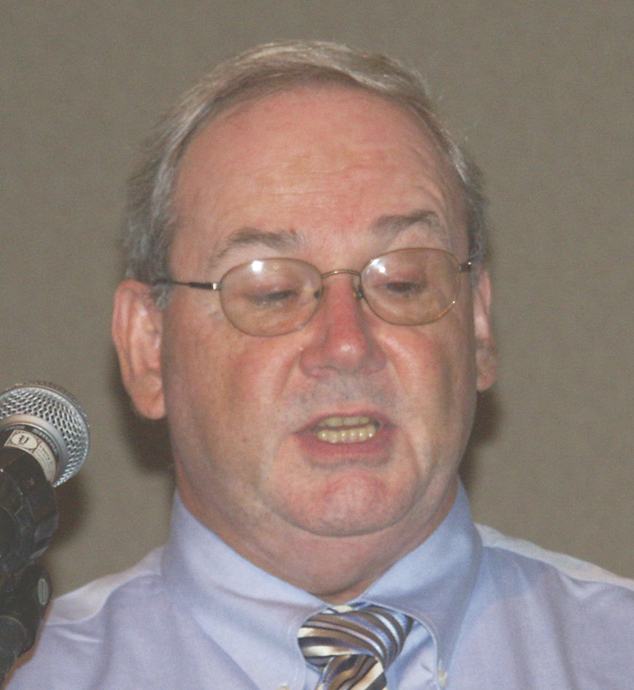 It fell to David Hernance to open this part of the show. Hernance has an air of justified smugness about him. While Toyota may miss its target of selling a million hybrids by the end of the decade, they'll be pretty close. The secret is not selling a green car, not selling a fuel efficient car – it's simply selling a better car. And by unveiling the performance details of Toyota's vehicle (and others hybrid offerings over the next year) it's pretty clear what kind of hybrid that vehicle will be – a full one – and what battery chemistry will power it (nickel metal hydride). Before long Toyota will have a hybrid in almost every class and kind that Americans wish to purchase. Hybrid will simply be another option from the dealership: it will have better acceleration and longer range, and will be federal government policy neutral.
And the stuff is selling: a 33% rise in registrations last year, and likely to be 1.35% of all new sales this year (according to JD Power & Associates). The fact that you will be able to drive it in the pool lanes of some states with a single occupant while saving money in the process is just a bonus. You won't even need the tax credit to buy one – purchasers of the RX 400 from Toyota's Lexus division really don't have to watch the pennies. It's the dream diet: "I can eat everything and still stay slim" – and Hernance laid on the dressing thickly with every course.
Watch out for the Lexus GS 450h, the top model in the range, which will be launched later this year: 0 to 60 in 5.8 seconds and the first rear-wheel-drive hybrid. It's engine is just a 3.5 litre V6 but the addition of the electric drive gives it more than 300HP.
In the advanced vehicle stakes, it's abundantly clear that Toyota is putting a lot of clear blue water between itself and its immediate competitors. Honda, Nissan and the North American players are trailing in the dust. In Europe they are not even off the starting line.
I asked Mark Verbrugge, GM's battery modelling whiz, how many hybrid Silverado trucks had been sold since the model's launch last year. About 10,000, he believed. "Right now its about proving the technology works rather than sales."
I don't think that's the way Toyota sees it. I really wondered if the Electric Drive Transportation Association, represented by Brian Wynne, still had a role or any relevance. The cars are selling – they don't need subsidies or special car shows any longer.
Menachem Anderman's forensic overview showed up a few other significant facts – who's making money and who isn't, and who's not likely to any time soon. The whys and wherefores come later.
Panasonic's battery division is likely to have racked up a cool US$300 million's worth of sales for high power nickel metal hydride batteries over the course of the past five years, though analyst Hideo Takeshita reckons the company's made a significant loss on this business. Panasonic probably did not expect the price of nickel to triple. Toyota dealers are doing nicely by adding every conceivable gadget to the basic Prius, which helps bump up the price and the profit margin. Nobody else though is making much. Anderman's statistics show an earning figure of less than US$50 million for all the other advanced energy storage players combined, including advanced lead-acid batteries from GS-Yuasa and Panasonic. The 42 volt Toyota Crown is now out of production and Exide's Francisco Trinidad told me they did not have a single customer for the Exide advanced orbitel battery which could 'go the distance' in a micro hybrid design. The only micro (stop start) hybrid described in Honolulu – from French maker Citroën – uses an advanced (cheap) AGM battery which Exide developed a while back.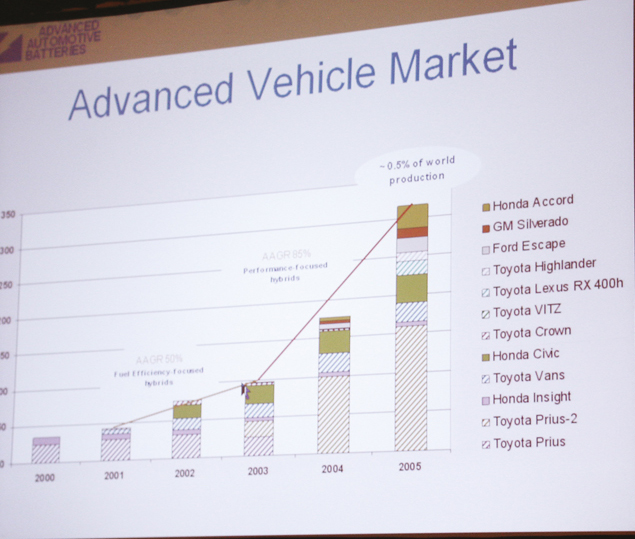 Anderman clocks up the air miles to get his overview, but his most telling remark is not in his presentation. "I've spoken to all the European car makers and they tell me they will have a mild hybrid in production by 2008," he tells me. "But none of them have settled on a battery system yet, which makes me question their commitment."
Too right! But what should they be questioning? The electrochemistry? Or the whole value proposition of the micro/mild hybrid? To my mind the plot has been ruined by Toyota, which set the standard for hybrids with a very advanced package. Mild/micro packages which provide an opportunity for the cheapest (lead-acid) batteries to enter the market will only ever yield a 10% fuel saving and no extra performance. And there's always that teeny weeny worry about battery reliability if they fix on cutting costs (lead-acid).
But this meeting focused on what energy storage systems can offer rather than what customers will buy. Now even Ford Europe are playing with a Fiesta micro hybrid working on a 12 volt lead-acid system and a belt-driven integrated starter generator. The Fiesta is Ford Europe's bottom-of-the-range model, so all this attention to cost-saving offers the buyer nothing. But transfer the concept to the Ford Transit van, probably one of the most successful vans (in the European scene) – up-rate the system to a 42 volt design – and you could achieve an 8-20% fuel economy benefit if you use the van for deliveries. And it's a project developed in Britain with Ricardo Engineering Valeo (with the help of yours truly's taxes).
So maybe Anderman is right to be optimistic about mild hybrids in the medium term. But it's five years since this conference series started, and the Japanese have introduced more full hybrids than mild ones in that period.
If lead-acid's prospects don't look terribly improved (even though the performance numbers are better) it isn't all plain sailing for NiMH, the medium-term mainstay, either. As some of us guessed five years ago, the limiting factor would be cost (Nickel is not exactly an abundant metal). Anderman did some forensic accounting on HEV NiMH designs and soon showed that the dollar cost per kilowatt is rising to a point where today's expensive lithium products begin to look more sensible. It's the Chinese buying stainless steel sinks, (which contain nickel).
But do they make more sense? This year's conference was preceded by three excellent seminars – on VRLA batteries in traction, ultracaps and high power lithium ion. It was in the latter seminar that I saw some very disturbing movies made by Daniel Doughty of Sandia Laboratories. We've all seen battery abuse movies before – especially from the makers – and heard those re-assuring words "white smoke no flame". Pack abuse, though, looks like something else: dozens of cells packed together perform something like one of those barrage firework displays you can purchase for new year's celebrations, when one cell fails and causes a cascade effect in the others.
The addition of fire retardant agents to the electrolytes of individual cells would seem to make little difference in these cases (shutdown separators can even make things worse) and I heard nothing which convinced me that lithium battery makers had this problem solved.
Still lithium development goes on unabated. Three cathode materials are now getting serious consideration – the latest, lithium iron phosphate from Valence, alongside improved cobaltic and manganese designs.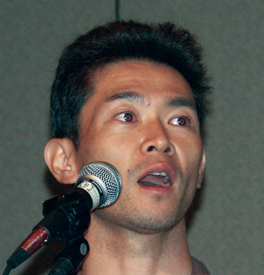 Now you'd think, wouldn't you, that as lithium is entering the high power portable market (power tools etc.) then the natural follow-on would be the development of high power lithium for HEVS. Not so, says Hideo Takeshita. Not when the market is only a million (or perhaps even two million) cars a year. The portable power (cameras, computers and communications) market is much bigger, if you accumulate the value in megawatts of stored energy.
Sometimes I wonder if Takeshita is deliberately putting some makers off the scent. Only nine months ago he told the portable power conference in San Francisco that there was already overcapacity in the portable lithium market. So wouldn't it make sense for someone to take a position in this new and upcoming market?
That 'someone' looks likely to be Nissan with Hitachi – the players who appeared to fall behind five years ago with the extremely limited launch of the Nissan Tino – a lithium-ion powered hybrid of which only 100 were sold (on the Internet). At that time Nissan was going through financial difficulty and no further cars were made. But those 100 were closely watched, and Takeshi Miyamoto of Nissan and Tatsuo Horiba of Hitachi gave details both of the old design and of a new one which is planned for introduction in the next couple of years.
The first-generation battery was based on cylindrical cells using a manganate spinel capable of 2000W/kg per cell – more than double what NiMH offered at the time of launch. The downside was the price, which Nissan didn't mention. At least one of the vehicles has been followed in great detail and the batteries have degraded at a rate which was encouraging – but it's only five years out. The life target is 15 years. Now Nissan and Hitachi have developed a second-generation lithium cell based on a laminated cell design which is both simpler to manufacture (fewer components than with cylindrical cells) and easier to cool in a pack. That technology is already under evaluation in a fuel cell based vehicle in Arizona. But I get the impression that the fuel cell component is just a smokescreen. If Hitachi can get the cost down, Nissan might just steal a march on Toyota and introduce a lithium powered HEV. again by 2006/07. But success depends on the vehicle design overall – not just the batteries.
And who knows, there may even be a surprise challenge from the South Koreans, who poached Honda's battery whiz Noboru Sato last year.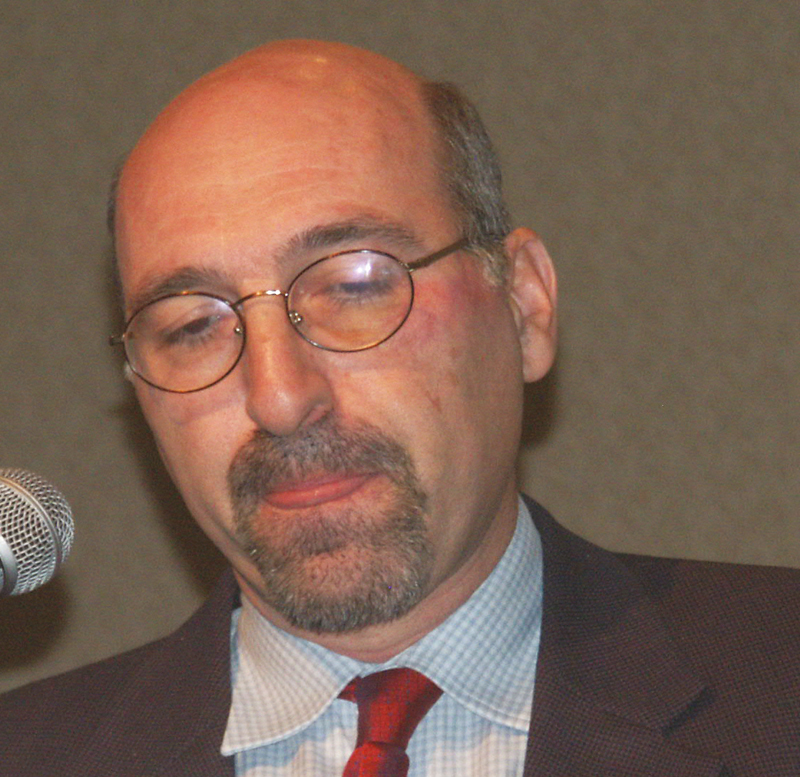 Samsung is already entering the high-power lithium market with an 18650 sized cell capable of 12C and 16C discharge performance. It is confidently predicting it will have several variants in the next two or three years – the guarded presentation hinted at the fact that they've licked the problem of growing cell resistance as the cell ages through electrolyte 'additives' – and the design appears to have the required cycle life and storage capabilities.
Takeshita, however, is theoretically much closer to what is going on in Japan than any of us. He predicts that the first lithium-powered HEV will emerge in late 2006, and the second in 2008; of course the race is between Toyota, Honda and Nissan.
From the European perspective, Johnson Controls' Christian Rosenkrantz gave an overview of where, perhaps, today's biggest automotive player is coming from. Today it can show an advanced nickel metal hydride design which is seeing some action in buses and vans if nothing else.
At least Rosenkrantz outlined some of the concepts as to how the company would overcome the issues of cell venting in an overcharge/ thermal runaway situation – the module incorporated a series of channels which seemed to allow the volatile electrolyte to dissipate in a more controlled manner than the standard bunsen valve approach.
But will Johnson's European division have any automaking customers? From what I could see, probably not.
Rainer Knorr of Siemens outlined a number of power train possibilities, one of which incorporated the intriguing possibility of marrying a 12 volt lead-acid system with a double-layer ultracapacitor. But the problem in this design, at least for the critics, was that there was not enough capacity in the energy storage to give the system enough 'poke' all of the time. Automobile acceleration in such a hybrid comes from the electric drive components and the boost needed comes from the capacitor: if the capacitor isn't recharged quickly enough from the battery or from regen braking, the driver could be put in an embarrassing or even dangerous position – when overtaking, for example.
Indeed the whole question of marrying ultracaps and batteries (especially lead-acid batteries) wasn't really answered unequivocally at this meeting.
You all know the background – especially if you've read Dr Anderman's 'revision notes' for the exam*. Batteries aren't that great for energy storage; ultracaps look attractive but then they're not perfect either. Put together, perhaps we've got something?
Well the guys I'd hoped would come up with the definitive 'yes' – Ahmad Peseran and Sam Sprik of the National Renewable Energy Laboratory – failed to do so. Oversimplifying (as I have to in this short space) they tried modelling a VRLA ultracap hybrid in a 42 volt mild hybrid design and compared the results against performance numbers from SAFT lithium ion and Panasonic NiMH technologies. The answers were not clear-cut at all, and were reminiscent of the answers you might get from a lawyer (or your doctor if you were contemplating radical treatment for a terminal illness). On cost, well it depends how you balance the contribution of both elements; on weight and mass, it didn't look that great; but on cycle life it probably was the winner.
Anderman himself disagreed with the findings. The problems comes in coupling – simple parallelling of the devices is too crude and doesn't transfer energy efficiently between them. Efficient coupling involves quite a lot of electronics, and this adds cost.
So once again cost is everything, but get the cost of double layer ultracaps down to between US$6 and 20 per Whr by the end of the decade (it's from anything between US$35 and 70 per Whr now) and in you'd been in the ballpark for using these devices in significant numbers. But then you have the issue of system costs.
It's here that Anderman believes the combination of the two devices – lead-acid batteries and ultracaps together – gives the lowest system cost of all – US$435/Whr as opposed to US$455/Whr with NiMH and 600 with lithium ion. You could have an cheaper solution with ultracaps available for 50% of the drive cycle, but this combination will terrify drivers trying to overtake, in France for example.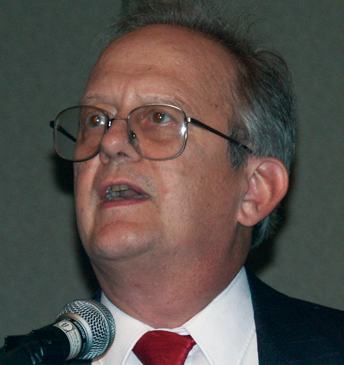 A lot of ifs and a lot of buts, but once again perhaps Anderman has steered developers and customers together towards what might work as a combination of technologies to make a more fuel efficient (and more fun to drive) car at a cost which gives some profit all the way down the supply chain and is actually affordable.
And as far as many of the lead-acid readers of BEST are concerned, it will keep them in business. The incremental increases in improvement in cycle life and performance of lead-acid demonstrated by Exide and GS-Yuasa should be enough to keep them in the game for an Ultracap/VRLA mild hybrid. But the emergence of such a vehicle from the car makers could be another five years away. It's a long time to wait, and who knows whether by then the full hybrid design will be the dominant one?
With that thought, I'm heading back to the beach. The event has been like one of those 'geeks cruises' you see advertised in US-based computer magazines – a holiday where you learn more about your favourite subject. My thanks to Menachem Anderman and his team, who gave me the opportunity to learn so much in one week, and meet so many key movers and shakers.