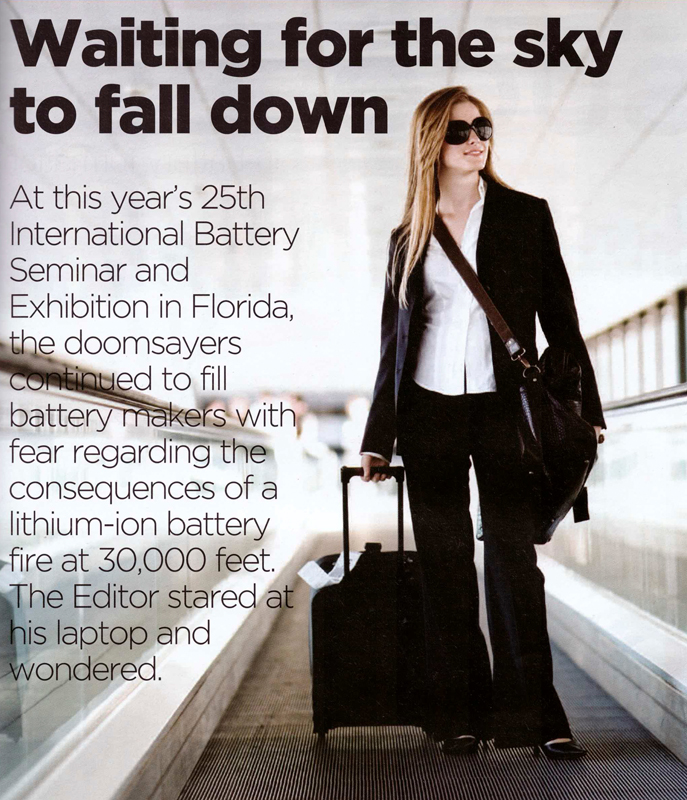 At this year's 25th International Battery Seminar and Exhibition in Florida, the doomsayers continued to fill battery makers with fear regarding the consequences of a lithium-ion battery fire at 30,000 feet. The Editor stared at his laptop and wondered.
The cool brunette (above) strolls down the moving airport walkway without a care in the world. No doubt she's got her laptop stowed away in her roll-along, her Blackberry in her shoulder bag, her digital camera close by. She's sealed up all her spare batteries with insulating tape and she's fully aware of the concepts of lithium-ion battery over-charge and over-discharge.
She'd never ever buy cheap nasty replacement batteries made in the People's Republic… just as she'd never have unprotected sex with a stranger. Bet she's not maxed on her credit cards either.
But with all that hardware, you know she's about as dangerous as Osama. After all, she's been quietly slipping through security since 9/11 without a care in the world – a walking time bomb.
The advertising campaign I make no apologies for poking fun at here, is part of the US Department of Transportation's "outreach" campaign to make the American public aware of the potential danger pose by those innocuous things we all make our living from: batteries. Especially when you're flying.
Suffering with a head cold and the effects of cold relief medicine, I had the distinct feeling I was being brainwashed by a series of civil servants (or maybe preachers?) who were telling me the end of our world was nigh, that sooner or later, the wages of sin (the frequent use of portable electronic communications) would come down on us in a fiery ball from the sky as the long-awaited lithium-ion battery (a pint-sized Hindenburg) gets out of control and brings down a passenger jet.
And then what? The end of charging of our mobile devices on planes? Mandatory removal of batteries from portable devices before we board? Soon the best safety tip from the U.S. Department of Transportation will be to stay at home, especially when gasoline is US$4.00/gallon and you have to use Heathrow's new Terminal Five.
There is a small but not insignificant chance the party that everyone has enjoyed (ever expanding sales) could come to a shuddering halt due to someone's incompetence, ignorance, or to the sheer serendipity of circumstances. Lithium-ion batteries do very occasionally spontaneously burst into flames and even more frighteningly, do so when on board aircraft.
The hard reality, however, is that the U.S. Department of Transportation is now receiving at least two reports a month of battery "incidents" involving batteries in the air and that's just U.S. related. Nowhere else in the world are battery incidents being tracked as effectively, if at all.
As Brian Barnett of Tiax explained at last year's event, these "field failures" have nothing to do with the kind of failures that occur in the standard battery abuse tests. No amount of nail hammering into batteries will produce the same kinds of short circuits and massive rises in temperature that cause the kinds of fires the DOT are describing.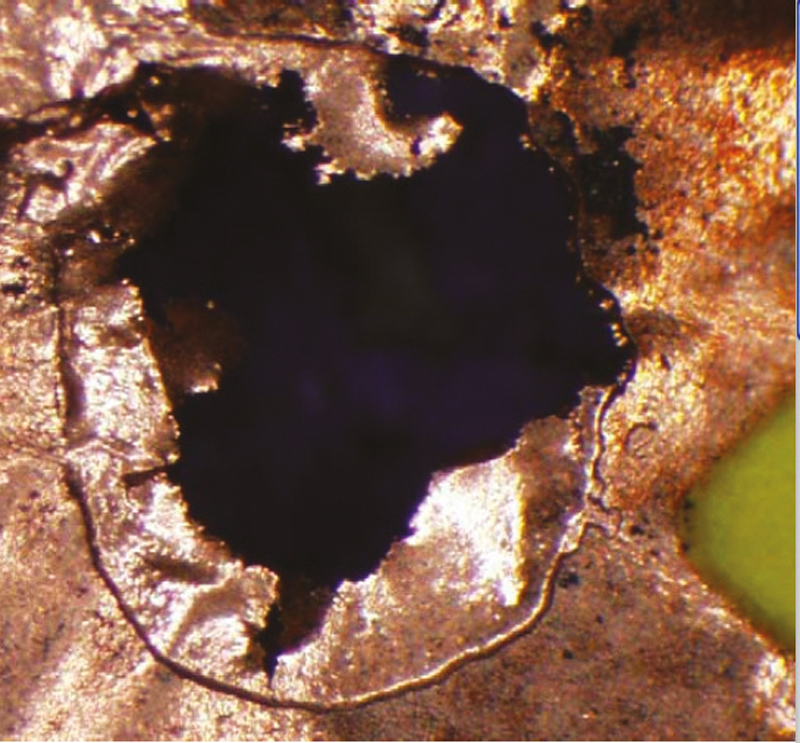 Since last year, Barnett's people have walked away from the old certainties most lithium experts have held to be true. According to Barnett, the "safe cathode" concept has somewhat flown out of the window and there seem to be doubts that the internal short risk can ever be eliminated, or even detected during manufacture.
What is clear is that numerous factors will result in an internal short, but not all of them will lead to a thermal runaway. For a runaway to occur, a threshold of power and energy has to be reached at the short. According to the Tiax team's battery models, so-called "safer cathodes" only delay the occurrence of runaway by a matter of minutes if a short of sufficient threshold has taken place.
While more thermal runaways have been observed, fewer seem to be predictable, though the observed "metallurgical forensics" seem to back up the models. Celina Mikolajczak of the engineering consultancy Exponent, has also spent a considerable amount of time studying the holes in the copper current collectors of lithium-ion batteries that have also undergone thermal runaway. In many respects, her interpretation of the physical events (copper melting and hole formation) suggests the fault starts at a tiny point source, just as Barnett says.
Mikolajczak stated that holes surrounded by re-solidified copper rarely form in more than one cell of a battery pack that has undergone an accidental thermal runaway reaction in the field in the absence of cell overcharge for cells with capacities of ~2200 mAh or less. This suggests that uniform external heating of a cell, which causes large areas of the separator to melt simultaneously, is unlikely to produce regions of melted copper. The very limited areas of observed copper melting indicate brief, localized energy transfers consistent with electric faulting – pretty much what Barnett describes. Such faulting could only occur while most of the cell separator is neither melted nor shrunk, and while a sufficiently conductive path exits to the copper current collector (for example, for a soft pack cell, before heating of the electrolyte has caused gas generation and separation of the electrode layers). It's all rather unfortunate because the mechanisms that are supposed to arrest failure are completely bypassed.
Mikolajczak also suggests that the faults that cause the final disaster could grow over a period of time as a cell is cycled; several tiny shorts developing at different places could likewise eventually deliver enough shorting energy to cause a runaway.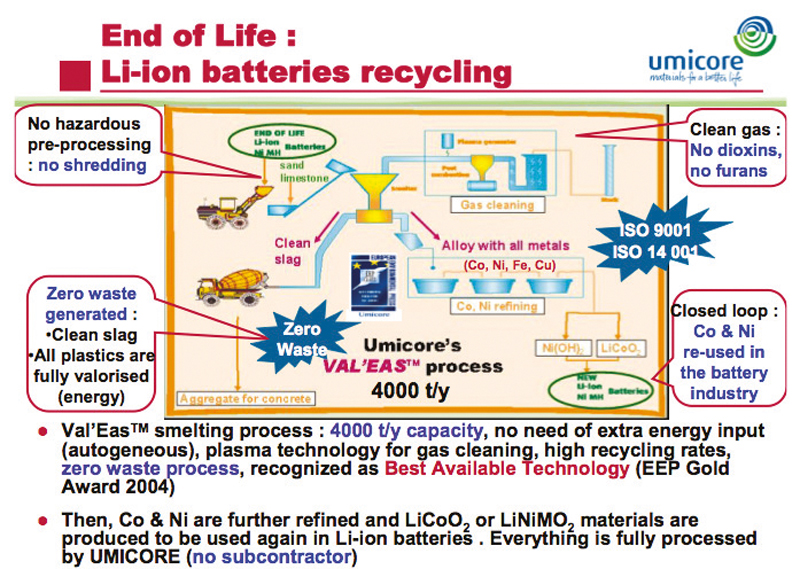 It's worrying stuff. Or is it? Kamal Shah, chairman of the mobile PC battery life extension working group, pointed out that with an installed base of maybe 2 billion cells in working notebooks, the actual number of battery incidents is still incredibly small – incidents range in the 30s while the recalls have been in the millions. Industry does what industry knows best – new standards (see IEEE 1625 Standard for Rechargeable Batteries for Standard for Rechargeable Batteries for Mobile Computing – updated and scheduled for publishing in May 2008).
Expect to see techniques like battery pack authentication to avoid the use of non- proprietary batteries, and new methods by which battery pack management systems become smarter in the way they handle aberrant cells.
The general approach throughout the meeting seemed to be: if we can't eliminate lithium-ion incidents, we can make them benign. By the time Bob Richard, deputy associate administrator for hazardous materials at the US DOT spoke, battery safety had been laboured to the point of over-kill. Even Mark Verbrugge, GM's Mr. Battery, was nodding off.
But it turns out that when you look at all battery incidents that have taken place since 1991, fewer than a third involve lithium-ion batteries. Batteries are potentially dangerous; so are over-the-counter medicines, power tools, electric kitchen appliances and even some toys. Nevertheless, we all submitted ourselves to the usual (and by now mandatory) platitudinal pitches for more work with "stakeholders" to develop "outreach" materials," just to show we tried. Like anti-smoking campaigns, such efforts will never alter the fact that Joe Public, in the US and elsewhere, is dumb-arsed and will never realize that a modern battery, though a remarkably efficient way of storing electrical energy, could cause damage if its energy is released suddenly.
Saturated with depressing news and in need of an uplift, I decided the parallel battery recycling meeting would be just the ticket.
Again, once you've removed the platitudes and sheer smooth talking hucksterism from the programme, what are you left with? I didn't want to hear about how GM will take apart its cars and its future vehicle portfolio. Nor did I want to hear the smooth talking execs from American electronics manufacturers' associations prattle on about how batteries are not a "problem" when they're spent. I was keen to hear the sheer experience of those who have successfully recycled batteries – even if we're talking lead acid batteries.
Enter RSR Metals' Tim Ellis, who spelled out what happens in the recycling process in plain and simple terms. Lead, he reminded us, has the highest recycle rate of the base metals. In fact, secondary recycled lead accounted for 88% of the lead consumed in 2007 in the western economies. That lead recycling has become so successful may be due in large part to the fact that consumers who do not return spent batteries for recycling must pay more to purchase new ones. Because recycling accounts for 80% of the Pb used in industrial manufacturing, modern economies accumulate Pb rather than consume it.
Present models indicate that, as secondary lead becomes an increasingly important segment of the total lead market, secondary production will be a key element in stable supply and pricing for all lead-based materials. Thus any modern lead recycling facility finds itself blessed in enviable market variables: a stable source of material to be recycled, a high degree of environmental regulation, and essentially a single use market for an essential product – batteries.
Of course, the market doesn't always work smoothly, as Ellis explained. Speculation, the closure of smelting plants in Europe, the rapid rise of China as a battery manufacturing location and state "interference" in export duties have resulted in the metal's rocketing costs. But Ellis did shine a light to the future for the eventual wide-scale recycling of lithium-ion batteries. For that to happen, however, there will need to be a process, a clear economic gain, and probably a legislative requirement.
A joint presentation from Umicore and SAFT indicated that all three components (process, green pathway and economic gain) are indeed viable, even probable. Ghislaine Van Damme of Umicore went through the commercial plug for the company as you'd expect – 17000 people in 50 locations, revenues close to €2 billion, and the enviable ranking of number one global company in battery materials and cobalt production. And then there was all that sustainability stuff; you know, the smiley people in the PowerPoint slides planting trees together.
But the fact is that Saft and Umicore's end-of-life lithium battery smelting and closed loop recycling of the materials does indeed make environmental and economic sense. The outputs are a mixed alloy of 30% Co, 5% Ni, 30% Fe, and 20% Cu with a mixed slag consisting of AlO, CaO and LiO, all of which can be used, would you believe, as a road building material. All the separators and associated plastic create additional heat in what is an exothermic process, and the waste gases are cleaned in a plasma furnace. The mixed alloy can be readily used to produce lithium, cobalt oxide and nickel to make more lithium ion batteries. Apparently, the process won a European Environmental Press's gold award in 2004, but neither SAFT nor Umicore have ever told BEST magazine anything about the prize until now. Valeas, located in Sweden, uses hydroelectric energy (very green) to recycle as much as 4500 tons of batteries a year, a practice that probably makes more economic sense than Belgium-headquarted Umicore's mining of cobalt in the Congo, an unstable, war-torn and disease ridden hell hole in central Africa. A salutary thought, when you next switch on your mobile phone. Delving deeper into Umicore's web site, I learned the company will offer battery suppliers a certified zero-waste battery disposal solution anywhere in the world. Check www.batteryrecycling.umicore.com/EEPAward2004/environmentAwardValeasE.pdf for details.
Of course, Umicore hardly stand alone. As lithium-ion batteries continue to dominate consumer electronics markets, and will almost certainly make their presence felt the automobile markets, attention from the metals industry will grow. Metals giant Xstrata are completing a co-recycling plant in Sudbury, Canada, that will use 75% less energy to recover nickel cobalt and copper from battery waste than to process primary cobalt. The plant will be operational by the summer of this year. In the USA, Toxco plan to expand their facilities as the efforts of battery recycling campaigns continue to bear fruit.
All of these steps are a brave act of faith in the knowledge that we'll continue to use and be dependent on lithium-ion technologies. But if the next smoking laptop in the baggage bin of a commercial flight gets to the point where it can't be controlled by flight attendants, one wonders whether faith in the technology will evaporate totally.