Frequent cycling is the focus of research in lead-acid battery design today— a group of leading lead-acid battery researchers got together at the recent BCI meeting in Florida to discuss innovation in grid design. Boris Monahov reports.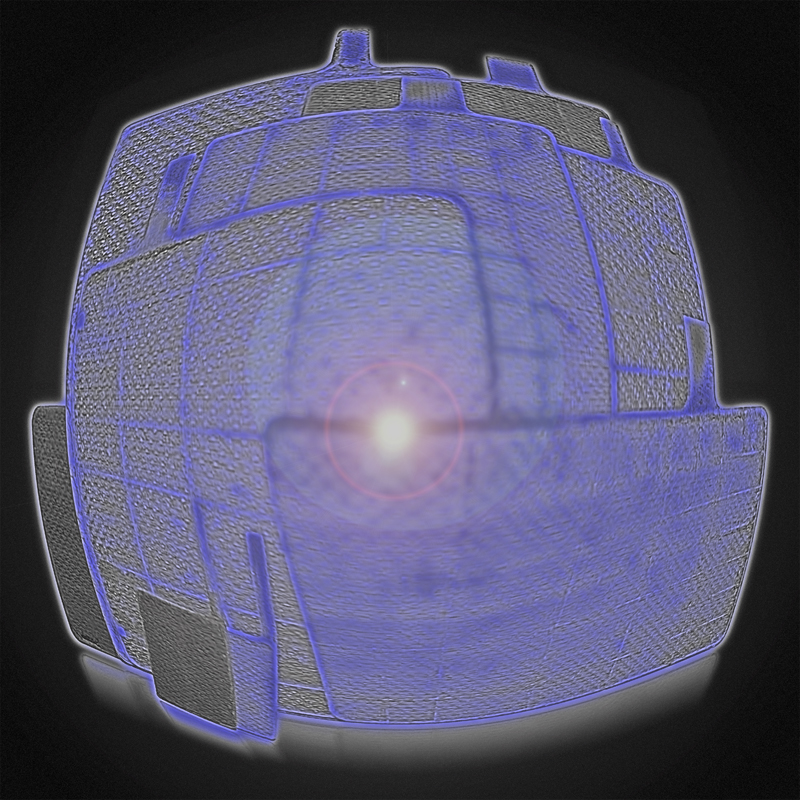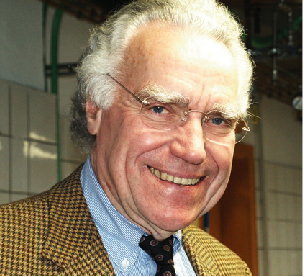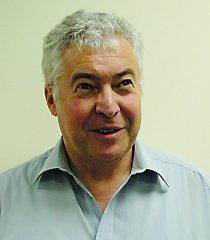 High-Rate Partial-State-of-Charge (HRPSoC) cycling of lead-acid batteries in novel applications like hybrid electric vehicles, renewable power sources and grid storage is becoming the norm.
And valve-regulated lead‑acid (VRLA) batteries subjected to HRPSoC cycling lose their capacity very fast due to preliminary selective sulphation of the negative plates.
Thanks to the studies of battery scientists and engineers in the USA, Australia, Europe and Japan, and of the ALABC the problem has been identified and solved so successfully that a new generation of batteries— the lead‑carbon batteries— has recently appeared and these batteries are already proving to be very successful.
The composition and the design of the negative plates of such batteries have been changed in a manner that the utilisation of the capacity of the double layer in addition to the classical Faradaic charge-discharge process is enabled.
Besides the remarkably effective inclusion of carbon into the negative plate active mass, another plate component, the grid, well known for its critical role in battery operation, must be considered when very high rates of charge and discharge are expected.
Besides the remarkably effective inclusion of carbon into the negative plate active mass, another plate component, the grid, well known for its critical role in battery operation, must be considered when very high rates of charge and discharge are expected.
This was the reason why Gordon Beckley, the Chairman of the BCI Deep Cycling committee, invited the ALABC to bring together researchers who can highlight the major aspects of grid optimisation.
A panel discussion on grids took place during the last day (May 04) of the 123 BCI meeting in Miami, Florida, 2011.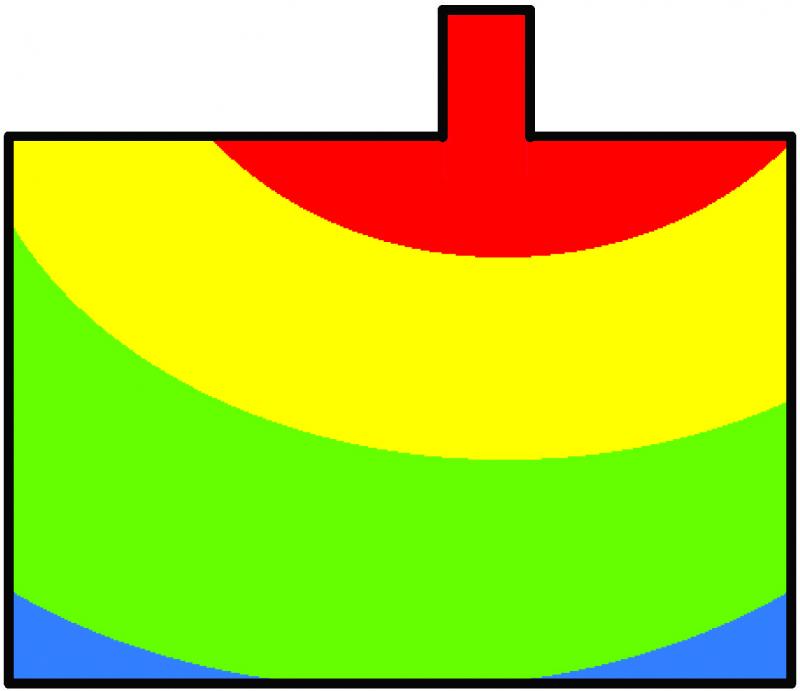 Grid advancement has been part of the ALABC studies on VRLA batteries for HRPSoC cycling in HEV and PV applications. In his introduction Dr. Pat Moseley, President of the ALABC, illustrated the increased specific power and active mass utilisation observed in cells (Hawker's Cyclon 2V/8Ah cylindrical and Banner's 2V/5Ah prismatic designs) with dual tab grids. ALABC studies with East Penn have demonstrated the benefit of theoretical grid pattern modelling (Fig. 1) for developing very well performing negative plates.
Grids transfer not only electrons but also heat. With all other cell components optimised— active materials, additives, interfaces, separator and electrolyte— the cycle life and the specific power of the cell can be improved by tens of percents if the grid is optimised.
Galvanoformed composite grids
"Classical" grids used to be cast by gravitation in book mold casters, and grid couples used to be pasted in a discontinued way. As a result of massive research and development, grid and plate production improved dramatically in recent years .
Modern production techniques involve casting of lead alloy foil bands, expanding or punching the grids and continuous pasting. Can there be any alternative grid technology to surpass these? The answer of Dr. Hans Warlimont of Freigericht (Germany) is yes— grids can be electrodeposited continuously by galvanoforming in grid form and consisting of composite material. Sounds complicated but it is actually quite simple to do!
This alternative technology has been invented and developed for many years by Dr. Warlimont— a talented scientist and engineer with long experience in metal science and metallurgic technologies. He graduated physical metallurgy in Germany (Clausthal-Zellerfeld and Stuttgart), and combines long industrial (USA, Germany) and academic (Max Plank Society, Universities in Stuttgart, Darmstadt, Dresden) experience. He founded the company DSL, in Dresden, which developed the technology. The transfer into industrial production began early this year by the construction of a pilot plant at OTA in Berlin, Germany – a company specialized in equipment for strip galvanising.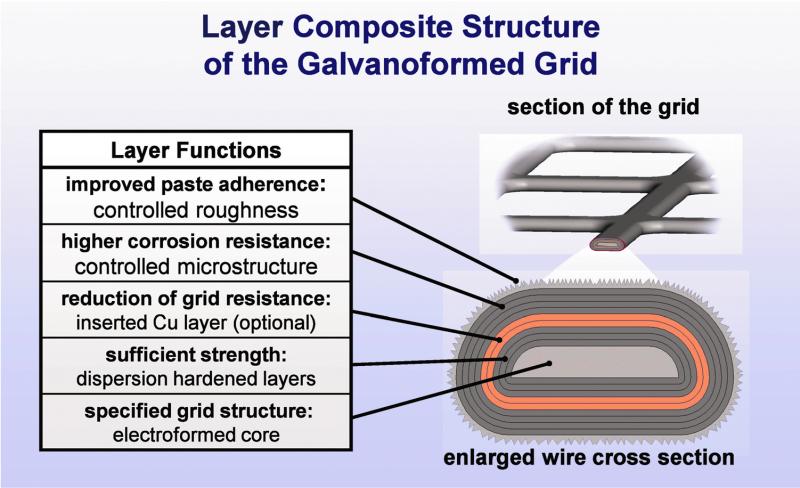 Production of galvanoformed grids with adjustable specified composition and properties starts by electroforming lead in the desired pattern of a grid strip on the surface of a drum. This thin "core strip" of the future grid is then peeled away from the drum surface continuously as a grid strip, and Pb (or other metals) contained in the galvanic baths is deposited onto it layer by layer. Adding a thin copper sub-layer into the sequence of layers improves strongly the conductivity of the grid (Fig. 2).
Layers of low-corrosion Pb-Sn composition can be deposited at the surface of the grid as well as a final layer with increased roughness for better contact to the active material. Grids and foils of predetermined thickness, structural design, and composite material can be produced for monopolar and bipolar batteries.
"The results of battery testing obtained by Moll Batteries proved that using the new grids results in a significant cranking and cycling improvement as well as in much lower sulphation. The improved corrosion resistance of the composite grids may be utilized for reducing the grid weight, and the possible use of lead scrap as raw material for grid deposition by the galvanic process can considerably reduce costs", Dr. Warlimont said.
Replacement of lead as grid material by carbon
The lead grids and connectors can take 20 to 50% of the entire weight of the battery. Can the metal in the grids be replaced by another material— light in weight, highly conductive, stable in sulphuric acid and with high hydrogen overvoltage?
After lead-foam and lead-plated copper grids have been tested, a new effort is emerging to replace lead metal as grid material with carbon. Is this possible? If the answer is yes, then the major disadvantage of lead-acid— the low specific energy— could be defeated without any other efforts.
During the last decade lead was successfully replaced in battery grids by lead-plated reticulated vitreous carbon (Dr. Czerwinski – Poland, Power Technology – USA), by carbon foam (Firefly Energy – USA and Niru Co. Iran, in test cells by ORNL – USA and Central South University – China). Recently we have seen that it can be replaced by something even more exotic— carbon honeycomb— developed by Dr. Angel Kirchev in France.
Dr. Kirchev holds a Ph.D. in electrochemistry from the Bulgarian academy of sciences and combines a gifted theoretician with a creative engineer. He is project manager and R&D engineer at the National Institute for Solar Energy in Chambery, France, where he had his post-doctoral fellowship at the lab for solar systems. He has 26 publications on the electrochemistry and technology of lead-acid batteries in journals and in conference proceedings, and holds seven patent applications. In April of 2005 he received the Dave Rice Research Award for his contribution as young researcher in lead-acid battery science and technology.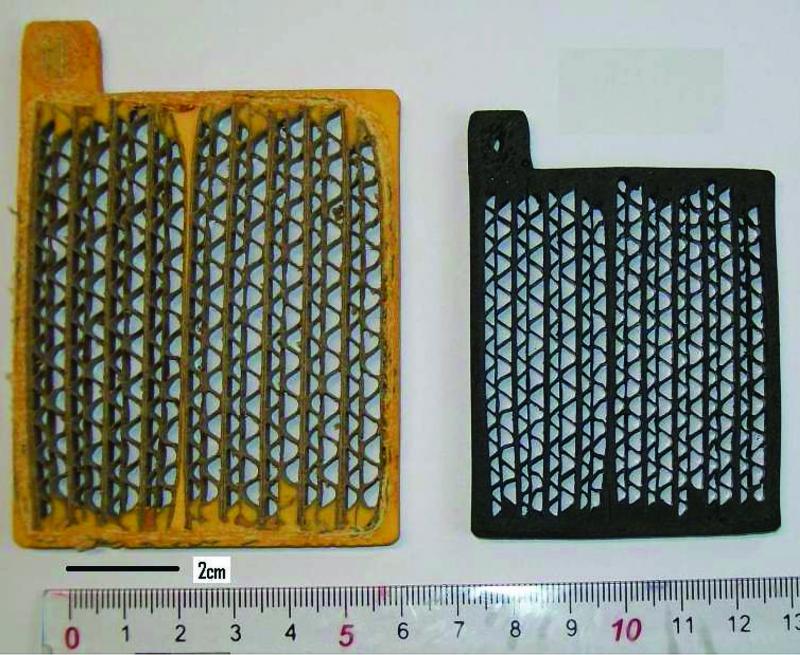 The good news with the honeycomb plates is that Angel not only knows how to paste; how to assemble them into cells and how to form them, he also knows how to produce the carbon honeycomb from inexpensive precursors (cellulose papers, phenolic resins, thermosetting composites) by a quite simple technology, and how to efficiently re-charge them on cycling (Fig. 3).
Paste mixing, pasting and separation are not much different than the "classic" technologies. Assembly requires some care but can be automated.
The preliminary tests of his cells were very encouraging— about 50% utilisation of the active mass at low to medium rates and 50 to 180 full discharge cycles. As already observed in Firefly Energy batteries too, the carbon grid positive plate can be rather resistive to destruction by "burning out" the carbon to CO2. Just in contrast, the honeycomb plates easily did over 150 cycles and are still going strong. Obviously carbon oxidation can be a slow process.
"The carbon honeycomb grid technology combines advanced characteristics like low weight, high surface area and greater benefits from compression with full compatibility with the traditional manufacturing processes of pasting, curing, formation and cell assembly. At the same time the carbon can be derived easily from a variety of sources which is a guarantee for achieving a pretty low cost of the new battery", Dr. Kirchev said.
Grids for bipolar lead-acid batteries
Talking about advanced grids is not possible without mentioning the bipolar technology. In ALABC tests performed with a Honda Civic hybrid EV the bipolar batteries of Effpower, Sweden, demonstrated high utilisation efficiency and flawless performance in road tests for 60 000km.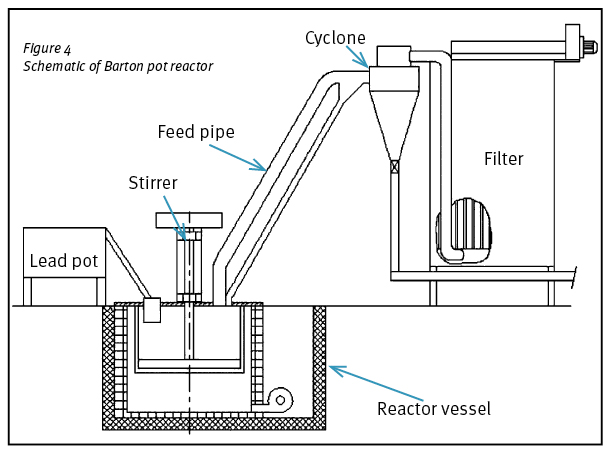 Once the major problems for bipolar cells— corrosion and leaking— are overcome by selecting the proper materials and technology, bipolar VRLA batteries can be a perfect fit for HEV applications.
It is remarkable that in the USA three young companies are developing their own bipolar designs— Advanced Battery Concepts Inc. in Michigan, Applied Intellectual Capital Inc. in California and YottaQ Inc. also in California.
In Europe, based in South Wales, UK, with their unique Ebonex bipolar construction using plates of high purity titanium sub-oxide material, described as "the ultimate grid design", Atraverda's batteries of 12, 24, 36 and 48V take a special place among the other high energy efficient and long lasting power sources. Dr. Andrew Loyns of Atraverda presented the recent development of this technology (Fig. 4), its benefits and market potential.
Dr. Loyns received his Chemistry degree and Doctorate in Electrochemistry from Bristol University in the United Kingdom. He has been with Atraveda Ltd. for nine years having previously spent eight years working for the Yuasa Corporation and Hawker Batteries Group. Andrew raised the initial capital for Atraveda to develop its bipolar battery and is currently the company's Chief Technology Officer.
Dr. Loyns described how the company has spent the last few years improving the characteristics of their proprietary bipolar plate and developing sealing techniques that enable scalable, volume battery manufacture.
Three conditions are critical for the proper functioning of bipolar plates: that they are mechanically robust, highly conductive for electrons and that they do not take part in cell chemistry (do not react chemically with the electrolyte and/or the active masses).
The lead-acid chemistry of the active materials in Atraverda's batteries is the same as in "regular" batteries but the replacement of Pb in the grids results in up to 50% lighter cells. The specific energy (up to 70 Wh/kg and 150 Wh/l) of large scale 48V batteries is higher than this of mono-polar lead-acid and NiMH batteries, approaching the values of large scale Li-ion batteries. Despite the benefits of the bipolar design always the best compromise between high specific power and high discharge capacity is sought.
The key message in Andrew's speech was that "the bipolar approach has only been viewed as a power battery but, because of Atraverda's lightweight plate, higher energy density batteries are feasible. Design rules apply and there is no "one size fits all" solution".
Grid modeling
Computer simulation of the charge and discharge processes based on the Newman–Tiedemann approach becomes more and more precise and helpful for battery makers. Powerful computing techniques allow the development of multi-dimensional models of the plates, the separator and the electrolyte taking into account not only electrode kinetics and diffusion limitations, but also the microstructure and porosity of the cell components, current distribution, heat generation and transport.
Such a model was developed for a spirally wound lead-acid cell by Dr. Harb, professor of chemical engineering and associate dean of the Ira A. Fulton College of Engineering and Technology with responsibility for research and graduate programs. He completed his B.S. in chemical engineering from BYU in 1983, followed by a Ph.D. in electrochemical engineering from the University of Illinois, Urbana-Champaign in 1988 when he joined the faculty at BYU.
His research in batteries has included modeling of lead-acid batteries for vehicle applications, the development of micro batteries for use with autonomous sensing systems, and the fabrication, simulation and optimisation of electrodes for lithium-ion batteries. He is developing nano-systems based on self-assembled DNA "origami" templates.
Professor Harb also presented the results of computer simulations of prismatic cells with plates having various grid patterns done in collaboration with lead‑acid battery manufacturers and funded by ALABC to evaluate the impact of cell design on battery performance. Methods for predicting the impact of grid design and tab location on the potential distribution, current distribution and local rates of heat generation in the electrodes were demonstrated.
He was able to calculate the current/potential distribution at high discharge rates – at values beyond the possibilities of many test stands – as well as the Joule heat evolved in the positive and negative plates. Prof. Harb demonstrated a model for Li-ion batteries, too.
According to Prof. Harb "such models represent an extremely valuable tool for understanding, designing and optimising the next generation of high performance batteries".
Low aspect ratio grids
The height/width ratio of grids in SLI batteries is usually between 1.2 and 0.7. High cells can have problems with plate uniformity and electrolyte stratification. How small can this ratio go and what will be the benefits of using plates with very low height to width ratios (low aspect ratio grids)— 0.016 for instance? Dr. George Brilmyer of HighWater Innovations in Tennessee has found a pretty good answer to this question offering a new type of low cost, high voltage and high power, long life VRLA cell design (Fig. 6).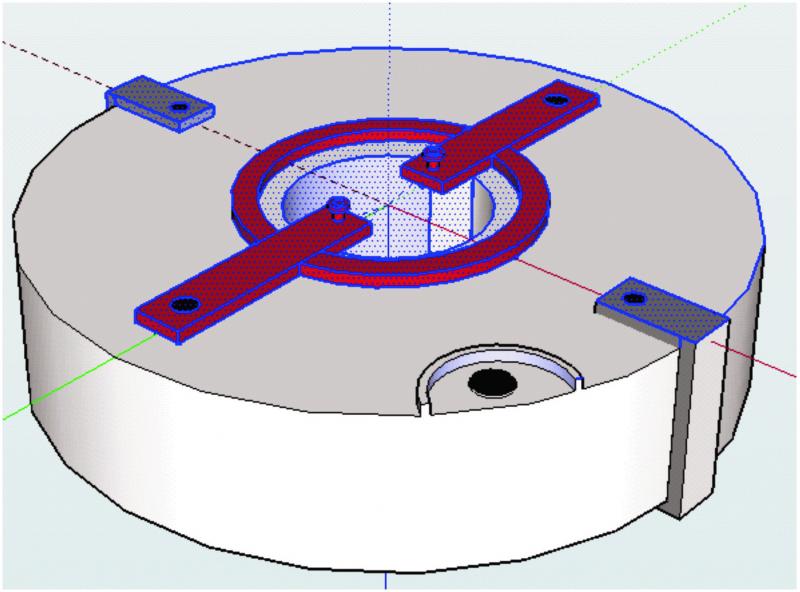 Dr. Brilmyer comes from the birthplace of Jack Daniels— Johnson City, Tennessee. He is a Ph.D. Electrochemist and has been involved in all facets of batteries for more than 30 years. He has worked with multiple major corporations and has introduced new products in several different industries. He has more than 40 technical publications and 6 patents.
Dr. Brilmyer described in detail his new low aspect ratio spiral-wound cell. This VRLA cell is designed specifically for high power battery packs to be used in hybrid electric vehicles. It is known that the lower part of the plate can be much less utilised than the upper one. In the low aspect ratio cells there are practically no lower plate parts— only "upper ones"— perfectly utilised.
The cell, that resembles a doughnut, features a low resistance grid and an open central core for cooling. The latter offers the unique possibility to maintain precisely and independently both power and heat (air-flow cooling) transfers through the battery and its components. Carbon additives are used in the negative plates for better performance at HRPSoC cycling.
The single cell building block offers the ability to test/match cells while giving the pack designer options for shape and fitment. The unique feature of the design is that all cells in the battery pack are treated equally in terms of thermal management.
One of the proposed battery packs was 1.8 KWh with dimensions of 24″ x 24″ x 3″ and weight about 140 pounds. A 1.3 KWh pack such as that used in the Toyota Prius will be considerably smaller and the weight is estimated at 95 pounds.
"Active mass utilisation, current distribution and cell temperatures in this new battery are expected to be so homogeneous that cycle life will exceed dramatically everything known in VRLA batteries up to date", Brilmyer said.
When and where shall we see any practical results of this session?
To recap, a group of very new ideas about simple and low‑cost but efficient ways to re-think grids in modern lead‑acid batteries were introduced to the BCI members— some of whom are the world's leading lead-acid battery makers.
Each presentation gave a new hope for better products, deliverable after affordable changes in the production lines, and for a rapid possible transition to mass production.
Keeping in mind the increasingly fast progress and tremendous improvement of NiMH and Li‑ion batteries, as well as the rising political pressure for a more and more urgent transition to low emission energy production and transportation, the grid session was a useful contribution and brain storming session for those who are trying to keep the lead‑acid industry going strong and ensure its pole position among electrochemical power sources in modern energy systems.
Highwater mark
By the time this issue is hitting your doormat, George Brilmyer and Mike Gilchrist should know whether they really will be able to deliver a lead-acid battery pack coming in at a price of a fifth of the price the best lithium‑ion packs available today.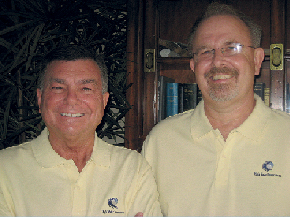 The first cells will have been manufactured in June, giving Highwater Innovations a month to do initial laboratory testing.
Brilmyer told BEST magazine that his original idea for the hockey puck cell design (mentioned in the main body of the article), came from a fuel cell design he attempted to patent more than a decade ago.
By optimising current paths in the short squat grid design and combining this with all the known advantages of spiral winding of lead-acid plates, (high‑power, long‑life, low‑cost and recyclability) the resulting cells should offer at least double the life of conventional lead‑acid by simply running cooler.
Brilmyer believes the low aspect ratio grid design shouldn't prove too much of challenge to existing manufacturers of lead‑acid batteries. And such a design will keep the lead‑acid industry in the HEV game for many years to come.