Rick Howard demystifies all the latest developments in novel anodes for the next generation of lithium‑ion batteries.
Between the demand for laptops' longer run times and the push toward electric vehicles with extended range, development activity for high-energy Li-ion cathode materials is reaching near-hysteria levels. But this raises a critical issue: where will the lithium reside when high-capacity cells are charged? The horse-and-buggy of anode intercalants is graphite, and there is the new horseless carriage, Li4Ti5O12, neither matching up well to high-capacity cathodes but both dependable and with wide application. The ultimate anode in terms of Li storage capability is Li metal, an option dead on arrival due to safety concerns. Next in line are Si, Sn, and various alloys, high capacity but short-lived, although with (so far, expensive) possibilities when nanosized. Finally, there are oxides, sulfides, and cermets (metal phosphides, nitrides, carbides, etc) that reversibly accept Li but extract an unwelcome penalty in irreversible capacity loss during the first few charge-discharge cycles: again, nanosizing may provide relief. Although cathode intercalants get most of the publicity, it is noteworthy that since 2009, scientific articles about anode materials outnumber cathode species by about 50%. This paper will provide an overview of many anode candidates, examining strengths and weaknesses, and discussing potential winners in both high energy and power applications.
Let's start with what we know: graphite, providing a basis for comparison. This carbon allotrope will readily accept one lithium atom per six carbons. Remembering that the graphite structure is a planar array of interlocking hexagons, it is logical to visualise Li centered in each 6-membered ring. It's not quite that simple: figure 1 (from Intercalated Layered Materials, F. A. Lévy, editor) shows the offset stacking of graphite planes that shift to center a Li atom between two C6 rings after intercalation. Conveniently, the graphite interplanar distance is made to order for facile Li insertion.
Simple Coulombic calculations reveal a theoretical capacity of 372mAh/g, but reality is not so rewarding: commercial graphite anode materials have rated storage capabilities ranging from 310mAh/g to 360mAh/g. Why the discrepancies, and what are the flaws?
Structural irregularities are the obvious cause of less-than-theoretical capacity, when planes (or channels) are blocked by lattice faults, typical of any intercalating material. Even highly crystalline graphites, prepared above 2 000ºC to burn off impurities, are rife with planar discontinuities. Contaminants, generally surface oxyhydroxides more abundant on amorphous carbons and natural graphites, can bond with Li and prevent insertion into the particle. The most effective graphite anodes exhibit ~4% irreversible capacity loss due to structural or elemental impurities.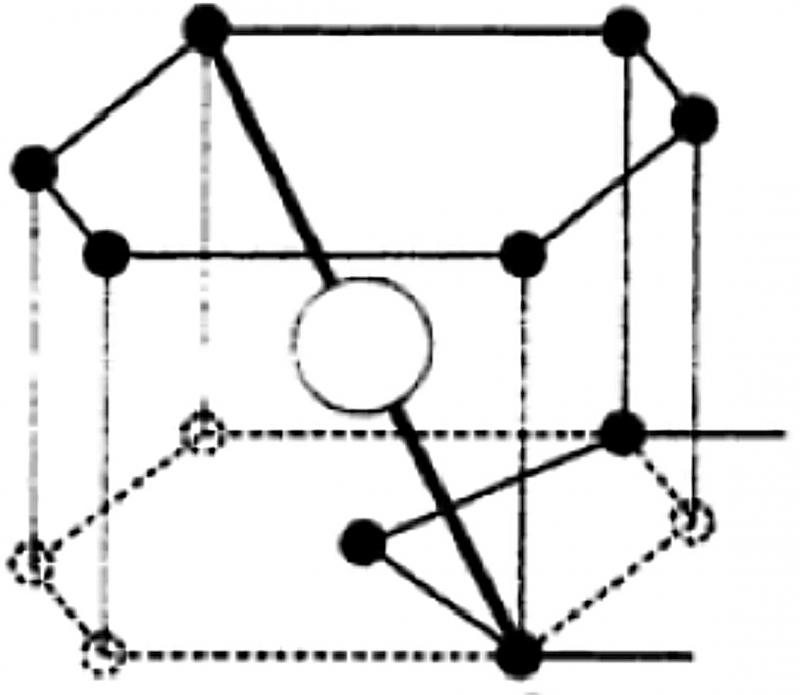 Usually the greatest capacity deficit associated with graphite, however, is due to solid electrolyte interphase (SEI) formation. This anodic passivating layer is both necessary and detrimental. The film is formed from electrolyte degradation products during the initial charge (formation step), and is a mix of Li salts, including reduced solvents. Without an SEI, electrolyte chemicals would continue to react with Li, depleting the solution and ultimately stopping ionic conductivity between electrodes. The Li in an SEI is roughly 5% of the alkali extracted from the cathode for optimised electrolyte formulations, and is irretrievably lost to cell operation. The total debit of approximately 9% Li is the yardstick by which to measure other anode materials, more commonly referred to as Coulombic efficiency; this 91% value (working capacity circa 340mAh/g) is the best-case scenario for graphite. Bitter experience revealed graphites with initial capacities above 345mAh/g also exhibited unacceptable capacity fade, most likely from Li reactions with surface species.
Before examining alternate anode species, let's summarise characteristics of optimal anode graphite. While this material has some warts, overall it is a dependable choice, with the added advantage of relatively low cost (<US$20/kg).
Adding a dollop (<0.5%) of carbon nanotubes or carbon black (<1.5%) to the electrode formulation improves the so‑so rate capability, although the former conductive aid is expensive and both have high surface areas, requiring more binder and reducing the anode's active ingredient content.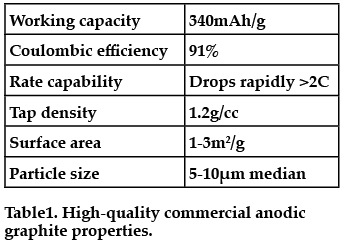 The first major advance in anodic lithium storage came with the development of Li4Ti5O12 (LTO), but only when the micron-sized LTO particles exhibit discrete nanocrystallites. With a low theoretical capacity of 175mAh/g (three Li per molecule) and a 1.56V plateau for intercalation, LTO does not compare well to graphite in high‑energy applications. However, LTO's nanostructure allows very high rate Li intercalation and extraction, and the spinel lattice (figure 2) is virtually stress‑free, resulting in extremely low capacity fade and a working life of thousands of cycles. Further, the high voltage protects against electrolyte decomposition, and Coulombic efficiency routinely exceeds 95%. Thus LTO is finding increasing use for power and low energy/long life applications – a substantial niche market, but still modest compared to graphite.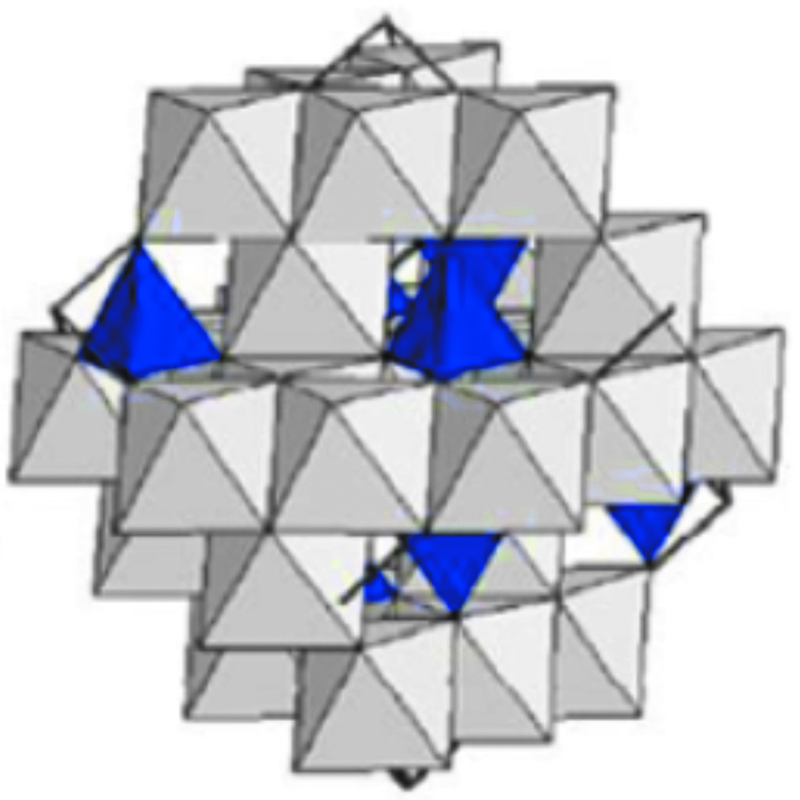 LTO is one of the more complex intercalating oxides: related anode candidates include M2SnO4 and a series of MM2'O4 spinels (M is divalent, M' trivalent). These compounds offer high reversible Li storage capacity (1025 and >700mAh/g, respectively), but first cycle efficiencies are dreadfully low. Irreversible Li losses are ~50% for the tin compounds and >30% for the spinels, penalties much too high for commercial viability. Another example is CuFeO2, which has 475mAh/g capacity at the 100th cycle, but loses 0.33% of its Li storage per cycle. Nano‑MFe2O4 species have unusually high reversible capacities: for M = Mg, 630mAh/g (19nm particles); M = Cu, >1400mAh/g (60-70nm cubes); and M = Zn, >1200mAh/g (30-40nm spheres). (Cycling characteristics were not available.) SrTiO3 was found to have two pairs of intercalation/extraction potentials, all under 0.15V, which bodes well for high-energy cells. SnO2 solid solutions are another approach that may bear fruit. When paired with Co3O4 or MoO3, initial discharge capacities are >400mAh/g, although fade is too high, and SnO2/NiO is described as having excellent kinetics and a small intercalation volume change (low fade). Note that performance strongly depends on the Sn:metal ratios and sintering temperatures. These modest successes point to additional development work, especially in the nano-domain.
Great attention has been devoted to simple, less-expensive binary MOx species, but so far without great commercial success. In these oxides, Li insertion initiates a displacement (AKA conversion) reaction, according to:
2xLi0 + MOx ' xLi2O + M0 …1
This concept is immediately applicable to the first row transition metals, from Ti to Cu, plus a few other non-precious metals (Mo, W, Sn, etc) scattered around the periodic table. In fact, the Nexeon Li-ion cell features an SnO2-based anode, but this is a composite material rather than a stand‑alone oxide. While a multitude of studies have proven these compounds can reversibly accommodate Li, destructive phase transitions and volume changes accompanying Li insertion have been the bane of metal oxide anode candidates.
The problem is two-fold: lack of crystallinity in the parent oxide and large volume changes caused by the displacement reaction. Randomly ordered micron-sized particles will have dead spots— domains that cannot be accessed by Li due to mismatched grain boundaries. Most metal oxides are produced either by thermal treatment or rapid precipitation: neither method is conducive to highly ordered morphology. Time-consuming, and therefore costly, slow growth is necessary for pure crystal formation. Large amorphous or irregular MOx compounds will never achieve theoretical Li storage capability, and highly crystalline species will be too expensive.
The greater issue of Coulombic efficiency is the inability to extract a viable%age of Li from the anode after the initial charge. As Li encounters a MOx particle and reaction 1 starts, there is inevitable atomic movement, shifting cations that may result in Li-inaccessible regions and subsequent loss of conductivity. These traps reduce the amount Li available for extraction, and abbreviate the rocking chair action of charge-discharge cycles. First-cycle capacity losses from sequestered Li range from 20 to 60%; even the lower number is too great for commercial viability, despite theoretical capacities exceeding 1 000mAh/g. What benefit is there to couple these oxides with a high-capacity cathode if first‑cycle efficiencies are only 60%? This diminishes a 250mAh/g cathode material to an effective capacity of 150mAh/g, a result easily obtained with graphite and LiNi0.8Co0.15Al0.05O2 (NCA) electrodes.
How high is this obstacle of poor first-cycle efficiency? Table 2 shows initial charge and discharge capacities for a number of metal oxides in Li-ion cells, gleaned from recent journal articles. Note that many authors do not report irreversible capacity losses or even initial capacities; rather, they trumpet negligible fade values realised only after 50‑200 cycles, thus leaving critical gaps in the performance records. Clearly, this issue of Li loss during the formation cycle prevents commercial success for this category in general, but nanotechnology may see us to the top of the mountain.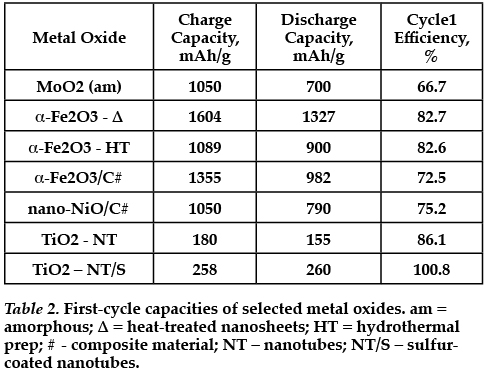 These metal oxides exhibit robust capacities, but due to irreversible structural changes during cell charging, suffer large capacity losses during the formation cycle (the exception – the last entry – is not capacity‑competitive with graphite). The same rationale is given for the high fade experienced by these compounds. Nanosizing is an obvious method toward reducing irreversible capacity loss due to structural difficulties. As particles shrink, the possibility of intrinsic or induced conductivity faults diminishes, and reaction 1 is facilitated by short diffusion distances. There are other factors that impact anode performance, however. Sub-micron grains, especially those with metallic character, are mobile and tend to agglomerate, thus negating the nano advantage. High surface areas require more binder for a cohesive electrode, and the%age of active materials can easily fall below desired values. Similarly, low density nanoparticles may take up too much cell volume and be unable to accommodate high-capacity cathodes (the volumetric energy density penalty). While attractive, nanotechnology is not a panacea for non-graphite anodes.
The mountain may be scaled by merging nanotechnology with the discovery and facile preparation of graphene, single layers of graphite that have a synergistic effect on electrochemical properties of species decorated on the planar surface. This was foretold by coating nanomaterials onto graphite and finding promising but not extraordinary performance enhancements in both capacity (relative to graphite) and fade (of the coatants). For example, SnO2/graphite composites provide substantially greater capacity at -30ºC than either constituent alone. Soluble anode candidates (WO3, MoO3, FeF3, MoS2) are easily coated onto graphite as nanocrystals, providing capacity boosts. Surface-mounted metal oxides prepared from organometallics and graphite mixtures have performances dictated by pyrolysis conditions; optimised Co2.7Ni0.3O4/C yields 874mAh/g after 500ºC treatment. Finally, high energy ball milling of MoO3:graphite 1:1 results in a composite with greater-than-calculated capacity (745mAh/g) and good capacity retention (700mAh/g at cycle120), although it is doubtful this technique is scalable to tonne batches.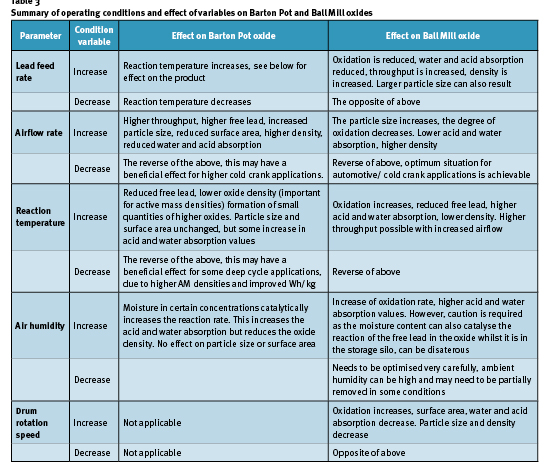 Graphene alone will easily re-assemble, thus negating any advantage over its parent graphite, but dispersed species on the surface prevent re‑agglomeration: the planes are kept too far apart to recombine. Table 3 provides examples of composites with enhanced electrochemistry, attributed to the conductivity contribution from the graphene plane. In almost all instances, there is a 'sweet spot' for intercalant loading: too little and the effects are not worthwhile, too much and improvements are attenuated. An excellent case in point is Co3O4 on graphene: 5nm oxide dots resulted in >800mAh/g capacity, while 20nm particles provided only 720mAh/g. Graphene composites are noted for their stability and long cycle lives. It is believed that voids between nano-crystals allow buffering for volume changes, minimising particle fragmentation and lowering capacity fade.
These metal oxide displacement reactions, carried out on graphene surfaces, exhibit a 1-2V potential, which detracts from cell energy, although the small particle size enhances reaction kinetics and therefore, power capabilities. Further, the graphene electronic environment locks the oxides into place, allowing reversible volume changes while preventing agglomeration, but there is a substantial size penalty. For example, 3nm SnO2 on graphene loses only 10mAh/g after 60 cycles (from 700mAh/g initially), while 8nm nanoparticles retain <100mAh/g after 100 charge/discharge cycles. Finally, metal fluorides can also undergo displacement reactions, but so far, particle agglomeration and rapid fade have put paid to viability.
The first metal sulfide intercalant, FeS2, dates to the 1970s, and though it was not a commercial success, other sulfides are now attracting attention, thanks to their planar structures (cf. graphite), nanosizing, and graphene composites. While micron-sized particles suffer from large volume changes during Li diffusion, with subsequent fragmentation and loss of ionic conductivity, nanotechnology is offering some hope. Anode candidates include:
• SnS2 via solvothermal preparation; 300mAh/g at cycle30, 0.01-1.2V. Not competitive with graphite.
• SnS2 spheres self-assembled into nanosheets (hydrothermally) – very good high-rate capacity retention: 570, 486, and 264mAh/g at 1C, 5C, and 10C, respectively
• SnS2-coated graphene – ~920mAh/g, with excellent stability and rate capability
• NiS – uniform nanoparticles from hydrothermal reaction. 585mAh/g initial capacity but discharge plateau >1V.
• Single-layer MoS2/graphene dispersed in amorphous C – 962mAh/g reversible capacity, 912mAh/g after 250 cycles, good capacity retention at high rates. MoS2/G alone has capacity up to 1 300mAh/g.
• Hydrothermal MoS2 nanoplates, ~30nm thick – 700mAh/g reversible capacity at 50C discharge, with low fade. 5nm thick flakes exhibit stable capacity of 995mAh/g.
• Cu2SnS3 nanocabbages – porous structure promotes high rate capability; 842mAh/g initially, 621mAh/g at cycle50 (high fade).
The above listings suggest metal sulfides are best prepared hydro- or solvothermally, which may be problematic when large batches (>500kg) are necessary. There are positive takeaways, however: capacity, rate capability, and cycle life are all enhanced by graphene composites (SnS2, MoS2) and nanosizing (MoS2). The challenge will be to manufacture these anode materials cost-effectively in tonne volumes.
Cermets and metal oxides have similar anodic properties: good to excellent Li storage capabilities but intolerable cycle1 irreversible capacity losses and rapid fade. Cermets are better conductors than MOx compounds, in part due to lower intra-planar separation, although this is not always a plus: BN (structurally B3N3 rings) is isostructural to graphite but with very poor Li intercalation. As with the oxides, cermet nano-crystallites, discrete or coated on graphite or graphene, show improved performance relative to micron-sized particles. The following examples provide supporting data.
• W2N – sputtered thin film. Initial capacity 410mAh/g, 375mAh/g at cycle53. Negatives: decomposes in H2O, Li storage only 20% better than graphite.
• Porous Ni3P electrodeposited film, ~1µm thick. Capacity >350mAh/g after 50 cycles. Good rate capability but capacity similar to graphite.
• 50-100nm CrxON, 1<x<2, in <500nm sputtered films. Capacity ~700mAh.
• MnP prepared by high‑energy ball-milling. Discharge plateau 0.18V. Initial capacity 513mAh/g, first-cycle efficiency 73%, cycle20 capacity only 152mAh/g.
• C/Fe3C composite. Discharge plateau 0.75V. 700mAh/g at cycle60.
• SiC nanowires. Initial capacity 876mAh/g. High surface area, used as additive to graphite anodes.
• Ni3N, from amide decomposition. 1200mAh/g first cycle discharge, but rapid fade.
• Mn3N2 – sputtered film. Only 70% cycle1 efficiency. Very conductive, low polarisation.
• InP – laser-deposited films provide 620mAh/g, with good stability.
Cermets are gaining little traction in Li-ion technology, however, as common preparations and precursors are costly compared to metal oxides, and production batch output is much lower, probably unable to sustain an EV market. Further, cermets are second best in head‑to‑head comparisons with oxides, although investigations into cermet-decorated graphene and advances in process engineering may provide a breakthrough.
There are numerous metals and intermetallics that alloy with Li, and researchers are exploiting that property to advance anode technology. Positives include high theoretical capacities (600-4000mAh/g and >7000mAh/cc) and 0.1-0.9V potentials versus Li (therefore, no Li dendrites and not-too-onerous energy penalty), but the mountain obstructing progress is the volume increase accompanying Li insertion. The best-case metals (Al and Mg) double in volume when fully lithiated, and Si increases 4X: this leads to microparticle fragmentation and separation from the electrode matrix, resulting in loss of electrical contact, diminished conductivity, and rapid capacity fade. Note that the intermetallics have superior volumetric capacities due to their high density. Pure nanotechnology provides limited relief, as metals are mobile in the presence of an electrical current and tend to agglomerate, again resulting in decreased electrode conductivity; thus the size advantage is lost. Scientists have some tricks up their lab-coat sleeves, however: particles with nanoporous or nanocrystalline structures, nano-whiskers grown directly on the current collector, and intermetallics with a non‑alloying component, are all showing promise.
The best-in-class intermetallics to date feature one or more metals that alloy with Li in combination with another metal that does not form a Li alloy. This 'inert' companion serves as a rigid framework, thus limiting volume changes with Li insertion and extraction. Charging a cell with an intermetallic anode initiates a conversion process, as demonstrated by the completed reaction of TiSnSb with Li:
2TiSnSb + 13Li '
2Ti0 + 2Li3Sb + Li7Sn2 …2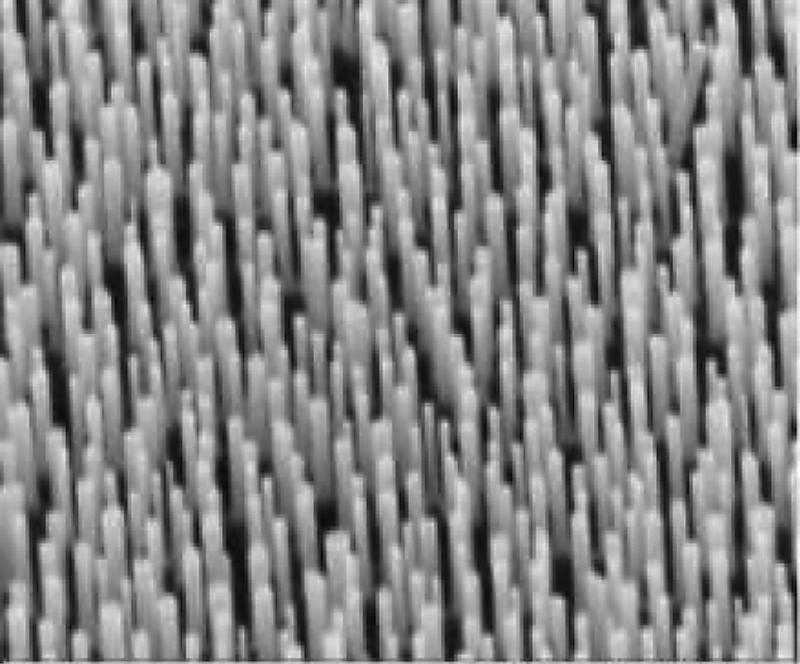 This anode exhibits 540mAh/g and 4090mAh/cc of gravimetric and volumetric capacities, respectively, and retains 90% of its initial reversible capacity after 60 cycles at 2C discharge, favorable numbers indeed.
Tin- and antimony-based anodes are most common in this genre, especially with first‑row transition metals, as they readily accept lithium and have 0.5-0.9V potential; lighter group IV elements (Ge, Si) are also promising. Following are selected species and their anodic properties, as reported in recent papers.
• Cu6Sn5 and Cu2Sb offer significant advantages in capacity (volumetric and gravimetric) and stability versus graphite and metal oxides; increasing the porosity (and therefore the surface area) of Cu2Sb significantly lowers capacity fade.
• FeSn2 stores Li within the range 400-600mAh/g, even at high C-rate. Microparticles showed little fade over 50-60 cycles, but capacity progressively decreased for nanostructured material, due to particle coalescence and loss of accessibility.
• Fe1-xCoxSn2 solid solutions (x = 0.25-0.8) with particle diameters ~20nm provided 600-700mAh/g. Better electrochemistry was demonstrated near x = 0.5.
• Mo3Sb7 in a conductive carbon matrix exhibited discharge capacities of 518mAh/g and 907mAh/cc, and an operating potential of 0.8V. With a tap density of 1.75g/cc, this composite has 3.5X the volumetric capacity of graphite.
• NiSb (20-30nm) and FeSb2 (ca 5nm) nanoparticles were decorated onto graphene sheets, which then re‑assembled into layered structures. Electrochemical performance improvements were attributed to graphene's two-dimensional conductive network, uniform particle dispersion, and restrictive strata which buffered volume changes.
• Ni laminated between ~30nm Si platelets avoided the stress of Li uptake and de-alloying, thus extending cycle life, and provided >400mAh/g at 3C discharge.
• Mg, Si, Ni, and Ti alloyed with Ge (5-50nm grains) have very small volume changes with Li inclusion. Capacities ranged up to 500mAh/g, with good cycle life.
• Micrometer-sized C-coated nanoporous Si particles delivered a reversible capacity of >1600mAh/g after 30 cycles. The coating controlled volume changes and minimised particle degradation.
• Sn quantum dots on carbon nanotube substrates maintain a discharge capacity of ~400mA/g for at least 20 cycles.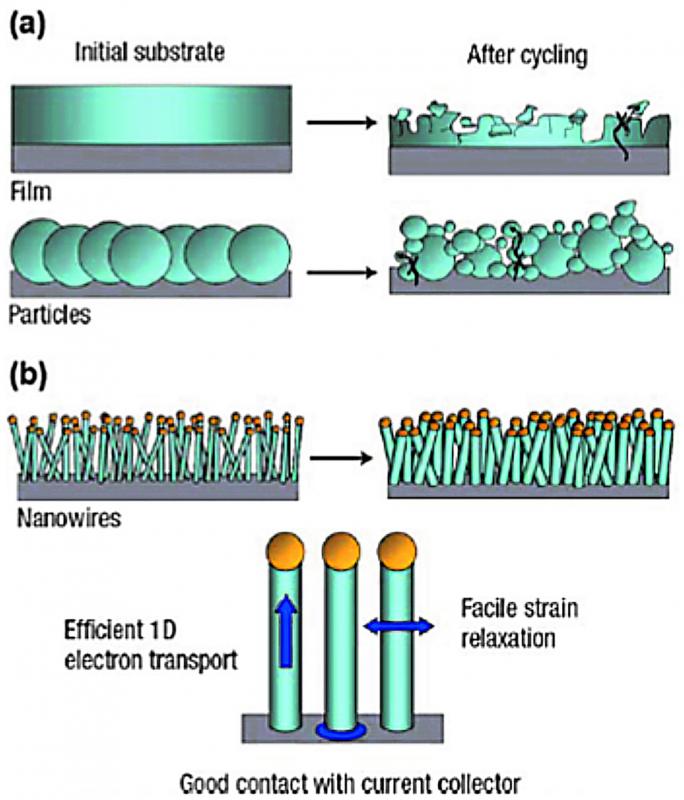 An elegant structured anode features discrete metal/alloy whiskers grown (either chemically or by electrodeposition) directly on the current collector. Practitioners of this emerging science, striving for commercialisation, include Nexeon (Si pillars, similar to figure 3) and Prieto Battery (Cu2Sb nanowires). A related construct, still in the lab, is Ni3Si2-supported Si nanowires grown on Ni foam, with stable reversible capacities of 1 800 and 1 600mAh/g at 1C and 2C discharges, respectively, for 100 cycles. These nanoforests with <20nm diameter trees feature good separation (minimal volume change effects and no agglomeration), strong substrate adhesion, high conductivity, and virtually no loss of capacity after extensive cycling (figure 4).
Readers desiring a more detailed technological review of alloy anodes for Li-ion cells are directed to W-J Zhang, J. Power Sources 195 (2011), 13-24.
There have obviously been numerous innovative attempts to improve Li-ion anode materials' performances, especially for greater storage capacity, in anticipation of advances in high-energy cathode materials. Summarising results gives a good indication of the route(s) to potential success.
Despite the remarkable high‑power capability of Li4Ti5O12, its low capacity renders it only marginally suitable for long run-time batteries. Other lithium metal oxide anode candidates with substantially higher Li storage capabilities exhibit large irreversible capacity losses due to lattice imperfections from charge/discharge cycling, and are less stable structurally, thus are sentenced to short working lives. Nano-structured particles may be the path upward, but conquering the peak is a long way off.
From a cost perspective, binary metal oxides offer a great advantage over other species, although the Li-metal displacement reactions described above also suffer from poor first-cycle capacity efficiencies. Nano-sizing seems an obvious cure, which raises other issues: high surface areas (high binder content in the anode), low density (less material per unit volume), and greater reactivity (health concerns). Nano‑porous particles may yield modest progress, but the most promising method involves MOx/graphene composites. These species overcome most of the negatives of MOx alone, with good-to-excellent electrochemical characteristics: price and high-volume production are the challenges.
Metal sulfides are similar to oxides in physical attributes and cell performance, except they typically operate at ~0.5V higher potential than the oxides, reducing the cell energy. Further, high-volume production may be problematic, both making the trail to MSx anode commercialisation a much steeper climb. Much the same can be said about cermets, while the trail gets even steeper due to higher processing costs. Graphene composites with these various species already have high-quality performances, although this complex fledgling technology may never attain commercially viable pricing.
Lithium alloy anodes have always been recognised for superior capacity, but micron-sized (or larger) particles quickly fragment during cycling and performance falls off the cliff. Nanosizing offers no respite, as particles agglomerate and lose electrical contact within the anode. Multi-metal systems, with at least one metal non-alloying with Li, stabilise the particles, although unacceptably high fade is still present. The apex may be attainable, however, by growing metal/alloy nanowires on a suitable substrate. The small diameter stops fragmentation, the nanowires are immobile (no agglomeration), capacities are high, fades are low, and binders are unnecessary. All that remains is cost-competitive high-volume production and a few mechanical/engineering details. The mountaintop is in sight!