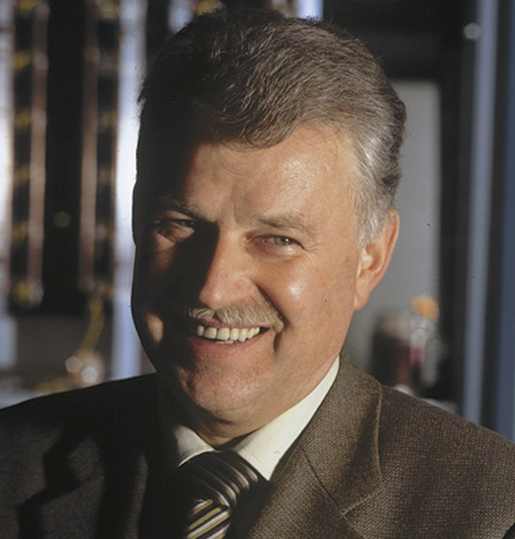 Rolf Beckers explains to Gerry Woolf how Digatron is meeting increasing expectations in testing and formation.
I got the cheapest deal yet on Europe's low cost airlines—just ninety-nine pence to fly to Maastricht, Aachen with Ryan Air, so it figures that a trip to see Rolf Beckers at Digatron's headquarters is almost unavoidable!
With 35 years years in the business and the battery industry still gripped by a slowdown, Beckers seems remarkably relaxed.
For those who don't know, Beckers is the engineer who brought solid state electronics to battery formation and testing in the late 1960s, when power transistors were just appearing on the components scene.
"I hadn't even finished my engineering training when I did some work with Varta,—I built them a simple charge/ discharge device." The work just kept coming and the rest, as they say, is history.
Says Beckers: "We had some fantastic growth then because the industry had nothing like what we could offer." Walking round the plant and looking inside partially built formation systems, little has changed. The circuits are still paralleled low power designs. It's reliable, the cooling is simple and as DC power electronics has become more ubiquitous, the margins have obviously improved for Digatron.
"The one thing that's changed of course," says Beckers, "is the control-—it's all software now."
It's almost wistful and like so many of us who cut our teeth on electronics in the pre Z80 microprocessor era, Beckers says, 'Streisand-like'— "it was all so simple then."
Indeed it was. But Digatron has just delivered the most sophisticated software package yet to be put to the battery industry—Battery Manager. Delegates to Battery Council International's Spring meeting would have got a glimpse of it. Butt they only saw about half of what it can do.
It's been four years in the making, created by a multi-client panel of German-speaking battery makers. "And it cost a small fortune to develop," says Beckers, "and we will probably never recover the costs." But that doesn't matter because software is the icing on the cake which sells the firm's equipment.
According to Tony Schroer, Digatron 's director of sales and marketing, Battery Manager had to be developed because it was necessary for the company to offer new control and testing software that would work with Windows XP. A lot of the company's early products ran on the DOS operating system, which while perfectly reliable, is becoming harder to support.
So, if you're going to do something new, you might as well create the best all-singing, all-dancing test and measurement package you can. And why not go further—why not take into account production and planning?
The centre piece of Battery Manager is an SQL database to store battery test specification test data and equipment. The system then connects all of the testing laboratory equipment and workstations together and effectively provides a work-flow management programme for testing to be carried out.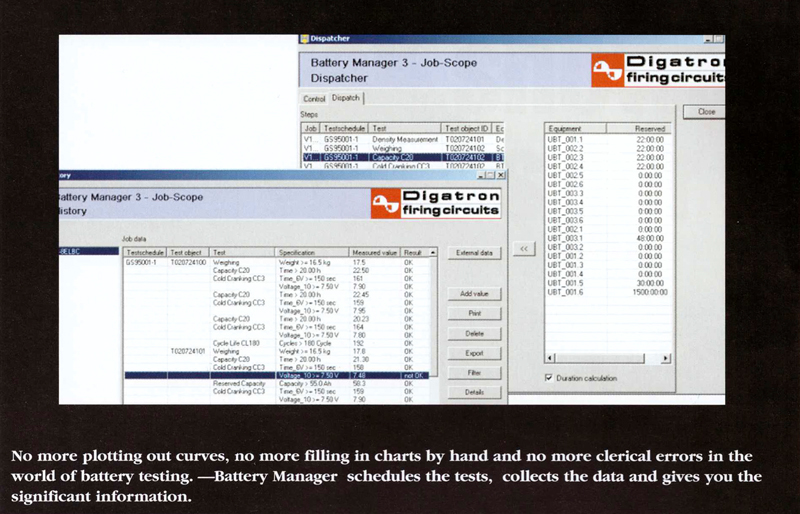 But then it goes one stage further than any information management system this writer has seen in the world of clinical pathology and analytical chemistry—it analyses the data and bring to the attention of the laboratory manager the significant findings—the test failures.
And if that isn't enough for you, the system plans the work flow for battery tear down and allows the user to add other data—such as images of exposed plates.
All of this information can easily be exported into third party report packages. If nothing else, Battery Manager takes the grind out of testing and for certain, the clerical errors which invariably occur in handling so much data.
But the capacity planning system goes one better—it can save customers time and money and make a major contribution to productivity gains in formation. It is focused on the industrial formation—where companies produce a wide variety of traction batteries.
The system evaluates which batteries need to be formed, what their charging algorithms require in terms of time and current and what the availability of charging circuits is.
The system then gives the operator the optimum plan to allocate batteries to rectifiers, while taking into account the working pattern of the plant—24/7, three shift or Monday-Friday single shift.
And it will do one more thing—with the growing interest in pumped and cooled formation, where electrolye of varying specific gravities is pumped into batteries during formation, the capacity planning system is adapted to control the PLCs which open and shut the valves.
The system is already in operation with one major German industrial battery maker and Schroer says they are delighted. But in the long run there may be only 50 customers for such a product and since no one wants to pay the true cost of producing specialist software, it still hardware that generates the revenue. And where are those sales coming from? For the moment, Eastern Europe, says Beckers, as battery companies in Russia, Czekoslavakia and elsewhere catch up on 20 to 30 years worth of process improvement.
Digatron has been a significant player in China since 1995 but is still restricted to producing equipment for lead acid formation and testing. Like his other western competitors, Beckers has found it impossible to break into the small cell formation market in the East, where charging circuits are needed in their hundred of thousands, but no one will pay Western prices. To obtain test and formation equipment for the high power demands of lead acid however, the battery makers know they can't afford to skimp and buy cheap, otherwise it's time to call the fire brigade.
And the rest of the world? There's no getting away from it. The recovery has to begin in the USA. Still guys, if you can produce CD product demos like Battery Manager, a great future awaits in the world of video gaming!