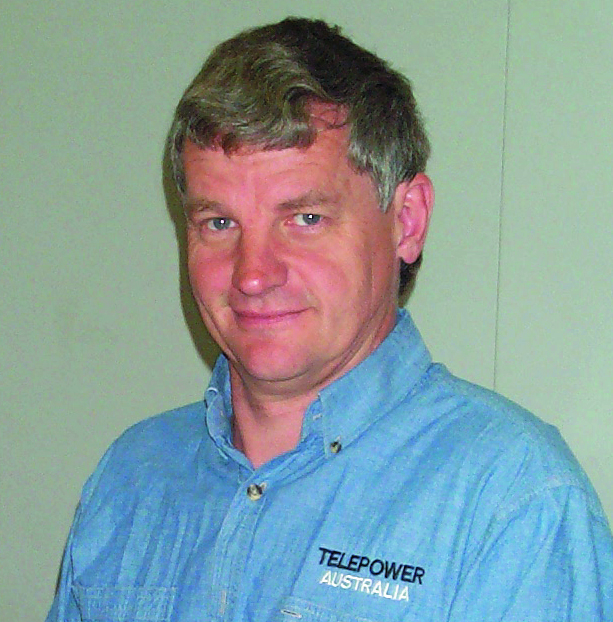 John Hawkins of Telepower Australia* takes a very personal view of the technology scene being presented at EESAT 2003— which we cover in detail in our conference report in this issue.
I'm here at EESAT 2003, stuck with the not-so-simple choice between parallel technical streams—flywheels or batteries! EESAT (Electrical Energy Storage Applications and Technologies) is a technical forum (of true believers) pursuing the use of electrical energy storage to alleviate power shortages, grid congestion, and inadequate power reliability. The electricity distribution grid is huge and unwieldy, and there are very real issues of scale of application and adoption costs for energy storage 'solutions.'
The forum has wide scope, and to its credit, tries to balance technological perceptions with commercial and economic realities. Along this line, and in the context of 'big picture' concerns, this EESAT had some very mixed messages.
For some technologies and applications, scaling the storage or conversion elements presents engineering challenges, but on the whole, there is no particular technical barrier to implementation. The barrier, or perceived barrier is, of course, commercial (i.e. costs). Economic considerations of varying analytical rigour are used to establish the sensibility of pursuing energy storage as a market opportunity. Invariably, the valuations are derived from various costs pertaining to the operation of the existing power infrastructure. (These include textbook categories such as capital deferment, tariff differentials, O & M costs and avoided costs). In deregulated markets, the commercial benefit of energy storage is based on the current performance (and hence, price structure) of the existing infrastructure.
Such analysis identifies some high value market niche opportunities for storage, but it is dependent on the market regime. Overall, however, on the scale of a regional (jurisdictional) power grid, electricity storage really comes out as a marginal business. On the other hand, the big picture view has the global economy and commerce increasingly demanding higher reliability (availability is the more appropriate measure) and quality from the centralised power grid. Increased demand on the future supply of power is a given, and if it is accepted that electricity storage can alleviate stresses in the existing system, then surely it is axiomatic that the benefit of storage should be estimated against the cost of (re-)engineering the performance of the existing grid to provide higher reliability and quality in the absence of storage. Methinks the break-even estimates for the cost of storage would then look much more favourable to the storage developer. But that is not the case, yet.
The clear techno-economic message at EESAT from the users (those with the cheque books) to the developers is that the rate of uptake is likely to increase only when the cost of adoption decreases. The poor old developers cry that adoption is the only way to bring product costs down. Classic Catch-22, which no doubt will keep most developers on the subsidy and grants merry-go-round and, for the true believers, continue to stifle the efforts to build a sustainable electricity storage industry! Perhaps the answer is with mandated power and reliability levels, but in the current deregulated market circumstance, the effect of such a mandate on the operator is quite grey. Experience, as well as the paraphrased second law of thermodynamics, tells us, 'you don't get anything for nothing'.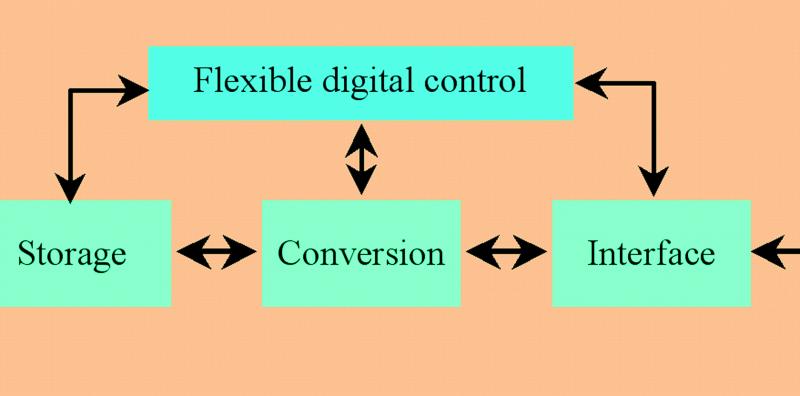 For me, however, both the technical and economic cases for energy storage in the distribution network get stronger. The current (controlling) economic dimensions indicate that electricity storage which provides multiple benefits (i.e. is a multi-value stream) in relation to the network cost basis is the best way to enhance its value proposition. Distributed energy storage allows for selective and incremental augmentation of localised areas of the existing (distribution grid) infrastructure on a practical needs basis. The value proposition is enhanced if the energy storage solution is scalable, modular (unitised), flexible and multi-functional so as to be suitable for multiple applications.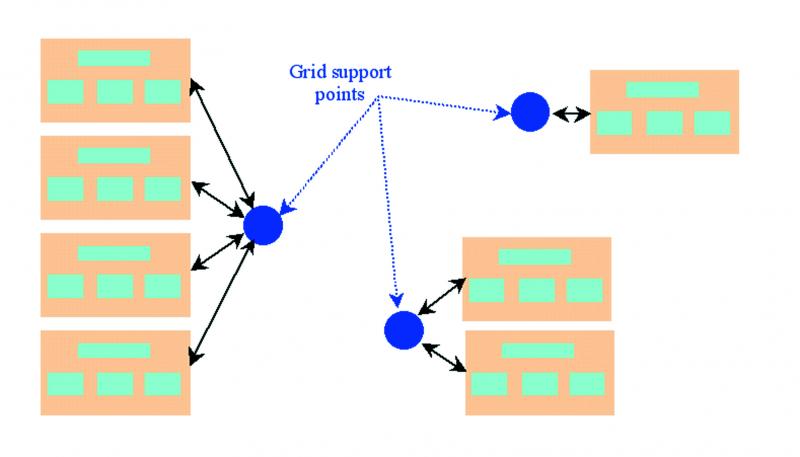 A scalable energy storage (SES) system is simply conceptualised as an operationally integrated power/energy module comprising the basic functional elements of storage, conversion, interface and flexible digital control (Fig. 1). Parallel modules effectively provide "plug & play" scalability and reliability (Fig 2). In functional terms, a plug & play SES is merely an (elaborately) controlled electron source or sink to the grid. Modular SES is not particularly fanciful, and is really only an extension of trends in other, albeit physically smaller and less complex, energy storage domains. Telecommunications operators (telcos) long ago addressed the 'low-nines' reliability performance of the electricity grid by engineering substantial standby power infrastructure. (Thus, your phone will still work even when the grid doesn't). Telco backup power itself was originally centralised in design but has since evolved over 20-30 years into being highly distributed, modular and parallel—a technical task made possible by progress in power electronics and real-time digital control methods. Telco standby power is largely now relatively low-cost plug & play SES. Traditional UPS for buildings and IT infrastructure have similarly matured. Notably, in both telco infrastructure and traditional UPS applications, the lead acid battery dominates as the energy storage element.
This is not to suggest, for one minute, that the energy storage systems necessary to support the grid are equivalent to those used in the standby power industry. Indeed, work will need to be done on the conversion and integration elements of the modular SES to a level of sophistication well beyond that needed for relatively simple and limited customer-side standby power or UPS requirements. Rather, it is more an observation that there are some common, generic aspects to approaches to energy storage modularity, and there may be some leverage for the SES developer to appreciate past lessons from other energy storage domains. The whole point of modular SES is to deliver economy-of-scale cost reductions through standard unitisation. Unit standardisation may be a painful path, but if electricity storage is to stand alone as an engineering domain, the issues of standards will have to be addressed anyway.
While EESAT explores a raft of potential storage technologies, the storage element for distributed SES is really limited (at present) to electrochemical devices (i.e. batteries) or rotating devices (i.e. flywheels). In a comparative sense, traditional battery energy storage systems (BESS) using either lead acid batteries or NiCd batteries are perhaps the only persistent example of utility-side electricity storage. Generally, while flywheels may have higher power densities than some batteries, they cannot yet compete with BESS in the energy densities stakes, and this tends to relegate them to the more niche applications.
Flywheels are yet to be routinely deployed on the size scale of traditional BESS, although the emerging concepts of highly parallel flywheel "farms" using current technology flywheels are very much consistent with the idea of plug & play SES. (Hence, my parallel technical streams dilemma).
Of the candidate storage technologies in a BESS, the humble lead acid and NiCd battery technologies clearly have cost and maturity advantages. There is considerable operational experience gained with using lead acid or NiCd BESS, and this should promote product evolution into the generic plug and play SES model of Fig 1. BESS deployed to date have been customer design enterprises, and there is a strong case for improved end-to-end integration of BESS architecture and operation.
Yet, (in EESAT circles at least), there is much focus on development of new battery systems, implying accepted wisdom of the inappropriateness of lead acid or NiCd as scalable storage elements in a storage system. From a pragmatic point of view, this attitude is perplexing, and to a degree is at odds with reality. (The Golden Valley 40MW NiCd BESS is a case in point). Emerging alternative battery technologies such as Li ion and NiMH cannot claim the same level of product maturity or operational knowledge.
Moreover, scaling up production Li ion and NiMH batteries to sizes considered feasible to use in SES has yet to be demonstrated. The NaS battery is more appropriately sized for utility-based installations, and in the future may very well be a very practical choice over plug and play lead acid or NiCd systems. But NaS batteries have not yet any degree of production maturity. Flow batteries have the potential to break the nexus between power and energy, and thus free up scalability issues. Yet the various flow technologies are really no more advanced in the commercialisation cycle than they were a few years ago. Moreover, scalable modularity and any technical and operational advantages of flow batteries over non-flow batteries have still to be sufficiently demonstrated in practical terms.
Costs remain high, as with all other alternative battery options. Developers of alternative battery systems tend to use lead acid as a benchmark and argue that their costs will come down with uptake and volume. But surely the same can be said about BESS based on lead acid or NiCd technology?
Significant penetration of traditional BESS in the electrical distribution grid will distort current pricing (and benchmark) regimes. So, on a cost and availability basis, the traditional lead acid BESS must be considered the lowest risk for SES in the distribution network.
Don't get me wrong. I'm one of the true believers. Research and development is intrinsically important, and it's great to work on new technologies. It's just that I don't see the big picture meshing with the developmental pursuits. I'd be happy to see existing know-how (i.e. BESS) made more robust, modular and flexible, and plug in new, better storage element technology when (and if) it becomes affordable and sensible to do so. How else is electricity storage, as a genre, going to benefit from the opportunity now presented by an old and inadequate electricity grid?
Postscript: I ended up going to the flywheel session. Flywheels are so much sexier than batteries, particularly the dreary old lead acid variety. But I have to report that batteries, and in particular, lead acid batteries, are still going to be the 'out-of-favour' incumbent 'best' technology for storage in the distribution network, at least for this year, and probably next year, as well. An SES system using a hybrid of flywheels and batteries – now that's got some technical merit. Can't do much about the economic merit, though!