The Editor reports from Global Wind power 2004 in Chicago, and finds that only a few have made the link with energy storage technologies.
It's a field where Americans aren't the biggest or the boldest, but the enthusiasm shown for wind energy in Chicago last month was rife. All politicians, both left and right are enthused about it and they know they have a lot of catching up to do with Europe, where Denmark, Germany and Spain lead the way in establishing installed wind capacity.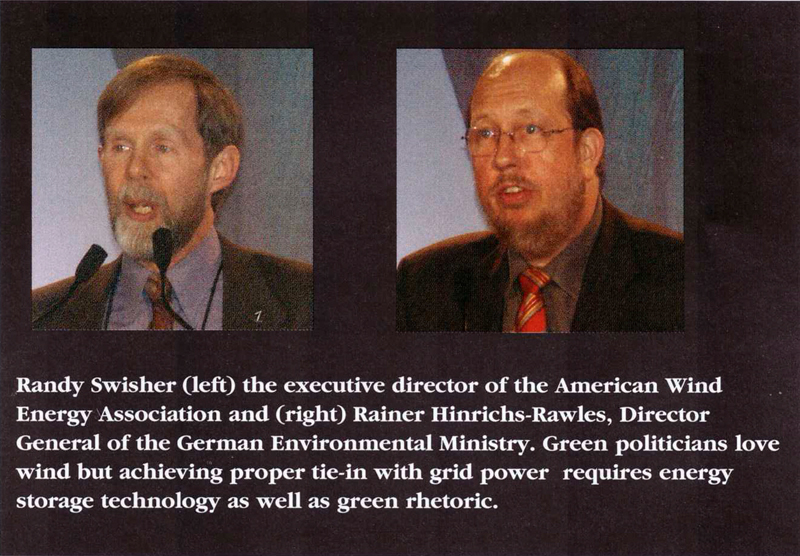 According to the American Wind Energy Association, more than 8000 megawatts of installed capacity was added to the sector in 2003 making the total sector worth US$9 billion. If you like fatuous numbers, that little lot could theoretically power 9 million American homes, and lord knows, how many in the rest of the world.
Much of this was achieved last year and previously on the back of the US federal wind energy production tax credit, which has now come to an end because the US Congress has failed to achieve comprehensive energy policy legislation.
So it's no wonder that US power utilities like Florida Power and Light have poured huge amounts of money into making themselves the biggest wind generators in the USA, because it reduces their tax liability and it produces a little bit of power at the same time as well as improving their green credentials.
There were more than 40 wind trade associations from around the globe eager to get in on the act. Even the slow-to-get into the market United Kingdom plans to have 20% of its energy coming from wind by 2020. The global industry has plenty of issues to deal with- like finance. AWEA estimates some three trillion US dollars need to be raised over the next 16 years. There's lobbying to be done, winning over hearts and minds of landowners, planning authorities and environmental groups but the one issue not too many operators want to discuss is the issue of dispatchability—the ability of wind farm operators to guarantee with some degree of certainty they can deliver a quantifiable amount of power in a given period of time. Without the ability to do this, the goal of providing 20% or more of a nation's power needs seems a little hypothetical to say the least. While wind penetration is in single digits, this really doesn't matter – the contribution of wind to unbalancing the power grid is trivial compared to fluctuations in the loads themselves. Most big developers don't want to know for now – "it's a grid issue" was typical of the responses I heard.
And with turbines able to deliver power in megawatt multiples, proving storage on this scale in going to be a tall (and expensive) option.
Only one company seems to have seized the opportunity to do just this on the big scale. It's called Mackenzie Bay and it's French Canadian executives have taken a radical approach in both the design of their turbines (the so called egg beater), the location of the turbines (sky scraper roof tops) and the use of battery technology (vanadium redox).
The concept is simple enough. A building which has multiples of one megawatt energy storage capability can not only save tenants money through power peak shaving – it also provides power security and if the source is charged through a green (renewable) wind source, there are even more brownie points to be gained.
As Laurent Mondou explained: "We could not have done this ten years ago – but batteries have changed. Mondou saw what Sumitomo had achieved in Japan with flow batteries but considered the option too expensive.
Mondou is focusing his efforts on the landlords and developers rather than the utility market and he should get a more open minded response.
So far Windstor has just four demonstrations sites -McLaren Hospital in Flint, Michigan, two apartment blocks in South Eastern Michigan and Sierra Vista High School in Las Vegas, Nevada.
McLaren CEO Donald Kooy said he expects to save at least US$40,000 a year on a $1 million annual electricity bill at the 468-bed medical centre by buying the power it generates from Mackenzie Bay.
By this summer, a 100-kilowatt Dermond wind turbine between 80 and 100 feet tall — looking something like a giant eggbeater — should be installed on the roof of the 12-story hospital. A 400-kilowatt turbine will take its place if the wind patterns meet expectations. A 1.6-megawatt battery will be installed in the basement.
Is it that wind developers are out of touch with what is achievable with modern battery developments?
That could certainly be the case. Recognising that in most situations wind can only be an intermittent source of power, hybrid systems are remarkably common in the small to medium scale (6-150kVA) installations, but many discussed were custom-built.
But batteries don't seem to figure in designs as often as they should and indeed battery knowledge seemed sparse.
Tron Melzl of Magnetek has never heard of the expression "battery management" but it seemed what his company product, the multimode wind inverter did, was to provide an interface for wind, PV, genset, grid tie-in—and batteries, so that a consumer has the benefit of a full UPS as well as some peak shaving capability.
The maximum output power of the device is just 4.6 kW but the company's thinking is coincident with our own—batteries have a natural fit, let's use them.
The largest force in small wind turbines is US based-Bergey Wind Power – and President Michael Bergey has more than 25 years experience in the field with a dynamic operation in rural China, where the Government aims to bring electricity to 60 million people. Of course the battery technology of choice is lead acid and Bergey has a wealth of data and experience in operating lead acid with wind which BEST will bring to its readers in due course.
But in the majority of hybrid systems presented, batteries seemed to play a minor role. Take the leviathan mine clean-up project presented by Lorax Energy Systems. In this project, power was needed to drive dosing pumps used in the decontamination of run off from a disused sulphur mine in Alpine county 25 miles SE of lake Tahoe. The total daily power load was 24kW— 40 kW peak.
The site will need to have treatment indefinitely and it is 13 miles from the nearest utility pole.
The chosen solution was a wind diesel hybrid, but the system employs not one but two 45 kW diesels and a 250 kW wind turbine, with the diesels operating in combined heat and power mode to support some thermal loads in the winter.
Yes, there were benefits, the energy cost over a 20 year period was just US$0.14/kWh compared to running diesels on their own, but I wonder what the cost benefit study would have been combining wind/ solar/ battery/diesel?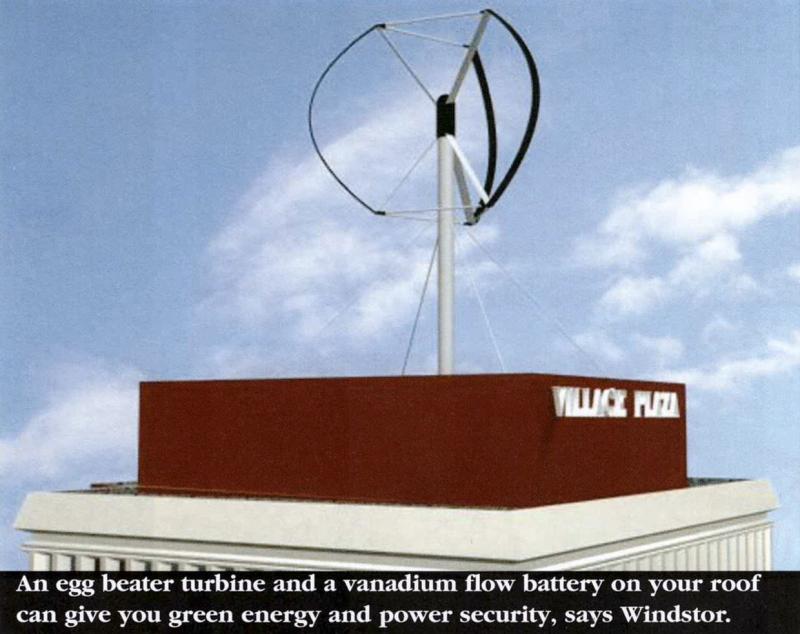 A battery—centric scenario was presented by Joao Pihno of of the Federal University of Para in Brazil. Like the ILZRO RAPS system, the thinking here is to minimise diesel fuel usage and match load demand through the various energy sources.
You just wonder how much these experimenters know about state-of-charge monitoring and developing a system which not only meets the user need but also protects the battery's life? The potential for hybrid systems is enormous-—there's a strong US grass roots movement in rural America. Wind farms give land owners and farmers revenue from the power generated – but I had the distinct feeling that somehow, someone is missing a trick providing a complete systems integration service for this new market or if not, they had not taken a booth at this show.
And at the far outer edge, the improbable still reared its head—the use of wind power to drive electrolysers to provide hydrogen, which would be used, not as a fuel, but as an energy storage medium.
Bill Bradford of Hydrogenics Corps presented the case for the construction of a chp plant using 25 Capstone microturbines running on natural gas. The gas supply is augmented by hydrogen produced from an electrolyser, at off peak times, driven by a 250 kW wind turbine. Of course you don't have to produce hydrogen – you could use the excess power from a renewable source to drive a de-salination plant in a remote location, or even make ice!
One thing is for sure – this community (the wind developers) are woefully out-of-touch with what modern batteries can do. If you, the manufacturers want to win new markets, isn't it time you addressed them?