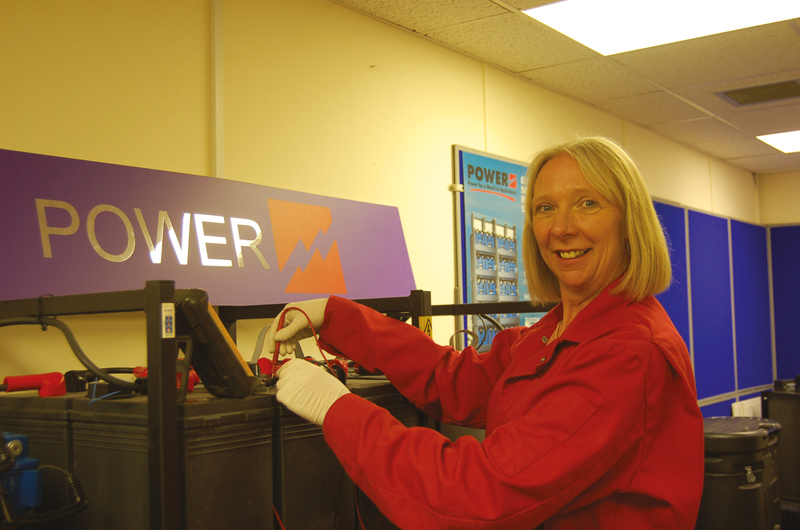 The Editor asks: Is this lady the world's only battery service engineer?
So much of this magazine comes from serendipity. Or an e-mail exchange. And that's how BEST discovered probably the only female battery service engineer working in Europe – or possibly the world.
In this somewhat male-dominated industry, from research right down to service, one doesn't find many ladies (except perhaps on the shop floors of battery pack making firms in the Far East).
But Gillian Wilson, who works almost exclusively from Power Battery in Romsey, England, is perfectly happy squeezing her way into dark and potentially lethal environments, torquing up loose terminals, making impedance and voltage measurements and generally making sure that when your standby battery is supposed to, it does.
It's not the sort of place I'd expect to find a woman. Standby batteries are big heavy things – I'd struggle to lift one – so how does she manage?
She doesn't, and these days nobody has to. Seems I'm out of date with health and safety legislation, and a whole lot more. There are rules and regulations about what you can lift and Gillian, who's been doing this since 1992, does not venture out alone too often. Other engineers at battery installations she's visited may stare as she covers up her wedding ring with insulating tape, puts on her rubber gloves and takes out her heavily insulated tools. But she's more than aware that the dull boxes she tends have the power to turn her slender form into cooked meat. Batteries deserve respect, and those who respect the power of batteries tend to get respect on site. No-one seems to come to batteries from choice – batteries choose you. And Gillian, it has to be said, is a bit of a techie. Her background is in biology and environmental health, and she worked in physical testing laboratories for ICI, the once-famous UK chemical manufacturer. Peter Brooks hired her nearly 15 years ago to take care of a number of issues, mainly quality control, because he takes the view that being a box shifter is not the way to keep business.
Gillian's perfectly happy with a hacksaw, too, cutting open deceased batteries to ascertain the basic reasons why they fail. Was it grid growth or did an idiot deliver the toe cap of his size 12 boots to the casing in order to assist in moving the product around on the floor? She can tell.
We had a nice cup of tea in her workshop and discussed the value of impedance readings, open-circuit voltage measurements and (the worst job she ever had) wading through sewage in a flooded battery room. She's had some nice days out, including checking batteries in Paris – but not seeing any of the sights; I know that feeling. It was like a mini Battcon without the travel.
And did I tell you Gillian arranges one day courses so you can safely build and install your own UPS battery system? Well, she does.
But it was time to put her Hioki impedance meter away and collect her youngest from school…