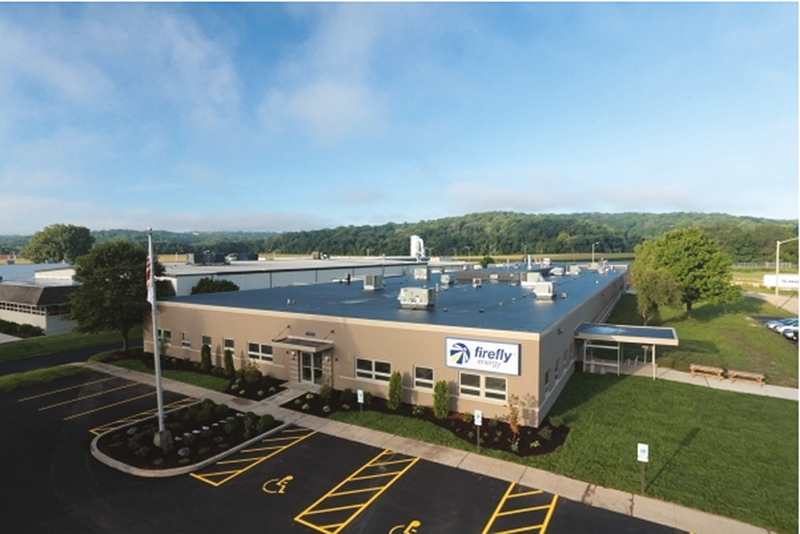 Firefly's novel foam electrode technology is going into service in production of lead acid batteries this month. The Editor reports.
It's been four years since I paid my first visit to the fledgling Firefly Energy when its technology was being incubated at Caterpillar, better known for its earthmoving equipment rather than batteries, in Peoria, Illinois. The fact that any company was trying to achieve something so radical with lead acid technology was astounding enough. In the four year period, Firefly has raised over US $40 million in equity and debt funding, when lithium ion was deemed to be the sexiest place for energy storage investment.
By the time I made my second visit in 2006, the company had recruited a technical team and was building test cells, using its novel carbon foam negative electrode technology. The big advantage of this, which some readers may have forgotten (see box) was that this lead acid battery doesn't sulfate. And that has all kinds of benefits. What can be achieved in test cells is one thing but any cynical observer would have been asking the question, yes but can this be done in production volumes?
There was no evidence at the time to suggest that it could be. My most recent visit to Firefly's new 50,000 sq. ft. plant in Peoria washed that worry away. The take home message today is that Firefly can make its novel negative plate foam electrodes in significant volumes, it has a partner (C&D Technologies) that will make the first (Group 31 sized) so-named Oasis™ batteries in 2009, and that the company has geared up to make 200,000 such batteries – a drop in the ocean – but sufficient to show the battery industry than there really are new ways to do things in lead acid.
In performance terms, the benefits that the carbon foam electrode bestows on the battery just blow its competition away. One day, perhaps most lead acid batteries will be made in the novel way that Firefly has developed.
And what method is that? Mil Ovan, one of the founders of Firefly, was always adamant that the company would never get into the business of actually making lead acid batteries – there were far too many players in the field. No, quite simply, they wanted to offer the carbon foam electrode technology as a component to established lead acid battery makers – so it had to fit in with current production technologies – that is, the production of two separate electrodes, the stacking and enveloping process and electrical connection of all the cells of the battery using the time honoured cast-on strap. In short, this means that the novel carbon negative electrode has to be joined to a grid – albeit a very thin one.
Firefly calls the process lamination but in effect, a very simple grid, (cast at C&D) is laid on top of the carbon electrode and is heated to its melting point. The lead simply embeds within the surface of the carbon – the conductivity of which is sufficient for good current conduction.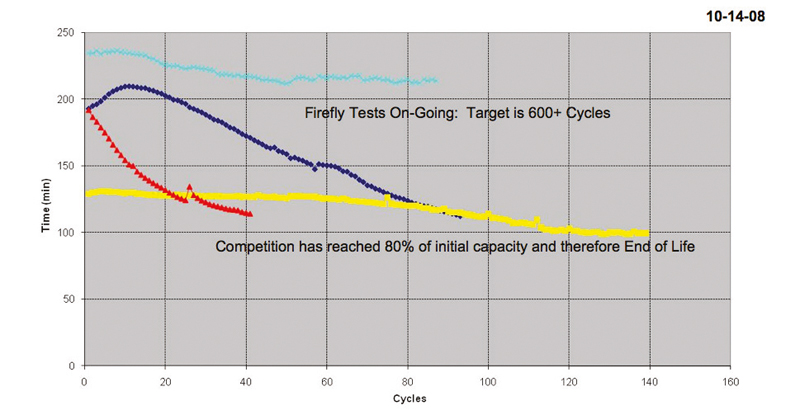 The plate has to be pasted and cured, but there's simply too much IP here for Firefly to go into details. Quite how the company formulates its negative plate mix, then manages to get it deep within the three dimensional foam electrode, is a closely guarded secret which Frank Yankello, VP of Manufacturing, was not going to reveal. The new process plant, which was being installed at the time of my visit, featured pick and place robotics to move freshly pasted plates into a fast curing system. As for C&D, the only change that it has to make to its production system is some minor modification to its plate stacker – the carbon foam electrodes need slightly gentler handing – everything else remains the same.
What Firefly was keen to talk about was performance of batteries incorporating its negative plate design. Eliminate sulfation and you've increased calendar life to two or three times that of conventional lead acid systems. Eliminate the conventional negative lead metal plate and you've reduced the amount of lead in the system by up to 50 %, depending on the application. Eliminate unnecessary lead used merely as conductors and you've at once reduced the weight and thus improved both gravimetric and volumetric performance – although at current production volumes, the cost of carbon foam electrodes is likely to put a price premium on the new batteries.
But Ovan is quick to point out that the Oasis battery – the first commercial product that the new carbon foam electrode is going to be used in, blows the competition away in terms of cycle life and performance.
Since January 2008, truckers in the state of California, as well as in many other localities throughout the U.S., have been forbidden from running their engines for more than five minutes when stationary, which means that air conditioning and other hotels loads need to be powered from an auxiliary power unit – usually battery-based. Such a system will almost certainly deeply discharge the battery – shortening its life. Firefly has conducted tests against what were the state of the art spiral wound and flat plate designs – and found them wanting – outperforming them by a factor of four in cycle life. Ovan accepts that extolling the benefits of a vastly improved electrode may be a very difficult sell to the trucking industry, but once drivers see the improved life in the Oasis product, they'll keep buying and word will spread. The only failure mode of note has simply been the wearing out of the positive active material – death by natural causes in the lead acid world.
There are other reasons why this battery design lasts longer – the plates run cooler on charge and discharge, because without sulfation to limit available current paths, there is less electrical resistance in the system.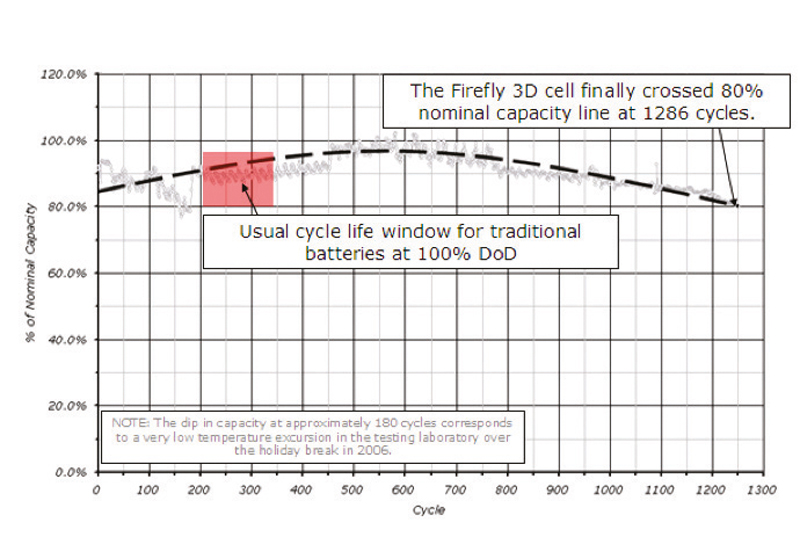 And a long life deep cycling battery has other markets – solar, EV bus and potentially the micro hybrid automobile market, which is just starting to take off in Europe. What about recycling? According to Ovan, the technology has had the blessing of one of the great gurus of the lead world – Dr David Prengaman, who sees the carbon electrode as merely adding some 'calorific value" to the smelting process – certainly it could do no harm.
It also had the blessing of another lead acid battery guru, Professor Detchko Pavlov, who made a recent visit to the new facility, because one his former associates, chief electrochemist Boris Monahov, now works there. Pavlov is quotes as saying: "Gentlemen there are just two laboratories that are advancing the science of lead acid batteries – mine and yours."
The carbon foam electrode and the Firefly system is quite an achievement on two counts. The last great innovation in lead acid technology was made more than 25 years ago – the valve regulated design – and it took perhaps another 20 years to fully understand how to manufacture it reliably. Firefly has achieved even more in a fifth of the time, unleashing the full power of lead acid to equal to the energy density and performance of high cost nickel metal hydride, though I fear it will take another 20 years for the technology to be fully adopted by the battery industry.