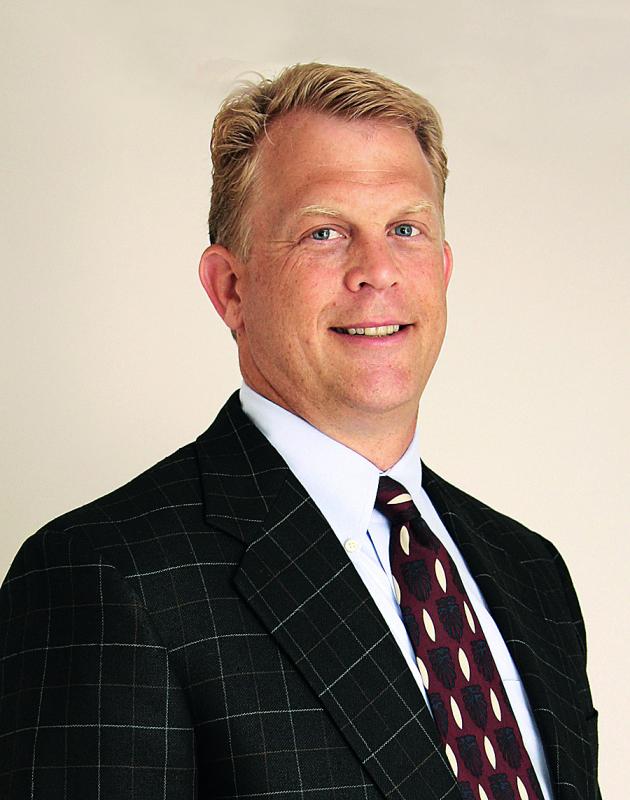 Building tomorrow's advanced battery plants requires new thinking to get them up and running as quickly as possible to maximise return on capital and win orders. Lee Sellenraad of Barton Malow explains how its done.
In 2008, Barton Malow Company embarked on an in-depth research campaign to understand lithium-ion battery manufacturing and the innovations necessary to the design and construction of these specialised manufacturing facilities. Significant time was spent with industry leading battery manufacturers worldwide and specialists were integrated into the team to address critical aspects of a possible lithium‑ion battery manufacturing facility build.
Limbach, a mechanical systems contractor, and Chamberlain Consulting, specialising in providing clean and dry environments, joined the team to shed light on critical factors to performance. Key drivers to designing and building a battery manufacturing facility were explored from the standpoint of materials management, environmental concerns, manufacturing, testing, R&D, supply and demand, and current means and methods for implementation.Our team uncovered the following crucial factors: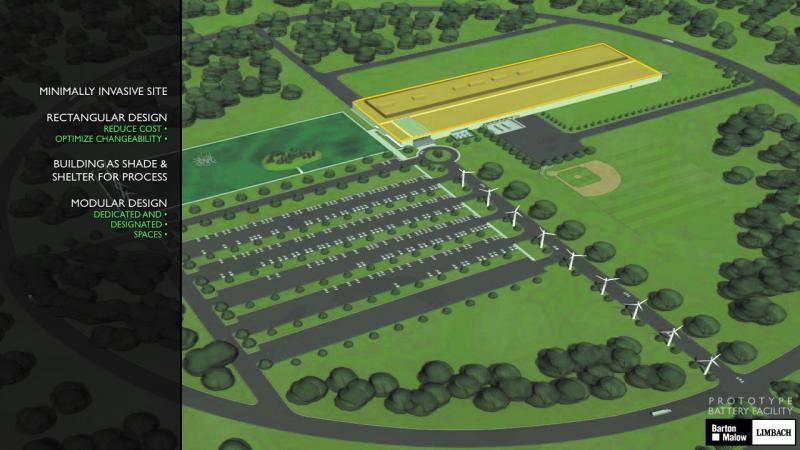 The facility will house research and development, testing, manufacturing, shipping & receiving and office space. A comprehensive understanding of the specific requirements of each of these spaces is needed.
An 8-10 month construction schedule will enable the most efficient use of precious working capital.
In order to fast track the construction schedule, long lead times on process equipment coming from Asia must be considered.
Building "first costs" must be reduced to directly contribute to the operational bottom line.
Building cost-of-ownership must be reduced to directly contribute to the operational bottom line.
Process equipment integration must be considered to have an all-encompassing/integrated approach to the design, engineering and operations of the building.
Managing ongoing change on the manufacturing floor is critical as the market seeks the right mix of supply to meet rapidly changing demand.
High quality standards supporting clean and dry environments are critical to ensure consistent performance.

Providing clean and dry environments for the battery manufacturing process is a cornerstone to a successful construction plan. The low dew points required in these dry room spaces are very unique with clients' needs ranging from class 100,000 to class 1,000.
The critical nature of the vapor pressure differences caused by the low moisture level in dry rooms does not allow for construction mistakes or design flaws. Early involvement from specialists quickly uncovered these critical factors and resulted in a fast track design and build process that supports the outcome and required performance criteria.
Key performance attributes to clean/dry environments include:
A dry room envelope assures the lowest leakage rate possible by allowing consistent operating conditions and avoiding costly additional energy cost to service envelope pressurisation leaks. Double layers of seal protection were determined to be best for sub floors, floor seals, and wall to floor assembly sealings.
Using minimum pressurisation to avoid violent door openings when door latches are released helps to assure consistent sealing and reliable operation in pressurised environments.
The implementation of sealing standards and test methodologies assures that the best seal integrity is delivered.
Certain utility installation approaches will limit the number of room envelope penetrations. Specifically, electrical distribution strategies such as motor control centres or distribution busses within the room (including header piping inside the plenum space rather than outside) will reduce penetrations. When sprinklers are used it is especially important to be aware of this so as not to have a room with hundreds of riser penetrations. Any time headers are outside of the space, they are subject to changing temperatures which can cause expansion or contracting resulting in pressure on the riser penetrations and possible leaks.
*Understanding these factors led Barton Malow to develop construction protocols to identify who will work in the clean and/or dry rooms, where and what penetrations are being made, and ensuring that penetrations are sealed.
It is important to control unnecessary door openings and to limit the use of materials' packaging that can carry large amounts of moisture to maintain room performance specifications.
Barton Malow's research culminated in the construction of research and development, testing, and manufacturing facilities for notable clients as well as the development of a conceptual Lithium-ion battery manufacturing facility.
This virtual facility model provides the means and methods to engage in collaborative thinking with our clients and explore the critical elements and individual manufacturing nuances of future facilities. Still shots of this concept model are attached and highlight various aspects of the facility design as well as process integration and impact to the space.
Building "green" was a high priority and fitting for this industry. The design concept starts with a minimally invasive site design on either a greenfield or brownfield site as well as incorporating concepts for alternative energy power such as solar and wind. (Geothermal is a potential option but typically involves a longer range return on investment.)
The rectangular structure proved to accommodate two elements described by clients as important. First is the linear manufacturing and assembly process with associated ease of conveying products and second is the modular aspect that will facilitate the ease of adding additional spaces incorporated during master planning to increase capacity. (This was deemed important due to the unkowns of the supply and demand curve.)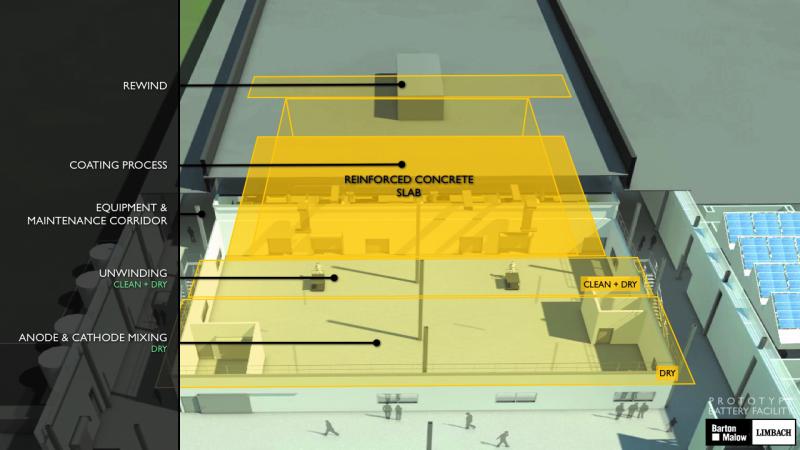 As you view the top ribbon of the building you'll notice a continuous translucent panel around the eave below the roof line. This will allow natural light penetration to the working environment, is a LEED strategy, and proven to increase productivity. (It's important to note that obtaining LEED certification is incorporated in our strategy in the event this coincides with our clients' operational goals.)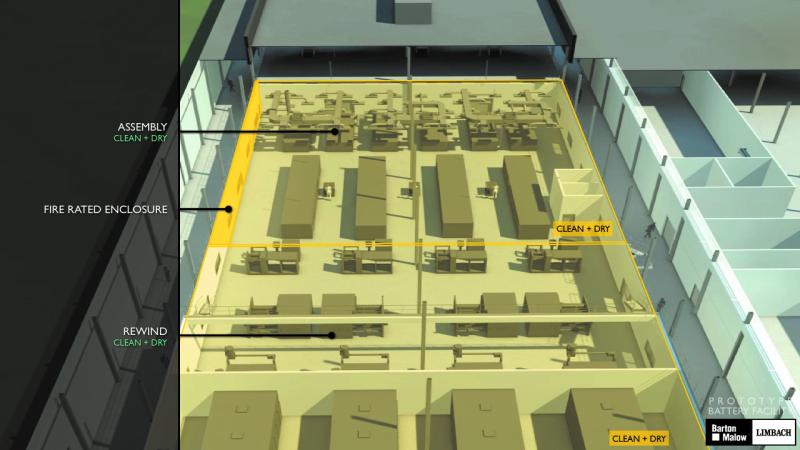 The design progresses with modular design elements defining dedicated spaces for manufacturing, mechanical and electrical systems and designated spaces for client and staff circulation, office, storage, shipping and receiving.
All these strategies directly contribute to lower "first cost", lower long-term ownership cost and maximising the ability to adapt to future change.
It's very important to note that we have witnessed a recurring theme requiring caution. Many times clients are encouraged by equipment suppliers to procure equipment that is oversized. This has a direct impact on sizing of mechanical and electrical systems, negative impact to first costs, efficiency and negative impact to bottom line operational excellence.
Involving all stakeholders early in the design process eliminates this from happening and ensures we have a check and balance on every phase of the project.
As we discuss specific rooms functions and scope, it's important to note that the Barton Malow team is bound by confidentiality agreements prohibiting us from discussing anything specific to a client's battery design and manufacturing.
Let's transition to the manufacturing space itself.
The concept design commences with a dry room containing anode and cathode mixing. These rooms, as with all clean and dry rooms, are equipped with air lock entry and exit for gowning and preparation, directly contributing to maintaining the environment requirements.
The transition continues to a clean and dry room for unwinding of the coiled materials. Conveying systems are utilised to move the coil from shipping and receiving to unwinding.
Note that designated corridors are on either side of the rooms. One side for equipment and maintenance, the other for staff and guest circulation. This contributes to safety processes and procedures while also supporting efficient manufacturing.
The Barton Malow industrial team's core discipline is working in the manufacturing environment and incorporating our clients' safety and lean initiatives.
Coating process is the next step. The electrode materials are mixed with a conductive binder to form a slurry which is spread on the foil.
Owner supplied equipment is set in this area and typically has significant weight load. The concrete slab is reinforced to accommodate this stress while maintaining a very flat, solid foundation for the equipment operation.
Rolldown/tambor doors are utilised for conveyance of materials while also providing a tight seal in the closed position to maintain the desired clean and dry requirements.
The rewind area is also clean and dry. The coated foil is now transitioning to the next step. Owner supplied equipment is set as per manufacturers requirements.
Slitting and Calendaring steps are now implemented to cut the foil into narrower strips suitable for different sizes of electrodes and then cut to length. There is tremendous precision in this step to remove burrs that could cause potential short circuits. This room is also clean and dry.
Our scope of work here is consistent with the majority of the manufacturing spaces and is the construction of the rooms, associated mechanical, electrical, fire protection and installation/connection of owner provided equipment.
Protocols are implemented project wide requiring sign‑in, understanding of scope, work performed and status of completion of who is constructing in each room, penetrations being made and confirmation that each and every penetration is sealed.
Assembly is the next transition. Whether Prismatic or Cylindrical cells, this is a highly automated process housed in a clean and dry room. As you may surmise, this is the largest single room. Walls design requirements differ in accordance with local fire code interpretation as the side walls typically require between a 1 and 3 hour fire rating. Here too our scope involves room construction and equipment set.
Cell formation and aging are the final steps in Lithium-ion battery manufacturing. This charge/discharge cycle activates the working materials, transforming them into useable form. Unique here is the requirement for large open bay spaces.
The Barton Malow team developed structural designs that enable bay widths of over 160′ feet and heights in excess of 35′ with no column locations restricting use of the space. This optimises space utilisation for specialty rack systems and robotics.
Predominant is the use of fixed floor to ceiling rack systems with integrated charging systems that emit significant heat loads as the charging process begins with low voltage and builds up gradually. This requires the HVAC system be specially designed in accordance to capacity requirements.
Robotics are integrated to convey finished battery components to the rack systems. Here too our integrated team is responsible for the installation of the complete systems.
To meet the fast track requirements deemed necessary by our clients, Barton Malow turned to a delivery method that the company has perfected over a 6-year period and employed on over 10 projects totalling in excess of $1.8 billion dollars.
Integrated Project Delivery (IPD), described by some of our clients as "design-build on steroids," proved to be the ultimate solution. The defining characteristics of the IPD delivery method are a high degree of collaboration between the owner, architect, and construction manager; the use of Building Information Modeling (BIM) software; the use of a controlled budget rather than a guaranteed maximum price; early selection of key trade contractors to work in a design-assist role; and the use of fee arrangements which incentivise team members to achieve project goals.
In an IPD project, key stakeholders are assembled prior to the design start and are often co-located for the duration of the project. Owner, architect, site, civil, electrical, mechanical, process and clean & dry consultant, purchasing, and construction (including major sub contractors) are all actively involved in the design development process.
Design progresses with tremendous collaboration, integrated value engineering, constructability analysis and a full understanding of the advantages and disadvantages of all options being considered. Design is developed in the 3D BIM environment providing the luxury of "building" the facility twice – first as a 3D model and then the physical build.
By leveraging the power of the software and team expertise, process equipment layout is integrated throughout the design process. This results in a comprehensive awareness of every facet of the facility with direct consideration for its operations.
The team assesses multiple configuration options for the production line. Each option is evaluated with regard to its impact to throughput, its transition and impact to work flow through clean/dry rooms, a thorough life cycle cost analysis, solvent recovery, and additional strategies for materials' conservation.
Additional considerations are given to address the clients' corporate-wide initiatives including lean manufacturing tactics such as Six Sigma, DMAIC, Tris, SAP, etc…
As the project progresses, weekly project evaluation and progress sessions involving all stakeholders are held. These work sessions involve "flying the model" to show clash detection and discuss key issues relative to schedule and budget adherence, materials arrival and staging, and any other issues affecting the on-time, within budget and to‑quality completion.
At strategic points throughout the process, Barton Malow's equipment installation team assesses construction progress and coordinates installation, testing, and start up procedures of manufacturing equipment. This "concept to completion" service offering enables the client to have one point-of-contact for every aspect of the project including final commissioning and close out.
The results have been and continue to be tremendous. Clients have benefited greatly from Barton Malow's ability to manage the dynamic design and construction process that is inherent in this new and rapidly evolving industry. Cash flow has been optimised as compressed schedules enable construction to start at the most strategic time while providing flexibility during the design and engineering phases.
Additional positive results include:
Installation is "put in place" with unheard of efficiency and precision. On-site fabrication is in the past.
Field driven change orders are eliminated.
In less than 9 months, the design and construction of a 1 million square foot facility can reach substantial completion.

Building costs are reduced by over 20%.
Integration of clean & dry rooms and associated protocols is second nature.
Additionally, clients have commented on Barton Malow's dedication to performance and to building relationships. Our project teams are comprised of highly skilled professionals with directly related experience.
Our training, processes and procedures and adherence to strict safety standards are comprehensive, relevant and are continually assessed for improvement. No surprises, No excuses.
In many cases, Barton Malow will implement a shared risk, shared reward incentive with its clients. Barton Malow will pledge an agreed upon profit dollar amount, with the client pledging an agreed upon amount from value engineering savings.
In the event that the project is completed early and meets all pre-determined performance requirements, Barton Malow benefits. In the event that there are field driven delays or performance does not measure to expectations, then fee is at risk. This creates a true win/win situation with building and associated systems completed on time, within budget and to the quality expectations of our owners. The final benefit is the safe and efficient production of high quality battery products.