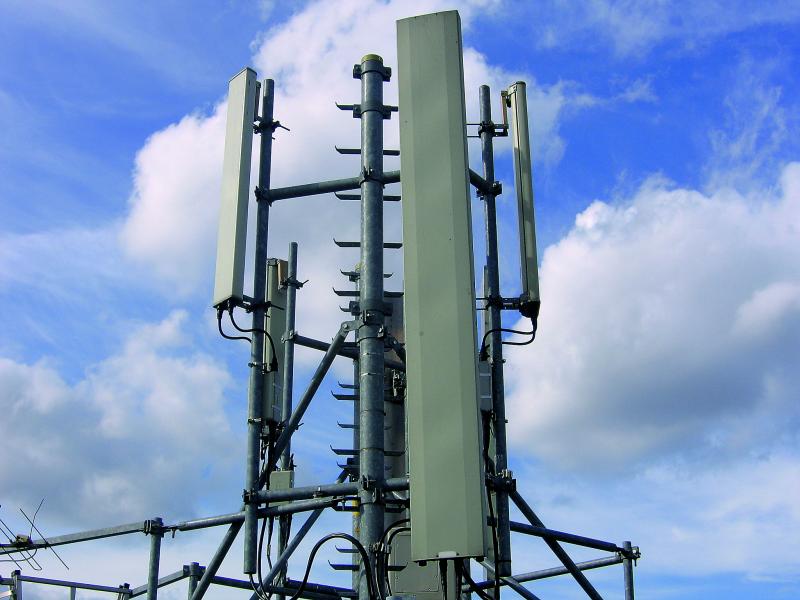 There's more choice than ever in providing back up power for Telecom and it's bigger than batteries, writes Gerry Woolf, from this year's Intelec meeting.
It's ironic that just as your scribe began his write up of Intelec, a US congressional committee issued a warning that Huawei and ZTE, two of the major sponsors of the event, Chinese owned and now world class telecom players, posed a security threat to the USA.
You don't get to be that big that fast in China unless you have government support but is this paranoia or something else? Perhaps they're trying to kill Intelec?
Well that's two sponsors off the list for the future event and who could blame them?
I didn't see the same committee issuing a warning about Narada or Sacred Sun or other battery players from China who now make up a substantial number of the exhibitors at this show, but Intelec has changed beyond all recognition since I last attended in 2009 and sadly, its battery tracks looked less relevant than ever.
The factors that have changed are that equipment supply for the industry is now very much in Asian hands; the key technical issues are still about supplying sufficient power—not just for reserve issues but for keeping up with inexorable demand for cloud computing and the like. And the move to high voltage DC powering of data centres and telecom systems, to avoid all the inefficiencies of multi-stage power conversion. Edison would be smiling, were he still with us.
That's one of the reasons we launched our sister title, Critical Power, which we plan to take all digital in 2013. And it's no longer all about batteries. Batteries, be they lead-acid, lithium or anything else, by and large, work and work well. But big power outages have also shown that fuel cells really do have a role to play and with the inexorable rise of global GSM means that hybrid battery and genset systems, linked with wind and solar, are set to grow enormously. There's food enough for everyone.
So it was pretty disappointing to see the first day's battery track almost as a reprise of a Battcon meeting— no disrespect to Alber— circa 1998, when the VRLA premature failure debacle was at its height.
The key speakers? Allen Byrne of Interstate Batteries, discussing what you need to know about battery recycling, and Pete Demar discussing thermal runaway, and then only in VRLA.
Byrne, a very pleasant individual with potential for stand-up comedy, stated in the introduction to his paper that its purpose was to educate battery owners and users on how to effectively manage spent battery disposal and recycling in an environmentally and regulatory compliant way. It's rare that I'd give a plug for Battery Council International… they've got it all covered. And Demar?
Well this was a trip down memory lane. Why do VRLA batteries go into thermal runaway? Because they dry out and draw ever increasing charge currents, get hot swell and if you're unlucky, explode. How do you fix it? Follow Pete's instructions (if you have the nerve). Reduce the float current, remove the vent assemblies from the cells and add water. Then, maybe have the balls to turn off the rectifiers altogether and see if the battery strings still support the loads.
This is what we call blue collar work at a white collar meeting. Definitely out of place and maybe out of time.
That was half a morning gone. Next on, a Brazilian from Electrobras Furnas, one of the country's Power utilities, whose English wasn't great but then my Portuguese is non-existent. There are three things you need to know about Brazil. They don't speak Spanish, English is not so important there and the country is huge. Dr Alexandre Soares' written paper said much. Basically they've had enough of VRLA. As much as 80% of the VRLA batteries in the company's headquarters had problems in the last five years.
Your Scribe has written about battery purchasing in Brazil before. Basically if you're in a state owned company, in battery terms, the words Caveat Emptor don't apply. You have to buy batteries approved by the state testing laboratory, CPqD. BEST has been there. But even approved VRLA runs into problems.
The company has learned how to do predictive maintenance using "conductance techniques" but it's all time consuming.
So is it any wonder the company has moved over to Lithium-ion? But of course they first had to develop a "standard" by which the batteries could be judged. No surprises on the tests — capacity, cycling, overcharge, over discharge and safety. But we're not just judging electrochemistry… we're judging the effectiveness of the battery management system and that's another standard that has to be created.
Soares seemed to think that lithium-ion recycling was better than for lead-acid and had to be disabused of this by the your Scribe.
Having VRLA on board (however low cost to begin with) is a bit like having a pet dog. As they get older, they cost more, in terms of Vet bills. More maintenance.
You either switch to another technology or reduce the cost of maintenance. Cue Tod Stukenberg of Midtronics, a well known name to Batteries and Energy Storage Technology.
One way of cutting down the cost of battery maintenance is speeding up the procedures of maintenance, and with VRLA that means how quickly can you get the test probes around the battery terminals, assuming you can quickly access them? What if you had a simple push fit connector on every cell?
The method involves the deployment of test cables with four points or Kelvin connections (KCTC), installed on each battery jar set of terminals. This assembly is comprised of a Kelvin connection (separating the drive signal and measurement point of the test for accuracy) and a positive, keyed mating connector that eliminates any human variation from the point of contact. These cables can be produced at a fixed length of known resistance based upon battery type to ensure accounting for this aspect in the product calibration process.
Is it worth the trouble? Midtronics put the system to the test. You'd expect an experienced technician to move test probes around a battery string with considerably more speed than an inexperienced one but both should perform equally fast with the, now can we say? (easy to use? idiot proof?) Kelvin connection.
And common sense prevails. You can indeed shave 30 seconds off testing a 16 cell string with the Kelvin Connector, no matter what your experience, than using conventional probes, doing the job in 3 minutes as opposed to 3m 30s— nearly 15% faster. It all adds up and the results are almost certainly more consistent than 'hand made' readings.
What's clearly apparent now is that it's accepted that VRLA is going to age and the customer is going to have to keep an eye on it and analyse the data. And there are choices and costs on how you do it.
It was interesting to see that Narada had teamed up with US battery monitoring specialist Battery Informer to offer an 'included in the price' of the cell monitoring system. Will other lead-acid manufacturers follow suit? More will follow in our Winter issue.
What's increasingly clear though is that in order to support an increasingly comprehensive GSM network in part of the world where mains electricity is never going to happen, Telecoms will rely on a vast array of independent power supplies which need to be more robust. It's almost certainly going to involve a genset, batteries, maybe a renewable energy source and a control system.
According to estimates by the GSM Association, about 640 000 new base transceiver stations BTSs are due for installation during 2012, located across "off-grid" sites. Of these, about 118 000 are expected to be powered by renewable energy. Perhaps as many as 500 000 diesel generators will be installed over this period with a huge increase in fuel costs and environmental emissions. Furthermore, the world's 5 billion mobile phone mobile subscriptions are expected to increase by 50% over the next 5 years. In parallel to this, it is also estimated that 1.6 billion people are living in non-electrified areas and that an additional one billion people are living in regions where the grid is unstable. It is also worth considering that the world's wider population not served by the commercial grid is living today in South Asia (614 million people – about 40% of the population).
It can also be said that, in principle, the greatest needs for stable power supplies resides in developing areas (Africa, India, South Asia) or across locations that comprise distinct geographical complexities (Middle East, Russia). In these regions it also happens to be the case that the majority of the BTSs are powered by diesel generators and often, to ensure a minimum level of reliability, the sites also have a second back-up generator.
But how do you keep the costs down and the reliability up? Ausonia S.r.l put forward a solution which integrates a variable speed diesel DC generator with a deep cycling Li-ion battery. This can offer an extremely energy efficient alternative to using an AC generator operating 24/7. The generator simultaneously charges the battery and powers the site load. When the battery has been fully charged the generator shuts down and the battery takes over as the primary source of power. By reducing the genset runtime down to typically 4 hours per day, this approach offers major savings in fuel consumption— usually up to 74 %savings compared with a standard genset.
Ausonia's solution uses SAFT's Evolion lithium-ion battery. It concentrates 3.9 kWh (48V with 77Ah at the 8h rate) in an optimized volume. The Evolion® module has a width of 216 mm, a height of 260 mm (equivalent to 6RU) and a depth of 404 mm. The energy density is 176 Wh/L and its dimensions are suitable for most Telecom equipment compartments.
Trials perfomed with Ausonia's solution showed that hybrid systems could significantly reduce the fuel consumption by up to 0.4 l/kWh and that they reduce daily carbon emissions by more than 60%.
If space is your worry then Fiamm came forward with the numbers on Sodium Nickel which they didn't have two years ago when I interviewed Nicola Cosciani about the company's technology acquisition.
Now being deployed accrosss the USA for T Mobile, Fiamm's SoNic technology meets the constantly increasing DC power requirements in telecom infrastructures. Therefore the battery backup system should provide a much higher energy density, minimizing floor space.
The energy density of the 48TL200 in terms of Wh/kg is about three times that of conventional batteries, so that multiple modules can be vertically stacked in a rack without reaching excess floor loading. For the rack system, a shelf assembly with two units was selected.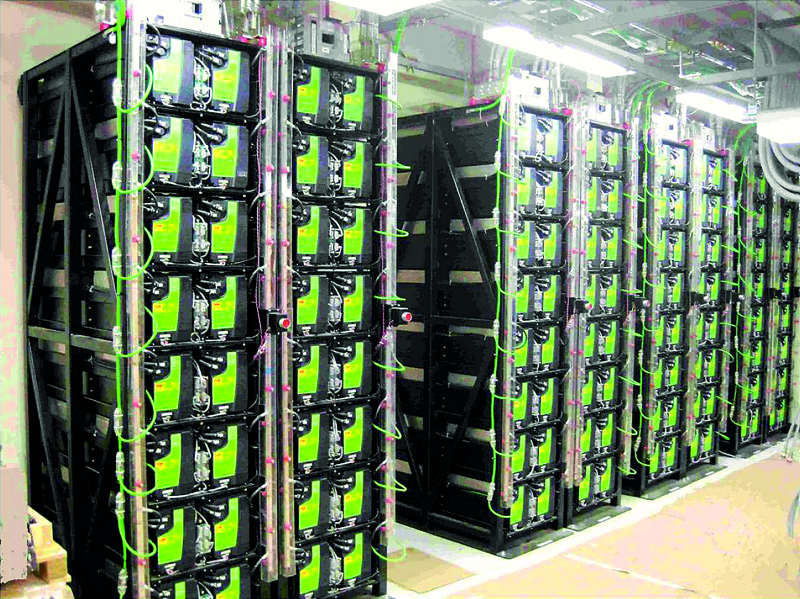 With an eight shelves rack (16 battery units) an energy density of 175 Wh/m2 is achieved, which is 50% to 100% higher than that achieved with conventional batteries.
The presence of 16 battery units provide a very high level of redundancy. Should a unit go out of service only a small reduction in capacity, about 6%, will be incurred. An additional shelf assembly can be installed on a operating rack without the need of disconnecting the others; this provide a high level of scalability minimising the installation costs. The new shelf will automatically perform the commissioning phase, going online after about 24 hours.
This compact and modular battery rack allows the system designer a versatile and scalable Direct Distribution architecture towards maximum reliability, significant cost savings in cabling, and minimal floor space.
And with GE just about to start production of batteries in the USA using the same chemistry, Telecom operators have never had so much choice about what to do when it comes to configuring standby.
VRLA, extra rugged VRLA, with monitoring remotely or as part of a maintenance programme, lithium systems and now proven sodium nickel, it's a sea change on a decade ago.