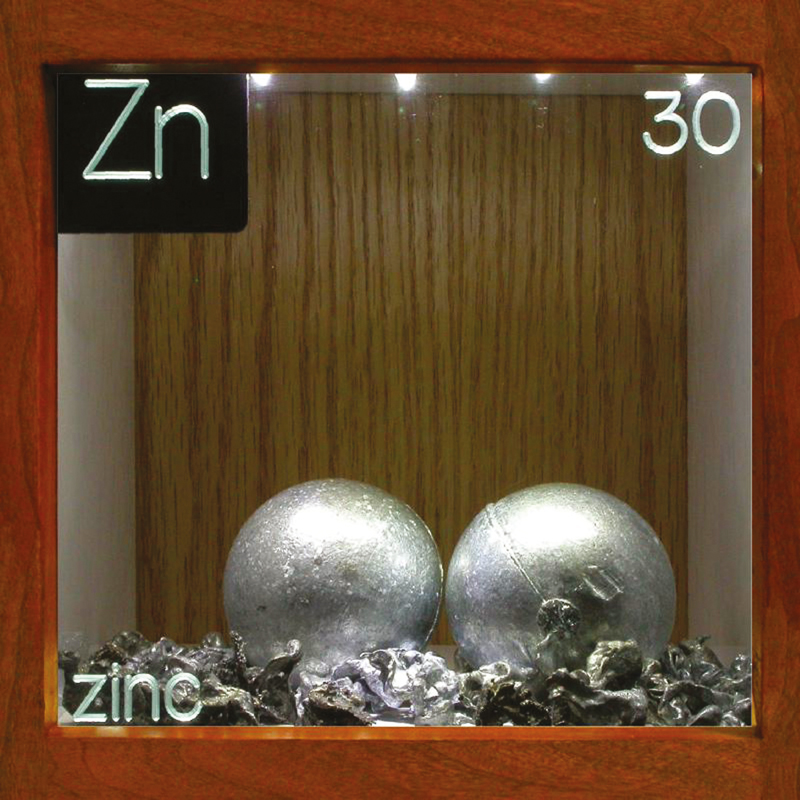 As gasoline prices soar and fuel cell proponents have yet to solve some basic problems, Patrick Moseley sets out the case for a fresh look at zinc-air technology.
The dual anxieties over the stability of oil supplies on the one hand and the environmental impact of fossil fuel consumption on the other are raising the desirability of a totally clean, affordable energy storage system to an all-time high.
Fuel cells, which are being intensively pursued at present, can indeed provide energy by consuming hydrogen to produce a benign waste stream. But the only economically viable sources of hydrogen stem from hydrocarbon feed-stocks, so this option is not a panacea for the world's energy storage problems.
There is thus a growing interest in the exploitation of zinc-air systems, which, like hydrogen fuel cells, generate a benign product (zinc oxide) and provide high specific energy (energy per unit weight) without the punitive materials costs which currently hold back the hydrogen systems.
Zinc-air energy storage for electric road transport was demonstrated with great technical success by Electric Fuel Ltd during the 1990s but was prevented from reaching commercial development because an economic comparison with diesel power trains was, at the time, marginally unfavourable when fuel supply was taken into account. Subsequently EFL and Powerzinc Electric have, with Government backing, developed zinc-air transit buses in the US and China; and because of the rapidly rising diesel fuel prices they are now poised to compete on an economic basis. It must be said that a successful launch of a zinc-air system requires a fuel supply infrastructure to be in place, but this is also true for hydrogen fuel cells where it is, perhaps, a greater challenge.
Initiatives are now being pursued to discover if the economics of wide-spread zinc-air energy storage, in transport and elsewhere, are more favourable in a world where crude oil changes hands at over US$60 a barrel.
As reported in the Spring edition of BEST magazine, the zinc-producing industry and a group of companies manufacturing energy storage systems based on zinc have formed a consortium with the aim of enabling the market for zinc energy storage technology to realise its full potential. The value of zinc as an energy storage medium is demonstrated by the fact that zinc systems (as primary batteries) already constitute one third of the total (primary plus secondary) battery market worldwide. The formation of the new consortium, named ZESTEC (Zinc Energy Storage TEChnology), is predicated upon the group's belief that zinc-based systems are now on the brink of successful expansion into major additional applications.
ZESTEC, in co-operation with the International Zinc Association (IZA), has announced a workshop on pollution-free vehicles powered by zinc-air fuel cells to take place in Shanghai on 6th December 2005.
The workshop will focus on recent advances in battery/fuel cell systems and the demand for pollution-free technologies within major projects, such as the 2008 Beijing Olympic Games and the 2010 Shanghai World Expo. The current and potential use of zinc-air technology in vehicle applications including buses and scooters will be a major theme.
To attend the workshop or for more information on ZESTEC, contact:
Manager, Technology & Market Development
International Zinc Association
Ave de Tervueren 168/Box4
B-1150 Brussels (Belgium)
Tel: +32 2 776 0084
Fax: + 32 2 776 0089
E-mail: jvanwesemael@iza.com
Manager, Electrochemistry
International Lead Zinc Research Organization
2525 Meridian Parkway, Ste 100
Durham, NC 27709 (USA)
Tel: +1 919 361 4647 ext. 3024
Fax: +1 919 361 1957
E-mail: pmoseley@ilzro.org
Zinc-air can shine in China's soaring transport market Julia Zhang of Powerzinc explains why zinc-air battery power can solve some of China's transport needs.
A recent policy shift in China – placing heavy emphasis on developing clean vehicles and alternative energies – is a good indication that the time has finally come for zinc-air fuel cell (ZAFC) technologies to shine. Headquartered in California, Powerzinc Electric, Inc is a world-leading zinc-air fuel cell manufacturing company.
In its Shanghai factory Powerzinc has successfully developed various ZAFC series for electric vehicle propulsion systems and zinc-air primary batteries for national security and consumer electronics markets. Powerzinc's products are leading the industry with their higher power, greater energy capacity and patented expandable structure and automated refuelling process.
The number one application for ZAFC modules are city transit buses. In the past two decades China's cities have been growing at a rapid rate – both in their size and the number of them. While China's population continues to climb, the number of non-urban residents remains fairly steady at 800 million – the rest are moving to the cities. 35% of the total population is now urban.
In comparison, road and energy supplies are falling behind. In addition, increasing personal wealth has been driving up the number of households possessing private automobiles. In Beijing, a city with 13 million people, on average one in every ten families now has a car. It is an astounding number, and raises concerns over road infrastructure and energy consumption. Traffic congestion is one of the biggest problems most cities' administrations now face.
An obvious solution is to encourage citizens to choose public transportation – city transit buses. Currently there are 0.6 buses per 10,000 people. By 2010, if the number of buses is to increase to just one per 10,000 people, China will need to bring about 55,000 new buses into service each year. By 2008 Beijing will increase its bus fleet from 17,000 to 23,000; Shanghai plans to introduce 2,000 new buses each year.
It is no coincidence that the 2008 Beijing Olympic Committee has announced an ambitious plan to purchase 1,000 electric buses and 3,000 clean energy buses (such as CNG buses) for this event. It is hoped that the Olympics will serve as a high profile platform to showcase and promote all available electric bus and clean vehicle technologies. Two years afterwards, in 2010, the Shanghai World Exposition will play a similar role and Shanghai City's administration has in consequence revealed a similar purchasing schedule.
Another important form of transportation for Chinese citizens is the electric two-wheeler, including bicycles and scooters. China now has 25 million electric scooters and the number is still growing. A majority of these scooters are still using lead-acid batteries, a make-do choice for the lower-end market.
With a rising gasoline price as catalyst, these markets are perfect opportunities for ZAFC to take centre stage as a realistic alternative energy source. It is the only currently-available EV propulsion technology that is safe and non-polluting, and at the same time has enough energy density to sustain a long range per refuel (comparable to its gasoline counter part) with reasonable costs. At $3 per gallon, the cost of using ZAFC is the same as diesel for a bus and even less for an electric scooter, not to mention all the environmental and economical benefits.
Over the years Powerzinc has developed the most compatible products for the Chinese markets. After successfully developing a series that had the highest energy density and specific power, the company continued to optimise the configurations and module structures. Later, Powerzinc's engineers developed a unique patented soft-pocket and expandable structure that makes automatic refuelling possible. The US DOE, China MOST, Nissan (Japan) and Teck Cominco Metals (Canada) are among the agencies and organisations that have tested and confirmed the high performance of Powerzinc's products.
China's Bureau of Industrial Standards delegated Powerzinc to write the first set of national zinc-air fuel cell industry standards, based on Powerzinc's own manufacturing standards. In 2003 Powerzinc officially launched its electric bicycle series to the Shanghai market, with over 60 owned or licensed service stations providing refuelling services to customers. The sales increased Powerzinc's credibility and boosted the company's reputation as a leading ZAFC manufacturer. In addition, valuable market feedback was gained allowing Powerzinc to further optimise its products and re-evaluate its strategy for further commercial activities.
In order to effectively capture China's electric scooter market, Powerzinc has solidified its relationship with China's largest motorcycle industry, in Chongqing. The annual production of seven million motorcycles from the various makers here accounts for half of China's total output. Powerzinc has already set up a joint venture in Chongqing to manage this project locally, and the city administration is to formally establish zinc-air fuel cell motorcycle development as one of the city's major state-sponsored programmes. Two of the largest manufacturers are co-developing ZAFC electric motorcycles with Powerzinc. Commercial products are to be launched in late 2006.
In 2001 Powerzinc's ZAFC modules were successfully used in a demonstration on an electric car, modified by Zhejiang University.
During the demonstration this car was driven from Hangzhou to Shanghai on both city and national highways, a distance of 200 miles. The test results surpassed all benchmarks, and the demonstration was reported by many news agencies at the time.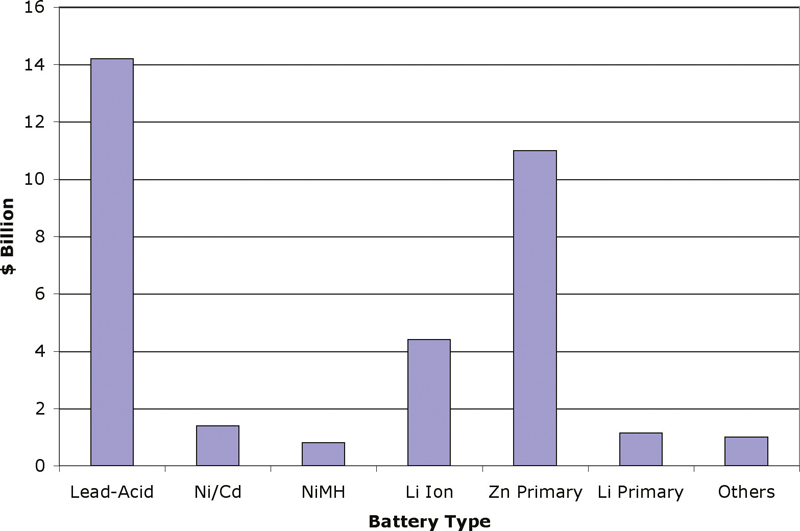 In order to obtain the right to provide electric buses to the Beijing Olympic Games, Powerzinc also collaborated with FAW Bus and Coach Wuxi Works to complete the first ZAFC-powered city transit bus. The bus has the standard body of a low-deck city transit bus, 12m in length and holding 30 seated and 40 standing passengers. It has a driving range of 380km per refuel, with maximum speed of 75 kph and a cruising speed of 50 kph. The costs for the ZAFC modules are $65,000 to supply and $190 for each refuel. The bus is now being demonstrated in Shanghai. It will also be demonstrated in this year's 4th International Clean Vehicle Conference and Exhibition in Beijing (23-26 November) and the Zinc-Air Fuel Cell Workshop (Shanghai, 6 December).
In recent demonstrations, Powerzinc has obtained endorsement from the Chairman of China's Clean Vehicle Workgroup who is also a former Secretary of China's Ministry of Science and Technology. Recognising the project's potential, the city of Baiyin in western China (which is famous for its non-ferrous and precious metal mining industries) has committed $50 million from the state infrastructure fund and some land to finance the Powerzinc Baiyin plant. In addition, the city will also waive any fees and taxes associated with building and operating the manufacturing plant in Baiyin. The facility will produce all Powerzinc's product series and serve as a model plant to facilitate future licensing of the company's technologies.
The bus is the way forward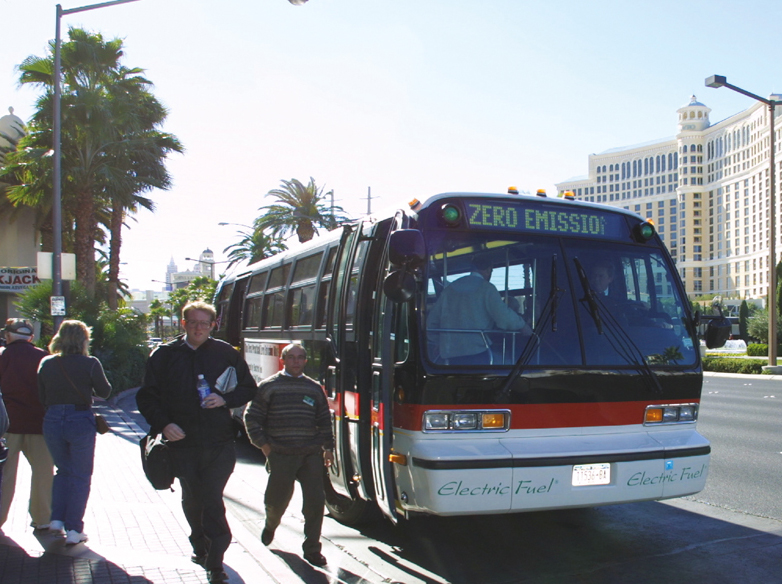 A target of 1,000 zinc-air powered buses on America's streets by 2013 is the ambitious target of one company.
Next year Electric Fuel Transportation Company (EFTC) will reach the most ambitious stage to date in its zinc-air transit bus commercialisation program. It plans to launch into service a small fleet of zero-emission electric buses as demonstrators for a major US transit agency.
Initially the fleet will incorporate three all-electric 'hybrid' buses running on super-efficient zinc-air batteries for maximum energy, combined with high-power electrochemical storage for regenerative braking and peak power. After the expected initial success in demonstrating the economic feasibility of operating zinc-air fleets, the programme will be expanded to include more buses and additional transit operators. EFTC expects to begin making commercial deliveries of its zinc-air buses in 2008.
EFTC is a new company formed by parent Arotech Corp (a Nasdaq-traded defence and energy products conglomerate) to commercialise the zinc-air electric vehicle technology developed over the past decade by its subsidiary Electric Fuel Ltd. With oil prices well over $60 a barrel and increasing public pressure on transit operators to reduce emission of harmful pollutants and greenhouse gases, the timing is propitious for the new company's business outlook. EFTC intends to have 1,000 of its zinc-air buses on the streets of North American cities by 2013.
The EFTC team are not strangers to the real-world implementation of zinc-air vehicles. In the late 1990s the company conducted a two-year field test of zinc-air powered postal vans in Germany and Sweden, sponsored by those countries' postal authorities. Electric Fuel's zinc-air technology, demonstrated over tens of thousands of miles and in a pilot zinc fuel production and recycling facility, was declared an unmitigated success. Only low oil prices and daunting economies of scale prevented the company from immediately commercialising the technology, but that delay turned out to be only temporary.
Electric Fuel's next accomplishment was building the world's first full-sized (40ft/12m) all-electric transit bus capable of running on battery power for a full day's operation under real-world urban conditions. The bus's development, integration and testing was funded by the US Department of Transportation's Federal Transit Administration, which also co-sponsored public demonstration drives by transit agencies in Las Vegas, Nevada and Albany, New York, along with a successful presentation on Capitol Hill in Washington, DC.
The positive response from transit agency officials, Government officials, members of Congress and the general public was overwhelming. The FTA programme also included the participation of General Electric, the developer of the electric hybrid propulsion system. During the course of the rigorous testing programme Electric Fuel's zinc-air bus surpassed minimum daily driving range requirements by more than 50%.
The main advantages of transportation based on zinc-air are the elimination of tailpipe emissions in polluted cities and a reduction in the use of fossil fuels. But despite these important public health, environmental and macroeconomic benefits, public agencies are usually unwilling or unable to adopt alternative fuel technologies if it means a significant increase in their operating costs. Fortunately, independent techno-economic studies conducted by a leading US consulting firm in 2002 showed that the cost of operating large fleets equipped with Electric Fuel's zinc-air batteries would be equivalent to the cost of operating diesel-hybrid or CNG (compressed natural gas) fleets.
Moreover, with the spectacular increase in oil prices registered during the course of 2004/05 and the subsequent leap in diesel fuel and natural gas prices, it turns out that deploying zinc-air buses even in small fleets would be cheaper than the 'halfway' technologies of diesel-hybrid or CNG, and larger zinc-air fleets may cost less to operate than even traditional diesel bus fleets. For the first time, a 'green' technology has been developed that is both cleaner and cheaper than the polluting alternative.
Contact: yoel@electric-fuel.com
Metal-air cells provide renewable power
Dr Lin-Feng Li of eVionyx explains a new philosophy in energy conversion, in which metal-air compounds provide the source for transportation power.
EVionyx Inc was founded in 1995 as a subsidiary of Reveo Inc, with a mission to develop and commercialise its metal-air fuel cell technology. eVionyx has two facilities – in Hawthorne, New York and Jungli City, Taiwan – where laboratories, offices, manufacturing lines and a production/assembly line occupy over 100,000sq ft. The company's long-term vision is based on the concept of metal fuel harvesting, and its state-of-the-art facilities provide eVionyx with an international presence and the ability to produce Revolutionary Power Cell (RPC) modules for field-testing as well as for initial manufacturing of commercial products.
Metal fuel technology, which has been known about for decades, provides an ideal means to bring a new concept to the world of energy. As shown in Figure 1 (over page), metal fuel can be thought of as being gathered in the same manner as harvesting food. In a striking parallel, metal fuel derives its basic energy from the sun through an electrochemical process; and it is
harvested. In addition hydro energy sources can also be used; both of these energy sources are, of course, a result of the direct interaction of the sun in our solar system:
1. The result of the photochemical process is similar to the way food is harvested, in an energy cycle. After consumption, the spent metal oxides enter a recyclable process allowing the re-use of metal fuel.
2. The sun provides an endless source of energy, which is transported from the sun to the earth in the form of light energy.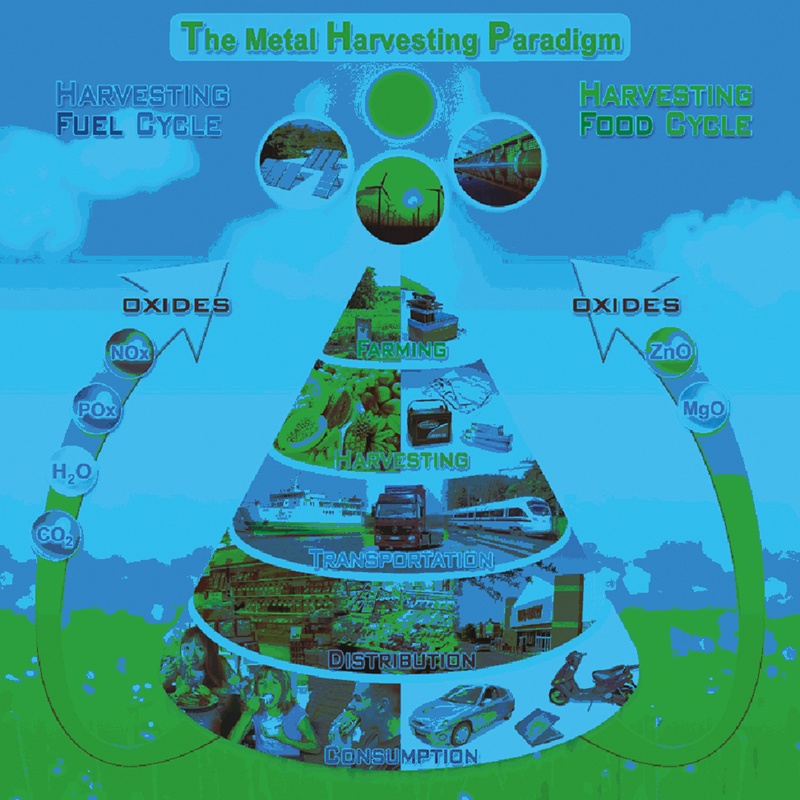 3. The sun's light energy drives a photochemical process.
In the food energy cycle, oxides of carbon and hydrogen (i.e. carbon dioxide and water) are converted into crops in a process known as photosynthesis.
In the metal energy cycle, oxides of metals (e.g. zinc, aluminum) are converted into zinc and aluminum metal in a process utilising photovoltaic energy. In the case of the food energy cycle the end result is harvested crops, or life-sustaining energy for humans.
In the case of the metal energy cycle the end result is harvested metals, or commerce sustaining energy for equipment, devices and appliances.
4 The harvested fuels, crops and metals are then transported over land and sea and distributed to consumers. This represents a customer base of six billion people worldwide.
5. Consumers then utilise the fuels, which are converted into oxides in a 'processing plant' (either the human body or the metal-air fuel cell).
In the food energy cycle the processing plant is the human body. The crops provide energy to the body. After consumption of the fuel (crops), the processing plant (body) gives off carbon dioxide and water.
In the metal energy cycle, the processing plant is the metal air fuel cell. The metal provides energy to equipment, appliances and devices to which it is connected. During consumption of the metal fuel, the processing plant (or fuel cell) produces metal oxide.
In both the food energy and metal energy cycles, the resulting oxides are made available to start the cycle over again, which results in an endless supply of renewable, distributed energy power.
eVionyx has developed metal-air fuel cells (RPCs)with energy and power densities that far exceed those of current battery and fuel cell technologies. These RPCs can be manufactured in many different forms, depending on the type of application. The different modes of operation include disposable, refuelable, rechargeable, and both refuelable and rechargeable (RefRec). The unique multimode RefRec RPC (given the trademark mmRPC by eVionyx) opens markets that neither batteries nor fuel cells can serve alone.
The different forms of the RPC allow it to be scaled to serve the entire energy spectrum, from milliwatts to megawatts. Thus it is uniquely positioned to provide zero-emission power for the entire energy market ranging from portable electronics to power tools to transportation to stationary power.
The eVionyx success story
In order to demonstrate the capability of metal-air fuel cells the eVionyx team successfully carried out a series of road trials with electric vehicles modified to take eVionyx's zinc-air fuel cells and rechargeable Ni-Zn batteries.
Using zinc-air fuel cells eVionyx successfully achieved the world record for range of a modified production automobile powered by metal-air fuel cells in the autumn of 2000. These vehicles drove on public roads for a distance of 214.7 miles (344.7 km), setting a Guinness world range record for single refuelling. During this performance the power of eVionyx's metal-air fuel cells was demonstrated with the vehicles climbing hills at sustained speeds of 44 to 55 mph, which met the designed performance. Integrated by eVionyx into a modified Honda Insight, the performance of the cell was such that a single cell could sustain a 10 amp discharge for 14 hours (a capacity of 140 Ah). This superior energy storage capacity could power a car to run over 1,000km. The total power of the integrated system was over 20kW.
Before 2000 eVionyx had also successfully demonstrated the feasibility of metal-air in a variety of electric vehicles including motor scooters. A more recent trial named 'MeVictory' was conducted in Malaysia in 2003. In this trial a Honda Insight was converted to a pure electric drive system, powered by a refuellable zinc-air fuel cell hybridised with a rechargeable Ni-Zn battery. The vehicle demonstrated more than 525km on public roads, setting another world record.
Contact: lin-feng.li@evionyx.com