Zinc metal is always found in association with lead, the most commonly used battery material. In this article Gregory Zhang argues the case for using zinc as the core of large scale electrical energy storage.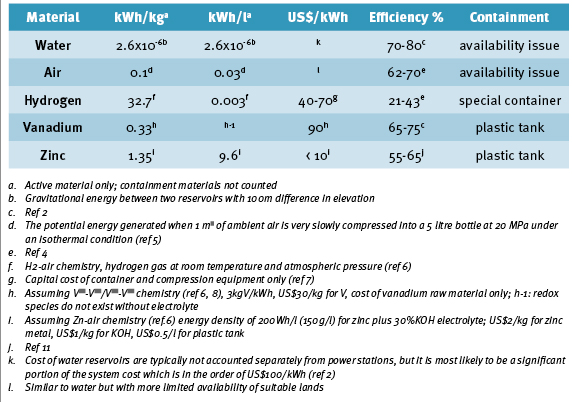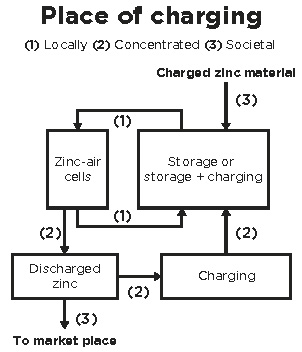 Solar and wind energy, as the major forms of renewable energy, are now widely adopted around the world. However, much of the installed capacity of solar and wind energy cannot be reliably connected to the electric grid due to the intermittency of solar and wind power [1,2]. Energy storage is viewed as an effective way to deal with this problem.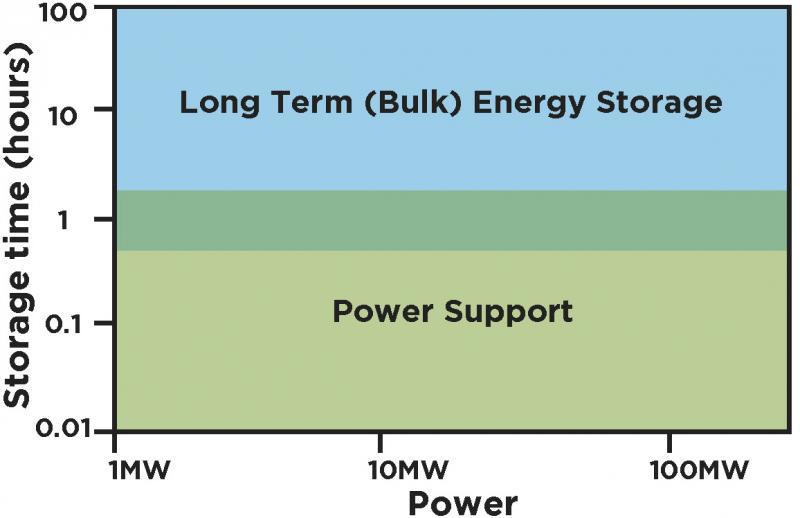 Energy storage can be used in many different ways to deliver technical and economical benefits in the electricity industry [2,3]. There are two broad categories of electricity storage, based on the duration of applications: (i) short duration, from a fraction of a second to about one hour for stabilising, smoothing and balancing the electrical power related to the electric grid, and (ii) long duration, from a few hours to tens or hundreds of hours, to separate the times between generation and use of electricity. The first type can be generally termed as power support and second as bulk energy storage as illustrated in Figure 1.
For power support type of applications there are already technologies available on commercial basis. For bulk storage however, at present, there is no promising technology besides pumped hydro, which is limited by availability of suitable lands. Promising technology needs to be economically comparable to pumped hydro which is in the order of US$100/kWh for capital cost [2].
Materials versus devices for energy storage
The potential technologies for energy storage can be categorised into two broad groups: device based and material based. Device based technology is one in which the locations for energy storage and energy conversion are physically the same as shown in Figure 2a, while material based technology is one in which energy storage and energy conversion are at physically different locations (Figure 2b). By this categorisation, fly wheel, super capacitor and batteries belong to device based. On the other hand, pumped hydro, compressed air, hydrogen fuel cells, flow batteries, and metal air fuel cells belong to material based because the energy is stored in water, air, hydrogen, redox couple and metal.
A key difference between the two kinds of storage technologies is that the power magnitude and energy capacity can be independently scaled with material based technologies while they cannot with device based.
For device based technology, e.g. battery, storage capacity or runtime is proportional to the number of device units, and that is, the cost of storage (excluding power management and operational systems) is a linear function of runtime. It may be described as
Cdevice = aR (1)
Where Cdevice is the cost for device based energy storage, a is the unit cost of storage in US$/h of the storage system and R is the run time in number of hours.
For material based technology the cost of energy storage is the cost of the energy converter plus that of the material storage. It can be described as
Cmaterial = A + bRn (2)
where A is the cost of the energy converter, b the unit cost of material storage and n a discount factor. Since the incremental cost for storing material should decrease with increasing capacity; a big container costs less on a unit cost basis, i.e., dollar per litre, than a smaller container. Thus, n should in general be less than 1.

Figure 3a shows, as an example, the results based on equation (1) and (2) for a 1 MW storage system, assuming that the cost of device based energy storage technology is US$400/kWh, i.e. a = US$400k/h; the unit cost of material storage is US$100/kWh, i.e., b = US$100k/h and the discount factor for scaling n = 0.9. The cost of energy storage for material based storage becomes advantageous when runtime is longer than 3 hours if the unit cost of the energy converter is US$1 000/kW(curve 1), about 4.5hours if it is US$1 500/kW (curve 2) and about 6 hours if it is US$2 000/kW (curve 3).
Figure 3b illustrates the effect of unit cost of material storage on the cost of the storage system. As an example, for 12 hour runtime system, a material based system with the cost of US$1 500/kW for the energy converter and material storage cost of US$20/kWh is more than 300% less than a device based storage system with a US$400/kWh cost. When unit cost is at the level of US$20/kWh, the change in the cost of the storage system with increasing runtime is practically negligible. Thus, when the cost of material storage is low material based energy storage technologies have a clear advantage over device based technologies for long duration applications. This in fact explains why the only economically viable technology for bulk energy storage to date has been pumped hydro.
Zinc as a material for energy storage
A number of potential materials have been explored for electricity storage as shown in Table 1: water through pumped hydro, air through compressed air, hydrogen through electrolysis and fuel cells, vanadium through flow battery and zinc through electroplating and zinc air cells. For economical material storage, both the material and containment need to be low cost. In the case of water and air, the cost of material storage has to be a significant portion of the system cost as it requires large geologically suitable lands for containment. For hydrogen, its storage is expensive because it requires special device or medium for containment to improve energy density and to ensure safety. For vanadium the raw material is expansive. In comparison, zinc has a clear advantage over these other materials in energy density, cost of material and containment.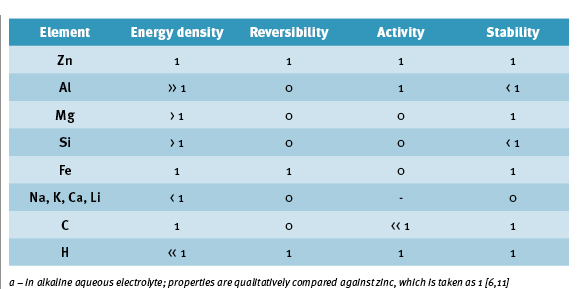 The basic electrochemical properties for energy storage materials include: 1) high energy density such that it can be efficiently stored with low cost, 2) reversible electrochemical reactions to allow two way chemical-electrical energy conversion, 3) fast reaction kinetics for high energy efficiency, and 4) high stability in aqueous electrolytes so that little energy is lost during storage. As can be seen in Table 2, zinc has the overall best balanced set of properties among the common elements; other elements are deficient in one aspect or another. This balanced set of electrochemical properties is unique, which is why zinc has been used as a favourable anode material for electrochemical power sources since the invention of the battery two hundred years ago [6 13].
Another important requirement for bulk energy storage is that the storage material is abundantly available, which is the case with zinc. Zinc is the fourth most used metal in the world behind only iron, aluminum and copper and is a relatively abundant element in earth's crust [9]. For perspective, the total amount of energy generated by the entire installed wind power capacity in the world in 2011 (239GW [10]) for 8 hours is equivalent to the energy contained in 1.4 million tons of zinc metal, which is only 11% of the current world zinc production of 12.3 million tons. Furthermore, the world currently has about 480 million tons of zinc reserve base and about 1 900 million tons as discovered resources. Thus, there is sufficient zinc for energy storage long into the future [9].
There are many operation possibilities for using zinc as the energy storage material and using electroplating and zinc air cells for energy conversion. They can be categorised according to where the zinc material is produced (or charged) as shown in Figure 4. The place for charging (storing energy) can be carried out locally as a part of the integral system (1). It may be located at a different location from the places for discharging (as power sources) (2). Ultimately it may be randomly distributed in different locations in the society such that the charging and discharging of the material may be provided by many independent operators (3). Also, zinc can be discharged with great efficiencies in many different material forms, such as powder, fibre, ribbon, pellet, dendrite etc., providing further possibilities for operation [12,14].
In addition to the advantage for long term electricity storage, using material for storage has other benefits as illustrated in Figure 5. One particular benefit that may be resulted from a centralised storage plant is that it could supply the charged material to power sources at distributed locations, that is, it not only functions as an energy material but also as a fuel. Economically, using as a fuel allows the energy harvested from solar and wind to be used for high value applications such as off-grid power, back up power or mobile power instead of being only discharged to the electrical grid. This kind of operation is only feasible with the technologies where the charging and discharging of the material can be separately located at different locations. It is not feasible with other material based technologies, such as pumped hydro and compressed air, where charging and discharging cannot be located at different locations.
It is often questioned why there is not yet a storage technology based on zinc materials in the market place considering zinc's excellent technical and economical attributes. There are two main reasons. Firstly, until few years ago, the world was made to believe the "hydrogen economy" and most governmental and private money went into hydrogen fuel cell development. Only in recent times, it was realised that using hydrogen as energy storage material faces the problems of the high cost and low efficiency of fuel cells as well as the high cost of hydrogen storage. Secondly, before the rising market for solar and wind energy, the development of electrochemical storage systems has mostly focused on automotive market where high power density is essential. Zinc air technology, due to its intrinsic low power density, has received very little attention.
Zinc air technology has been historically underexplored but has a large potential for development in light of the great need for energy storage in society.
Summary
The solutions for long term electricity storage are most probably found in technologies that allow storing electricity in materials such as water by pumped hydro, which is inherently less expensive than storing energy in devices such as battery. The society needs to find technologies that allow storing electricity in materials other than water for applications where pumped hydro is not available.
Zinc is an advantageous candidate due to its unique set of technical and economical attributes: high energy density, reversible electrochemical reactions in aqueous electrolytes, safe, and abundant. The cost of storing zinc material is less than US$10/kWh, which is much lower than other potential materials, and thus is potentially ideal for long time storage at very large scales.
References
"Packing Some Power", Technology Quarterly, The Economist, March 3rd, 2012.
Electricity Storage Association, http://www.electricitystorage.org/technology/storage_technologies/technology_comparison
D. Rastler, "Electricity Energy Storage Technology Options" Electric Power Research Institute, A White Paper, 1020676, Dec. 2010.
"Germany: Lead Market for Energy Storage & Fuel Cell Systems", Germany Trade & Invest, 2011
http://en.wikipedia.org/wiki/Energy_density
D. Linden, Handbook of Batteries, 3rd edition, McGraw-Hill, New York, 2002
Wade A. Amos, Costs of Storing and Transporting Hydrogen, National Renewable Energy Laboratory, the U.S. Department of Energy, contract No. DE-AC36-83CH10093, 1998.
C. Ponce de Leon. Frıas-Ferrer, J. Gonzalez-Garcıa, D.A. Szanto, F.C. Walsh, Journal of Power Sources 160 (2006) 716–732.
International Lead and Zinc Study Group, ILZSG, 2010
World Wind Energy Association, http://www.wwindea.org
Pourbaix, M.: Atlas of Electrochemical Equilibria in Aqueous Solutions, 2nd Ed., NACE, Houston, TX, 1974, pp.406-413.
S. Smedley and X.G. Zhang, Zinc–Air: Hydraulic Recharge, in Encyclopedia of Electrochemical Power Sources, Eds. Jungen Garche etc., Vol 4. Amsterdam: Elsevier; 2009. pp. 393–403.
X.G. Zhang, "Corrosion and Electrochemistry of Zinc", Plenum Press, New York, 1996.
X.G. Zhang,, Zinc Electrodes, in Encyclopedia of Electrochemical Power Sources, Eds.Jungen Garche etc., Vol 5. Amsterdam: Elsevier; 2009. pp.454-468.