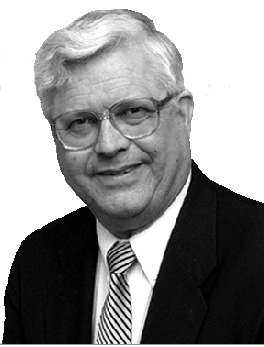 John Miller sorts the wheat from the chaff in this quarter's capacitor tech talk.
A surprising number of papers on ruthenium oxide are given at international scientific meetings and published with great frequency in the various electrochemical journals. Why such interest in a material that is so extremely expensive, and in such short supply?
Ruthenium oxide is a highly reversible, pseudocapacitive charge-storage material that, operating with a sulphuric acid electrolyte, does in fact provide very spectacular performance.
It works by the so-called 'double-injection' process whereby an electron from the solid, in combination with a proton from the electrolyte, stores energy via a change in the oxidation state of the metal oxide.
The potential over which such combinations occur is quite broad (in contrast to that of a battery) and it yields a cyclic voltammogram that is nearly rectangular in shape, as would be the case in an ideal capacitor.
It is thus much studied, almost ideal, pseudocapacitive material. In crystalline form it has approximately 380 F/g. In the amorphous or hydrated form it approaches 800 F/g. A recent report on it in nanodot form shows greater than 1,000 F/g.
Such behaviour confirms that the charge storage is really surface related; and thanks to the relatively high density of RuO2 it also has spectacular capacitance density compared to other common highly reversible charge storage materials like carbon. On a volume basis rather than a mass basis, RuO2 is even more spectacular.
Ruthenium oxide was extensively studied in the 1980s, particularly by the late Professor Brian Conway, one of the first to investigate it. It is clearly in a class with iridium oxide, IrO2, which can also be considered a model pseudocapacitive material. Both are far too expensive, however, to be considered commercially viable as electrochemical capacitor electrode materials, even in small devices. The basic reason for this is that such precious-metal oxides are by-products of the platinum industry, and if demand were to increase price would automatically increase in step. The world's supply being relatively inelastic, the likelihood of successful large-scale commercialisation is very small.
Why, therefore, so much continuing interest, and so many papers and publications? In this connection it is best to keep in mind that most of these papers and publications are essentially reports, albeit in disguise. These are usually about processes or techniques being developed by the authors that are actually intended for use with some analogous undisclosed pseudocapacitive material. We see this so often because RuO2 and the whole class of similar materials – while totally unsuitable for commercialisation – are nevertheless ideal materials that allow researchers to publish processes or techniques or approaches that may have significant commercial importance.
The papers thus appear because RuO2 is a model pseudocapacitor material that allows people to publish on topics and in ways that are really analogous to the work in which they are actually engaged.
Ragone plots are often used to differentiate performance among the different energy-storage technologies. Is this an accurate way to portray these differences?
Ragone plots are named after David Ragone, Professor Emeritus at MIT. He is acknowledged to have been the first to show the energy/power relationship of power sources or energy-storage systems. Such relationships are generally derived during a constant-power discharge; the energy that could be delivered under that discharge is recorded and plotted against the power level, leading to the so-called Ragone plot.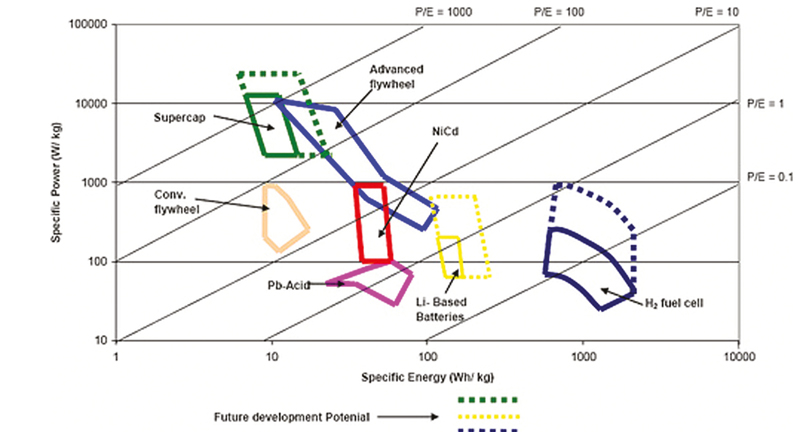 We need to be careful about the assumptions and/or procedures used in deriving a Ragone plot. For instance, batteries are often shown in Ragone plots during their discharge, thus providing their discharge energy/power performance. This is, of course, significantly different from the charging performance on the same plot. But the latter is in fact the most important consideration in regard to hybrid vehicles, because being able to accept and store charging energy is really the key to improving the energy efficiency of a vehicle. Comparing a discharge Ragone for a battery to a charge Ragone for a capacitor would be a completely invalid comparison.
Ragone plots also speak not at all to either cycle life or the efficiency of the process. They simply show the energy delivered in a constant-power discharge when a device, whether battery or capacitor, is being completely emptied. Often only the limits of the curve in such plots are given, rather than the full curve – essentially the DC energy value and the maximum power value. But such devices are almost never operated anywhere near the maximum power value. The trajectory between the two limits is quite important, and every technology will be somewhat different in how that trajectory will appear.
There is an approach to use in connection with capacitors that is genuinely preferable to the Ragone plot. This is to quote both the DC energy of the device and its characteristic response time. These two parameters are in themselves much more usable for a capacitor than the information provided by a Ragone. Response time could 1s, 1.8s, 15s or even 0.3s, while energy could be 20 J/cc, 5 J/g, or what have you. Total energy and response time represent information that is in fact much more useful in designing or evaluating capacitors. It also clearly differentiates capacitor technology from all the other energy-storage technologies, particularly batteries, in which response times may at best be measurable in minutes or tens of minutes.
A Ragone plot certainly can differentiate performance among the various technologies in some ways, but DC energy and response time are simply better means to measure performance when it comes to capacitors.
The popular press periodically reports 'nanomaterial breakthroughs' said to be 'revolutionising' energy-storage technology. Such reports usually claim new and incredibly large storage capabilities for the materials involved. What exactly is the truth of this?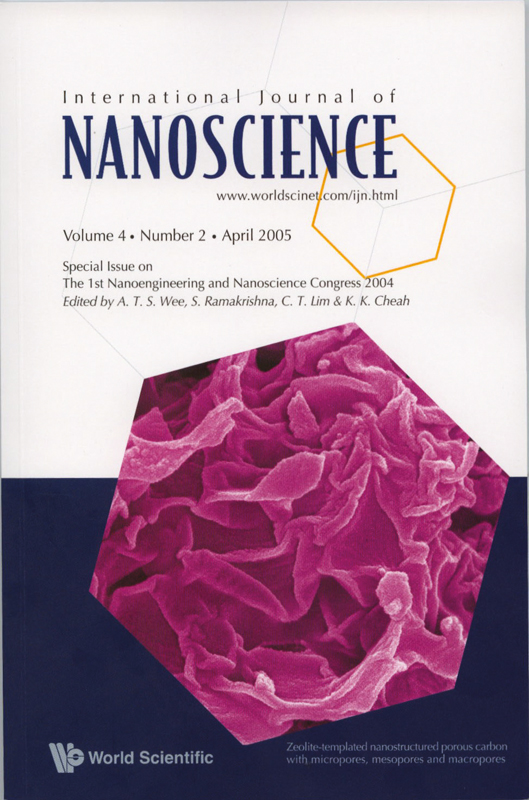 There have indeed been significant breakthroughs in nanostructured materials used for energy storage. Generally, small-size particles make for small distances in which solid-state diffusion needs to occur, something that is important in battery storage materials. Nanosized materials present significant surface area compared to their volume, which helps to reduce current densities on the surface. Breakthroughs have indeed occurred in connection with these new forms of materials.
It needs to be said, however, that electrochemical capacitors have in fact from the very beginning made use of a nanomaterial, namely activated carbon, which has nanometer-scale features. Clearly, approaches have thus already been developed and are in use for the manufacture of nanomaterial carbons.Of greater significance, perhaps, is the recent development of nanomaterial approaches primarily aimed at supplying model materials for investigation. Templated approaches, for instance, have recently been devised with the object of creating nanoscale materials that are extremely uniform in structure. Single- and multi-wall carbon nanotubes have been developed with totally external surface area. These, again, are primarily model materials for use in bettering our understanding of how electrochemical energy storage devices operate.
I have an application with repetitive back-and-forth motion. How do I size a capacitor system to capture the kinetic energy during stopping and then use it to assist in the next acceleration?
There are several approaches to this. The easiest way is to consider the energetics of the system. The energy of the moving item needs to be calculated as an amount of energy that needs to be stored in the storage system. The first step, therefore, is to calculate the energy of motion and to translate it into the container or capacitor size necessary. To do this with a capacitor one also needs to know the voltage operating window – the maximum and minimum voltages at which the capacitor is expected to operate. With this information about the quantity of energy and the upper and lower voltage limit, one can calculate the size of the capacitor to be used when operating between voltage limits.
This assumes, of course, a 100% efficiency that is never in fact realised. There will be losses during capacitor charging, and there will certainly be losses in harvesting the energy from the kinetic object that is being slowed. In general, therefore, calculations based on energetics are bound to oversize the storage device to some degree, although this should still be the first-order approach to the question.
If the back-and-forth motion involved is not fully repetitive, for instance, if it is like that of a hybrid vehicle with some stops of 3 seconds, some stops of 15 seconds, and so on, we should then look at the worst-case scenario of using the maximum lost in the vehicle. We would then use the time to calculate the power, so that we can see in more detail the effects of the series resistance in the capacitor and the effect of that on storing the energy. This is, of course, a rather more complicated problem.
Regardless of the fact that more sophisticated approaches may be possible, we will always need to satisfy the requirements of the first-order solution, i.e., to have the bucket for storing the energy equal in size to the quantity of kinetic energy we are trying to capture, operating over the entire specified voltage window, keeping always in mind that this is never a perfectly efficient process. Despite its crudeness as an approach to sizing, this is always essentially correct.
Adding a capacitor to the usual battery for truck engine cranking reportedly improves starting, and even increases battery life as well. How is it that battery life is thus increased?
To understand this we need to look at the power profile of the cranking motor of a heavy diesel truck. When the key is turned, power immediately goes to the maximum level, often with currents of 1,500–2,000A or higher being drawn from the battery system, depending on engine size and type, temperature and lubrication package. The event lasts in the order of 50ms, after which current might drop to 400–500A, lasting for as much as 1.5–2 seconds, until the rotation rate peaks and the engine can start.
An engine-starting application has, therefore, a very high current spike at the moment the starter is engaged and attempts to rotate the static engine. Much of this has to do, of course, with the static friction on an engine. It also has to do, however, with the fact that the starter motor appears like a short circuit when power is first applied, there being very little internal resistance when it is not moving.
The very high current involved in this process is something not much favoured by batteries, which often appear to suffer excessive stress or even incur damage under high current levels. Batteries simply operate best at constant power levels. Reducing this spike from the battery in a starting circuit should increase the life of the battery, because the stress on it will be less when the starter is first engaged.
Can this be quantified? Although difficult to measure, improvements of 50–100% in life have been proposed for batteries when they have an electrochemical capacitor connected in parallel to provide the high spike at the beginning of the starting cycle. Capacitors do not suffer the same stress as batteries at high current levels, primarily because they do not have chemical charge storage and are not subject to volume or phase changes when discharged.
Pairing an electrochemical capacitor with a battery for starting therefore represents an ideal match. By simply connecting the battery and capacitor in parallel the difference in series resistance between the two automatically auctions the current that will be supplied by each in this application. And because of the very high power performance of the capacitor, it will generally supply the majority of these current spikes in short-duration applications like engine starting.