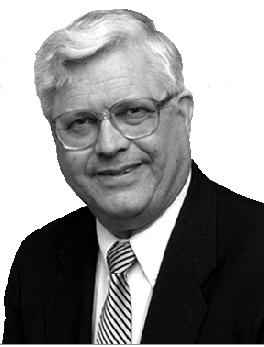 Our resident supercap specialist John Miller answers some more of your questions.
I am still having trouble understanding why electrochemical capacitors, compared to batteries, are so expensive. Why is this?
The 'dirty secret,' so to speak, of this question is its implicit comparison of capacitors to batteries not on a power basis, cycle-life basis, cost-per-cycle basis, or even a regenerative energy capture efficiency basis, but simply on energy as the one and only metric.
But why indeed, then, are capacitors so much more expensive than batteries on an energy basis? Consider as a concrete example the energy of a 4000 lb vehicle moving at 20 mph, kinetic energy of ~70 kJ. We can look at this amount of energy in more forms than kinetic. In the form of food for nourishment, for instance, 70 kJ is ~17 kcal or ~1 tsp of sugar. The vehicle moving at 20 mph has thus, surprisingly, kinetic energy the value of which is no greater than that of a single teaspoon of sugar. Translating to battery terms, for primary batteries this is approximately the energy in a D-size alkali flashlight cell weighing around 140 g. With regard to capacitors, this amount of energy is likewise equivalent to that stored in a 22000 F capacitor charged to 2.5 V. The same quantity of energy is in all of these, albeit in different forms. Restating, we can say that in the sugar it is chemical energy to be metabolized, in the battery chemical energy to be used for a reaction, and in the 22000 F, 2.5 V capacitor it is simply a physical charge separation.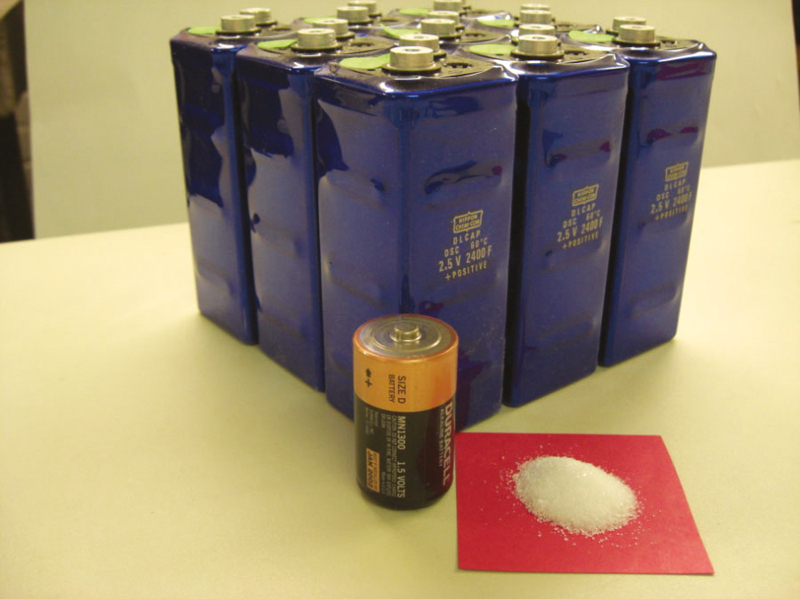 Three of these forms of energy appear in the photo below: the 1 tsp of sugar, the D battery, and a stack of nine capacitor cells comprising ~22000 F, 2.5 V. The differences in size of the various forms are obvious. The sugar weighs ~4 g, the D cell ~140 g, and the stack of capacitor cells some 4.6 kg.
In commonsense terms, the cost or price of any object is essentially related to its mass. Clearly there should be a difference in price between something that weighs 4 g and something that weighs 140 g or 4600 g. We might note also at this point some basic physical differences between the battery and the capacitor in terms of size, weight, and the amounts of materials involved. The difference in cost of the technologies becomes clearer as we see the amount of material involved and the sizes of their respective packages.
On an energy basis, electrochemical capacitors are inevitably fated to be more costly than batteries. There is simply no way around the fundamental nature of the electrochemical capacitor's physical charge storage structure. If our primary design goal were the very lowest- cost energy storage system, electrochemical capacitor technology would clearly not be our choice. If advantages other than cost were at stake, however, our choice could be very different.
According to the previous answer, on an energy basis, capacitors are bound to be much more expensive than batteries. Does this mean that the new high-power lithium-ion battery technology is better suited than capacitors for use in hybrid vehicles?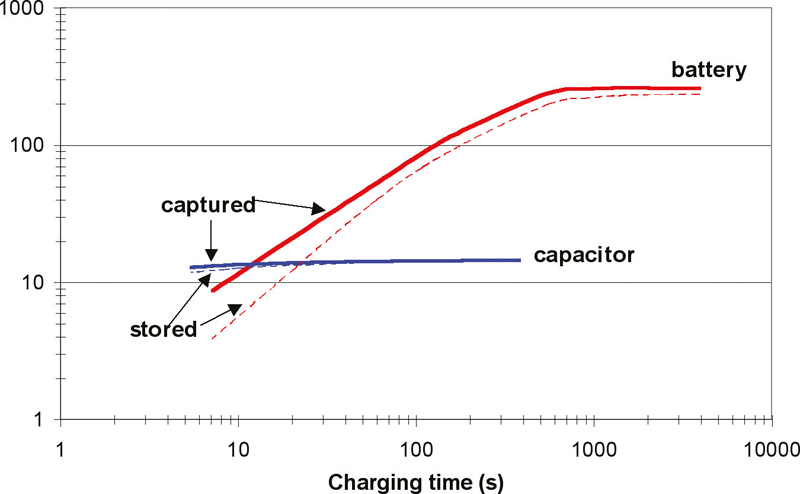 Certainly not, if our most important need is to create an optimum system. In terms of performance, compare the amount of energy captured and stored by batteries and capacitors respectively in a hybrid vehicle application during a regenerative braking event. Figure 1 below plots energy captured and energy stored versus charging time, using test data from two state-of-the-art storage units, one a 3000 F, 2.7 V electrochemical capacitor and the other a 12 Ah lithium-ion battery now being considered for The tests performed measured the amount of energy captured separately by each of the two devices during constant-current charge. In both cases, the stored regenerative energy was the amount of energy that had actually been captured by the device and was then available to do work. For the test, charging was to the manufacturer-recommended upper voltage limit, 2.7 V for the capacitor and 2.8 V for the battery. The capacitor was initially at 1.35 V, one half its rated voltage. The battery started out nearly depleted at a 10% state of charge. Each device was charged at constant current up to the upper voltage limit and the amount of energy captured by each device and stored in it then measured. This was done at various current levels, with a view also to determining the dependence on the length of time for charging.
As shown in Figure 1., with charging times greater than ~10 min or 600 s the battery has a constant about fifteen times higher specific energy than the capacitor. Clearly, the battery would provide the lightest storage system for an application with anticipated charge times of 10 min. Note, however, that at shorter charging times the battery shows much less specific energy. For example, at 100 s charge the battery captures only about 5x more energy than the capacitor. The capacitor's performance is no different, but the battery's performance is lower at recapturing regenerative energy. At 10 s charge time both devices capture approximately the same amount of specific energy, but the capacitor can discharge some 95% of this amount while the battery can only discharge 50%. At a 10 s charge time, therefore, the effective energy density of the capacitor is twice that of the battery. Also, the battery may require an added cooling system to dissipate the heat that is a product of its low efficiency. Note also that the capacitor's stored specific energy line on the figure remains flat to times shorter than 10 s, further amplifying the differences in charge/discharge characteristics of the two technologies. This demonstrates overall why batteries are not well-suited for a high-rate cyclic operation. If used in this way, only a relatively small fraction of the battery's energy can be utilized, and its effective energy storage capacity and energy density will be much lower than the rated values.
In designs for heavy hybrid applications with many start-stop cycles, as in a city transit bus, batteries for energy capture and storage are typically greatly oversized. In effect, such oversizing shifts the charge time in Figure 1 to the right. When battery derating is taken into account, the volumetric storage of the two technologies is surprisingly not very different, disproving to a great degree the most common belief in the energy-density superiority of batteries for such applications. Electrochemical capacitors are certainly well suited for heavy hybrid vehicles, as demonstrated by the hundreds of hybrid electric city transit buses loaded with banks of electrochemical capacitors that are currently in successful operation.
Capacitor and other energy storage technologies are now being used to reduce fuel consumption, as in hybrid vehicle applications. How can we determine whether adding an energy storage system to an application will result in energy savings?
There are several indicators to follow in determining whether a candidate system incorporating energy storage will occasion energy savings. Perhaps the most obvious is the overall efficiency of the system as it now stands, i.e., the amount of energy it uses to perform useful work. If the efficiency is already very high, there simply may be no opportunities for energy savings. One of the most important indicators of inefficiency, however, is the amount of waste heat generated by a system that was, of course, not designed to produce it. The tip-off may be nothing more than the size of the cooling system or other thermal management devices used in normal operation. Adding energy storage to such an inefficient system could indeed increase its efficiency.
If an internal combustion engine is involved in the application, one place to spot opportunities to reduce fuel consumption is to examine the efficiency map of the engine supplied by the manufacturer. The goal then is to locate the "sweet" spot where the engine operates at its most efficient condition and to design overall operation to occur as much as possible within that sweet spot. But perhaps the most useful clues to where energy storage might reap energy savings are to be found in the power dynamics of the system. Is power relatively constant, or is there a succession of very high positive and negative power levels during operation. If the latter is the case, we have in hand a golden opportunity for capturing, storing, then reusing the negative power rather than allowing it to go to waste. Furthermore, this may allow continuous sweet spot engine operation.
We should not fail to mention over-the-road trucks with sleeper cabs. Historically, drivers may idle the engine for as long as 8 or 10 hours during down times to eliminate the uncertainty about being able to restart the engine, at the cost of around one gallon of diesel fuel per hour or 8-10 gallons of fuel in a period where not a single mile has been driven. There is certainly an opportunity here to use stored capacitor energy to crank the engine for a successful engine start after this engine-off down time.
Several things, therefore, enable us to quickly size up the suitability of an application for added energy storage. These include the efficiency of the operation, the amount of waste heat given off, and whether the operating power profile is relatively constant or shows plenty of positive and negative peak values.
Plug-in hybrid vehicles are the object of much attention today, owing to advances in lithium ion batteries. Do these advances suggest that electrochemical capacitors are no longer as suitable as they once were for this application?
'Plug-in' hybrids have a primary propulsion system that is electric, along with an internal combustion engine, fuel cell, or other source for recharging their batteries. This makes it possible for them to travel further than the electric range alone. In sales floor terms, we can envisage differently sized storage systems related to the needs and habits of the driver, the terrain where the vehicle would be used, the distances traveled, and so on. Systems could even be tailored to 20-, 40-, 60- or more mile round-trip battery ranges and system prices set correspondingly.
One thing we should not forget in the midst of public enthusiasm about the increased power of the new lithium-ion battery designs is that these power advantages must to some degree come at the expense of energy. Some of the new high-power lithium-ion batteries may have, in fac, as little as one half the energy of earlier devices, higher power notwithstanding. In short, there are some strings attached to the ways these advances can be effective.
As to whether electrochemical capacitors are as suitable as they once were for plug-in hybrid use, we should not forget that some twelve years ago, ESMA developed a fleet of completely electric capacitor-powered vehicles. These included buses used on a circular route in a large city park and trucks used to commute routinely between factory and warehouse The energy storage system for both types of vehicle was made up entirely of capacitors, with no added batteries or internal combustion engines. The most refreshing aspect of the vehicles in use was how quickly and conveniently the capacitors could be charged. The park bus recharged every time it completed its <10 km circular route. The trucks could easily be recharged while they were being loaded or unloaded. There was no need for an internal combustion engine in these applications because the vehicles were either on a defined route or between fixed locations. No side trips to gas stations for refueling were required, nor were there any lengthy charging times to occasion delays.
Electrochemical capacitors can power all-electric vehicles that operate off utility grid energy at all times. The quick-charge capability of capacitors makes 'opportunity charging,' even of banks of capacitors, a matter of moments. Consider the possibilities this holds for a route where buses operate in a separate lane, as they now do in some cities. On fixed routes, storage systems in the bus could be charged inductively at bus stops or even at traffic lights. Far from becoming less suitable for use in hybrid applications in the face of battery advances, capacitor storage technology continues to offer a quicker, more convenient, and, perhaps now just as importantly, an environmentally cleaner energy-storage solution in all-electric vehicles than the envisioned crop of plug-in hybrids.
Performance tests often report charging electrochemical capacitors to voltages above their rating, providing, for instance, test results from a 3.0 V charge voltage for a 2.7 V rated cell. Is this useful information for design engineers?
Historically there have been many reports on the performance of electrochemical capacitors tested above their rated voltage. This, of course, forcibly reminds us about the differences between batteries and capacitors. We would never dream of operating a battery this way, it being the death knell for any battery to charge it above its rated voltage. The operating voltage of electrochemical capacitors, on the other hand, is not a fixed one that is set thermodynamically. Voltage is set in part by the voltage stability of the materials involved. Since there is then really no fixed voltage for capacitors of the sort there is for batteries, we need not worry about encountering limits of the sort we find with the latter.
There are also specific major difference between electrochemical capacitors and electrolytic and electrostatic capacitors. We would be walking on thin ice, so speak, in operating either of these two latter types of capacitors at voltages above their ratings. In practical terms, it is just simply not done. Electrochemical capacitors, on the other hand, do not experience voltage breakdown in the same way these others do. Electrostatic and electrolytic capacitors have a dielectric that can break down by a spark, an event that often marks the end of life for such devices, particularly for electrolytics. Electrostatics devices made using metallized film dielectrics usually have a self clearing property and thus fail more quickly at higher than rated voltage but not catastrophically like electrolytic capacitors. The dielectric of electrochemical capacitors, in contrast, is self-healing after a liquid-solid interface electron transfer occurs and leaves no permanent damage. Gas may be generated that can ultimately limit life, especially in sealed cells. But electron transfer at an electrolyte-electrode interface itself is not a fatal event for an electrochemical capacitor – it is quite normal.
For some applications where the capacitor will not be at the overrated voltage for long times it may be advantageous to design the system with a higher voltage than that for which the capacitor is rated. One example would be a capacitor that generally sits at 0 V, except when it is being charged up to an overvoltage value just before discharge, in an application requiring only a limited number of such cycles. Remember that an increase of 0.1 V above rating typically results in the loss of approximately one-half the operating life of the capacitor, 0.2 V overvoltage reduces life to one-quarter, and 0.3 V overvoltage reduces it to one-eighth, and so on. For an application with limited time at high voltage it might make good engineering sense to purposely overvoltage the system and take advantage of the increased energy and power available due to the voltage-squared term in the energy and power equations. A device can thus be overvoltaged if it is only intermittently but not continuously at the overvoltage condition.
Take as a further example an actuator powered by capacitors. The capacitor is charged to the overvoltage condition and then immediately discharged by the actuator back to 0 V. Assume there is one minute of overvoltage for each actuation and that it reduces life tenfold, an order of magnitude decrease in life when at overvoltage. If the electrochemical capacitor normally provides 2000 hours at rated voltage, under the overvoltage condition it will operate for only 200 hours. Then since each actuation is one minute, operation will be limited to 12000 actuations. If we were averaging 1000 actuations per year, the device would have a 12-year life, which may be perfectly acceptable for an application. Where there is only intermittent use of the capacitor, it is often very useful to take advantage of the fact that electrochemical capacitors do not have a hard, inflexible operating voltage. The higher the voltage the shorter the life, but for applications like portable ones where smaller-size components are desirable, one may well be able to overvoltage with good results. The design secret, of course, is to examine application details carefully to see whether an overvoltage operation provides the sorts of advantages we can safely exploit.
The Texas company EEStor has invented an electrical storage unit it claims can store 52000 Wh of energy in a 336 lb module, i.e., 340 Wh/kg. They enthusiastically predict that their device will replace the battery. Development efforts funded by a prominent venture capital firm have lent EEStor's claims some credibility, but how do these fit with the technical information that is available publicly?
The device in question is described in a US patent assigned to EEStor, #7,033,406. There are at least three associated published patent applications. They claims to use a ceramic dielectric in a multilayered design to create a high-quality electrostatic capacitor. They also state that this capacitor will be operated at near its breakdown voltage and that many small capacitors will be parallel connected to create what is essentially a large plate area. The information provided in the patent discusses the material system in considerable detail, but for our purposes here I want to focus most directly on the design which is, again, a multi-layer capacitor being operated at several kilovolts and comprised physically of thousands of smaller multilayer units connected in parallel to achieve the energy needed.
There are two major flaws one can identify immediately in the patent description. The first is that capacitors cannot reliably operate near the breakdown voltage as claimed. In the interests of reliability capacitors are typically operated at 1/10th or a lower percentage of the breakdown voltage. Since stored energy in a capacitor is proportional to the voltage squared, reducing the voltage to a more typical value drops the energy by a factor of 100. The 340 Wh/kg quoted, therefore, would amount to ~3.4 Wh/kg in real terms, a figure just slightly lower than typical for electrochemical capacitors already available.
The second major flaw in the patent description is the fact that the technology is not scalable. In order to scale capacitors, to be able to successfully parallel connect many of them, requires that they be self-clearing. Any cell that breaks down must become an open circuit rather than a short circuit. Unfortunately, the technology described in the patent is not self-clearing and would create shorts. The sort of scaling required to connect a very large number of these small capacitors in parallel could not hope to be successful.
Several applications-engineering problems also arise about the description. One is that the claimed several kilovolt operating voltage is not really well suited for use in vehicles, despite the fact that the patent claims this is its aim. Operating at several kilovolts requires much greater insulation on wiring and demands that systems be isolated to prevent leakage currents from flowing along surfaces in humid conditions. It also means greater distance for standoffs. These are the problems one would expect with a much higher voltage portable system than those in electric vehicles today, all below 1 kV.
A further engineering problem with the patent description is that the charge times discussed are just not realistic. The power required for this much energy during the five minute charging they describe are simply impractical. Even with charging efficiencies above 95%, the amount of waste heat generated would cause a severe and probably unacceptable temperature rise in the capacitor during charging.
In regard, finally, to reliability, it is generally the case that the more piece parts there are in a system, the lower its reliability. If thousands and thousands of small electrostatic capacitors are parallel connected as the patent describes, this cannot help but present a reliability problem. NASA always counts the number of piece parts in a system as a rule of thumb for reliability. This patent describes literally hundreds of thousands of parallel connected ceramic capacitors parallel connected into a single energy storage device. Any one of those failing would likely cause the entire system to fail. Reliability is obviously an issue here.
Some knowledgeable experts consider the EEStor technology simply a paper patent with major technical flaws and dismiss it out of hand. Others believe that the reliability issue by itself makes the technology suspect for use in large systems as described, in hybrid vehicles for instance. Comments by application engineers note in particular the high operating voltage and the implementation problems this would create in a vehicle. The final chapter of this story has yet to be written. It may turn out to be a long and very interesting tale or, perhaps, something shorter.